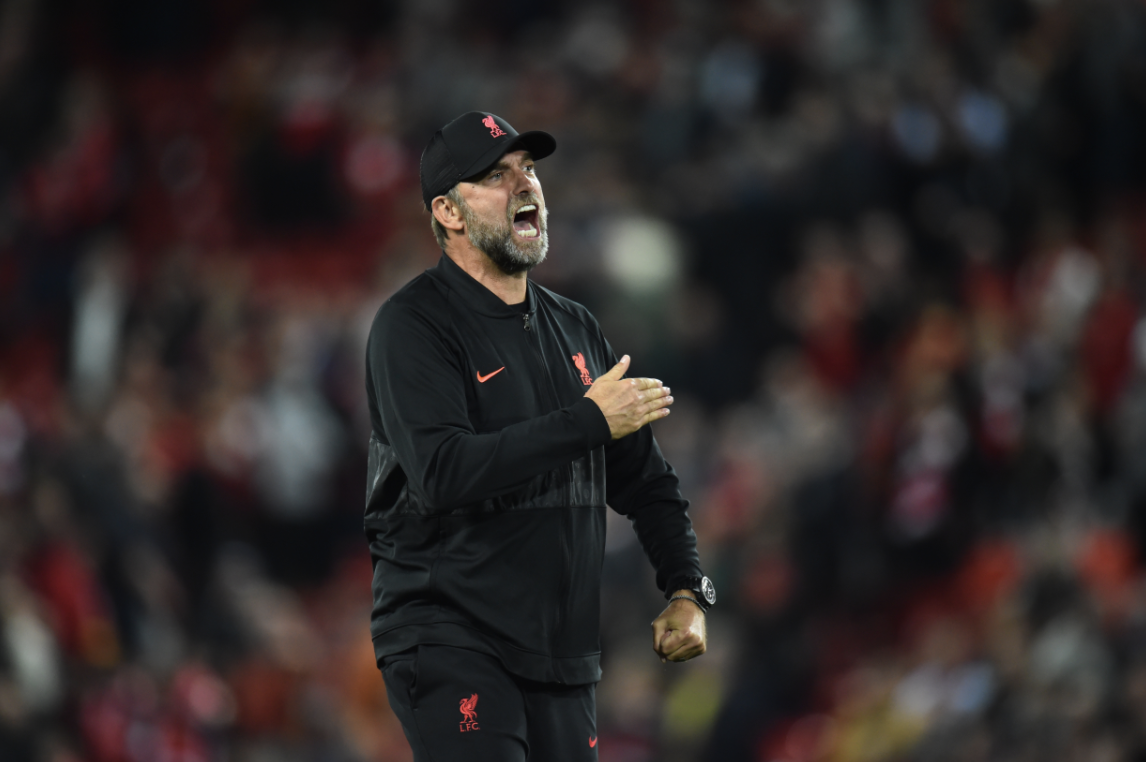 Best posts of the week, as chosen by Chris Rowland and Daniel Rhodes.
1 – Tony Mc was one of many sickened by the injury to Harvey Elliott and those deemed responsible for it:
Harvey Elliott is the latest victim of the malignant cabal (the Premier League hierarchy, the PGMOL, Sky Sports, BT Sports, the BBC, the UK football media, the pundits) that holds top level English football in its malicious, corrosive grip. Little more than 3 weeks ago, after the Liverpool v Burnley game, Jürgen Klopp complained that the new "let the game flow" policy of the corrupt and incompetent PGMOL (as interpreted and applied by their flabby, myopic, clueless referees and VARs who do not have the wit to recognise the difference between a genuine challenge for the ball within the laws of the game and an assault liable to cause actual or grievous bodily harm) was endangering the safety of players. Klopp was roundly mocked by the sneering Sky, BT and BBC pundits and the majority of the gutless UK football media. I didn't hear or read a single broadcaster, journalist or pundit support Klopp's argument. He was implicitly accused of being a whining foreigner who doesn't understand how "we" like our football to be played and wanted to change it for the worst. So the PGMOL and their gormless stooges gleefully took that as an endorsement of their criminally misapplied policy, as the signal to carry on regardless, and the thuggish players in the small clubs thought they had the green light to even the odds against superior opponents by making reckless challenges. The consequence? The bright shining light of Liverpool's (and England's?) future is temporarily (we hope) dimmed. Liverpool got 3 points at Leeds to continue an impressive start to the season and go level with Manchester United and Chelsea at the top of the Premier League and I am absolutely sick to my stomach.
In a very crowded field of irresponsible, idiotic pundits on all television and radio channels spouting complete and utter nonsense about the tackle that severely injured Harvey, one stands out for me. Dion Dublin (another dinosaur of an ex-footballer with the IQ of a grape) on BBC Radio 5 Live, immediately after watching Harvey carried off on a stretcher in excruciating pain, said "There was nothing wrong with the challenge. It was innocuous." Here is the dictionary definition of "innocuous", you cretinous imbecile :
"Innocuous – not at all harmful, harmless, safe." 
An 18-year-old boy had just suffered a sickeningly serious injury, one which horrified his teammates, his manager and many amongst the opposition, one which might end his season or even jeopardise his fledgling career. Tell me, ex-Manchester United striker Dion Dublin, how was the tackle that inflicted that injury "not at all harmful, harmless, safe" you moronic oaf?
But it's all part of the narrative that the cabalists, those vested interests, must protect at all costs : "The Premier League is the best in the world. Uncontrolled thuggery that injures the best players? Not in this league, just a few minor incidents with unfortunate consequences. Move along now, there is nothing to see".
As for the football, Liverpool were magnificent from the first whistle right up until Harvey's injury after which they understandably lost focus and intensity but could still have scored another 3 or 4 goals. The passing, movement, swarming press and evasion of the opponent's press were exceptional. A half-time score line of 1-5 in Liverpool's favour would not have flattered The Mighty Reds and the full time score line did not go anywhere near reflecting Liverpool's total dominance.
2 – Fady on the failure of broadcasters and commentators to educate and inform:
Most people have covered the key issues so won't bother regurgitating. What I will add is that most (if not all) people here have played the game at very different levels, with many of us having played football for most of our active lives. Over the years, we have seen the game officiated very differently such that actions that were acceptable when we first started playing are no longer acceptable. Consequently, our opinion on the game and how it is officiated is just as valid as that of former pros who commentate on Sky, BBC, et al. So when a Neville says that it's not a red card tackle, it's his opinion and it doesn't carry any extra weight just because he played in the Premier League or for England or for his local club. The main problem I have with so many of the so-called experts is that they literally do not know the rules of the game. They do not understand, for example, that there doesn't have to be intent for a player to be red-carded. They don't even have to make contact with the opposition player to be sent off. If the referee deems that the action of the player is dangerous and/or reckless then they are within their power to brandish a red card.
This lack of intelligence is not just limited to football. I see this ignorance from ex-players consistently on display while watching other sports such as rugby league here in Australia. I understand why broadcasters employ them, i.e. ex-pro has insight to the game that gives them credibility and can sometimes provide unique analysis. (TBH it is rare that their analysis is that great anyway and you get far superior insights on websites like TTT, but that's another story).
My point (finally): One of the most important jobs of the commentator is to educate their viewers. This can only happen if they put aside their bias, park their hidden and not-so-hidden agendas away from the screens, and actually learn the rules of the game.
What was needed immediately following the Elliott incident was a clear explanation of why the Leeds player was sent off. Only the player will know his intent (pretending otherwise is a pointless exercise and is BS anyway as nobody knows what goes through another player's mind), so don't talk about it. Instead, explain that the player's action was at worse, dangerous and reckless (reckless if you want to give him the benefit of the doubt). As a result, this was more than sufficient reason for the referee to send the player off.
Education is the key here and sadly, commentators (especially when they cannot hide their bias) almost always try to muddy the waters with opinions posing as fact. You're getting paid enough money to do a job that most of us would do better for a fraction of your salary. In short, learn the rules so that you can speak from a position of intelligence rather than ignorance.
3 – Michael T explaining the rules on tackling from behind:
The tackle from behind was outlawed in 1998.
How can the ex players, who are now pundits / commentators, not know this?
Is it because, yet again, the Premier League & referees still think these rules only apply to other countries?
Each & every instance of a tackle from behind is illegal & should be penalised. Whether or not the tackler 'gets the ball' or didn't mean to injure the player is irrelevant [I assume most players don't mean to injure their opponent so what a load of crap that phrase is].
Only a couple of minutes after Harvey was stretchered off of the pitch Cooper did almost a carbon copy tackle and went through Mane from behind which Pawson didn't even deem to be a foul!!
I suspect the only way things will change is if enough clubs force the issue or a player sues PGMOL & the Premier League for damages due to a premature ending of their career as a result of these organisations' failure to maintain a safe working environment.
Given that the teams impacted by the actual rules being enforced (as opposed to the pretend ones currently in use) are the ones who will be negatively impacted by proper enforcement of the no tackle from behind, I can't see them voting to get the referees to apply the actual rules, so I don't hold out much hope for change, unless of course something similar happens to say Ronaldo or H Kane, or some other media darling.
4 – Kuno spots a piece of play from Thiago in the build up to Liverpool's first goal at Elland Road:
Just wanted to comment on Thiago as most of the other topics of this game has already been covered brilliantly on here.
Jonathan Liew touched on the moment in his short Guardian article. It was the moment that started Salah's opener. Thiago is on the left flank with the ball with an easy pass open to Van Dijk. It's the pass everyone expects as we've all witnessed this sequence of passes where teams go from one flank to another. Bamford anticipates it as Thiago shapes his body for the pass. His body shape convinces everyone watching that Van Dijk is about to receive the ball. But the ball is actually pinged to Matip running forward, taking out Bamford from the game. Bamford looks visibly fooled by Thiago's pass to the point where I think he is mentally dealing with this small loss. It takes him a second or two to recover, but then by that point Matip is marauding forward without anyone chasing him. Without this kind of pass, which was applauded by Van Dijk the moment it happened, I could see Bamford chasing down Matip, putting him under pressure and not giving him the time to wait for Trent's overlapping run.
This is why I love Thiago. He's the master of utilising his whole body for a simple square pass, and sometimes it makes the difference. It's not like a Firmino no-look pass where it almost seems like he's just having fun (which in itself is a joy to watch), but there's a reason behind the way he passes. He buys time for the receiver. It may only be a second or two that he buys, but in a game of small margins these seconds are priceless.
5 – Tony Mc after the AC Milan victory:
It wasn't Barcelona. It wasn't St Etienne. It wasn't Borussia Dortmund. It wasn't Olympiakos. But it was another European come-back win at Anfield so it was very special.
I have only visited Milan once and it was unintended, limited in scope and decidedly uncomfortable. It was during an Interrail holiday with my younger brother in the summer of 1975. We often took overnight trains to save on accommodation costs and on this particular night we were on a night train from Nice to Rome and were both asleep well before midnight. I woke up to an unexpected lack of movement or noise. I looked at my watch and lifted the window blind – it was daft o'clock and we were stationary in the railway sidings in Where The F*ck, Europe. It transpired that we had boarded the correct train but had bunked down in a carriage which was only going as far as Milan. We struggled into our huge backpacks, lowered ourselves awkwardly from the train, trudged alongside the tracks back to the station and clambered up onto the platform – none of which was easy when you are carrying what felt like a small wardrobe on your back. We were met by an aggressive young Italian policeman, who looked not much older than me (I was 18), who waved his arms, shouted at us and occasional put his hand on the butt of his holstered gun. Our explanation of "Fell asleep, when's the next train to Rome mate?" with accompanying mime actions led to more shouting and gesticulating until we eventually established that we had a 5 hour wait before continuing our journey. We took off our backpacks and PC Ravioli noticed the large Liverpool Football Club badges sewn onto them. "You Leeverpool? No Good" he sneered and actually spat on the platform floor. He tapped his chest. "Me Milan, Rossoneri. Very good". Then he reverted from football fan to officious police officer and barked "Non dormire!" which we correctly interpreted as "No sleeping!" He patrolled in our vicinity for the rest of the night and every time our eyelids so much as fluttered, he would enforce his no sleeping policy by shouting "Non dormire!". If it wasn't for that gun …
I was thinking of that guy a lot before last night's wonderful, pulsating Liverpool v AC Milan game at Anfield. I was hoping that we would give them a drubbing and make him miserable. If he was at Anfield, even better. If his plane home to Milan was delayed and he spent a sleepless night at Liverpool Airport, well wouldn't that be perfect. As it turned out, Milan had 2 minutes of dreaming of glory but for the other 95 minutes played, we did indeed give them a drubbing. I would love to think the rest of my revenge dream came true as well.
The Liverpool starting eleven served only to remind me that no-one can second guess Jurgen Klopp. Leaving VVD, Thiago Alcantara and Sadio Mane on the bench for the opening game in the Champions League, with first starts of the season for Joe Gomez and Divock Origi, told me only one thing – Klopp did not rate Milan too highly. For the first 41 minutes, I was thinking "OK, Klopp's got it right again". For the next 3 minutes, I was thinking "Uh oh, surely not?" and for the whole of the second half, I was thinking "Yeah, I should never doubt Klopp".
There was a wonderful atmosphere inside Anfield with a huge white banner on the Kop reading "25.05.2005 There Are Places I Remember All My Life"; so simple, so evocative of Istanbul. It was ramped up with a superb rendition of "YNWA" before kickoff. Liverpool started like 11 Tasmanian devils, pressing the life out of Milan and attacking the Kop goal in waves. A 1-0 lead after 41 minutes was scarcely believable and totally flattered the Italian team; a 1-1 score line after 42 minutes was a travesty; and for Milan to take a 2-1 lead after 44 minutes defied belief. I certainly did not blame the Liverpool defence for those two Milan goals. From my seat (and I haven't seen any television replays yet) it looked like the whole of the front 6 just switched off and let Milan have all the time and space they needed to get at Liverpool's back line. Half time came at just the right time as it helped Liverpool to clear their heads and the second half was virtually one-way traffic towards the Milan goal, roared on by the raucous home support. The skipper scored a wonderful winner and the Liverpool goal was never really threatened despite the introduction of Milan substitute Giroud who was usually an awkward customer against Liverpool for Arsenal and Chelsea.
Overall it was another very good team performance and my standout performers were :
Andy Robertson – "Play a 6th game in 18 days after an injury in pre-season? Nae problem boss, pass me mah boots." Superb all along the left flank from goal-line to goal-line.
Joel Matip – Reminded us once again that Liverpool also have the second best centre back in the world. As well as dominating defensively, Big Bird also went on a mazy run deep into the Milan penalty area which finished with a shot from Jota being deflected just wide.
Joe Gomez – So, so good to see him playing again, taking up where he left off. Calm and decisive and didn't put a foot wrong.
Jordan Henderson – Played a real captain's game culminating in a volleyed thunderbastard of a winning goal. What a leader.
Mo Salah – A constant threat on the right of the attack, linking superbly with Henderson and TAA. He shrugged off that pretty crap penalty miss and coolly finished a great lobbed pass from Origi to give Liverpool the early second half goal that was needed to reignite the self belief.
A quick word for the referee. Is he really the same species as Wobbly Jon Moss and Dozy Andre Mariner? Fit, authoritative and knows the laws of the game and how to apply them. He could never referee in the Premier League.
Next up in the Champions League is Porto away. I won't attempt to predict the Liverpool starting eleven but I will predict another cracking game with another Liverpool victory.
6 – Abhi (El Indio) on resurrection and Origi:
The English word resurrection is a word that took 1300 years in the making.
According to Online Etymology, the word resureccioun was coined in the year of 1300 AD and has its roots from Latin (resurgere "rise again, appear again") via old French.
During its coinage it was promptly accompanied by a picture of Christ. Every time you hear that word and you know the reference comes from Christ. His rising from the dead. There are other religions who also believe in after life and their view could be slightly different but the core concept remains the same. It talks about a return after a period of non-existence.
Humans have a life span and then they cease to exist. In other words we rise from star dust and return to it. What we leave behind during that time is of utmost importance.
Words. Performances. Photographical memories. Acts of kindness. Our kids. Our grand kids. Our values and impressions on the kids and grandkids. Good, bad, ugly, or worse – we leave something behind.
And then there are returns. Not just in medical terms but also in terms every aspect of our life.
How many times we have heard of someone making a comeback from a financial disaster?
How many times have we heard of someone changing themselves for the good?
People losing weight, cutting out bad habits and making a comeback. We love comeback stories. It is a weird connection but it is also natural as it gives us hope that we can turnaround situations when the world is unfair to us.
And don't we like sporting comebacks? We embrace them unless the teams are not from our liking. I even enjoyed Barcelona's comeback against PSG. It was astonishing.
Nothing like ours though. We have been doing it so many times after Istanbul that it feels like whenever the odds are against us, it takes just a moment to sound out a comeback.
Dortmund '16. Barcelona '19. And now a small but a vital comeback against Milan in '21
And here's the most intriguing thing, Divock Origi has started in all those matches.
I might be nitpicking to confirm a bias that Divock (Div) is a legendary performer who steps up on the big stage and I am wrong partly. I am also right partly.
Div's goals don't come regularly because he is behind Mane, Salah, Firmino, and Jota to get regular football. These are four elite players and then there's Div. Fifth choice at the age of 26 when strikers usually hit their peak.
Yet, here he is. We signed him in 2015 but he was loaned back to Lille where he was voted one of the worst players in L'Equipe's Ligue Un Worst XI of the season. (Link to tweet)
He came in and Rodgers was sacked. He then had encouraging performances including that hat-trick at St. Mary's. We all thought that Div was on his way to fulfil his potential. He almost did so. Scoring away at Dortmund and then igniting the comeback at home to score a vital goal when the score was 2-0 to Dortmund at home.
He then scored the opener against Everton until Funes Mori ended his season. Would it have been different in Basel against Seville? Two up front with Daniel would have been quite some story. We were robbed of a player.
The next season was a stop and start season as Firmino and Mane took up positions that meant Origi was vying with Sturridge to be the centre-forward. Yet, he delivered in scoring crucial goals as the hunt for Top-4 continued. Chelsea were the relentless pursuers however we made it to the finish line.
The following season when Salah arrived and Liverpool's trident took shape, he left for Germany.
"When I made my choice, whatever choice I make, if the club is OK with it, they will agree with it. I think he was behind my choice and he wished me good luck," said Origi of manager Jurgen Klopp's reaction to his departure to the Bundesliga on Transfer Deadline Day in August."
Yet, his promising start at Wolfsburg faltered after Wolfsburg changed managers twice in the same season while staving off relegation. The low point was him being hooked off at 42 minutes while his team were down 2-0.
His father's quote is telling that he wanted his son to fight for his place.
"Divock wants to offer himself again in every training session for a starting place. He is not happy with this situation and will push himself again. Divock is focused 100 per cent on Wolfsburg and wants to help the club in the relegation battle."
At 23, Div's potential felt like it was never going to get fulfilled. As we stumbled at Kyiv, I wonder what Div might have thought about being with his actual owners. Would Klopp have given him the chance during the final? We would never know.
He returned. We forgot him partly as well because of the waves the front-three were creating across the league or Europe and how we were taking our game to another level.
And then he was thrown to the gauntlet often. 12 times in the league and 8 times in Europe. Playing more than an hour only five times and the complete 90 minutes only once across the two competitions.
Yet, can anyone doubt his contributions?
Resurrection-I: That goal against Everton. (The number times I've smiled while watching this video is uncountable)
Resurrection-II: That header against Newcastle.
Jesus says, 'Stop it, my dude': Those two goals with one being a legendary goal with a pivotal schooling of one of the best clubs in Europe.
Resurrection-IV: And the clincher in Madrid.
The following season Div's status was established as a Liverpool legend from Genk, he kicked off the campaign with a goal against Norwich in the opener. Yet, appearances were hard to come by but whenever called upon you couldn't fault his commitment even if the pressing or overall output was questionable. With some appearances lasting less than 10 minutes, it also seemed incredibly harsh to judge his final output. However, he still managed to put two past Everton again.
2020-21 was a write off and Div tried his best to contribute to arrest the decline. But all of us, including me understood, that he might be on borrowed time. He just didn't fit when we knew the defensive carousel robbed us of any stability. In the most important run of games we've considered during the Klopp era, he was either injured or on the bench.
The forgotten man was expected to leave. Heck even Juergen thought he was going to leave!
"In the summer transfer window we all thought there would be a proper offer for him, but obviously people don't watch football enough."
Yet, here we are again. Div deriving strength from Lord knows what power source to resurrect his career.
It just seems on the surface that Origi isn't the competitive type whose mere presence on the pitch would scream passion, commitment or even a Geggen-pressing machine like Firmino.
But on Planet Origi, according to Milner, calmness and laid back attitude doesn't come close to a behaving like a dickhead or less of being a consummate professional. He's listening, absorbing and he would have trained in the field of psychology if it hadn't been for football.
We have misunderstood him for long, maybe. There is a competitive zeal inside with a fierce determination to prove himself on the pitch. Heck, he does that every time on the training pitch and he gets to the bench.
Maybe we do deserve a fifth choice striker who could better Origi. But who would be willing to come to Liverpool when there are four elite machines who are almost in displaceable owing to superior fitness, years of understanding the Gergen-pressing system and serial winners?
Add the pandemic and the general shit state of football finances, I expected an offer for loan to buy but even that didn't arrive. I'm also convinced that Div thought his career at Liverpool was over. And then he arrived for pre-season, delivering encouraging performances to not even get picked for the match day squads for the first four Premier League.
If I were Div, how would I feel? Depressed would not even be the right adjective to describe the sinking feeling.
But then Milan rolled into town. Div was given 60 minutes or whatever his body could take after not playing for a month. He assisted, he pressed and he thrived in the chaos creating system. All that we would expect as the absolute minimum for an out of favour player who just doesn't want to make up a number in the squad. Even youngster don't just get to make up the numbers, they have to stake claim through their performances in training and on the pitch. So the bar is even higher for Div to make an impression. It would have been perfect if he ended up scoring but then we have been blessed with many perfect moments from Div.
And while we didn't get what we thought we might have deserved as a fifth choice striker, with the transfer window shut Div does deserve a chance from us to be a valuable squad player.
In the epic Liverpool 4-0 Barcelona (H) match thread I had commented in jest that only Jesus could have saved Barcelona from a 5-0 drubbing.
berre's response just summed up Div's career in a nutshell:
Wouldn't matter if Jesus saved. Origi would have scored on the rebound.
Here's to another resurrection. What a guy.
Articles published since last Friday, with excerpts:
Sunday September 12th:
Post-Match Analysis: Leeds United 0-3 Liverpool, by Daniel Rhodes.
Individual Stats:
Mane attempted TEN shots, three big chances (and a frankly ridiculous two xG all by himself – another record) and thankfully he finished one at the end. Salah attempted the other two, scoring the opening goal from Trent's assist.
It really takes some doing to create more chances than Alexander-Arnold, but – and possibly not a player we've considered as such a creative hub before – Jota managed to set up his teammates six times with an xA of 1.15. Still, the fullbacks did create eleven chances and 1.3 xG between themselves so it just adds to our variety of attack!
Klopp Told the Dumb Pundits. The Elliott Injury Bullshit Started Against Burnley – PL Refs Are Abject, by Paul Tomkins.
How many more players can Liverpool have kicked out of a season? Van Dijk and Thiago at this stage last season, both from shocking red cards, albeit only one was given. Others followed. An injury crisis in part fuelled by reckless tackles. Game four, and already a player in hospital.
It's not good enough from the officials. Why does the Premier League insist on officiating so differently to everywhere else? We can still have blood and thunder, just no cowardly, dangerous and dumb "feet off the ground" challenges.
…
It's hard to express how much I've been saying this is coming. I don't care if you win the ball if the inevitable result is breaking someone in two. The officials need to protect players, not allow thuggery.
Elliott had spent the first four games jumping out of late tackles. Go and watch how many he's had to jump out of the way of, as a small (but not timid) technical player. I am so angry, because this has been coming. A lunging tackle that takes a player into the opponent is rarely "innocuous". 
Tuesday 14th:
2021/22 Champions League | Matchday 1 | AC Milan Preview | Anfield | 8pm Kick Off (UK time), by Gary Fulcher.
Liverpool have been handed a tough draw in this season's Champions League, with Atletico Madrid and Porto joining the Reds and Milan in Group B.
Milan secured their place in Europe's elite competition for the first time since 2014, as a result of their 2nd place finish in Serie A last season, ending the campaign with 79 points, 12 behind the champions Inter Milan and just two points ahead of 5th place Napoli.
Il Rossoneri  have begun this season with two wins from two and are undefeated in their last seven league outings dating back to the previous campaign. Milan had the third-best defensive record in Serie A last season, conceding 41 goals in their 38 matches and have conceded just once in their last seven league games. The departure of the highly rated goalkeeper Gianlugi Donnarumma, who moved to PSG on a free transfer in the summer after eight years at a club that handed him his first-team debut at just 16 years of age, has not yet impacted Milan's defensive solidity.
Wednesday 15th:
Trent in Midfield – Why Disrupt a Generational Talent?, by Mizgan Masani.
We can see from this collage that as the seasons have gone by, the right-back has become comfortable in moving more into half-space regions to affect the game (sample size of 2021/22 season is low but a pattern is being found). It shows that he is slowly affecting games in a positive way not just by hugging the touchline, but also by being aware of where the space is and trying to create openings for the team. Hence, while he does all this and also gets better as a player from the right-back position, there is no point in moving his position around. Let him be there and become the best right-back of this generation.