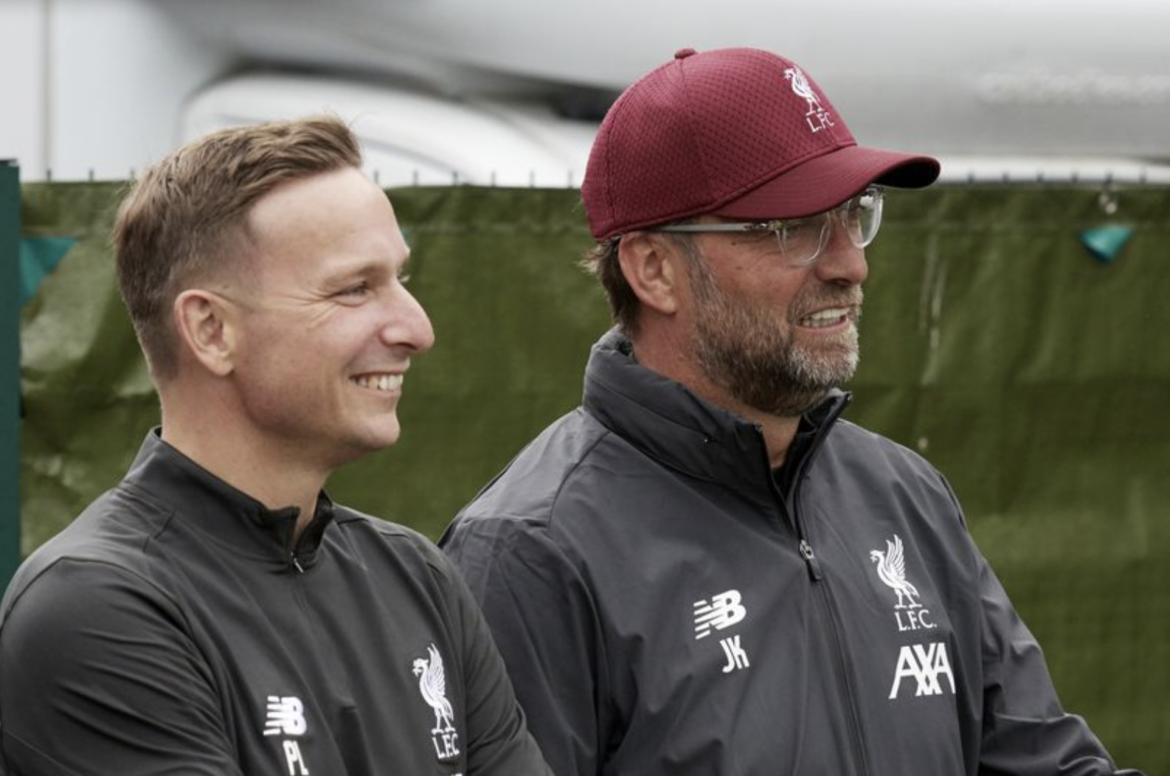 Best posts of the week, as chosen by Chris Rowland and Daniel Rhodes.
1 – Paul Tomkins on Pep Lijnders as Klopp's successor:
I was discussing it the other day in the comments, perhaps in response to people talking about Steven Gerrard.
I think Lijnders is being groomed to succeed Klopp, based purely on how the two men get along, how Lijnders is very influential, and how he's doing more media work, which a) raises his profile and b) gets him used to media work. It could be that he's just looking to be a manager somewhere else, but his one brief attempt ended badly, and he was only about 35 at the time.
I think the players like him, he's young and in touch with them, with fresh ideas. He's developing a really confident personality, as a mini Klopp (albeit he's not the one who looks like Klopp). He has the energy and the drive, and so I think he ticks all the boxes, bar experience – but he has the experience of being a big part of the LFC winning machine, 2018-2020.
Klopp has previously said he'll leave in 2024, to take a year out. The logical thing would be to try and have the Shankly-to-Paisley kind of handover, where all the shared knowledge is already in place and there's no ripping up; albeit the ripping up is usually desired if it's been a terrible season that sees a manager sacked.
But if there's succession planning, this would be the logical way to do it – not least as, unlike with managers at other clubs (whose situations are ever changing, and whose stock will rise and fall), someone like Lijnders is already at the club, and under contract.
So it's just a hunch, based on observations, and how Lijnders will surely be a manager again one day. If I was LFC I'd be working towards that aim, and then reassessing when the time comes. I think he has learnt a ton of stuff from working with Klopp, and he's smart and full of ideas of his own. The big downside is a lack of profile and that can give a manager patience from the fans, but I think a lot of LFC fans really respect Lijnders – he's no Colin Pascoe or Mike Kelly, that's for sure. 😉
2 – Tony Mc on fouls committed on players:
As a follow-up to my post from yesterday, I delved a little deeper into the "Most Fouls Received" statistics for Premier League season 2020/21. While Jack Grealish was awarded 110 fouls in 26 appearances (including 2 as a substitute), Mo Salah was awarded 22 fouls in 37 appearances (including 3 as a substitute). So Grealish was awarded 5 times as many fouls as Salah although Salah played in 11 more games. And yet Grealish is "the most fouled player in the Premier League" while Salah "goes to ground too easily".
Move along, there's nothing to see here. The Premier League, PGMOL and the UK football media have got it all under control.
3 –  PeterD discussing the issue of new contracts for Liverpool's 30+ stars:
As harsh as it may be, and as much as we might not want it to be true, time moves on and a lot of the team of champions will fall (due to age) from the levels we have got used to and what the first XI requires.
The people dealing with the contracts have to judge what will be provided in the future and not just reward what has been achieved in the past.
To hand out long term contracts to all of the aging group would be reckless as it would tie up a significant part of both the salary budget and the squad capacity – blocking the opportunity to sign their eventual replacements.
At some point, as has happened with all our legends, our current players will no longer be part of the team or squad and it is a critical job to determine when that time arrives for each player – something that the club is very aware of and certainly not something they will be negligent about!
4 – Jeff on how the pandemic will change the way football is financed forever:
If anyone thinks that after the covid-19 pandemic dies down football will return to the way it was before the pandemic, here is proof that this simply will not happen.
I have talked and talked and talked about the fact that one way or another football everywhere needs to find brand new revenue streams. Now this lot is not the worse venture capitalists that I can think of off the top of my hat but make no mistake about it they will have guarantees and I mean cast iron guarantees that they get their money back and make a handsome profit. To me the arrival of any number of venture capital firms in football means that the pressure will be applied to find major new revenue streams. If anyone thinks the so-called Super League is deal, this is just another sign that it is alive and well. How will La Liga find a way to increase its revenues to keep their new partners happy? I have some ideas but I will sit back and watch how Spanish football is changed forever and a day.
I want to note yesterday I posed until the FSG thread how badly undervalued the broadcasting rights to Premier League matches is and has been. To me the obvious way forward for the Premier League is to get true value for its broadcasting rights but I do not see this happening. I am sitting here this morning and waiting for a club in the Premier League to one way or another became dependent on a venture capital firm and then who knows how this will change football and not for the better.
Articles published since last Friday, with excerpts:
Monday August 2nd:
Kevin Keegan's Debut – My Day at the Match, Nottingham Forest (H), Aug. 14th 1971, by Tony Mc.
On the eve of the game the Liverpool Echo had announced that Shankly was to give Keegan his debut and there was real excitement as the smallish but muscular figure with the fashionable feather-cut-cum-mullet haircut was quickly identified as the new kid. Hopeful as the Kopites were that the new boy would turn out to be the real deal, I don't think anyone amongst the day's crowd of 51,427 would have expected that they were about to witness the debut of the player who would become the first football superstar of the 1970s.
Tuesday 3rd:
My Away Days at the Match – Part 2: in Manchester and At Home, by Chris Rowland.
There was an occasion when we had played Utd at Old Trafford in a league game, and were travelling back south in Vince's works van – he was a gas fitter at the time. We sat in the back amongst the road drills, the hard hats, harnesses and other safety gear, and lots of dials and gauges and rusty pick axes, on a garden set and table, complete with parasol, which he'd got off the tip! We erected the parasol in the back of the van, drank beer and played cards whilst Vince drove. A health and safety nightmare. And it drew a glance or two on the motorway.by Chris Rowland.
Wednesday 4th:
The Taxing Issue of Taki – Where Could He Fit Into The Jigsaw?, by Mizgan Masani.
In terms of productivity, Minamino has excelled the most when playing the attacking midfield or the second striker role. On the contrary, in the early years of his career, he used to play on the wing a lot.
To add a bit of recent context to this stats table, since the start of the 2017/18 season, when he was at RB Salzburg till current, the 26-year-old has played 33 times as a winger, 45 times as an attacking midfielder or a second striker (33 attacking mid and 12 second striker), and 29 times as a centre-forward. So, this suggests that he has played majority of the games in his most productive positions (45 of the 50 games) in the last four seasons, and most compared to other positions across the front-line. Those 33 games as a winger has been split into 17 on the left and 16 on the right.