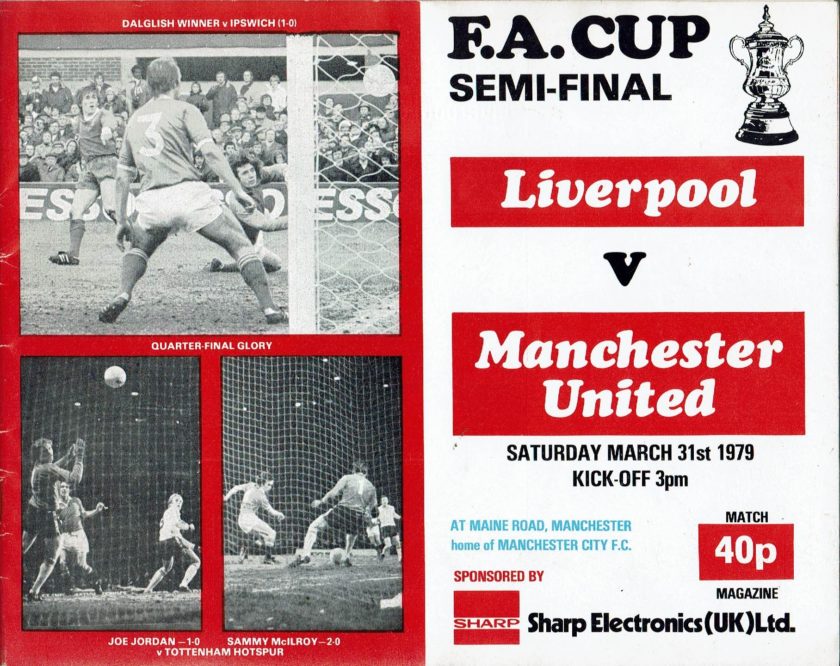 As I said in Part 1, this mini-series is mostly about away matches. And over the years we've seen enough action in Manchester to justify an entry all on its own.
But I'll pause briefly for a look at home games first, from when it all began. Having been born abroad (in Hong Kong) to a globetrotting father in the Royal Navy, I first set foot on these shores at the age of 1 1/2. Seven or so years later, when I told mum that Liverpool was my team, that it was their results I wacthed out for, she said how strange, because Liverpool docks was the first English soil I set my tiny feet upon. The troop ship home bearing the family of serving naval personnel was actually due to dock at Southampton but the Queen Mary was in, and I guess they didn't want a scruffy troop ship raining on its parade, so we got re-routed to Liverpool, where we spent several months whilst dad was re-stationed – to Portland, Dorset, where my next brother down arrived! As I said, I had an itinerant childhood – Hong Kong, Liverpool, Weymouth in Dorset and Lichfield in Staffordshire where my mum came from by the time I was eight!
I made my Anfield debut on April 5th 1969, against Wolves. It involved going on a Wolves coach from the Midlands with my dad – you could buy coach tickets for Wolves, Villa and Albion games at a local newsagent. We went in the Annie Road End, paid on the door and saw Liverpool win 1-0 (Sir Roger Hunt!), and I never shut up about it for days. I must have bored mum rigid talking about the M6, the Manchester Ship Canal we went over, the stadium, and the crowd, and the game, and the players.
I'd already seen Liverpool away from home once, at the Hawthorns in a goalless FA Cup tie in 1968 when Alf Arrowsmith hit the bar, but Anfield was another matter entirely, and certainly not over-familiar as yet. The novelty was a long time from wearing off. In fact it never really has.
My next, in March 1970, was in my dad's car, and it was the Merseyside derby. That's one game where you couldn't pay on the door, it was ticket only, and we didn't have any. Dad didn't even like football much, he did it all for me! As we got to Anfield, about ten minutes after kick off, we walked behind the Annie Road, where what I was later to know as the blueshite fans were, jubilantly chanting "Joe, Joe, Mexico". Joe Royle was their centre-forward and a contender for the England squad for the 1970 Mexico World Cup. And he'd just scored. Two policemen approached us.
This article is for Subscribers only. Sign up for just £5/month.
[ttt-subscribe-article]