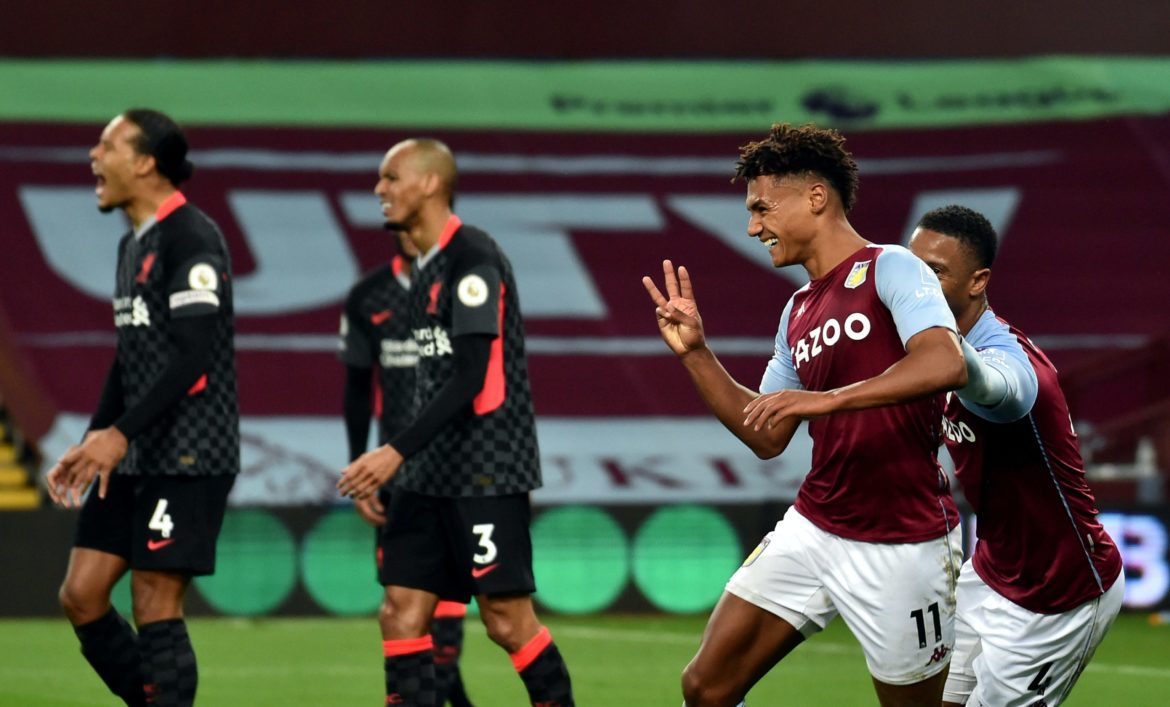 Best posts of the week, as chosen by Chris Rowland and Daniel Rhodes:
Here are some comments we've picked out this week:
1 – The first three selections came after the defeat at Villa Park, starting with Jeff:
If you watch a broadcast stream of any match, you know that you are missing large amounts of what actually is happening on the pitch and you know even what you see may to some degree, maybe a large degree, be something of a distortion. Adrian has played in any number of matches for Liverpool and for a number 2 keeper has done more than a credible job but no one including the lad himself would say he is anywhere near the class of Alisson. This means that Liverpool's back line – Robertson, TAA, Gomez, and TAA – had an obligation or more precisely a responsibility to play as they did last season with Adrian in goal. In addition, Fabinho has played as the screening midfielder when Alisson has been out and Adrian has been in goal and knows he had to be act very responsibly and protect Adrian. The record from last season is proof that the back 4 and Fabinho knew how to play with Adrian in goal and today to put it kindly they did not play anywhere near the fashion they played last season with Adrian in goal. Why this happened is a good question and one for which I have no answer.
We could spent an endless amount of time talking about what Liverpool has done the past two seasons but today I just want to make a few minor points that today I believe had major impacts. First, if you watched Liverpool play, you could see time after time after that the lads on the pitch knew what would happen when they did something and by this I mean whether Liverpool were attacking or defending. This meant that when Liverpool had the ball they knew where the runners would be going and they knew as a consequence how the defence was being pulled this way and that way and they knew what to do. Today, I saw players with vast experience such as Wijnaldum who usually moves the ball effortlessly trying to figure out what to do with the ball. For the past two seasons Liverpool's back line was a sight to behold as it kept its discipline in match after match and today the discipline that has been its hallmark was missing. To me it is an open question of what happened to the virtues that propelled Liverpool forward the past two seasons today.
To me one if not the oddest occurrence in today's match is that with a few correct calls and a little bit of luck going Liverpool's way instead of going Villa's way Liverpool might have actually won the match. I am certain that Jürgen Klopp is not going to allow this state of affairs to obscure the fact that Liverpool need to return to the way it has played for more than 2 years under him and I have no doubt that training sessions will emphasise the virtues that have brought Liverpool so much success over the years. I also expect to see Klopp in training sessions impress on every lad on the books that sub-standard performances will not be tolerated and we may well see some surprises in who get matches for the club going down the line. Klopp will not tolerate sub-standard performances.
I believe that every great team is great because it wants to win more than anything else in a game/match and the will to win is more often than not the difference between winning and losing in football and some other sports I can think of. To me all the great teams I have ever seen play had one lad who may well have not been the best player but was the lad who somehow someway got the talented lads and all the rest to win the game/match. To me the lad in this Liverpool team the past number of years has been Jordan Henderson. If you watch Liverpool play when he is on the pitch versus when he is not in the game, you will see in my opinion a different Liverpool. I wish I was at a match to hear what Henderson said but I am 3,000 miles away and cannot read lips. I suspect that he is the voice on the pitch making sure that every lad is doing their job and is the voice on the pitch telling every lad to work hard and I know he is the lad on the pitch who always more out more effort in times of need and given how much effort he puts out the whole match is something to behold. I do not believe that we would have seen much of what we saw today if Jordan Henderson had played.
Every great team has a howler or two in them each and every season and we all remember Watford last season. To me talent is not the problem with this Liverpool team but it needs to return to the ways that brought so much success and one way or another I am confident that Jürgen Klopp and his coaches will see this happening.
2 – Fourcandles:
Some random thoughts:
With Mane out, you'd think we'd have been more conservative on his side, and be struggling more over there. But perhaps it's a testament to VvD and Robbo's maturity and experience that we didn't. But Villa started and kept attacking our right, with Grealish, Watkins and Barkley attacking the channels outside TAA, between TAA and Gomez, and between Gomez and VvD. The most dangerous probably between TAA and Gomez, with TAA so far ahead, and the split in between leaving some confusion on who should cover who particularly when it's 2 on 2. Whose job was it to cover those two on the right? Didn't seem like we did properly it until Milner came on.
VvD was also having a hell of a day having to deal with Barkley on his right and Trezeguet between him and Robbo. Two tough customers who left Virgil with studs in the face (accidental), a yellow card (and possible red card escape), and an awful deflected goal. Virgil will probably need a good soak to wash this night off. Again, who's helping him out? Who's covering?
So much disruption today:
1. No Mane, no Alisson. No Thiago wasn't that much of an issue as he's new, and it wasn't our creativity but intensity and defending that was the issue (although we can see how much of a fighter he is).
2. New boy Jota starts his first PL match for us. Disrupted connection with attack and midfield as this is the first time he's played with the first team there.
3. New keeper comes in late, due to the suddenness of Alisson's injury. Disconnection with VvD and Gomez but it's not like they hadn't done this around a third of the games last season.
4. Our first reaction is to pull Naby for Minamino, covering on the right. Which indicates a recognition that we needed more help there. Another disconnection with the back, or at least a new connection.
5. After the new setup doesn't work, we pull Gomez. So now Fab is in CB, not our preferred backup, and now there's a gap in midfield filled by young Jones, who is improving and certainly not a shrinking violet. Two new connections added, back and midfield, even if not unfamiliar.
6. Finally we pull Firmino, adding Milner. This strengthens the midfield cover especially on the right. But introduces further disconnection in the attack.
I count about 8 disruptions we have to adjust to, both before and during the match. As much as we'd like to think we can swap players in and out like Lego pieces, we know they all have their own strengths and patterns. The entire system is affected. Things just seemed to go from bad to worse, exacerbated by freak events. (Encouraging how Klopp also took that on: deflections aren't just bad luck, but that we didn't properly block.) We did what we could, with the means we had. But there were critical things also out of our control.
I'm sure we'll sort this out. Good news, we have two weeks to get it figured out. Bad news, we have to wait two weeks to see how we bounce back.
3 – Rafawasthebosphorus:
Some serious issues here which need real thought
1) Trent has been off form for a while. That's to be expected in a still-young player, but we don't have the luxury of putting someone else in whilst he's learning. He's our #1 and the #2 is a big step down
2) Ditto Gomez, but he's not – or shouldn't be – our #1. But Matip is injury-prone and the next-best option isn't a CB
3) We've been telegraphing for months that we're open for business down our right-hand side, and sides now have the confidence to exploit it. Or at least know that there's nothing to lose by doing so. Tactically, we either need to: (a) massively up the press to stop that easy through ball, (b) drop Trent back to play full-back and not winger, or (c) find a double-pivot or other midfield solution to back-fill properly.
All three solutions have issues:
(a) We didn't hunt in packs like we used to. It was really obvious last night, but we've dropped the physical intensity for a while now, probably for good reason in terms of sustainability. But the midfield last night didn't operate well together. More than once you could see Villa players swarming ours but we didn't then go in to even the numbers. Fabinho in particular got caught by multiple Villa players with no help from Gini or Keita or even Bobby. I was pretty shocked TBH.
(b) Dropping Trent back probably required. He needs to re-find the balance of defence and attack. But it's going to be tough to make up for the lost attacking input. Alcantara?
(c) Feels too static for us. Maybe it can work, and there are better tacticians here than me, but it's hard to see the high press work out of a double pivot. So a low press and hit more on transition? Maybe. Would be a pretty big change
Lots for Klopp and the team to think about, in my view.
4 – david_o sums up how he feels about Martin Atkinson, and you might agree with him
I remember Mark Clattenburg was a guest in the Norwegian PL studio, and he basically said he couldn't stand Atkinson, either.
He is by far the worst referee in the league. I can honestly say I've never seen him have a good game.
Articles published since last Friday, with excerpts:
Sunday October 4th:
Post-Match Analysis: Aston Villa 7-2 Liverpool, by Daniel Rhodes.
Lies, damned lies, and shot stats. The raw numbers look fairly even: 14-18 total shots; 8-11 shots on target; 10-13 shots in the box and four big chances for us to Villa's six. The only times we've conceded six big chances under Klopp: Man City (a) 0-5; Watford (a) 0-3. Liverpool had more touches in the penalty box (45-31).
In terms of expected goals: plenty of variation, according to Opta it was much closer than the score (1.78 – 2.72) so barely one xG in it, but if we look at Statsbomb (probably the best model available in the public sphere) then the difference is far greater (1.8 – 3.9). The average across all six models we track: 1.7 – 3.2. The only other match we've ever conceded more than three xG under Klopp was in a 1-1 draw, again with Man City, in 2016/17. The previous highest we've conceded was 2.8 (versus Watford last season).
Time To Stay Sane – Liverpool Thrashed By Wicked Deflections, by Paul Tomkins.
Well … that was the weirdest game I've seen in years. Villa deserved their win, especially for the way they exploited Liverpool's high line down the Reds' right-hand side, but it was strange in that for large portions it was fairly equal (certainly in the first half). Liverpool went from conceding no deflected goals last season, according to Andrew Beasley, to conceding three massively deflected goals in one game.
All three sent the ball into the exact opposite corner of the net to where the original shot was headed. That was just freakishly bizarre. None of the shots looked like they were going in, yet all found the top corner or the bottom corner. Shit happens, just not normally all at once, in one game.
Tuesday October 6th:
How To Recognise The Start Of Decline And How To Avoid It, by Bob Pearce.
I'm going to suggest that you just pause for a moment now and think about the five diagnostic 'Markers' of 'Hubris Born On Success'. As you currently look around Liverpool FC, do you see evidence of any of these 'Markers' within the playing squad, the coaching and recruiting staff, and the administration and ownership today? If not that should be a huge reassurance whenever results, performances and data do not look so well today, tomorrow, next week, next season and for seasons to come.
If you do see evidence of these 'Markers' appearing within the club, it will not be conclusive but, to repeat, "It does indicate an increased possibility that you're in that stage of decline." This model should also give reassurance that, even if results, performances and data were looking good you could keep a close eye on those 'Markers' and you'd want to look out for evidence of the next stage, which Collins called 'Undisciplined Pursuit of More'.
Wednesday October 7th:
Martin Atkinson's Bias Against Liverpool – It's In The Stats And Anecdotes, a FREE READ by Paul Tomkins.
Now, I don't want to see referees persecuted, attacked, abused online or made to feel unsafe. This is about his suitability to do his job; or rather, his failings in doing that job. This is about a man paid a basic salary of £200,000 a year.
The data suggests that Martin Atkinson should not be allowed to referee Liverpool games because it looks pretty undeniable that he has an agenda; or, at the very least, a strong unconscious bias. And not only that, the moment when Atkinson turned more vehemently against Liverpool can be offered as an obvious motive.
And this article is just about penalties; and therefore ignores the blatant foul on Divock Origi that allowed Manchester United to score last season at Old Trafford, or ruling Roberto Firmino's armpit offside at Villa Park (of all places) when working as the VAR. Most egregiously, he then correctly sent off Alisson at home to Brighton in November 2019, for a handball outside the box to deny a near-certain goal, but then allowed Brighton to take the resulting free-kick before the substitute keeper, Adrian, had arranged his wall, which was a bit shitty of him, but apparently not illegal. However, as former high-profile refs (indeed, the former head of the referee's association) pointed out, his huge error was in letting Brighton take the free-kick with one of their players in the Liverpool wall, which had recently been outlawed. Again, due to his seniority, it seems, Atkinson got away with the gaffe, and Liverpool just about held on to the win despite the free-kick ending up in the net. How can a referee escape censure for a goal-costing mistake where he didn't even know or apply the laws?
Friday October 9th:
All You Ever Wanted To Know About The Premier League Transfer Window In The Year Of Covid, by Chris Rowland.
Carteret believe Southampton, Tottenham and Arsenal have had the best window so far, in as much as all three of those clubs' signings are considered to have a higher value than their transfer fees. The worst value goes to the highest spenders, Chelsea, and also West Brom (they make no mention of the serial transfer window winners, Everton! 😉 )
The final total of £1.24bn ranks third in Premier League history for a summer window and represents, according to a report by the Centre for Economics and Business Research (Cebr), a net spend of £813m. The latter figure is an increase of over £180m on last summer.
So let's look at how the Premier League fared club by club, starting with the one we care about.