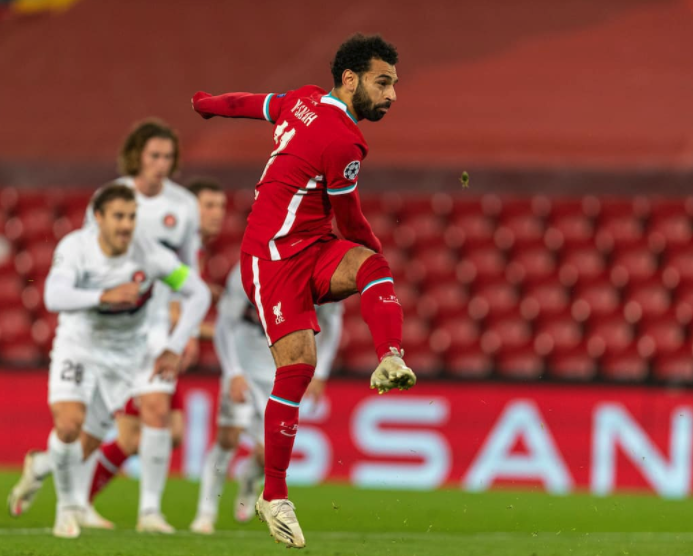 Best posts of the week:
1 – Mike Taylor on the Sheffield United match:
Interesting match against what I thought were a very good Sheffield United team — much, much better than their results so far suggest. Given that their next two matches are against Man City and Chelsea, it's not impossible that they could get to eight games with only a single point: if they do, then I think there might be good value to be had in betting on them to stay up! What I saw as an athletic, hard-working team with a reasonable amount of flare and a progressive attitude.
But as Paul says, everything is overshadowed by the officiating. As the photo above clearly shows, Fabinho took the ball cleanly. What else is a defender to do? Obviously, what he should have done instead is wrap both arms around the Sheffield United player and hold him down while heading the ball clear, as Harry Maguire has now established that that's perfectly legal.
What made me feel a bit better is that SU had a much stronger penalty shout later in the half — I think it was Jota on Berge — and that one was not given. I mean, I hate the inconsistency, but I'd much rather believe it's due to simple old-fashioned incompetence than actual corruption.
Similarly, there was a tiny part of me that actually enjoyed seeing Salah's Bergkamp-style wonder-goal chalked off, because he actually was offside. It wasn't another ludicrous decision like Hendo's Everton winner.
I love the ambition of playing with a Fab Four up front, but I'm not convinced it worked, or even that it can work, really. The problem is that it leaves the midfield light, and that means the opposition's creative players have time to pick their passes. In SU's case, that meant lofting high balls towards their strikers; for other teams, it will mean picking out runners as they break past our offside line. I think it's more important to control midfield than to wedge one more attacking genius into the team.
2 – Mobykidz and media narratives:
On Saturday Mo Salah was clearly pulled back in the penalty area by a Sheff Utd player. On contact like this Rashford or Martial would have collapsed as if electrocuted from a lightning bolt. The fact Mo Salah used his upper body strength to muscle his way through and not go down could be seen with merit. Yet it's the same Salah, one game later, who easily goes down according to Crouch? I watched that penalty several times and the defender catches his heel. So much so you can see Salah's instinctive yelp when he feels the back of his Achilles. That raking should be put in context. The Danish team were the embodiment of the dangerous foul and with intent. Nasty. Not niggly. So the penalty and its manner came as no surprise. Crouch is happy to make Salah into the fall guy. But I guarantee you if it was Adam Lallana on the receiving end of that challenge there'd be little conversation.
Mo Salah neither attracts or courts controversy. By all a counts he is a generous individual and a quiet family man. So a role model. But pundits want to find a flaw… he dives, he's selfish blah blah because there's nothing else to write about. No gun tattoos, no hotel escapades, no drinking, drug taking, no gambling, etc. He's a nice guy superstar. The exact same with Sadio Mane. Yet here we have the media droning on about two things – diving for penalties and these two dislike each other.  Both behave as role models, professionals and choose their team over themselves. Just because they're not on social media continually self promoting themselves the media feel free to continue dumb narratives that start in the minds of the media.
3 – Keith on the part of psychology in football:
I'll try this one for size!  One word – psychology.
Watford's raiding of the candy store caused the aura of invincibility to be questioned that day last Winter (coming after a very dodgy game against W Ham if I recall). And then once the lockdown came and went and we wrapped up the League our performance level dropped slightly. Then we start this season barely getting away with letting Leeds score 3, then whatever happened at Villa. And it all adds up.
The opposition start to see that maybe, just maybe, we may not get hammered this time. Maybe, just maybe, if we play with a little less fear. And maybe Liverpool have peaked? And maybe VVD isn't the supreme leader any more? Oh, and now he's not there! And maybe…and maybe. It's all psychology at the top level. At any level really, but especially at the top/elite level in any industry. The winning margins are narrower than a Var-drawn offside sketch.
We can start to doubt ourselves. Others can start to believe in themselves. We drop a %'age or 2, they gain a few, and it all comes together to make for closer games, closer league tables. Closer competition. When all it really is is psychology. Some believe a little more than they did. And others question themselves when once they wouldn't.
Of course, this could be utter nonsense. But looking at the league this year, there are genuinely 17-18 teams that can beat anybody on their day. Fulham and WBA not really. The rest could beat us. They won't do it very often. But they could do it a couple more times than expected. Last season they really couldn't. But now it's because they have reason to believe a little more. And we have reason to believe a tiny bit less.
But we'll still win the league, because even us believing a little bit less leaves us operating at a level that's just that bit far enough ahead of the rest. We're really good. The others aren't really that bad.
4 – Jeff on some of the key tenets of the Reds' success in recent years:
Andrew a three season run of first losing in the European Club Championship finals, next year winning the European Club Championship, and in the final year setting not only a club record of points in the Premier League but also winning the Premier League title is a reality that we all know. If you look at the lads who did this, they are still in the main the key players for Liverpool. No one can argue with anything I have written.
Football is a game played by individuals but it is a team sport. In individual sports, when the greatest athletes have a bad day at the office, they more often than not lost but in football a lad can have a bad day at the office and the team often wins because as a rule one lad having a bad day does not spell doom.
What has been the secret of Liverpool's success during the three years noted above. To me Paul in the title of his took Mentality Monsters hit the proverbial nail on the head. From the kick off until the final whistle all the players on the pitch whether we are talking about starters or subs were ready to play. If you watched a match as I know you have did, we constantly saw how Liverpool played from the first whistle until the final whistle as a team. If a center back went forward, a midfielder dropped back to cover the advancing center back or if a midfielder went into the final third one of the forwards more often than not Firmino would cover for them. I have no doubt that in training sessions and in team meetings Klopp and Liverpool's coaches went over how to attack and defend in the next match but the key is that in match after match, Liverpool executed the game plan to perfection. No matter what happened on the pitch nothing phased Liverpool and the team kept plugging away and almost always took away a win. I think people under estimate the role the mental side plays in football but to me the mental side of Liverpool played a massive role in its success. By not properly understanding this aspect of Liverpool, I think people do not understand the toll it took on all the players and this short break and the whole reality of covid-19 meant the players were not at their best and this led to mistakes. On the other hand, we are starting to see the mental strength of Liverpool in the matches since VVD suffered his massive injury.
Second, I know every one relates to the fact that footballers have to have a high level of fitness and under Klopp Liverpool have gone to a whole new level of fitness. I do not believe people fully appreciate the shut down during the past season or the short break between seasons has meant for any number of players including lads who you know are super fit such as James Milner. My point is that all of Liverpool's lads needed a far longer period of time off to recover from not only the demands of last season but the seasons before coming into this season and this I believe has played a key role in some of the sloppiness we have seen on the pitch. On the bright side, if you watch lads who you know are super fit such as Milner or Mane, you will see as the season progresses, they are starting to look like they did last season and the season before.
To me the major challenge facing Liverpool is not the system being employed but in managing the players after the demands of the past 3 seasons and the reality of the injury situation that exists with the club this season. Given where Liverpool are in the league and in Europe, it seems to me that Klopp and Liverpool are well aware of what I have written and are taking steps to deal with the problems I have hopefully highlighted.
Andrew I want to thank you for your informative article. In life it is important to recognize what is happening and not just to conclusions as is the want of pundits.
5 – OT on the dynamics of the PGMOL compared to US sports:
Part of the problem – if not the overwhelming part of the problem – is that the referees essentially report to no one.
The PGMOL supplies all professional referees for/to English Football.  But, it seems they have no direct "boss".
The PGMOL may be funded by the Premier League, the EFL and the FA – but they are employed by no one.  They even have their own sponsors.
… and the referees themselves are classified as "self-employed".
This would not wash in any US sport.  Not any US profession league.  Not any major college conference.  All leagues and conferences control their own officials – whether those officials are independent contractors and work for multiple leagues and conferences of whether they are directly employed by the NFL/MLB/NBA or whomever.
Sorting out and fixing the broken officiating was part of what project big picture was proposed to do. The PGMOL would at the very least have lost self sufficiency, control and power – although the more likely outcome would be elimination from any role in the Premier League whatsoever as the league created its own officiating set up.
… and given the increased level of "incompetence" demonstrated this season post PBP towards LFC (and other of the big clubs) …
… it is not hard to imagine that what is being observed in terms of officiating in the Premier League recently as an intentional F— Y— from the PGMOL in response.
This can not – and one way or another will not – be allowed to continue.  It is not good for business.
Articles published since last Friday:
Sunday 25th:
Post-Match Analysis: Liverpool 2 – 1 Sheffield United, by Daniel Rhodes.
Team Stats:
On the face of it, the raw shot totals look like a fairly even contest (17-13), though both teams were profligate in terms of accuracy as Liverpool managed five shots on target to the Blades' measly two. A very similar amount of shots inside the box (10-9) suggests once again this was tight. However, the key is always shot quality: five (highest of the season) big chances to two in the Reds' favour, and that includes the penalty for the visitors.
Monday 26th:
Liverpool 2 VAR 1 (Plus Very Important Site News for Subscribers), by Paul Tomkins.
Obviously the replay showed that Fabinho won the ball, and did so outside the box, but VAR inexplicably took a free-kick and turned it into a penalty, to continue the absolute farce of officiating. When you see the one Thiago conceded at Chelsea, which was super-soft, and now this, outside the area and a fair tackle (albeit one that looked rash on first viewing, so I can see why Mike Dean gave it as a free-kick a yard outside the box), you have to wonder even more when Liverpool are going to be awarded such softies (or even the obvious stonewallers) by anyone other than Michael Oliver.
2020/21 Champions League Group Stage | Matchday 2 | FC Midtjylland Preview | Anfield, by Gary Fulcher.
Set pieces and throw-ins will be fascinating to watch given that specialist throw-in coach Thomas Grønnemark has done substantial work with both sides over the years, to the extent that Midtjylland and Liverpool are ranked 1st and 2nd respectively in Europe for retaining possession from thow-ins under pressure. Both sides have also embraced analytics to great effect with the Danish side – formed in 1999 from a merger between Ikast FS and Herning Fremad – lifting three Danish titles in the last six seasons.
Tuesday 27th:
Is it the High Line? Is it the Press? Why Have Liverpool Been Conceding More Goals?, by Andrew Beasley.
Liverpool's pressing fell off a cliff after the restart, which was to be expected. The league was all-but-won for the first two matches, then definitely in the bag for the final seven of the campaign.
But what strikes me as interesting is that they are not pressing opposition passers as frequently – the rate was 21.2% pre-lockdown in 2019/20 and has been 19% this season – nor quite as often, but the success rate has gone up. Notice how the proportion of successful presses (which are those where possession is regained within five seconds) is higher than in any past campaign in the early days of 2
In previous Champions League home matches our shot count was 10, 28, 15 and 34, so the nine shots in this game represents the lowest volume in over a season. Crucially though, the 15 shots we had against Napoli last season didn't include a big chance, whereas in this match a third of our shots were high quality chances and we converted two of them. The visitors failed with both of their chances.
Interestingly – removing the value of the penalty – the xG models gave us exactly the same total (1.34) as the Ajax match. Plenty of range once again in the individual models, as Statsbomb had it 2.4 – 0.7 but Caley (who doesn't include penalties in his totals) had it even at 1.1 – 1.1.
020/21, and even higher since the restart.
Wednesday 28th:
Post-Match Analysis: Liverpool 2 – 0 FC Midtjylland, by Daniel Rhodes.
Maximum points from two games, two clean sheets and sitting atop of the group after Atalanta and Ajax drew in Italy. That's about as good as it gets, but nothing is ever simple these days and the injury to Fabinho (with Van Dijk & Matip out) – as mentioned by Klopp after the game – is "the last thing we need".
It is difficult to measure performance levels when we rotate The Front Three, and nearly the whole midfield. Failing to register a shot on target in the first half is a rare event, but possibly understandable with all the rotation/changes.