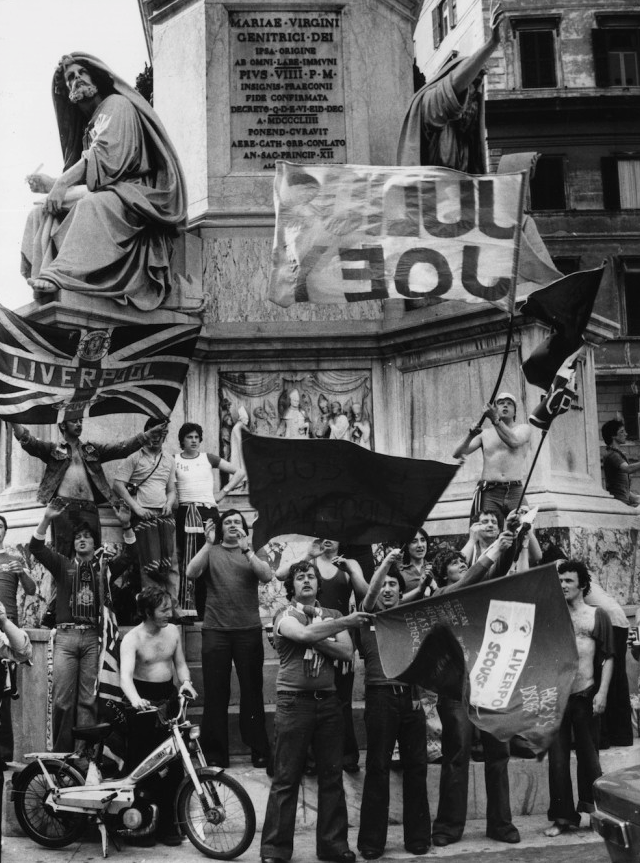 Best posts of the week, as chosen by Chris Rowland and Daniel Rhodes:
1 – Arjun Aiyar on the issue of Liverpool furloughing their non-playing staff:
I'm really struggling to believe this is an actual issue! I am in India under lock down now- this is a country where there is next to no social security net for the vast majority, never mind any kind of funding for this sort of emergency (though there have been calls to explode the budget deficit, which would set the country back in the long term)… right now the worry in this country is that if the lockdown doesn't end on 14 April, then India may end up losing scores of people more to malnutrition and hunger… so having a debate about whether someone gets their money from x or y at this point in time is churlish at best.  That said, and the reality is, that virtually every corporation in the world now is having discussions about 'cost containment' because both demand and supply have fallen off a cliff and if you're lucky you work in a company that is looking to cut your wages or move you to part time work after the crisis is over because the alternative is large scale lay offs globally. If it doesn't happen now out of a sense of compassion (or more cynically, companies not wanting to look bad), then most are just differing  it to later. As for the billionaires in football… the value of oil has halved- how would it look if the Sheikhs, being in a precarious financial position, decided to ignore their own people and instead were more concerned about how they were financing one of their hobbies…similarly, commodity prices are down 40%, and lest we forget, JWH is a commodities trader, so guess what, he's taken a pay cut already! If anyone has benefited from this its probably the Glazers, who's loans may actually get even cheaper! Irrespective, everyone in the world is going to be effected by the economic fall out from this, if not the virus itself.
2 – Mobykidz on the same subject:
I don't think the club is above criticism. But they've made a decision, as Levy did, in the financial interests of the Club and to protect jobs. I respect that. But they've constructed it in a way at a cost of goodwill and reputation (though this'll be short lived) because it was not thought through. Maybe that's because the LFC machine is scattered due to the virus. I don't know. But I still maintain there's division even within the LFC board in terms of balancing the social and financial values of this club when it comes to sources of investment and its future. There's nothing wrong with a difference of opinion. It creates opportunities and challenges.  We just have to trust in the long run FSG stay the course – and so far these guys have. One (perceived) misstep won't change that – and I suspect we'll see a fuller response to nullify criticism. I suspect the players will be unified as will be the management.  Its a crap period and we can't expect organisations to operate in the same efficient way – so let's give the guys the benefit of the doubt. I suspect we'll see LFC be one of the first clubs to announce a player-club agreement on salaries to shut up those high up in their twitter towers shouting down into the streets.
3 – Yiannis with an impassioned vent:
So, Liverpool have reversed their decision in the face of a public backlash, moving from a position that, while supposedly "controversial", safeguarded both the employees and the club's financial status, to a position that safeguards the employees while putting additional pressure on the club's finances.
All because of public backlash.
And the public backlash against Spurs, Newcastle, Bournemouth and Norwich is… where, exactly?
I am so fucking sick of the constant sense of outrage that seems to be the sole purpose of both types of media (social and "actual"), especially as it never seems to be directed at things that are actually worthy of outrage. I mean, heaven forbid that people would get outraged about half of the world's politics inching ever closer towards authoritarianism (the parts that aren't already all the way in), the continued exploitation of the masses by an increasingly isolated ruling elite or the lack of equality that still plagues every person born with either a vagina or non-white skin. Why would we want to be outraged by those sorts of things? There's a football club over there making a fiscally responsible decision during a time of unprecedented crisis. Get out the pitchforks, lads! Only for that one football club, though. You know, the one that generates loads of clicks, not those other ones doing the EXACT SAME SODDING THING!!
This isn't directed at anyone on here, of course, as there were plenty just on this thread that disagreed with Paul while making intelligent, articulate arguments. I'm just so sick of the stupid mob mentality that constantly drags our species back into the fucking jungle.
Shit like this just makes it ever more tempting to root for the goddamn coronavirus. Maybe we should let it wipe out a few billion, let society and civilisation collapse, force the human race to rebuild and perhaps this time we might learn to work together as a species. I mean, it didn't work out that way after the Bronze Age collapse, nor after the fall of the Roman Empire, but maybe third time lucky, eh lads?
Grumble grumble grumble sorry for the rant grumble grumble.
4 –  Stevenson1988 speculating on the impact of coronavirus on the future transfer market:
I think the other issue is that it is now impossible to put a true value on transfer fees and contracts. When we emerge from all of this, there is a very real chance that the finances of the whole world will have taken such a beating that we might never again see the sort of figures we have in the recent past. The seemingly exponential rise in transfer fees and player wages may begin to look like some sort of short term fantasy league that will become a footnote in history – do you remember when PSG paid £200M (or whatever it was ) for Neymar, bloody hell you can now buy an entire team for that! Ok, maybe a slight exaggeration, but hopefully you catch my drift. There will be so many businesses, not just related to football, who will be desperately trying to rebuild their finances and I fully expect the fallout to last for most of my lifetime. It will certainly be some time before it is possible to decide on a "true" value for a player – and even Raiola and his ilk won't be able to change that!
5 – Tony reminiscing about his trip to Rome in 1977:
I was on that train and what a journey it was as we snaked across Northern Europe (as there was some sort of strike in France if I remember right) and turns apiece sleeping in the luggage rack or on the floor.
I went with a mate and his mate both season-ticket holders and they must have got the tickets.
Think the noise from their fans was due to the klaxons and my recollections are they were friendly and we had several photo's taken with them in St Peters square.
Romans also friendly as a van pulled up in front of me and wound his window down to tell me we would win 3-nil. He supported Roma who were in Seria B at the time and tooted his horn crazily after I wished him Forza Roma.
The train ride was magical as their trains had windows that you could push down so we were all hanging out the window at every station singing Hey Joey Joey…
On arriving in Rome we hadn't had a proper wash for two days so piled into the station toilets to strip down and scrub up.
I asked one red did he have a ticket. He said no, I haven't even got a passport!
Up to the ground early and as walking up the steps in the LFC end I noticed ahead of us a smallish guy next to the steps who was reading a newspaper. Then as a supporter walked past him he dipped his back pocket so I ran and grabbed his arm but the supporter didn't feel anything and kept walking up the steps so I was shouting to him he'd been dipped but he couldn't hear me and in the melee the pickpocket pulled free and legged it.
We played really well in the game but were unnerved for a bit when they scored but Tommy's goal calmed our collective nerves.
Unbounded joy at the final whistle and then vey emotional when a shirtless Keegan came to the perimeter fence at our end and threw his boots into the crowd.
Then outside it was a bit strange as I bumped into a guy I worked with and from the high we ended up talking about when he was back in work.
Then weirdly some teenage 'fans' outside were asking us for souvenirs. I was about to give a scarf away when a fellow red said watch out they've got knives, and they did so we scooted off sharpish (and as it happens my daughter lived in Rome for 7 years and on a visit in 2008 I went back to the ground but couldn't retrace the route we took).
At the railway station they had a wall of armed police at the entrance that was made of stone columns with glass in between about 3-4 metres high. As we were one of the first there we idled away a few hours and I noticed how young the police were even though I was all of 19 myself. The crowd grew as fans arrived and some started pushing forward as it got near departure time and the police were pushed back and I could see they were getting nervous. Eventually a piece of glass shattered under the pressure and for a second I thought they were going to take the safety off or worse!
The return journey was more fun than the way there and every station seemed to have some police or army presence and some of them had magnificent headwear with feathers in etc. It was hilarious seeing some reds nicking their hats and waving them around as we pulled out of the station and they ran down the platform after them.
There was quite a selection when we all got off at Lime Street.
Home for a shower and tea then straight to Anfield for Tommy Smiths testimonial. European champions. Unforgettable memories…
6 – Mekokrasum on the difficult decisions to ventilate patients: (6th April)
Okay people, you need to understand that the decision to actually ventilate a patient is very serious. The decision to ventilate someone with COVID-19 is even more serious than normal. The patients with the true COVID-19 Pneumonitis/'ARDS' caused by this SARS-CoV-2 virus need 10 days worth of ventilation and struggle to come off the ventilator due to the nature of the disease and the associated complications including myocarditis(inflammation of the heart) and multiple organ failure… The issue with Oxygen supplies is accentuated by the number of people on high-flow, continuous Oxygen. It is necessary but a very wasteful way of keeping people alive as a lot of the Oxygen dissipates into the air. Once people are ventilated on a proper dedicated ventilation machine the requirement for absurd amounts of Oxygen is reduced. It may be better for more people to be ventilated as this may help support Oxygen supply issues.
As for the Prime Minister receiving 'special' care, that is a given and so it should be irrespective of whether we like him or not. Ultimately he is the leader of the country so in a National Emergency situation like the current pandemic the usual rules do not apply. You may be aware that Parliament had to pass an emergency bill for the NHS to process the number of dead bodies that may accumulate. A person does not need to be viewed by more than one professional after death; whoever signs the death certificate does not need to have known the patient. The body no longer requires a second review before cremation or burial… (I had already reviewed some dead coronavirus victims in the mortuary before the emergency bill had been passed.) The normal procedures in most activities or functions had to be suspended. All our annual holidays, study leave, mandatory training, appraisal and examinations are cancelled/suspended. Our normal job plans have been suspended and we have drawn up new rotas based on contingent numbers of staff who are still well or have already recovered from COVID-19. We have stopped all medical staff with serious health problems from coming into work so they are doing remote working as best as they can. The vast majority of outpatient clinics have been cancelled and those that can be done remotely are being done online and over the phone. All 'visitors' to the hospital are essentially barred apart from those who have been given special dispensation (because they are frail, would otherwise be left alone and their loved one is dying or they are coronavirus 'survivors'). We cannot wear lanyards around the hospital and have been urged not to wear ordinary clothes in any clinical area. Of course there are not really sufficient changing facilities or showers available but the rules have been imposed almost overnight.
These are very strange times indeed. The peak of the mortality is yet to come…
Stay safe everyone and please adhere to the social distancing instructions(2 metres apart) , keep washing your hands regularly and use sanitizer thoroughly. (When going outside then there is limited evidence for wearing a surgical mask unless you move into a public area.) Try to wash yourself/shower frequently and do not forget to apply moisturiser if your skin is becoming dry.
Articles published since last Friday, with excerpts:
Sunday April 5th:
Why Liverpool FC Furloughing Staff Makes Sense On Many Levels, by Paul Tomkins.
The TV companies agree to pay, years in advance, a set (astronomical) fee to broadcast games that haven't happened yet. Clubs commit to paying players contracts often up to five years in advance, when only some of those years are covered by what was until recently assumed to be guaranteed TV income; the money may be paid at the time the season rolls round, but it is promised years in advance. None of this "product" has actually been created yet; it's all an advance – an illusion until the games actually happen. As such, it is a house of cards waiting to tumble, should something unthinkable happen.
And the unthinkable just happened.
Tuesday April 7th:
The Match That Meant Most To Me – No. 1, by Hemal Shah.
As for the match, the crowd was very quiet at the start, it being a Sunday 12.00 start. A combination of Burnley shithousery and referee incompetence gave them the lead and the away end became very loud. Someone behind me commented that they can enjoy their 10 minutes of fun until we sort them out (although I didn't get that feeling then, how right he was!). Tom Heaton and Burnley decided to start wasting time from the 5th minute and the whistles and boos grew louder each time. This and going behind seemed to wake the crowd and we started playing much better football. I think the first rendition of the VVD chant started around 10 minutes and I have to say that not only does VVD bring calm to proceedings on the pitch, his chant seems to bring calm, hope and belief to the supporters as well with its low tone and slow tempo. It almost feels like a prayer (or it did to me anyway!)
It becomes much better after that as the defence and Heaton make a meal of Salah's pass and Bobby gets a tap in, Lallana's block sits the ball up nicely for Mane and all is good in the world again. I am pretty sure Heaton forgets they are behind, and you have the surreal picture of a team behind still time wasting, and the home crowd still getting on his back.
Wednesday April 8th:
Mo Salah – Instinctive Player and Important Cog in the Liverpool Wheel, by Mizgan Masani.
Mohamed Salah has scored 91 goals and produced 33 assists in 144 appearances in all competitions for Liverpool till date. That averages up to 0.63 goals per game and 0.22 assists per game. He won Premier League Golden Boots in his first two seasons and was one of the leading candidates to challenge this season as well.
In terms of his general play, the 27-year-old has created big chances at the rate of 0.40 per game, completed 1.89 key passes per game, made 19.1 passes in the final third per game, attempted at least four shots per game, and has scored 31 game-deciding goals in favour of the Reds in all competitions.