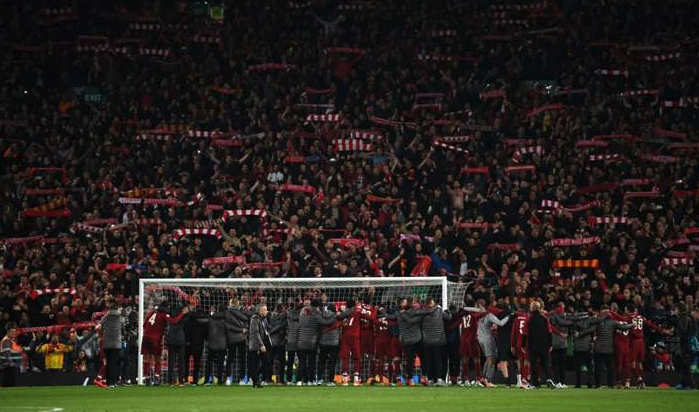 Best posts of the week, as chosen by Chris Rowland and Daniel Rhodes:
1 – Mädchenkliop on the  source of so much-ill-informed football fan 'bantz':
In an ideal world we would have a truly neutral team of analysts, (the LFC recruitment team? 😉 ), who everyone would trust to deliver the truth!, or at least the best guess about what was bias, what was creative massaging of data to create headlines or gain likes on twitter and what was a reasonable interpretation of the facts. I think organisations like the BBC used to embrace this kind of role. Sadly, the state of the media these days is used by all kinds of interest groups solely to push their own agenda. In my honest opinion, this loss of confidence in being able to find a reliable source of trustworthy, non biased news and information analysis is the most pressing problem in the world today and underpins virtually all humanity's biggest challenges. Fan behaviour is just a symptom of this gaping hole that used to be occupied by common consensus and notions of common sense.
2 – Chris Rowland ahead of the FA Cup replay at Anfield against Shrewsbury:
Anfield sold out for tonight. That's 45,000 of our own as well as their 8,000. Disrespecting the FA Cup eh?
3 – Paul Tomkins on interviews with the new head of the Premier League:
Just been tweeting about this joyous win, and seen that the new boss of the PL has been asked if they are investigating Liverpool, if the league is unfair for Liverpool, and City fans have started the #TaintedTitle movement to try and get LFC discredited – even though VAR overturns in the PL has us currently at neutral, with Brighton the big benefactors.
No one seems to be able to accept anything rational and factual anymore. This is the era of the emotion, not the truth. And even VAR overturns would just be correcting a wrong. It's one thing City fans being paranoid nutcases but the media then asking the new PL chief about it simply validates it, as does the BBC saying "LiVARpool" in its text commentary, even though the Shrewsbury goal tonight was well offside.
Our U23 side – minus several of our best U23 players – totally destroyed Shrewsbury tonight in open play, and won 21 corners! Had we had anyone over 5'6″ (bar van den Berg) we might have scored 6 or 7 more goals! This is a time to celebrate Liverpool, and yet City fans and certain media outlets are just using our greatness as a stick to beat us with – even though we're doing it with British players and no financial doping.
4 – Mr Miyagi on his memories of the Kop:
Thats a great read Amy, My Dad started taking me in 1972 aged 5, we lived next to a farm and he would borrow a milk crate to stand me on, we always stood in the same place, in front of a barrier on the Kemlyn road side. My older brothers would be off in the mayhem of the centre, i can remember of being envious of them but also comforted that my Dad had his arms around me keeping me safe!!! As i got older i made the transition into the centre and now tell my boys stories of different games and how it used to be, i know they would off loved it too!
I go to most games and it is very easy to take going to Anfield for granted but we never ever should, last week at the Southhampton game as some started to leave on 88 minutes i turned to my lad and said 'I've waited 30 f***ing years for us to win the league and i'm not missing a single second"
5 – Pete Barber on the same theme:
Thank you for a terrific post, Amy. You brought back fond memories to a US-based Scouser who used to stand behind the Kop-end goal in the 60s. Like johnh, I too fell forward and back peddled at many games. I visited Liverpool in November during the International break, so no chance of a game. But I visited the ground on the "Anfield Experience." I was able to show my wife the area I used to stand, fully seated now of course, and it did bring tears to my eyes. I hope to make it over next year for a game.
6 – El Indio with a top notch comparison between Barcelona and Liverpool:
The year of 2012 was a bit transitional for FC Barcelona. Vilanova had taken helm after Guardiola had announced his departure the previous season after they had been knocked out by Chelsea in Champions League following a fractious league campaign which saw Real Madrid pip to the league title after three years.
Yet on the onset of winter Barcelona did something quite remarkable as they visited Valencia to face Levante.
During the match as Dani Alves picked up an injury, he was eventually replaced by an academy graduate from Barcelona famed academy La Masia.
The interesting part was that he wasn't the only graduate from La Masia on the pitch. There were 10 others including Messi, Iniesta, Xavi, and Pique.
Cruyff's second coming to Barcelona yielding a result that was celebrated in Catalunya, and lauded by the world. These were the former champions of Spain, Europe, and world as well. And in their quest to land the titles again, they had fielded everyone from their academy with experience stretching back to a two decades.
It didn't come over night. Some of them had returned to the club after plying their trade across the continent (Piqué, and Fàbregas), while others waited on the fringes, and mercy of coaches to ply their trade. Guardiola's connection to B-team however accelerated the process for academy graduates progression to 1st team.
After Vilanova's untimely departure, Barcelona hired a string of coaches including Enrique who moved on to lavish outlays, mixed results, and for some it cost them their jobs.
But somehow it happened for Barcelona. And not it is not happening. They have lost their way all the way from the board to the on pitch mess, as one third generation socio put it to me on the night of their last season's title triumph. (Nothing compared to the mutiny of Hesperia)
Such promise led to more arrivals, and the false state of the club made them leave over disillusionment. Onana left Ajax. Lautaro plies his trade at Inter. Bellerín felt Wenger could be trusted with his career. Bartra moved to Germany, and now plies his trade in Seville. And the ban on illegal transfers didn't help. Poveda, and Garcia moved to City while Kubo who spent years at La Masia moved to Tokyo, and now is at Real Madrid.
But the idea still remains that La Masia might reconnect with the soul of the club. All the La Masia graduates have been eased into the team through few minutes in the league to full debuts in Copa del Rey. The minutes on the pitch matter because a debut with senior pros, and playing against senior pros is a different playing field from kids in your age bucket. (It is the same if I played a lowly ranked tennis player who competes at some division level in the country. I would be beaten outright)
Liverpool like any other club do the same thing. Yet against Shrewsbury everything accelerated to a new level as it did in the league cup tie in Birmingham.
These kids with their group were given the task to find a solution against professionals with years of experience in them. The first time they failed, the next time with a lowering of opposition level they have come out with good numbers.
The playing style is similar even down to the U-23's (And I'm guessing it still some way away from the 1st team quality but the identity remains intact. This is what Cruyff did when he returned as a coach in Barcelona. Straight down to the bottom pyramid of players in Barcelona hierarchy).
The evening at Anfield exposed many of these kids on a steep learning curve, possibly launched many Premier League careers (with or away from Liverpool), and added that X factor to win matches no matter what the opposition. This cannot be taught. This has to be learnt by experience (And most of them were in their teens. How many teens get a chance at European/to be league champions around the world? One/two?). No European champion has taken such a radical approach in recent years. No team could have asked for a better role model to get inspired from other than James Milner. And there's no other place than the Anfield crowd during these days to play for.
While people will keep crowing about the disrespect from Klopp's absence to fielding a reserve team, the kids are producing magic that can keep the FA Cup alive in a different format. Let the kids play in cup competitions against all levels of opposition. Sure they might lose but it will help their careers. For once we can think about their future livelihood rather than counting the number of wins or trips to the final.
The magic of the Cup is there, we know it but the fools around us don't. Long live Melwood, the English La Masia that will save millions for Liverpool, and attract the best. What a time to be alive, and supporting Liverpool.
Articles published since last Friday, and some excerpts:
Saturday February 1st:
Plucky Saints Well and Truly Plucked By Relentless Record-Breaking Liverpool, by Paul Tomkins.
Although Southampton kept fighting at 2-0, and even 3-0, Liverpool had countless chances to kill them off on the break. And while the visitors wanted a second-half penalty, the far clearer spot-kick would have been the foul on Firmino on the goalline.
Liverpool's breaks from one end of the pitch to the other were absolutely frightening, and it's something we are seeing every week. If you listen to how Jürgen Klopp and Pepijn Lijnders coach the attacking play, then you'd understand that it's no fluke; and that it's not just about having good players and letting them make it up as they go along, like so many managers do.
Ralph Hasenhüttl seems like a modern manager whose team play modern football, but whose side came up against the blueprint for how to play in 2020. Even so, Hasenhüttl's football seems lightyears ahead of the likes of David Moyes, Jose Mourinho and Ole Gunnar Solskjær, whose sides have looked laboured and one-dimensional against the Reds in recent defeats to Klopp's men. Clubs continue to appoint managers based on what they did 5-10 years ago, not what they can do in the fast-changing landscape of the modern game.
Sunday February 2nd:
Post-Match Analysis: Liverpool 4 – 0 Southampton, by Daniel Rhodes.
The chance quality drum is something we've been banging on about all season on this thread (as well as game state) and the difference in this game is stark – and illustrative of Liverpool's dominance. Only sixteen shots, but those six big chances (Salah x2, Firmino x2, Minamino and Van Dijk) added to the expected goal average of 3.5 means we had our equal highest shot quality of the season with 0.22 (every attempt had a 22% chance of being a goal); Saints managed a measly 0.05. Most of their attempts were pot shots hoping for the best rather than quality chances you would expect them to score. I would have awarded them one big chance, by Ings, who had his shot blocked by his own player! Our figure has only been matched against Everton (0.22) at Anfield, and then a couple of weeks later against Leicester City (0.21).
Monday February 3rd:
22 Points Ahead! My Day at the Match – Southampton (H), Feb. 1st 2020, by Chris Rowland.
But then Liverpool turn on the after burners, and though Southampton to their credit continue to try to play football, it's soon 3-0 and job done. Mo's last minute scruffy goal rounds off a scoreline which must have left Southampton players back in the dressing room scratching their heads at how they've lost that game 4-0. Not the first opposition this season to placed in that position this season. We think they and Wolves were probably the best at Anfield this season, but both came to the same sticky pointless end.
19/20 FA Cup 4th Round Replay | Preview | Shrewsbury Town | Anfield, by Gary Fulcher.
The Reds have lost three of the last four 4th round replays, losing to Everton 0-1 at Goodison in 2009 and 0-2 to Crystal Palace at Anfield in 2003. That defeat to Crystal Palace is the only time we've been knocked out at Anfield in a 4th round replay from the seven replays that have taken place there.
Tuesday Feb 4th:
TTT Player of the Month for January 2020: Mohamed Salah, by Andrew Beasley.
Let's review his month, beginning with the 2-0 victory over Sheffield United. Salah gave Liverpool the lead after just three minutes, getting on the end of an Andy Robertson cross and cleverly beating both the incoming defender and the goalkeeper. In the second half, Salah received the ball from Sadio Mané, then sliced it between two Blades to return it to his fellow African. Mané's initial shot was saved, but he pocketed the rebound and the Reds were 2-0 up.
Across the whole match, Salah either shot (five) or created (three) eight of Liverpool's total of 19 shots. According to Understat, the Egyptian's tally of 1.63 was his joint-eighth best in the league since joining the club. The same website scored his xG chain – the total xG of every possession he was involved in – at 2.52, his highest ever total for the Reds.
But despite those impressive statistics, and directly contributing to both goals, only 60 percent of people who voted in the post-match poll allotted Salah one of their five nods.
Thursday Feb 6th:
The Spion Kop: A View from Football's Most Famous Stand by Amy Gaeta
Now, Spion Kop has come to be a general term for any single-tier terrace or stand at football grounds, although Anfield's is the most famous. The term "Spion Kop" comes from a hill of the same name, a famous battle site in South Africa from the Anglo-Boer war of the early 1900s.
This is Anfield reported that legend has it, that many men from Lancashire, especially Liverpool, died in that battle. As such, might the Kop be named in their honour? To this, we might recall the chorus of an old Kop favourite song, "Scouser Tommy," which goes:
"As he lay on the battlefield dying

These were the last words he said:

'O I am a Liverpudlian and I come from the Spion Kop.…"
Even as the song obviously references World War 2, the parallel here between the battle scene and the young Scouser coming from the Spion Kop are hard to ignore. In his book about the Kop, Stephen Kelly traces the naming of the stand to a local sports reporter, Ernest Jones, who responded after the original name for the stand, Walton Breck Road, was deemed a mouthful in 1906. Jones apparently got the name from Arsenal's Manor Ground, but Arsenal's use of "Kop" didn't stick well and was hardly used.
These naming stories may both be true, but I have another theory, one that speaks directly to the spirit of the Kop. The Battle of Spion Kop was a disaster because British troops drastically underestimated it as a tactical warfare site, as well as underestimating the Boer fighters. British forces saw the Spion Kop as just some pathetic hill to cross, killing whoever got in their way. Interesting here is what the Spion Kop proved to be: undefeatable. Nobody won the battle because the Boer locals would not give up and they knew and trusted their territory, which sounds familiar to me.
Thankfully, football sees far less bloodshed than warfare. Further, even as this current Liverpool side is anything but underdogs, there's something admirable, appropriate and reminiscent about Anfield's Spion Kop being undefeatable, at least in passion if not in play.
Perhaps the nickname "fortress Anfield" is more appropriate than we realise.