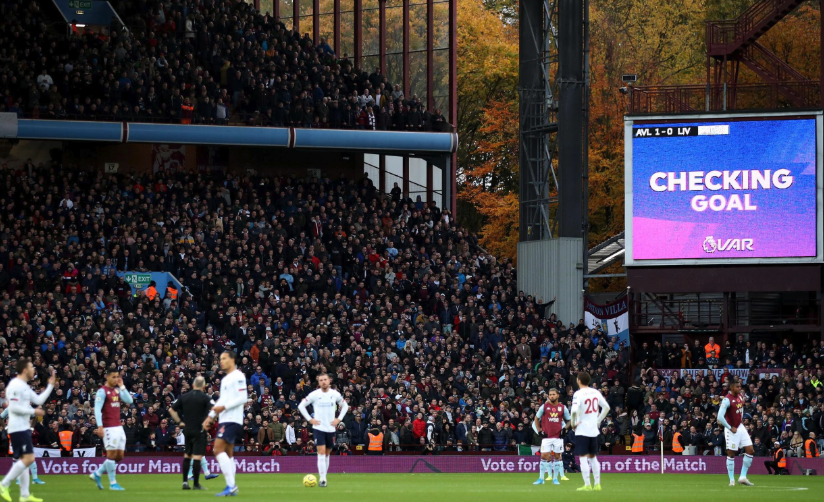 Best posts of the week, selected by Chris Rowland and Daniel Rhodes:
1 – Cvt123 with an excellent piece of analysis tracking the Reds' progress since 2011:
I had a bit of time to kill at work so I decided to look at Liverpool's progress since the 2009/10 league and created this chart which shows the cumulative points for the trailing 38 games for Liverpool vs. the best at the time.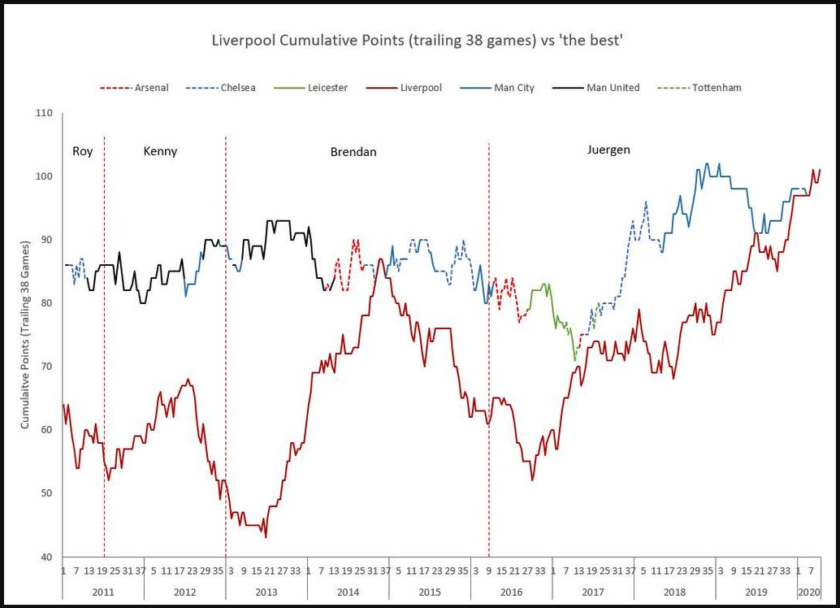 For the best line, it is colour coded, you can see which club had the highest T38 points in the league on any given match day. The chart starts at the 2010/11 season, which coincides with the great Roy reign. Anyway… here are some random observations:
1. Fenway tend to change managers when there is an extended run of poor form. Roy never had an upward trend in form, Kenny's form declined rapidly half way through the 2011/12 and then Brendan nose dived from late 2013/14 season.
2. The Brendan era is quite incredible. There was no plateau. He shot up and then fell like a lead balloon.
3. I didn't appreciate what a tough start Juergen had. When you look at the graph, you can see that it was a continuation of Brendan's reign (there was no opportunity for signings). Also, the reversal of fortune at the tail end of his first season is probably the thing that meant Fenway broke their rule of firing people when on a downward trend
4. The progress since that point has been nothing short of incredible. Give or take, we have been rising ever since that point.
It starts getting interesting when you look at LFC vs. specific clubs…
LFC vs. Spurs (chart here).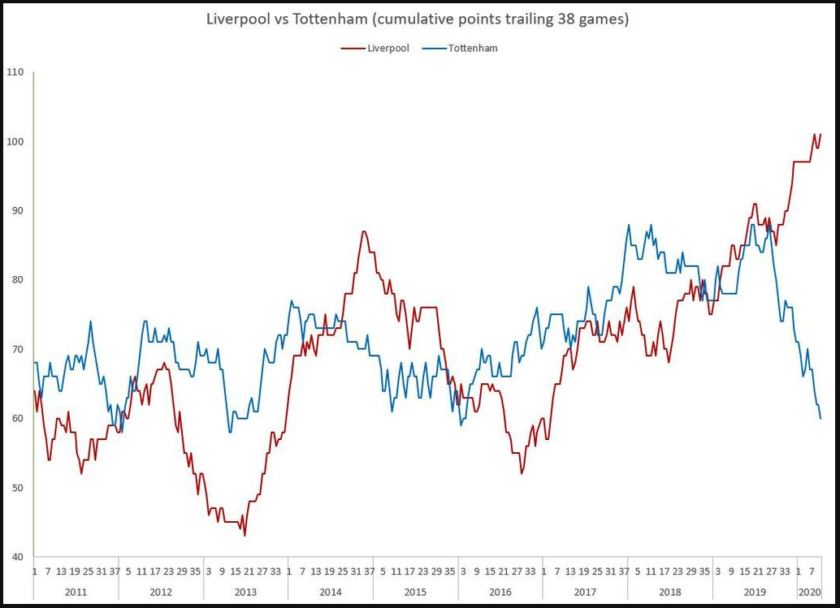 Interestingly, they started their steady progression about half to 3/4 a season before us (not from such a low) but their form from mid last year has been a tail spin. Almost Rodgers-esque…
LFC vs Man City (chart here)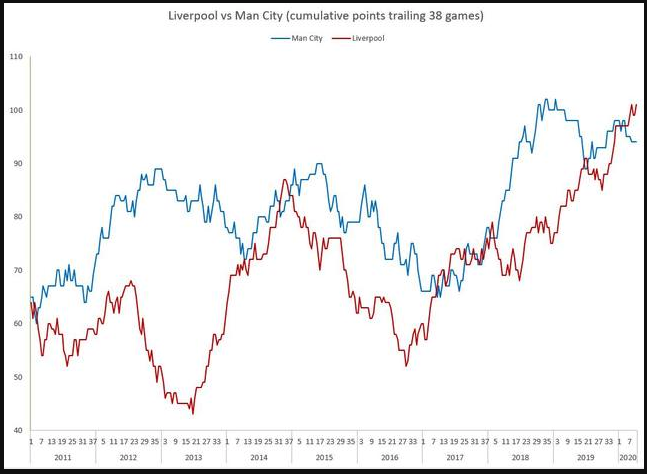 This chart is really fascinating. Basically the curves are pretty similar in shape the beginning of 2013/14 season but peaks/troughs are slightly different and there is a timing. Basically, Man City started to decline in the first third of the 2015/16, about 20-25 games after we did declined for the same length of time before hiring Pep. Because of his spending, Pep has been able to accelerate the results quicker than we did but now are on par.
LFC vs Man Utd (chart here)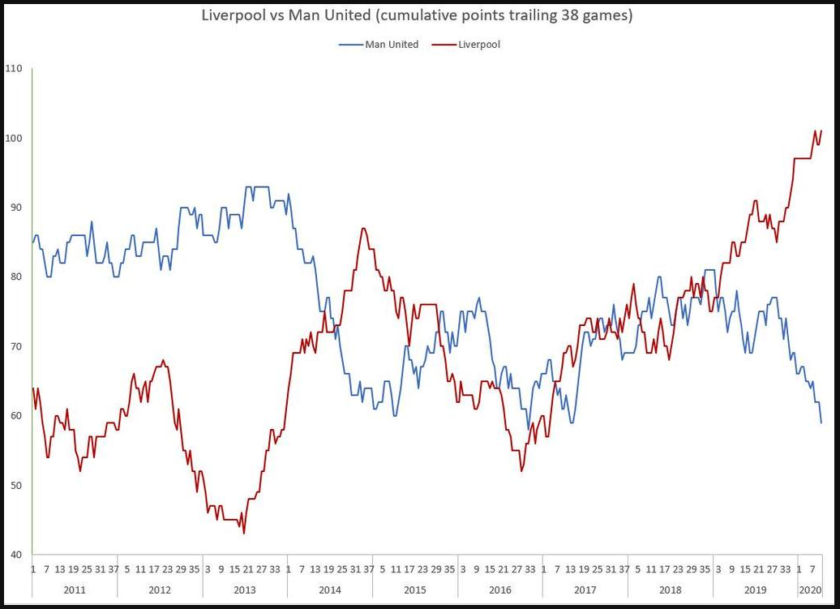 Originally, I was going to post this for shits and giggles, but the charts are super interesting. Basically, you can see visually how they have fallen off the cliff after Ferguson but there was a long period of time (mid 2016/17 to end of 2017/18 season) where our respective forms were pretty similarly. They did show signs of progress but starting from the beginning of the 2018/19 season, the wheels fell off. Mourinho third season syndrome.
For interest, here is the LFC vs Chelsea chart (to be added).
And here is the LFC vs Arsenal chart.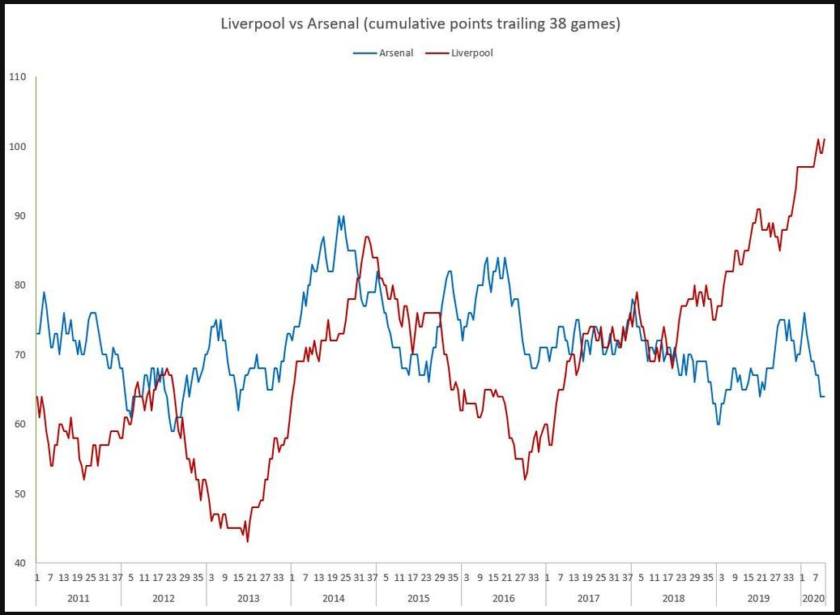 It is interesting the slow burn decline in Arsenal starting from the middle of the 2013/14 season….
Hope you enjoy these.
2 – MarlonM with a rant over VAR, Nov. 3rd:
The most annoying thing about the whole VAR situation atm is that it's literally not working because they aren't using as it was intended…
It's like buying a satnav and completely ignoring everything it tells you and then when you get lost send it back and demand a refund because it doesn't work…
So frustrating hearing pundits and now Carragher trying to act like it's VAR that isn't working when it's the PGMOL and the premier league completely butchering how it's supposed to be used and essentially only using it when they feel like it and often not even then…
As for Atkinson, Sky Sports made two references to the fact that the change from yellow to red for Son was because of the damage sustained from the injury but that isn't how the rules work so way more needs to be made of that!! It doesn't appear anywhere that VAR overturned the yellow because if they'd looked at it they would have seen it was Aurier who caused the damage and I'm sure they said at the start VAR wouldn't be used to overturn yellows, only straight reds anyways, which means Atkinson changed the card based on nothing to do with the initial challenge and to do with something that has no bearing on the decision?!
Actually a complete shambles that no one including Carragher is making more of that as he himself must feel and know what Gerrard also felt so now is surely the time to shine a spotlight on this decision and this particular ref?!
I think someone on here said someone needs to do video research and make a compilation of all the ref errors this season including VAR's lack of use for clear errors and for all the decisions it could have been used for (and should have) if it had been used properly and for all teams so it doesn't just seem a biased Liverpool supporter's view as it's completely ruining the games now…
Because it's actually killing me that people are acting like VAR is the problem when it is nothing to do with the idea and what VAR is supposed to be doing and everything to do with the people using it and how they are either being told to use it or deciding to use it completely differently and detrimental to how it's supposed to be used because they think their refs are too good to be judged
Rant over…
3 – Tattva on the same hot topic, Nov. 4th:
After reading and watching so much of the weekend's football, I got concerned with VAR simply failing to be applied for the better of the game. The last few weeks has seen a much sharper focus drawn on VAR than the games itself. The ire of players, coaches and backroom staff is one thing but the fans are set for rebellion. I agree the petition launched this week is a little pathetic, yet there's still approximately 9,000 people put the effort in to sign it. While this maybe LFC fan centric, it could easily be any other team in the PL due to the number of flashpoints each weekend has.
From a Liverpool point of view, which has many on TTT itself, it is the armpit which scares me the most. Which individual felt this would be a satisfactory explanation to cover up an error, or at least a grey area?
It simply has made more headlines. It's the same idiotic comment about De Bruyne's goal last week and the fuss over whether Silva touched it, the VAR operators said no he didn't so a goal stood. Then shortly afterwards some mischief maker decided that Silva had touched it and awarded the goal to him, which in reality would not have stood due to him being offside. Who had access to which technology to have two differing opinions? The same club handed dead minded AV operators of the lines to prove Bobby was onside with their parallel lines and parallax error and image flattening? Hang on, let me get photoshop out and I'll make Bobby's arm longer to prove I didn't make a mistake. Maybe they should offer services to Jordan Pickford and he may have saved Origi's goal last year.
How can those running this game think they can continue to fool us, and not get upset? The fans have access to so much more information, angles, and stats than ever before. We are not the boys from the pit with limited intellect from a century ago. Fans are more educated than ever, more information gathered for a pastime and for employment. Drs, lawyers, scientists all attend matches; these aren't exclusive roles many more people attend games with highly specialist knowledge in academic areas and are often well paid for it, which is a bonus considering what it costs to get to matches these days.
But what ever job you are doing in this day and age, you shouldn't have your football ruined by an armpit.
Which therefore causes our more thoughtful fans to question the legality of an armpit in the game of football. It's a concave part of the body smaller than the ball's circumference, how does it come into play? It's also been questioned is an arm offside even if it doesn't have the ability to score a legitimate goal? This knock on effect of excuses from the governing body just highlights their ineptitude. They've defensively encircled themselves as if under attack from Native Indians. Surely the weight of public opinion must breakthrough their shield. Their egos can't be that big to be so resolute in not making mistakes.
Yet to be a referee you need to be strong of character and have an ego, to know and understand the laws and how to apply them, especially in front of 55,000 you could well upset. But this ego should be large enough to acknowledge your errors. To say, yes, I got that wrong, would go along way to easing tensions. Human error happens, clear and obvious errors happen. Which brings me back to the armpit. At which point in all eternity did a linesman flag in the full knowledge a players armpit was the offending part of the body? Through clarity of mind and the naked eye, it would be nigh on impossible to pinpoint this part of the anatomy as the culprit. So why on earth are we looking at it. The statement comes from the enforcers themselves, "clear and obvious error" this isn't, move on, leave it alone, you can't prove it one way or the other sufficiently for us to believe your decision. And it's made even more glaring by the terminology of their excuse.
What makes it even more perplexing is that this isn't a worldwide phenomenon. The Germans use it well, even the Italians do, and their football has never been squeaky clean. So why not the English? Cue even more securing of the wagons from the arrows of all football fans and clubs.
As with the penalties at the Kop end and wider having been looked at on TTT, this should too, but across the board, from all clubs. Frank Lampard has spoken out, perhaps one of the golden boys of English football, and so may be listened to if not acted upon. Everton and Spurs fans will be angry about the use of VAR in their game. Guardiola claims Mane dives, cue pictures of Sterling diving going viral. You can't say these things anymore and get away with it, these images are in the public arena, and football fans are too clever to lap up these excuses from officials and underhand play from managers and players. The scrutiny is too tight and it will eventually give. But if we start to acquiesce then there'll be no hope in rehabilitation of our officials and the VAR system.
4 – Mädchenkliop on telling real from fake, Nov. 4th:
Just another slightly random comment about narrative that seems appropriate to put here…
I think there's an assumption – perhaps because of entities like Hollywood – that the term narrative = fiction. And furthermore, that fiction = not true.  However, without having looked up official definitions,  I would argue that narrative is not necessarily fictitious. Developments in neuroscience are revealing that our entire construction of reality is made up of a kind of narrative melding of 'images' from all kinds of sources.
I think a lot of our football – and the real world issues are characterised by a struggle to extricate the scientifically measurable 'fact's from the fictional, so called narrative, aspects. Hence the whole VAR debate masquerading as scientific evidence, but then us discovering to our alarm that the ref's are making it up as they go along. Likewise, in the 'real' world there is a constant swarming bee maelstrom centred around 'fake' news. There is actually a debate raging at this very moment as to whether Facebook should allow political parties to be able to buy and post persuasive messages (adverts) containing inaccurate facts when in fact they are fictional reworkings of reality.  Mr Zuckerberg has said he feels this is 'inevitable'.  I mean, wtf?!?
The phenomenon that Andrew is talking about in this article is central to all this confusion. As we discover how infinitely complex the world is we seem to have become unable to separate fact from fiction and it's become an incoherent free for all. Trying to analyse how narrative works might just be the key to unravelling much of this confusion. I just think thank god for TTT with it's dedication to demystifying commonly held misconceptions in the world of football and beyond. It is possible to explain the nature of most beasts and it also ought to be possible to explain unique and magical phenomena without it becoming wishy-washy bull shit to be twisted into dangerous fiction by moronic pundits or self-serving dictators.
5 – Russel on the "must win" debate:
In terms of "wanting" or "having" to win, I think these points are relevant:
1. You need to win your home games regardless of opposition.
2. No one really ever *needs* to beat Liverpool – there are 18 other clubs in the division and league finishing position is determined more by how one does against them than one's direct rival.
3. It's May November.
I believe City would love to win because it would be a bonus based on points 1 and 2, but will settle for a draw based on point 1. We'll take a draw based on point 2 partly because of point 3 (we also don't *need* to beat City and not just because we are neither trailing them nor find ourselves in May), but would see a drawn home game as an opportunity lost if only because a win this weekend would make the return fixture a "must win" for City.
I'm expecting a similar thing to last season: Guardiola will come to play for a score draw (or a Mourinho-esque 0-0) and then put the hammer down at the Etihad. We have to make sure they don't achieve both again. A Liverpool win now would give us a sizeable advantage, especially with their top-6 clashes coming up – if we go 9 clear and then maintain that until we meet them again, then that fixture becomes a "free hit" for us. So this game is not a "must win" for us, but it is one we should put a lot of effort towards winning because the potential reward is huge.
Articles published since last Friday, with excerpts to give a taste of what our subscribers get each day:
Saturday November 2nd:
Okay, Now I Believe! Incredible Reds Are Like Halloween Ghouls – They Will Not Die, by Paul Tomkins.
But Firmino was also level. And if you're level, you're onside. To dictate an offside by a hair's breadth is to assume the lines being drawn are accurate, and for that matter, straight. To publicly say that someone's armpit was offside declares it a sham; the blind backing up the blind.
Mané was then clipped in the box, and the overweight, middle-aged referee who was miles away booked him; replays showed clear contact, as there has now been on Mané in the box in four of the most recent games (two penalties, plus one ignored, and one booking for diving). It wasn't "poleaxing" contact but it was a trip in the penalty area, taking his standing foot.
And yet again Mo Salah was grabbed round neck in the box, but it was ignored, as ever. Every game I raise this point, and every game it is permitted as a legal rouse when even in rugby it would be outlawed. It feels like VAR should help Liverpool, but its implementation is actively harming the Reds right now. Last week decisions were overturned across the league, but it feels like, rather than a necessary sea change, that was stamped down upon by the self-righteous PGMOL and their arrogant senior (citizen) officials.
But even Moss and Atkinson couldn't stop Liverpool. Right now, nothing can stop Liverpool. Not even Liverpool not playing that well can stop Liverpool.
Sunday November 3rd:
Post-Match Analysis: Aston Villa 1 – 2 Liverpool, by Daniel Rhodes.
Team stats:
Pure domination: Five times as many shots (25-5); three times as many shots on target (6-2) and 18 shots in the box to four.
Expected goals was again conclusive: Liverpool deserved to win, quite comfortably.
Big chances is a little more suspect, with the Reds' three to the Villans' two. But that doesn't include the 64 penalties weren't awarded, or the perfectly good goal Firmino scored.
Monday November 4th:
Post-Match Analysis: Aston Villa 1 – 2 Liverpool, by Andrew Tangas.
When Divock Origi scores more 90+ goals in six months than most teams do in a decade, you realise it's not luck, but superior planning, conditioning, skills and mentality. When you see Virgil van Dijk and Trent Alexander-Arnold calmly passing the ball around when Liverpool are losing a game in the last five minutes, you realise it is not arrogance, but knowledge and confidence that they will create the opportunities they need. When Sadio Mane pops up with crazy weak-footed crosses and awkward-angle glancing headers, you realise it is not recklessness but meticulous analysis and execution. Our action heroes are not lucky, arrogant and reckless. They are prepared, confident and considered.
19/20 Champions League Preview | Matchday 4 | Genk | Anfield, by Gary Fulcher.
Liverpool haven't lost a Champions League game at Anfield since Real Madrid's 3-0 win back in October 2014. A run of 15 matches unbeaten consisting of 11 wins and four draws.
Wednesday Nov. 6th:
Post-Match Analysis: Liverpool 2 Genk 1, by Andrew Beasley.
Liverpool completely dominated the first half. A stats score line of 15-2 on shots, 3-1 for clear-cut chances and 2.0-0.4 on expected goals is evidence of that. Yet Jürgen Klopp's side found themselves level at the break, after 45 minutes of football where many of the key moments were firsts of one kind or another.
Exhibit A: the opening goal. Gini Wijnaldum managed to flick the ball past Gaetan Coucke to bag his second goal of the season, and first in the Champions League which was scored earlier than the semi-finals. At the time of writing it was deemed a clear-cut chance, but that was purely down to the Dutchman's proximity to goal; the opportunity and finish itself were anything but straight forward. Assuming it remains classed as a CCC, it's the first Wijnaldum has been directly involved with in this campaign.
Nine minutes later it was Naby Keita's turn to have his first big chance of 2019/20. He was played in by Alex-Oxlade Chamberlain in Liverpool's first – and only – shot generating counter attack of the evening. Keita's first attempt was saved, his second blocked, and the danger passed from a Genk perspective.
If those Liverpool chances were 'first of the season' moments in some respects, Genk's equaliser ticked a ton of 'first' check boxes for the match. Their first corner resulted in their first successful touch in the Liverpool box, as Mbwana Samatta (who had a headed goal ruled out in the reverse fixture) had the away side's first shot, shot on target, clear-cut chance and goal of the night in one fell swoop. 1-1.