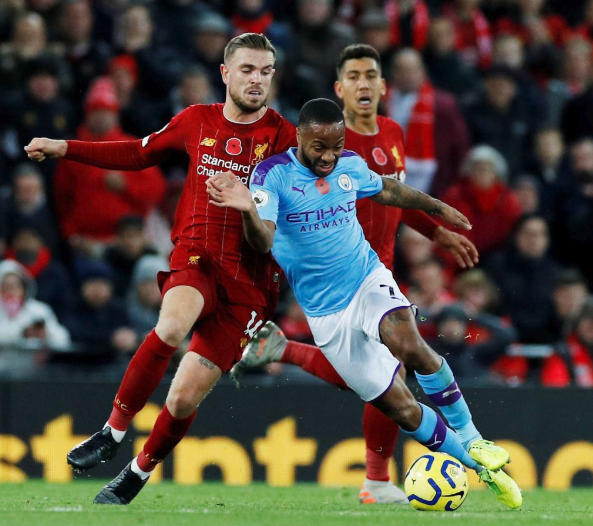 Best posts of the week, selected by Chris Rowland and Daniel Rhodes:
I really liked this article Paul, it articulates what I've been thinking, but just couldn't explain properly! The whole "wait till we click" does miss the point that, this team is (and has been) playing to an unbelievable level of consistency for the last 2 seasons, whilst navigating the tricky shores of Europe, and winning the damn thing!
When you sit in a dark room and really think about this team, it's just mental what they're achieving, week in, week out. I think we are playing well, if not amazingly, but as you say, we can't just turn it on and off like a tap. I'd argue the whole squad has clicked, because we're playing different combinations of players, sometimes different formations "in-game" and we're still winning. It's not crushing teams 4-5 nil type of clicking, because, opposition teams don't play expansively against us, they're mainly counter-attack and defensive formations. So I'm not going to wait until we "click" – instead just enjoy what I'm seeing each week, whether it's early goals to win the match or late goals, to keep the nerves on edge!
The other things you highlight really struck a chord too. The fact that a Klopp team will ALWAYS give you hard running, pressing and harrying as a minimum requirement. It's not pointless running for the sake of it, but the team working together in terms of pressing and winning the ball back, and plugging holes and gaps (most notably the unsung Gini). Also, the fact that we can mix it up in so many ways – I just love that. Big, physical team of shithouses going direct? No problem. Want to fight? Sure, *rolls up sleeves*. Quick fast, pacey players and attacking transitions? Got that covered. The best team in the world with the best technically gifted squad? Sure, bring it on. A deep block of 9 to break down? We can do it. It really is amazing. How can any team be confident of getting anything when they play us? I know that might sound arrogant, it really isn't meant to be, as I'm not arrogant. But, when you put yourself in the opposition shoes, how can you not think that it's going to be a long long day on the football pitch?!
Pundits and so-called experts perhaps want to see the Citeh type flair in every match, but they fail to appreciate our innovation when teams like Palace are playing a deep block but have some serious talent on the break. It's "lucky win" or "they're finding a way but it could have easily been a draw" blah blah. Jürgen said it himself, that it's really not lucky having 37 points from a max of 39. I'm seeing new records being made by this team (and if I'm honest, I'm a little bit bored of reading them now!) – but most of all, I'm just loving watching whatever way we play.
2 – MickH commenting on Henry Winter in the Times describing Raheem Sterling as 'the most important footballer in Britain', Nov. 25th:
A classic piece of self important pomposity from Winter. I presume it's because he's a good footballer but is also black and has spoken up about racism. The media spent ages vilifying Sterling ( closet prejudices?) totally unfairly. Now in an attempt to show they're not blinkered racists they have gone overboard in the other direction.
He is clearly a very talented footballer who has shown a desire to improve. He is not a world statesman though people are interested in what he has to say. However, his actions recently were akin to a playground bully if not worse. The snivelling non-apology that followed was even pitiful. It compromised Joe Gomez who behaved impeccably throughout and showed great composure.
Who in the media slated him? No one? This is reminiscent of Beckham. Vilified for his sending off in Argentina and then eventually also becoming "the most important footballer" in the UK.
The media is properly full of shit. Creating narratives that they think will play well to the crowd. I used to get my kids to read match reports after taking them to Anfield and then asked them if it described what we saw? The answer was no every time. Most of their match reports are pre-written with all their narratives waiting to be used. Nothing changes.
3 – Mike H responding to news of a new 10% stakeholder, Silver Lake, in Manchester City's Football Group, Nov. 27th:
I have spent my whole adult life in financial markets.
Utd a publicly listed company and still a moneymaking machine are currently valued at circa £2.1bn. This deal values the City group at £3.89bn. Somehow this seems slightly odd….
Why would someone pay so far over the odds? The City group…a collection of loss making football clubs around the world. Do private equity firms like Silver Lake casually throw their money away? … is City the best way to play the theme of growth in revenues  around football? Also a no. Do they have a huge global footprint…
I suspect City want to have another huge spend up. The scarcely believable commercial revenues, the outlandish valuations of the company for minority stakes. Silver Lake want access to deals in the UAE I suspect. The investment certainly won't be paying them any actual dividends!
The brazen arrogance of City is something to behold. They clearly don't give a flying fuck what anyone thinks. They don't care about rules that they signed up for. They really are a stain on football.
How it must hurt them that we are competing with them despite our vastly inferior resources. The whole of the football world should be cheering us on. It shows how fucked up society has become that it can't see this.
4 – Chris on the not guilty verdict for Duckenfield:
If he was new to the job why was he considered up to it? He clearly wasn't. Those who were at Hillsborough in '89 and also in '88, with the same opposition, the same ticket allocations, the same ends of the ground, the same everything except the Commanding Officer, will testify at the grotesque difference between the scenes outside the Leppings Lane turnstiles on those 2 occasions. 88 – single lines to each turnstile, segregated by police. 89 – nothing, just the world's biggest rugby scrum as everyone was left to their own devices in an enclosed area, surging this way and that like coral, exacerbated by a rearing police horse in its midst and raised voices and shouting by police which revealed panic in their voices. They opened the gate – before blaming it on us – to try and avoid the dire consequences that would surely have followed outside. Instead they just transferred them inside.
Now you tell me who was responsible for all that?
I'm sickened. What the very fuck is wrong with this sodding country?
5 – Mike H again on the Hillsborough retrial:
It has felt like its coming after the first trial. I was there that day with friends. We all lived. I can still barely control my rage over the events of those days and the heinous cover up that came later.
I didn't lose anyone and nor did my friends. I asked the lawyer what the families wanted after my last witness statement . What did justice look like? Did he really know? He thought they just wanted the truth. I wanted a lot more.
I do not know what the truth looks like now. It was just an accident? I could have accepted what happened if it hadn't been accompanied by the lies and cover ups and scapegoating. If someone had taken some responsibility…
This is the very definition of perversion of justice. There is law and there is justice. It's clear they are not one and the same. Justice has not been served and never will be.
My thoughts go to the families and friends who lost loved ones. Their burden has been so immense and now closure has been denied to them as well. There are no words.
6 – Paul on the perceived lack of depth in our squad:
Not sure that's true. It depends what you mean by first-string, but we have at least 20, plus several promising youngsters who wouldn't look out of place (Elliott, Brewster, Jones, Hoever, et al).
The bench was strong last night and we had no Keita or Matip.
We don't have the funds to stock a squad like City do. As others have noted, Klopp doesn't want a big, unwieldy squad with specialist reserves who may not get a game and who'll just be unhappy. When Andy Robertson wasn't making the matchday squad in early 2017/18, Klopp said it was because he can only play left-back.
So we have lots of versatile players, and then they can cover several positions. Sometimes it's not ideal, with someone like Gomez far more suited to defending, but if we had a specialist right-back as cover to TAA he might not play many games and may be unhappy a lot of the time. So Gomez is there, to cover both.
These decisions can always go either way (and it terms of it going wrong you can have too many unhappy players or you can have a squad that gets too stretched) – but over the past two and a third seasons we've not been caught short too often, and are breaking all kinds of records.
Articles published since last Friday, with excerpts:
Sunday 24th November:
Post-Match Analysis: Crystal Palace 1 – 2 Liverpool, by Daniel Rhodes.
Another key metric is big chances, and while Opta decided both sides had two each, the Zaha one at the end of the game was arguably offside so wouldn't have counted anyway (and we've had a few of those this season). Rather than focus on the basic metrics, when we use expected goals we can see that Liverpool were deserving of victory on most of the models. If you check out the xGif below, some of them are quite close (Statsbomb, Caley), whereas some have it as a clear 'victory' for the Reds (538, Understat, Infogol, Opta) by a margin of more than 0.5.
Liverpool "Not Playing Well" Is A Total Myth, by Paul Tomkins.
But the bigger issue about Liverpool's luck seems to relate to the lateness of the goals, as if games sometimes only last 77 or 86 minutes and the referee is doing Klopp's men a favour by playing the full 90 (plus stoppages).
Late goals are goals, as much as early goals are goals; just as good goals are goals and bad goals are goals. The sense that you haven't got one – or several – in order to be comfortable is valid, but also, there is always the remaining time left to get the goal/s. A referee never blows the full-time whistle after 83 minutes – even the worst ones can't try that stunt.
Monday November 25th:
Why a South African Grows Up Supporting Liverpool FC, by Saul Burman.
In the late 70s and early 80s, the only live football we saw was the FA Cup Final.  With Liverpool failing to participate in one of these televised games until the mid 80s, I gained my early Liverpool kicks from the Stepford voice on the radio, Shoot! magazine and the swapping of baseless opinions with anyone who was willing to talk about football. I dreamt up narratives from the names that I saw on the first piece of Liverpool kit that I owned – a tiny red and yellow tog bag with the signatures of the Liverpool European Cup winning side of 1977 emblazoned all over it. Sure, they were Liverpool players in the 70s, so, if you lacked imagination and bought into the stereotypes, all you needed to do was picture guys in tight shorts sporting moustaches and hair perms. But I preferred to conjure up my own images of the mythical men I'd learned about – the hard man Tommy Smith of whom Bill Shankly said, "he was not born, he was quarried"; the quicksilver winger, Steve Heighway, a favourite of the Kop, with a name made for football and Kevin Keegan, whose nickname "Mighty Mouse" made me envisage a tiny yet ferocious beast running manically around the football field kicking everything and everyone.
Tuesday November 26th:
19/20 Champions League Preview | Matchday 5 | Napoli | Anfield, by Gary Fulcher.
The stakes are not quite as high as the last time Liverpool welcomed Napoli to Anfield in a Champions League game but victory for either side on Wednesday evening – 8pm kick off UK time – will seal their place in the last 16. The same outcome will also be guaranteed if Salzburg fail to beat Genk in the other Group E fixture.
Wednesday November 27th:
How Liverpool's Pressing Game Under Jürgen Klopp Has Developed, by Mizgan Masani.
The 2018/19 season was a memorable one for Liverpool as they went one step further in the Champions League and lifted the trophy, along with amassing 97 points in the league and losing to Manchester City by a single point. Looking at the above table, the average PPDA took another slight dive down. While that does mean Klopp's men were not gung-ho in their approach, it didn't infer that they stopped pressing. The first half of the season was when the manager set his team up to play in a way to preserve energy and still get the required results. The quality and strength of the squad pulled through. They came back with a better pressing rate for the second half and kept a certain level of consistency going. Handling this with tough Champions League knockout games is an achievement in itself. The performance upsurge of Fabinho from January helped the team in counter-pressing. He has been a beast in defensive midfield, allowing the front players to express their interest in pressing more. Hence, it is not an exaggeration when we say that Liverpool did their best business in securing the Brazilian's services in the summer of 2018.