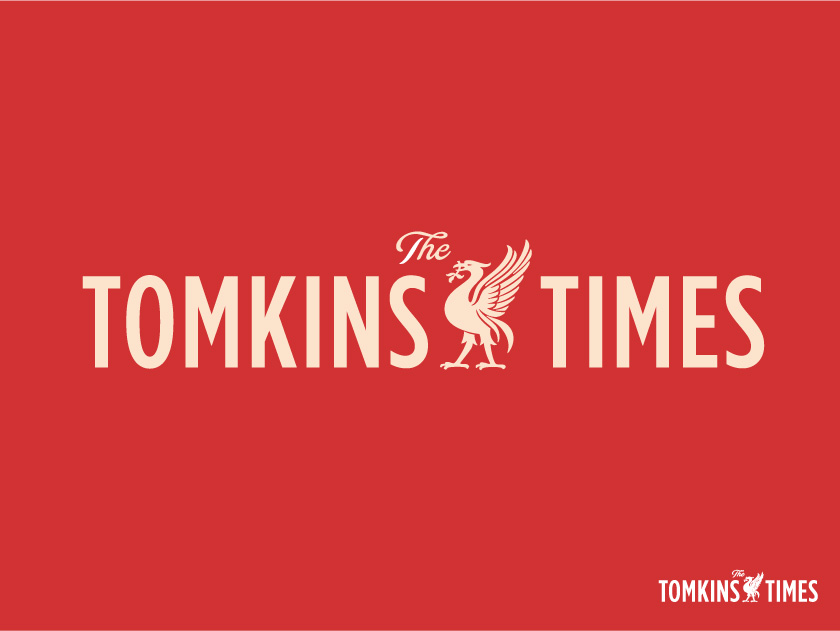 Today marks the 10th anniversary of the launch of The Tomkins Times, originally designed as a paywalled site purely for my own writing (hence the name) as a way of making a living when book royalties (my only source of income at the time) could be too fitful, and rarely provided enough to actually live off.
At the outset I was hoping for 200 paid subscribers to cover the cost of my rent, but within a week had 500. Since then I've been able to pay various people to help run, and write for, the site, as it continued to grow, but also through periods of contraction.
Chris Rowland was first onboard, then followed Daniel Rhodes, Gary Fulcher, Mihail Vladimirov, Andrew 'Beez' Beasley – amongst others – and all the people who have helped on the technical side, from Anu Gupta to Jack Segal, and with Paul 'Rox' Gill on the helpdesk; while I've helped with books by TTT regulars Chris, Mihail and Bob Pearce, Graeme Riley and Anthony Stanley, and helped (a little) to launch a handful of people into the actual football business. Then, as now, I suffer from a chronic illness (M.E.) that limits my ability to work normal hours like I used to in the 1990s, and many of the paid helpers are also either chronically ill or caring for chronically ill partners. So sometimes it's helpful if people realise that, and do not expect us to be as smooth and slick as a multinational company!
Many of the same people have helped with various other TTT books, including some anthologies (in seasons good and bad!) and my latest effort, Mentality Monsters.
In the past ten years I've got to meet and speak to Liverpool managers, owners and executives, but have tried to set an editorial standard for fairness and fact-based analysis, where we are patient, but also not accepting of things that fall below a certain standard of performance at the club.
Also, we do not run adverts (except for our own books), and we do not accept any of the plethora of paid editorial content we get sent, as it's not fair on the reader, as it's largely just bullshit anyway. (That said, I will occasionally write a very ironic headline that some may see as clickbait, but where the intention is that, contrary to clickbait, you actually get something positive out of the experience.)
However, one of the great sadnesses for me is that, increasingly, transfers are what drive traffic (and football debate in general), and I'd like to see more fans live in the present and accept the development of players, rather than wanting to "win" the summer transfer window and always craving what they don't have. It's all part of an unhealthy attitude to life in general, exacerbated by social media.
TTT is a niche site, so our aim has never been to become huge and mainstream – just to continue to exist, in our own little corner of the internet. As such, 10 years is a big milestone, during global recessions, impending Brexit, years of mediocrity (and much worse, under Roy Hodgson) and the plethora of paid-sites that have sprung up since our appearance on September 20th 2009, with new ones appearing all the time.
Meanwhile, Liverpool FC must have some of the best websites and podcasts of any club in world football, with plenty of alternatives for people to be tempted away to spend their time and money, so we're grateful to keep inching along. The football writing landscape has changed massively in the past decade, with the specialisation and depth of analysis quite staggering, so I hope my own work, and that of those who I'm proud to have write for TTT, remains relevant and interesting, and that we continue to offer something a little bit different, for which enough people are happy to pay.
The biggest bonus remains the community behind the paywall, which is rather wonderful. I've learnt so much from the variety of smart and insightful people who make this site what it is, from professors, academics, businesspeople, students and retirees across the globe to match-going locals and those in far-flung countries who hope to make the pilgrimage to the Kop.
While we have always given away plenty of free pieces, it is only through the subscribers – who sign up to pay to read the paywalled material – that I can afford to pay my own bills, the site running/hosting costs, various taxes, and the regular monthly payments to people like Chris, Daniel, Rox, Beez and Gary, who have been with us for pretty much the whole decade now.
So, a big thank-you to everyone who has helped support the site, through subscribing at a normal rate or a benefactor rate, or through sharing the free pieces and spreading the word. For a "self-made" man (albeit without the "self-made" trappings of wealth!) I have relied on a ton of people for just about everything I've ever done in life. Just like Jürgen Klopp I have a brilliant team around me, and for me it's a privilege.
Paul Tomkins, September 20th 2019.
Best Posts of the Week:
1 – Peter D on Firmino:
I saw (many times) a video someone had put together (I think it has been taken down :-() that was essential viewing and was a thing of beauty.
Its content, every single touch by Bobby in his cameo performance.
Has there ever been a player that creates a positive outcome and danger with virtually every single touch? On one occasion when the flick did not work and we lost possession, he still had the presence of mind and the work rate to win it back again within seconds. With a bit more luck and/or better finishing he would have had 5 or 6 assists in one game (and not even a full one at that)!!!
And with all that skill and ability, he almost seems to be happier to create for others than to score himself. I saw a comment on here the other day, where someone said that their Spurs supporting friend referred to Bobby as "that striker that doesn't score" – if he really believes that then he knows nothing about football and should educate himself by spending a lot of time watching player cam videos of Firmino in action.
Great article as well – he really is guilty of everything you said 🙂
2 – Espandole, also on Bobby F and his non-antics:
One other thing about Bobby the Bestest Brazilian…..
He doesn't roll around on the deck when someone takes him out.
Ever.
He's tough as 'arld boots.
Remember when that blueshite defender launched him into the stand? He didn't roll around showing his fillings, he was right back in that fuckers face.
What say you, Neymar?
3 – Jagdesh on his pilgrimage to Anfield:
When they say "when the stars aligned", indeed it was the day of Sept the 14th of 2019 for me.
You see, I've been wishing to somehow save enough money to make that pilgrimage trip to Liverpool, and subsequently to the Mecca-like grounds of Anfield all my life. Converting from Malaysian Ringgit to Pounds would deem that I spend almost a fortune with my meagre income.
The office suddenly had some work to be done somewhere in Leatherhead and I finally got my chance to be seized. But tickets, how on earth do I get tickets at such short notice? And how do I get from Leatherhead to Liverpool? I was desperate. I reached out to some friends I've made over the years with Social Media. Long story short, I was on the highway to Liverpool from Cobham at 6.30 in the morning that faithful day. The Day of Firmino.
Lo and behold, the ticket was at the Kop! Another good friend, whom many of you would recognize as the Podfather of AnfieldIndex, was my partner in crime.
I've never sang so many songs. I've never celebrated so wildly. And to bear witness to Firmino, in flesh, was dreamlike. When his name wasn't on the first team name sheet, I wasn't really bothered even though Firmino has already firmly etched his name as my favourite player of Klopp's men. Says a lot that a 44 year old man would still have favourite players after the heartache of Xabi and Suarez. You would think an adult would learn from being hurt. But Firmino was growing in stature as the one player I always look out for on the tiny screens of my television and iPad.
"Ox playing is good. He deserves to get game time. And Bobby needs to rest for a long season", I consoled myself as we walked from the parking area through Stanley Park.
My heart leapt when I saw him at the touchlines and Origi limping out.
"Firmino comes and Salah scores, mate!" I try loudly to my buddy, Gags, next to me.
And before he could respond, the ball bobbled from the keeper with the fortunate swerve directly to Mane for an unceremonious tap in.
Pandemonium in the Kop! My turban almost goes off.
And then the through balls came back after going the way of the dodo bird just 10 minutes before.
Watching in live, at the height where we were, the flicks were too fast and furious for the naked eye, without the benefit of slow motion replays. And the songs kept coming. His song kept coming. And I kept singing.
Sikhs tend to revere great sages with the word Babaji attached to the name. Me, Harinder and Gags agreed rather unanimously that Firmino brings so much of peace and posterity to whoever his plaudits are, that he deserves to be henceforth known as Baba Firmino Ji.
4 – Steve M on our performance vs Napoli:
Without the end product, I thought our performance, particularly in the first half, was very solid. We passed the ball around quickly and crisply and really looked the part, but were unable to turn those well-worked situations into clear cut chances. I was monitoring the possession stats, and it was interesting to see that we had the majority of possession in the first half but then as the second half wore on the balance changed, ebbed and flowed, and ended only marginally in our favour.
I thought in the last 15 mins both sides had begun to reconcile themselves to a draw, and that would probably have been a fair result. The penalty was harsh, and I'm in the "what's the point of VAR" camp, although is Peter Walton being really honest with his assessment above or experiencing unconscious bias towards his fellow officials?
I'm sure Klopp will take positives from this, and if we needed a kick up the backside and a reminder that we're not unbeatable then this is definitely one of the better games in which to receive it.
Now let's get a few league points under our belts and then we can start to make a proper impact on our CL group.
5 – Paul T on Robertson giving away a penalty:
Clattenburg: "Andrew Robertson committed to a tackle on Napoli's Jose Callejon inside the area with his wrong foot and made no contact with the ball. Once the tackle had been made, Robertson's leg was in Callejon's space"
Wrong!
The slow-mo shows that Robbo's leg is pulled away well before Callejon gets near him, and Callejon throws himself into Robbo. That is blatantly obvious but refs are tying themselves in knots to justify the decision. Had Robbo left his leg there, then it's a penalty. But he didn't.
Also, Napoli got almost their entire xG from the penalty and then from Robbo being too scared to clear VvD's backpass as he'd already been booked and conceded a penalty.
I think this was a better performance than any of our group away games last season, and as good as Bayern and Barca away. The only difference was in the finishing, and the final ball – and that applied to Bayern and Barca in those games too.
Until the penalty we were surely ahead on xG and so the penalty changed the match. We also messed up a ton of good counter-attacks, as sometimes happens. But we looked dangerous and capable of cutting through them.
Plus, the only foul in the box was Koulibaly on Salah!
6 – 5537Will has a different opinion on the penalty:
It's a pen if it happens to Salah in my eyes, so it's a pen if it happens to Callejon.
The gist of the comments on this thread used to be commonplace after British teams lost in Europe and thankfully it hasn't been as common in recent years but it's the same old shit.
"cheating bastards", "diving twats" etc etc etc.
We've known for literally decades that refs in Europe give decisions like that and although the team's got a lot smarter and a lot more streetwise and supporters are getting used to it and understanding the darker arts, we still haven't come to terms with it.
We're not smart enough. Italian teams do this and have done for years. They soak it up, break up play with dives, buy free kicks and sneak a 1-0 with a snide pen before killing the rest of the game with subs and back passes. We gave them two goals. Both our fault.
We play like labradors in the park sometimes. We should have sat back and protected a valuable away point. That's what the Italians would have done. We play with passion and we always want to win and I LOVE that, but results like this are the price you pay every now and again, for that endeavour. No team wins all the time.
The positive spin is that we needed that. I think we needed to be reminded that we are beatable. That we need to do the basics properly. That everything we touch doesn't turn to gold and if I was gonna pick a game to be one of what could possibly be 4 or 5 losses this season, then that would be one of them.
On a note re: Robbo, I love the lad. I wouldn't choose another LB in world football over him. That said, his concentration lapses sometimes. He did it back in January in first half of stoppage time against Leicester. Half of Anfield screaming "NO FOUL" at him as he challenged Ricardo in a safe position, conceding a free kick, which lead to their goal and 2 points dropped at a critical point in the season. Last night he made one badly judged challenge in the box, when he didn't have to. That's what happens. Those are the margins. That's something for him to work on.
I know that Klopp isn't going through the post match video, blaming the ref or VAR and we shouldn't either. The question is how we avoid that happening as a team again. About how you cancel out variables like giving the ref an opportunity to give a dodgy pen against you. About how we improve and get smarter and better and we can do that as well as supporters, by understanding that that we didn't control the game and we didn't score and that's why we lost, harsh and unfair as it may feel.
Articles Published on TTT This Week:
BREAKING NEWS: Firmino Arrested by Paul Tomkins
Late last night Roberto Firmino was arriving back at his Merseyside home when, as the security lights blinked on, a group of plain-clothes police officers stepped from unmarked cars and approached the Brazilian. One of the officers presented a piece of paper, before members of the vice squad slapped on the handcuffs.
Obscenity was the main charge: brazenly purveying utter filth in a public place at approximately 1:30pm on Saturday 14th September. Police are appealing for witnesses to come forward. Further charges of exhibitionism, soliciting a hopeless tackle and lewd behaviour in front of an opposition defence were listed on the arrest warrant, along with perverting the course of a through-ball and tampering with an offside trap.
A 27-year-old Swiss man, believed to be Fabian Schär, was air-lifted to The Royal Liverpool University Hospital Emergency Room on Saturday afternoon with twisted blood and a triple-fracture of self-confidence. Remnants of his self-belief were located by ground staff on the Anfield pitch after the final whistle, and a special unit of biohazard experts in hazmat suits had to clean the scene. Asked his name by the first responders, Schär said "Xi Jinping", before changing it to "Winnie the Pooh". (Same thing, noted the officers.) He was then heard to scream "Five of him! There are five of Firmino!" before being heavily sedated.
"It was pornographic", noted one concerned parent who claims to have witnessed what happened. "Depraved, licentious and vulgar", they stated. A group of men in black and white shirts were said to be deeply traumatised, with one found wandering the streets of Anfield Road, whilst a topless obese man was found crying into his beer at a nearby pub. Another said it was the most disturbing thing he'd seen since Milli Vanilli in spandex on Top of the Pops.
Post-Match Analysis: Napoli 2 – 0 Liverpool by Beez and Dan R
In the last 11 months, the Reds have taken on the men from Naples three times. They won't have faced most Premier League teams as often in that period; based on how the matches have gone, that's perhaps just as well. One thing has been made clear in all three games though: don't leave early.
At the Stadio San Paolo last season, Napoli had three clear-cut chances in the final eight minutes, with Lorenzo Insigne prodding home the last one in the 90th minute to secure the win. The return match at Anfield saw a total of six big chances – four for the home side, two for the visitors – which were all in the last 13 minutes of the match as it became frantic and stretched.
The CCC count was 3-0 in Napoli's favour last night, with two of them again in the last eight minutes (plus stoppage time), just as they were in 2018/19. Liverpool have only conceded three-or-more clear cut chances eight times in their 61 matches in all competitions since the start of last season, yet Napoli are responsible for two of the examples.
Why Liverpool in 2019 Were The Best-Ever European Champions by Paul T
Okay, so that's a bold claim. But bear with me.
With the Champions League resuming this week, and with the Reds as holders (have I mentioned "no.6" before?) resuming in the same fashion as last season (a defeat at Napoli, although this time with a much improved performance – but yet more comically implemented VAR, where contact appears to be fine if you dive into someone who has pulled out of the tackle), I may be at least partially able to convince sceptics, after a bit of contextual preamble.
And let's be clear: this is not some arcane stat that I have dug up by going back through the history books, but something truly significant I have found that Liverpool achieved last season that I haven't seen mentioned before. It's not subjective: this is an objective measure of greatness.
I could find only four of the other 64 European Cup/Champions League winners able to match this incredible achievement, and only one of those occurred after 1973; and if you take into account some added difficulties that Liverpool faced, to weight the data, then no single team since 1955 had achieved what Jürgen Klopp's Liverpool managed to do.
It's fucking HUGE!