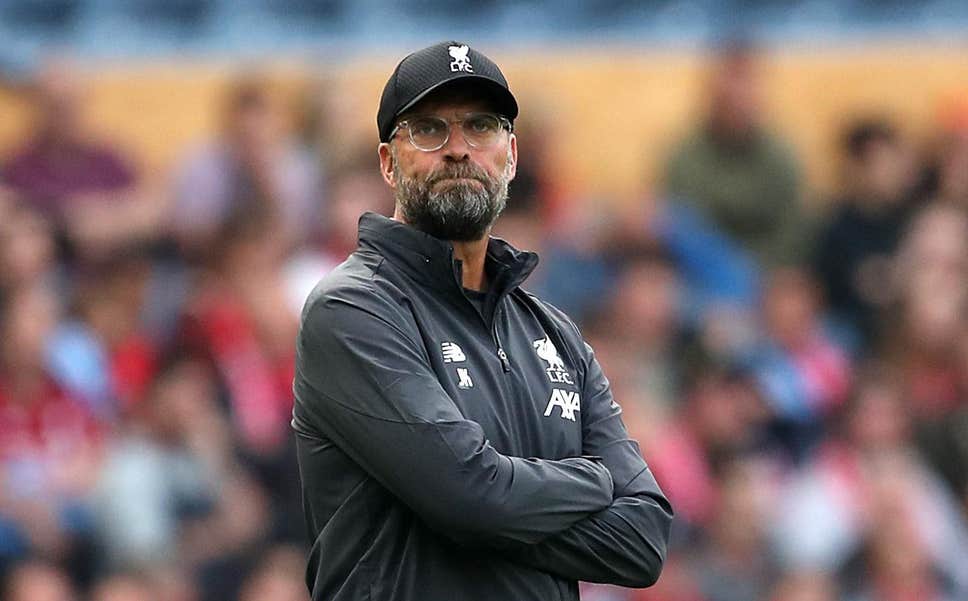 Well, let's be clear: it's hard to look ready when your players only finished their competitive club season in June (three weeks later than every other English club bar Spurs, and the first time since forming in 1892 that the Reds had a competitive game that late in the summer), then saw players go to the Nations League (four first-XI players and an impact sub), the Copa America (two first-XI players) and the African Nations Cup (three first-XI players and a borderline first-XI player), whilst others were out injured.
Last summer it was Spurs and Man City who had the greater number of players away during the summer, all at the World Cup, and in Spurs' case, it probably contributed to their domestic collapse in the run-in (although playing in knockout Champions League games tends to damage league form, on average – compared against their league tallies from the season before and the season after a run to the final; and the less-expensive the squad, the greater the damage). Liverpool had an insanely tough start to last season on paper, but a lot of the players had come home early from the World Cup, or not even gone there.
Indeed, as I noted at the time, when Liverpool went to Napoli and lost 1-0, it was just days after they put in a mind-blowing 154 sprints at Chelsea, trying to until the end to rescue a point in a game where they played very well indeed. That kind of effort takes its toll; and so, despite losing all three away games in the group stages, I never wavered from my belief in the team. It was largely the circumstances, with tough league games penned in by tough Champions League games. Something has to give.
Between them, Liverpool's two main rivals in the two main competitions signed just one player last season, and Spurs rushed all of their stars back for the first league game. That may explain why they ended the domestic season on their knees, but it was still their best overall season since 1961 (4th in the league and a Champions League final), and Manchester City had their best season ever in terms of silverware. They were not integrating new players (bar bench-option Mahrez), and were able to rely on greater understanding. But they probably didn't start the season in peak physical condition; Chelsea made a better start that City, after all, and were top after five games.
In order for Liverpool to look fully ready now then they'd have had to have given all their stars zero time off this summer. That would mean they would be sharp and available for the start of the campaign (having lost no residual fitness), but likely done for by December. And the scheduling at the start of this summer is another huge spanner in the works. There's no way around it. A crazy summer and a crazy number of additional games is the way the cards have fallen, in part due to the success of last season.
Liverpool have to play the Community Shield, the European Super Cup and then, before the turn of the year, the World Club Cup. That will make this season more challenging than last season in that it's three additional "competitions" (no matter how brief and relatively unimportant they are in the grand scheme of things), and yet this is a team that I believe will improve due to time spent together, and the way it can mature from one of the youngest teams in the Premier League last season to a mid-spectrum average age this time around. Long-term, the future looks incredibly bright; short-term there may be some bumps in the road, just because the road ahead is full of potholes.
(Where it can get easier is in not facing teams as good as PSG and Napoli in the Champions League group, but a kind draw isn't guaranteed. Longer domestic cup runs could then counter that, but these can be used as "reserve team" games. And I'm still in the "glorified friendly" camp on the Community Shield, but pretty much all foreign coaches see it as a proper trophy.)
Had the African Nations Cup not been put back from the winter of 2018/19 to this summer, Liverpool may have gone out to Bayern Munich in the Champions League (with players away or just returning, or injured on duty), and/or dropped more league points. We cannot now turn around and say that it's unfair, because it worked in the club's favour in securing a 6th European crown.
However, the decision by Guinea to call up an injured Naby Keita was reckless, and it sucks that Sadio Mané made it all the way to the final only to return with nothing. (Yet, of course, this is still an education for even players as old as 27. It can serve him well, long term, but he will need a long rest this summer, or, if he is to bypass that to some degree, rest has to be worked in at some point before the league's first midwinter break. For instance, he could be excused the World Club Cup.)
The only Liverpool players who looked good – or "fit" – against Napoli were those who were at Melwood at the beginning of preseason: James Milner, Fabinho, Harry Wilson and a raft of kids who had no heavy international commitments.
That cannot be coincidental. Indeed, some of these kids look incredible every time I see them, with 17-year-old Ki-Jana Hoever, at full-back, having more tricks and turns than most top-class wingers (also, look at the goal he scored for the Dutch U17 side this summer for more outrageous skill, although that tournament is not gruelling like the others), and so many of these teenagers will only benefit from the social multiplier effect (training intensely against better players, with utter dedication and focus – as dictated by the manager but echoed by the non-stop professionalism of the senior pros – improves you like nothing else).
Alex Oxlade-Chamberlain, two very promising dribbles aside, looked below par, but is playing with a calf injury; while the midfield thrust of Keita and Xherdan Shaqiri – important in the absence of the ultra-cutting edge of the front three – are out injured (both from international duty). It all made for a bit of a lumpen XI, but take out so many excellent players and any team will look more prosaic. One or two can usually be mitigated for; six or seven, and any team will see a drop in quality.
Keita, Shaqiri and Oxlade-Chamberlain are the midfield "injectors", and yet none is fully fit. And yet, of course, they offer Liverpool a lot of depth with that type of player – but when all three are out or impeded at once, it's misleading to say there's an issue with depth. If your 4th-choice goalkeeper isn't very good (he'll certainly be no Alisson Becker) or is just inexperienced, but you have the first three out injured, that's just life; you can only build in so much insurance without having a 70-man squad. Probably only one of those attacking midfielders would start for the Reds in an ideal world, but none is "ready" right now. Shaqiri hasn't even been able to reprise his role on the wing; he's missed all preseason – although both he and Keita are at least now back in training.
And Adam Lallana, who seems to have an increasingly severe form of Cruyff-turn Tourette's, is a handy midfield option to have, even if it's well down the pecking order these days.
So even if there's often a correlation between preseason form and the actual season form, I don't think this summer can be counted, with first-XI players Alisson, Virgil van Dijk, Trent Alexander-Arnold, Jordan Henderson, Sadio Mané, Roberto Firmino and Mo Salah all at international tournaments, having had to extend their club seasons by three weeks, and with Keita and Shaqiri, who also played for their countries in the summer, totally absent. We have essentially been watching Liverpool's B-team, often playing strong European opposition (after the two easier domestic matches). Even Van Dijk, Wijnaldum and Alexander-Arnold are only just back, and looking rusty.
Also, Liverpool do double and triple training sessions in preseason, designed to provide stamina for the campaign ahead, not to win preseason games; indeed, the club often trains on the day of a game in preseason, something no club would do before a meaningful match, as it's counterproductive for the performance (as it saps vital energy). But this is not about performances, it's about fitness. If you are building foundations, you cannot care if those foundations are pretty to look at or not – they have to serve the purpose for the long run. You could construct a building on shoddy foundations and it stay upright for a short while; but it will cause problems further down the line. The foundations are not to be seen, but are there to prop the whole thing up in the future.
Add in the travelling across time zones (jet-lag), the searing heat of previous games, and just the fact that pretty much every player – several of whom are yet to even feature – is at a totally different stage of fitness (and that Jürgen Klopp rarely picks his best XI at any one time in preseason before the final game/s), and you cannot read much into this preseason. It's a freakish set of circumstances.
If someone looks electric, as Rhian Brewster has, then great, that's a big bonus; but if they don't, it doesn't necessarily mean anything. In this case it probably meant that the kids, including the prodigious new arrival Harvey Elliott, are just unburdened by busy summers.
Indeed, Elliott, along with Sepp van den Berg, was wanted by a ton of Europe's elite clubs. Elliott, from a family of Liverpool fans, was at Real Madrid's training ground over the summer, but chose his beloved Reds instead. On hearing the news that he was Anfield-Bound, Zinedine Zidane made a last-ditch effort to try and tempt him to the Spanish capital. But it – along with the offer of more money – failed, clearly.
I've no idea if Elliott is ready for the first team right away, aged just 16, but he certainly has the ability and the confidence, as well as being a quiet and respectful young man off the pitch, lest anyone think that his haircut is indicative of some kind of rebellious streak. This is a player with immense skill to beat players in one-on-one situations and the eye to spot the kind of passes you usually only see from someone like David Silva. He is part of the new breed of young English player who has a great awareness of space, receives the ball on the half-turn and has sumptuous technique. But he will need to work hard (in games and in training), remain humble and avoid the bad luck of injuries. He may get games early on, but few players become regulars at big clubs before the age of 18 these days, and even then, it can be 20-21 for many of them. But equally, he doesn't look like any ordinary 16-year-old. If he keeps his humility then the world is at his feet.
He is joining the perfect setup at Liverpool, with the "no dickheads" policy employed by the club in the Klopp era reaping dividends, which means everyone can get lifted up by the collective attitude. If you don't train hard enough you're gone, no matter how gifted. And there are no senior players arsing about to undermine the ethic; young players have supreme role models.
That said, some of the squad may still be adjusting to becoming European champions. Most athletes say that you can get a comedown after the elation of winning something incredible. They often talk of being depressed once they've achieved their aims, as something is then missing. But this can be overcome, and Liverpool have something big and as-yet unachieved to aim for – the Premier League title, and a first domestic crown since 1990; so it's not like all their ambitions have been met. However, this season it seems that everything is set up to make that difficult; and the league must not become an all-or-nothing obsession.
And there's the psychological resetting process, that can take time. Anyone who has played a video game for days, weeks or months (not in one sitting!) to continually progress, only to then die (within the game, unless you are indeed trying it in one sitting) knows how depressing it feels to start from scratch again, all previous progress lost. Liverpool won 97 points last season as well as the Champions League, but it's all reset to zero now.
And of course, a little of the buzz from the glorious night in Madrid has gone, with the past four preseason results, but the confidence gained from digging in all last season long has to be drilled deeper into the core now.
Part of the issue is that clubs and television companies now seek to monetise preseason, when the games remain glorified training sessions, but the players have to be flown all over the world. It's a great chance for fans on other continents to see the players in the flesh, but they cannot expect those players to be ready; they are watching the rehearsals, not the final production. In this case it's not even the rehearsals with the main stars – it's a run-through with the understudies.
People paying to view these games on TV cannot expect to be entertained. Yes, it's lovely if it's all beautiful football, but you cannot demand it.
Trent Alexander-Arnold, Virgil Van Dijk, Andy Robertson, et al, have been back for little or no time, and a Liverpool side without its world-class goalkeeper and all three of its world-class attacking triumvirate is going to be a weaker team, fitness or no fitness. That's just indisputable.
To have the same kind of quality in reserve is nice in theory, but in practice it's difficult to achieve, not least because someone is going to be very unhappy at not playing enough football, and that can affect the mood of the camp; while signing someone as good as the front three (which once at this level cannot be easy) is made harder by not being able to guarantee that new signing a starting position.
Adding players also means a further spike to the wage bill which is already increasing all the time (in line with increased revenues), in order to keep the team together (in contrast to 2009 and 2014, when key players left, and in 2009, the club was mired in an internal war).
Liverpool, it seems, will not offer higher wages to any new signing, because – based on my reading of it – the highest earners have to be those who have already proved their worth to Liverpool. That avoids the Alexis Sanchez shitshow at Man United. As soon as you go against a meritocratic wage structure you are planting a time bomb. But Liverpool's younger players who have done well are getting new contracts, as are those who are becoming superstars.
And fans can only "improve" a team in their minds by adding players. They cannot coach or develop talent, or offer ways to make the team more unified, because they have no idea to do any of those things. Just add "better players" and it solves all issues.
Fans have no idea what the chemistry would be like, or how to make that side of the game work, or if signing those players would destroy the wage structure and therefore undermine the group ethic. They don't know if players they crave are actually "dickheads", whom Klopp and co. refuse to sign. (See my new book for far greater detail on all of this.)
And when some of the understudies are also out, or hampered by niggles, then it's going to be hard to look good, and impossible to look "ready". Some kind of compromise and "muddling through" the opening weeks of the season seems unavoidable.
Liverpool cannot bypass the late return of players, nor can they alter the fixture schedule. Signing someone to cover this temporary shortfall does not mean much if that player then takes six months to settle; and then, when everyone is back, there's an excess of players when everyone is fit, and the problems that can cause (even if it's lovely in theory). Liverpool also have players returning from loan (Wilson), and have promoted several world-class (in their age group) youngsters to the first team squad.
Another problem is that the league campaign now feels like you cannot afford to even draw a game; it has to be 38 wins, week after week after week, or panic will set in. But that's not healthy. Liverpool cannot be expected to be at peak condition from August to May with such an insane summer that fell beyond their control, after a season that lasted 3 weeks longer than that of their man rival.
Go back to the last time Liverpool won the Champions League, in 2005, and by the August of that year I had just started writing my Wednesday column for the official Liverpool website. I was inundated with emails telling me that Rafa Benítez didn't know what he was doing and had to go, after a start that saw Liverpool languishing in 12th in November. Indeed, the emails started raining in well before then (and to be frank, they didn't stop for the next five years). Winning things just raises expectations (aka the hedonic treadmill), and so many people can never be satisfied. You don't want your club to rest on its laurels, but equally, it cannot deliver relentless success, especially when the playing field isn't exactly fair.
The Reds ended up finishing 3rd with 82 points in 2005/06, then the club's highest of the Premier League era, and won the FA Cup after a tough run to the final. It improved greatly, overall, from the much weaker XI and squad that won in Istanbul.
The team was then at its best in 2009, after years of tweaking and development. It won nothing, but it would beat the 2005 side eight or nine times out of ten.
Because you don't always get what you deserve, and you can't always control the circumstances. You can only try your best.