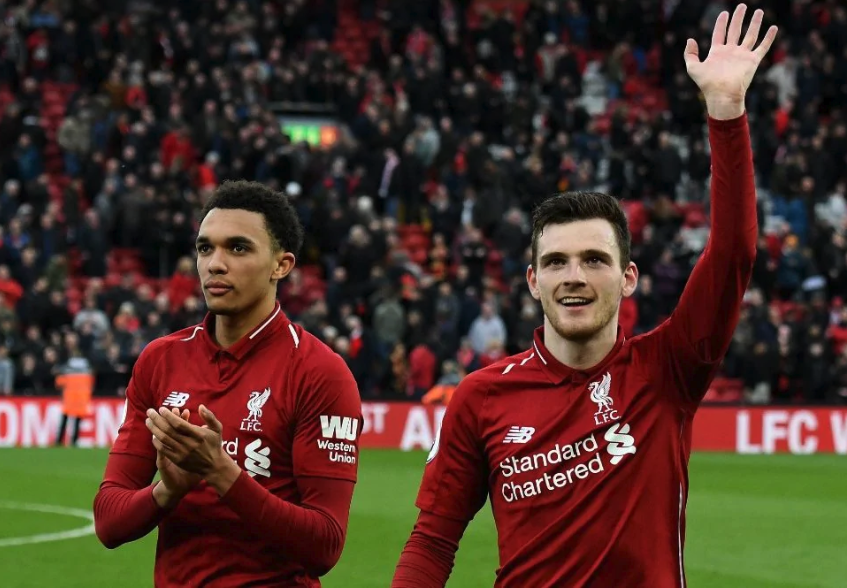 Posts selected by Chris Rowland and Daniel Rhodes.
This week's round-up brings you some of the best comments on the site, together with some samples of the articles we've published.
If you'd like to join our troll-free community and enjoy some intelligent debate about Liverpool FC and the wider world of football, and indeed the wider world generally, see the 'Subscribe' tab at the bottom of the page for details of how to sign up.
1 – Daniel Rhodes on Klopp's importance in Liverpool's use of full-backs:
Couldn't agree more that the biggest factor is Klopp, and without him and the way we set the team up then the two full-backs might not be considered world class.
And yet, we could put Kyle Walker at right-back for us and I wouldn't consider him to be world class. Same with Bellerin or Alonso. They don't have the tools to exploit the benefits of the system set up like Trent and Robertson.
Assessing individuals within a team sport is always fraught with difficulties.
Klopp gave them the tactical set up, but there's been attacking full-backs and defensive midfield set ups before in the Premier League but no-one has achieved the levels they did this season. Alisson showed world class performance levels with us, but also with Roma and Brazil.
Salah has been consistently world class for three seasons.
Fabinho, Mane and Firmino were all considered, and Matip performed at world levels last season, as did Gomez; so these things are always open to change. I think Keita could step up to those levels again, as he's shown elite levels of previous performance across Europe in numerous metrics.
And as Peter mentions below, if attitude is the sole factor to measure, then we have two of the very best in the world with Henderson and Milner; but we also have a huge body of work to measure and judge their performances across their career, and they've not shown world class levels on a consistent enough basis. Although in 2013/14, Henderson certainly was.
World class just means top 1-2% of players within that position. Who perform to those levels on a consistent basis. It is a commonly used term which quite clearly is open to interpretation and perceptions on how it should be measured. If the real accolade of 'world class' is for Klopp, why does it become nonsense for the players? When our famous analytics team are judging players, they will have brackets for judging other players based on data… they might call the best within that elite, or amazing, or top, top, top, notch or world class. Means the same thing. And is a valuable part of player profiling.
2 – Stevenson1988 responding to news that Manchester United are prepared to offer Pogba £500k a week:
Do you not think that, as with the Sanchez signing, Utd have managed to get themselves into a big dick contest from which they are struggling to extricate themselves? They still want to prove to all and sundry – and maybe particularly their own fans – that they can still piss with the big boys and that they won't be forced/persuaded into selling anyone if they don't want them to leave. We're still the biggest club, even though we're now crap, and the only way to prove it is to piss ever increasing amounts of money up the wall. Long may it continue.
3 – Daniel Rhodes again, on a Mirror report of deaths of migrant workers in building World Cup stadia in Qatar, where this December's World Club Championships are to be held:
Seems fairly clear that we should not participate in the 'tournament'. Take the fine or whatever FIFA would charge us with, but Qatar would be using our club to promote themselves and the World Cup, which is a fairly horrible situation.
It's always difficult to abandon official tournaments, but it feels wrong to criticise the human rights record of the Man City owners, and then legitimise an event that is run by owners with similar, disgraceful, human rights record.
4 – Jeff on perceptions of Graeme Souness:
People will not admit thier biases but to me one must recognise ones biases in their views on anything. Graeme Souness is easily one of the top 20 more likely one of the top 10 players in modern Liverpool history. In addition, i accept the fact that he knew he was on the downside of his career when he went to Italy for a nice payday and I always understand players looking out for themselves. This being said, he is one of the villains to me and someone who played a major role in the problems that bedevilled Liverpool for decades.
Now, once King Kenny left after Hillsborough it left the club in the in a position where there was not a logical successor on the books and the club had not ever thought about a logical successor. Mistake number one was not under standing the roots of Graeme Souness' success in Scotland was Rangers at that time was in a whole different financial reality to the rest of Scottish football and Souness record in the transfer market was poor but he had so darn much money that his mistakes were not taken into account. Mistake number to was not recognising that Liverpool had an ageing squad as Souness recognised this state of affairs, but having no idea how to gently move past the ageing players and identifying players who could come into Liverpool and in a season or two be up to Liverpool standards. My point is that within a season one could see that Liverpool had problems on the pitch and Souness was not the man to solve them.
Graeme Souness was not the man Liverpool needed and the problems of Liverpool were complicated by the reality that David Moores assumed a leadership position at the club and he was a man who showed time after time he was in over his head and not a man who would or could stop the rot. He replaced John Smith who along with Peter Robinson had guided Liverpool to so darn many successes. Anyone who thinks that David Moores is anything other than a villain in modern Liverpool history should remember who he sold his shares in the club to.
My point is that this season was the first time you could see that Liverpool was a team on the decline and the first time you could see that Liverpool did not have the people running the club who either knew how to right the ship or had a clue as to what to do.
My bias against Graeme Souness and David Moores is they were in over their heads and did not have the good sense to acknowledge this reality and find people who actually knew what was needed and who would do what was needed. I am aware it may have taken time to rebuild and reestablish Liverpool but always remember that Bill Shankly did it which shows it could be done.
5 – Nick on the potential consequences of being slapped by a price tag:
I wonder whether it hurts when they slap the price tag on. Is it similar to being Tangoed or is it a more like a happy slap where they gather round and film it on a mobile?
6 – David F's top ten youth players from his excellent end-of-season youth review:
1 – Rhian Brewster.
Well, he's pretty much made it already if Klopp's opinion is anything to go by (and who has the nerve to tell big Jurg and his team of quantum physicists that they've got it wrong?) Having said that, Brewster really hasn't done anything at first team level yet. And he looked pretty ordinary in the last match of the season, but JK says he's been terrific in training. The main issue with him is whether he is still the lightning whippet he was pre-injury, but from the confident way he's been re-introduced by our incredibly competent medical department there's no reason to think he won't get his pace back. It still might not be wise to count too many chickens, (or possibilities – (that's an in joke for the quantum physicists btw)). The thing is, he's going to get a chance, that much is certain and I for one can't wait to see him in action with some of the first teamers.
2 – Ki-Jana Hoever.
I thought his first team debut was sensational. You can see he's got a mistake in him which is par for the course, but he must surely already be well along the well-trodden path (by Gomez and TAA,) of the Klopp RB/CB development programme. If I was a betting person (which I'm not), I would put money on Gomez moving to No 3 centre back option and Hoever taking over as the 4th CB/RB cover role in the Cups next season.
3 – Rafa Camacho.
Well he's almost certainly going to leave because of an impatient attitude, but I've stuck him in here based on his electric performances this season and the likelihood of him making it as a top player, even if it's not at LFC. It's a shame he couldn't apply himself to becoming the backup to TAA as he looked really good there on the U.S. tour last summer, but as Paul says, if they fail the 'No Dick Heads' directive they have to go.
4 – Paul Glatzel.
There's something about Glatzel that says, 'I've got this'. He's a bit of a traditional, broad shouldered No. 9 with that innate aggression and physicality where he rarely, if ever, disappears in games. A really good team player and potential captain who works tremendously hard and has great movement. Of course it's way too early to know how he's going to fare against tougher opposition, but he looks the part to me.
5 – Bobby Duncan.
He's like Sharpe (Sean Bean) to Glatzel's commanding officer – equally tenacious and enterprising but slightly more maverick. He's got a thunderous shot and a great back story coming from City and being Stevie G's cousin. As with Glatzel (or anyone for that matter), it's a bit difficult to know whether he'll fade away in more exalted company, but he's got the stocky yet slippery look of a young Aguero right now. And he stuck two fingers up to City. Who knows?
6 – Curtis Jones.
Jones is one for me who may have to 'take the stairs' rather than the elevator. He's a bit like Ejaria, who was blessed with fabulous skill but seems a bit flimsy. It's partly because of the position he plays in midfield, but when it comes to big pressure matches, he doesn't seem secure and has a tendency to lose the ball in dangerous areas. I haven't really seen any clear development from him this season. As Stevie G's poster boy last season, I think he rode the wave of SG's uniquely scouse intensity, but I've not seen him bring it off his own bat. I like him as a player and think he has the talent, but I'm not sure how he's going to develop. He looks, a bit like Benny Woodburn, like one of those players who, as the pressure ramps up, starts to hold back slightly. But I've not given up on Benny and I'm not giving up on Curtis either.
7 – Adam Lewis.
He's a wonderful, chip off the old LFC block, big hearted player with a great left foot and when he first came on the scene he stood out for his Robertson-esque chasing of lost causes. Since becoming a regular in the U23s, they've tinkered with him quite a bit positionally, moving him into various midfield configurations and he seems to have lost a bit of his unique character although he still shows a great passing range. I guess TAA went through a similar progression albeit at a slightly younger age and it worked out pretty well in the end. I'll be interested to see how Lewis comes back after a good break. I think he looked a bit tired towards the end of the season. For me, he's definitely not a current solution to cover for Robertson at LB just yet.
8 – Leighton Clarkson.
Clarkson was my favourite player in our fabulous U18 team this season. He's very short, but tough as anything; a forwards-looking, deep-lying midfielder/playmaker with a real knack for creating goal scoring chances. Who doesn't love that kind of player? He was one of those typical youth team players with a forgettable name who didn't stand out at all at the beginning of the season, and even during in game action you might not notice his contribution to a goal on first viewing, but then you realise he's the one making things possible. Still, there's been a lot of feisty little players come and go down the years, (Spearing, Rossiter, Brannigan). He's probably another one of those, but we'll have to wait and see what's occurring.
9 – Yasser Larouci.
There's a bit of the Glen Johnson about Larouci. He's a great physical specimen; a powerful runner with the ball and buccaneering aspirations on goal. They've been working on his defensive awareness too. He's by no means a natural defender (he's a converted winger), but he did improve markedly over the course of the season which was encouraging. He's got the tools.
10 – Abdi Sharif.
Yes – I know! This is an extreme wildcard. But I've just got a feeling about him, based on two things. First, that he doesn't quite know how good he is and can be just yet. And second, that he's a great athlete; loads of stamina, big, pacey and strong. I think he could become a real handful, the sort of player people hate to come up against. He's versatile too, which Klopp likes.
Articles published, with excerpts:
Monday June 17th:
Keeping Up With the Kids – Liverpool F.C. End of Season Youth Review, Summer 2019, by David Fitzgerald.
The balance in our current U18s side, inspired by the first team, has helped provide a tactical framework that's enabled players to develop their games in an intelligent way. The symbiosis between Glatzel and Duncan who are both great at making cutting runs to create space for each other, provides a focal point for the whole team with Clarkson pulling the strings and Cain and Sharif making late runs into the box and the typical LFC wide play provided by (more often) Larouci on the left or Neco Williams from right full-back. Even down to the dominance of the looming centre back, Rhys Williams, at set pieces at both ends, there are many similarities to our first team.
The players that have caught my eye are Glatzel, Duncan, Larouci, Sharif and Clarkson. Others seem to rate Jake Cain and Rhys Williams highly. The goalie, Jaros, was very good.
I also like the boy from New York City – Matteo Ritaccio. I was excited by him when he first came, but he's had some really stiff competition, with Clarkson and others playing in his position so hasn't played too much. I think he definitely needs to bulk out a bit to compete in English PL2, so maybe he will stay at the younger level and get his chance. He needs to adapt but I like him as a playmaker and he's no shrinking violet either.
Wednesday June 19th:
Ranking the Reds' Premier League Seasons, Worst to Best: #27 – 1993/94, by Paul Tomkins, Andrew Beasley and Chris Rowland.
It was an optimistic start to the season. With Man Utd winning the title on 84 points (from 42 games) and ending their lengthy drought the previous campaign, Liverpool's start of three wins in a row looked to be setting them on the road for a real title challenge. The bubble quickly burst however with three successive defeats and it was soon clear that the title was out of reach for another campaign as Man Utd skipped over the horizon along with half of the rest of the division.
The gloom continued in the Cups, with a first ever penalty shoot-out defeat (at the fourth time of asking) against Wimbledon in the League Cup and a dreadful home defeat by Bristol City in an FA Cup replay. One of the few bright spots was the debut of Robbie Fowler who quickly became a legend with his five goals in one game against Fulham in the League Cup.
To give a flavour of the lack of ambition of the club, the only debutants during the season were the home grown Fowler and Matteo, with the poorly judged signings of Clough (who did at least start brightly), Dicks and Ruddock, the latter spending most of his time focusing on passing a £1 coin around the pitch as a bet.
By Christmas the fans were voting with their feet – with the Kop still all-standing, the capacity was still well over 40,000, but only 24,000 turned up to watch QPR in early December, the visitors losing two players with red cards but still only going down to a 3-2 defeat thanks to a late Molby penalty. One of the more memorable games was a very late comeback against Oldham with two goals in the last three minutes to secure an undeserved win.