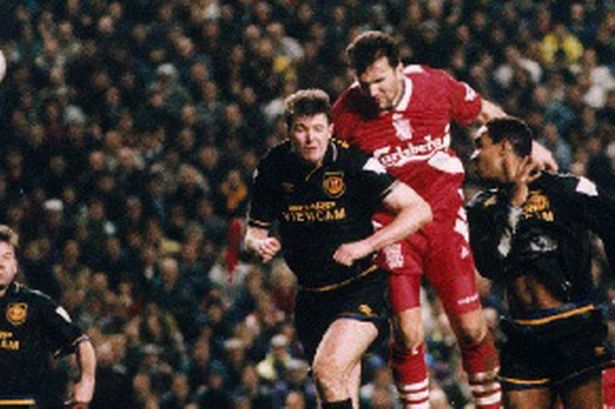 Introduction (by Paul Tomkins)
With the summer promising to see me busy finishing writing and producing my new Liverpool FC book (and a second special-edition TTT book), I thought it would be good to have some kind of series to keep the site ticking over until the new season – especially as it seems that transfer stories will be thinner on the ground, given the strength of the squad and the lack of older players, or those on short contracts. There will be some ins and outs, of course, but nothing major, it seems – because now the improvement can be from growing as a team. (And two of the outs have already left.)
So, I came up with this idea, which I have handed to Chris Rowland, Andrew Beasley and Daniel Rhodes to flesh out, with the aid of our subscribers and contributors. This first piece is free to all, but others will be subscriber-only.
Football didn't begin in 1992. But the Reds' glory years up to 1990 are well documented, and so are some of the seasons since. However, how would you rank them, from 27 – the worst – to #1, the best?
At TTT Towers we (mostly Beez) played with a few numbers, and came up with something that felt close to matching our general impressions (but also with a few surprises). We've also used our Transfer Price Index figures to show how much the players cost in current day money, and to look at how relatively wealthy Liverpool was in each season in question; which was factored in to the list we produced.
And so we begin here with the worst of the worst – 1993/94 (although 2010/11 was heading to beat it until Kenny Dalglish returned). Liverpool had the 2nd-costliest team 25 years ago, but it largely stank the place out.
#27 – 1993/94
TTT Season Rating Score: 0.82 (League 0.80, Cups 0.00, Finance 0.02).
Manager: Graeme Souness (until 28 January 1994); Roy Evans.
Season summary
Andrew Beasley: 16 losses, most in a Premier League season. Knocked out of the FA Cup at home to Bristol City. Knocked out of the League Cup following the club's first ever penalty shoot-out defeat, by Wimbledon. Finished below Wimbledon and Sheffield Wednesday in the league. Man Utd won the league again.
In short, crap!
Graeme Souness was sacked, with Roy Evans appointed as his successor, taking over at the end of January 1994.
Graeme Riley: It was an optimistic start to the season. With Man Utd winning the title on 84 points (from 42 games) and ending their lengthy drought the previous campaign, Liverpool's start of three wins in a row looked to be setting them on the road for a real title challenge. The bubble quickly burst however with three successive defeats and it was soon clear that the title was out of reach for another campaign as Man Utd skipped over the horizon along with half of the rest of the division.
The gloom continued in the Cups, with a first ever penalty shoot-out defeat (at the fourth time of asking) against Wimbledon in the League Cup and a dreadful home defeat by Bristol City in an FA Cup replay. One of the few bright spots was the debut of Robbie Fowler who quickly became a legend with his five goals in one game against Fulham in the League Cup.
To give a flavour of the lack of ambition of the club, the only debutants during the season were the home grown Fowler and Matteo, with the poorly judged signings of Clough (who did at least start brightly), Dicks and Ruddock, the latter spending most of his time focusing on passing a £1 coin around the pitch as a bet.
By Christmas the fans were voting with their feet – with the Kop still all-standing, the capacity was still well over 40,000, but only 24,000 turned up to watch QPR in early December, the visitors losing two players with red cards but still only going down to a 3-2 defeat thanks to a late Molby penalty. One of the more memorable games was a very late comeback against Oldham with two goals in the last three minutes to secure an undeserved win – whilst personally I remember the day for being at Old Trafford as Martin Offiah scored 10 tries against Leeds in the Rugby League Premiership Final….
The other standout memory was a Valentine's Monday night televised defeat by relegation threatened Southampton, the abiding perception being that the team was rapidly becoming an overweight joke with Dicks, Ruddock and the ageing Barnes and Nicol in the squad. Just after the restart the hosts made it 4-0, including a hat-trick from Le Tissier, with late goals from Dicks and Rush giving the scoreline a flattering appearance.
It's hard to explain how poor the team had become in just a few short years since the previous title, but this really was a desperate season with very little in the way of upside. With the Kop gone at the end of the season and eventually replaced with seats, it felt as though this was a turning point for the club – and not necessarily one which would point in the right direction.
Best moment
Andrew Beasley: Robbie Fowler's debut, and five goals against Fulham.
Alex Tate (TTT subscriber Tattva): Robbie Fowler scoring in the Merseyside derby. God's early season form continued alongside the tutelage of Ian Rush, who himself scored a pearler that day. But the moment when a Toxteth lad scored a rasper at the Kop end, we knew we had a gem.
Gary Fulcher: October 5 1993. An 18 year old Robbie Fowler hammered five goals against Fulham in the Coca Cola Cup second round second leg tie at Anfield. I followed this result on BBC Ceefax and Fowler became my first Liverpool idol (I was 14 at the time). 
Graeme Riley: Fowler's five
Paddy Smith (TTT subscriber Mr.Miyagi): I moved to live in Bermuda this year, a good move all round!
Matthew Beardmore: Blimey – really, were there any? Actually, I'd go with Rushie scoring against Everton at Anfield about 30 seconds after Dave Watson had put Everton ahead in the derby. I like the immediacy of a bubble being burst – I even quite like the fact Sky were still showing Watson's goal and had to quickly cut to Rushie crashing the ball into the Everton net at the other end. Add to that Rushie was my absolute hero and it's no contest (he still is my hero, but don't tell anyone…)
Jonathan Naylor: The derby at Anfield. Everton took an early lead and a young Evertonian (probably about 12) leapt out of his seat in the front row of the Kemlyn Road Stand and proceeded to jump up and down in front of the Kop, flicking Vs indiscriminately. Meanwhile, behind him Liverpool kicked off and Rush immediately equalised. The Evertonian then had to go back to his seat with the derision of the entire Kop ringing in his ears. When Fowler subsequently got the winner later in the half, the Kop made sure to engage in some dialogue with the lad.
Taskin (Tash): There weren't many great moments on this season, but I do have some good memories: when Liverpool dismantled newly promoted Swindon Town 5-0 at the County Ground, I was living in Swindon at the time and walked to the game with hordes of Swindon fans who I'd grown up with. It was the only occasion (until moving to Barcelona) when the shoe was on the other foot and I could walk to and from a Liverpool game whilst other Liverpool fans spent hours travelling.
Another great moment was Neil Ruddock crashing in a header at the Anfield Road end to secure a momentous comeback against Utd at a time when the pendulum had clearly swung in their favour. I was in a pub in London for that, but still remember the utter joy of salvaging something from a game that looked not only lost at 3-0 down, but with the potential for massive humiliation staring us in the face.
All that said, having the privilege to be stood on the Kop for the last ever time as the old terrace bowed out of existence was amazing.  It was an incredible day full of mixed emotions that was comfortably both the Best and the Worst moment of the season and as a glorious era came to a close.
Paul Tomkins: Fowler's debut. I was lucky enough to be at Craven Cottage that night, in the freakish thunderstorm – I can't recall too many of those during games. While Fowler bagged five in the return leg, I loved the way he burst onto the scene with a goal on his debut.
Worst moment
Andrew Beasley: Brian Tinnion, Bristol City!
Graeme Riley: The FA Cup defeat which rightly brought the end for Souness.
Gary Fulcher: Tied between Newcastle 3 – 0 Liverpool at St James' and the 0-2 defeat at Anfield against the Magpies. I was living in Newcastle at the time and the banter was never friendly. Just pips the FA Cup 3rd round defeat to Bristol City at Anfield for the personal impact these defeats had on me.
Paddy Smith: I came home where I lived for a holiday and was at the Bristol City game, should have stayed in Bermuda!
Alex Tate: Not one which stands out, but the whole season was mostly a struggle to watch. It underlined we were quite uncompetitive under Souness and poor Roy had to make do with dragging us along until May.
Taskin (Tash): There was surely nothing worse than trudging out of the Kop end after the dismal performance v Norwich which seemed to sum up our season; stale; inept; lacking in quality, belief and hunger.
It was all set up for a send off and for someone to score that glorious last goal in the Kop End. A goal we'd celebrate like no other. But it never came. The score didn't matter in the greater sense and the atmosphere was still beyond great. It was beautiful because everyone knew its significance before we'd even taken our places. The old songs were given an airing and they never stopped. They are memories that I will always cherish. A piece of rubble still sits on my bookshelf, crudely glued to a wooden block, sat in front of my myriad collection of Liverpool books – now mostly ones written by Paul and Chris' too.
In a strictly 'on the pitch' sense, then this game (a lame 1-0 loss) and the 2-2 draw with Swindon (a draw we only salvaged in the closing minutes thanks to a Mark Wright header) were two moments when I finally accepted that this wasn't a blip anymore. We were in trouble as a club. It had slipped away and it was only getting worse. The fact we beat Swindon away 5-0 back in August reflected how far we'd fallen as well as how well they'd adapted to the league – albeit far too late to save themselves. I was living in Swindon at the time so that fact we'd drawn – at home and possibly deserved to lose –  was just horrific.
Nick Mundon (TTT subscriber NickM): It was a poor season so there are a fair few to choose from. One was getting a priority ticket which would have allowed me to buy a ticket for the home game against United and then seeing that it was on a Monday night and knowing there was no way I would be able to travel up to Anfield from Kidderminster on a week night. It was of course that famous 3-3 game.
The other worst moment I was going to say was seeing Jeremy Goss's goal fly in for Norwich City on the last day of the standing Kop. I would however say that actually the worst moment was probably later that afternoon, having to actually walk back down the stairs and out of the standing Kop for the last time. I think that was actually the last time I went to a home game until we played Barcelona in 2001 in the UEFA Cup semi final.
Matthew Beardmore: I would imagine a few people will plump for the Bristol City Cup game, or maybe the derby at Goodison when Grobbelaar and McManaman had a bust up, but I am going to go for an incident at the only proper game I went to all season. However, even if I'd been to every game, I think I would still have gone for this.
So, picture the scene – Liverpool are playing Sheffield Wednesday at Hillsborough. Wednesday are 2-1 up with 10 minutes or so to go (I should mention at this point that both Wednesday goals have been the result of comical own-goals by Neil Ruddock and Mark Wright – the latter own goal ending with Wright scrambling on all fours like a man who has lost a contact lens right before he has to give an important presentation at work)
A ball is played through Liverpool's back line. Mark Bright half-heartedly chases after it as Brucie is clearly going to reach it first and punt it as far as he can. Bright even turns his back so if the ball subsequently hits him, it may not hurt quite so much.
Imagine his surprise (and my horror) when Brucie completely air kicks the ball leaving it to roll past him. Bright stopped laughing long enough to put the ball in the net to clinch a 3-1 win for Wednesday. Unfortunately for me, it took all my Wednesday supporting mates at college a lot longer to stop laughing.
Because I'm a nerd, I've got a spreadsheet with lists of all the Liverpool games I've attended over the years (it's got longer since this season), with score, goalscorers, team etc, plus I add a little note or two of review or points of interest. All I wrote against this game is 'Fucking hell".
Jonathan Naylor: A few to choose from. Losing for a second year running to lower league opposition at Anfield in the FA Cup. Losing to Norwich on the Kop's last stand. Of the matches I went to, I took a Newcastle fan up to the game at Anfield where we looked very blunt in losing 2-0. Their second goal – which came after we had been camped in their half for most of the game without looking like breaking them down – was a low point.
Best player
Andrew Beasley: Robbie Fowler for finishing one goal shy of top scorer in his debut season.
Alex Tate: Robbie Fowler. Absolutely no contest from anyone else in the team. He became my favourite player of all time. His debut season saw an explosive start with all those league cup goals v Fulham, including all five in the return leg. We saw a fearless teen with great skill, an ability to score a huge range of goals supplemented with a large dose of cheekiness. Attributes which where not diluted with age!
Gary Fulcher: Robbie Fowler. 18 goals, five against Fulham. In. One. Match. The birth of a legend.
Paddy Smith: John Barnes, just because!
Taskin (Tash): For me Barnes was still the best player on the pitch, even if he was no longer the flying winger version of himself. It was a time when you could begin to appreciate his footballing brain instead of just his immense skill, power and speed. The latter of which had now cruelly left him.
Barnes aside, a certain Robbie Fowler burst on to the scene. Yeah, he wasn't bad. I have to be honest though. Personally I still had the fear right at the start that he could turn out to be a flash in the pan. It was only when he showed that he clearly wasn't – he just got better and better – that you felt that with Robbie and Macca we had the basis of regeneration. There was renewed hope that a couple of good signings (and a change of manager) could turn us around. What a shame it never quite happened under Roy. A shame for those players and a shame for Evans too; a man who I believe deserves much more credit than he gets for his time as manager. Like Dalglish's sacking, the treatment of Roy when they brought in Houllier was a cruel end to a man who I consider a club legend. Both decisions were ultimately correct, but there were better ways to have gone about things.
Nick Mundon: Probably has to be Fowler in what was his debut season. Here was this lad just seven months older than me playing for Liverpool and banging in the goals. It was just amazing to watch.
Matthew Beardmore: No contest. The one bright spark of the season. The appearance of 'God' in the form of Robbie Fowler. Just a breath of fresh air, scored some great goals and I think he also galvanised Rushie who revelled in taking him under his wing like Kenny had for him in the 80s.
Jonathan Naylor: Robbie Fowler, with an honourable mention to Ian Rush.
Graeme Riley: Fowler (with little competition other than Rob Jones)
Worst player
Andrew Beasley: Form an orderly queue – the squad included Julian Dicks, Neil Ruddock and Torben Piechnik! While not the worst player, after four goals in his first four games, it was disappointing that Nigel Clough only scored four more across the rest of the season. A look at those players in and out that season tells you something about the place we were in at the time.
Paddy Smith: Without a doubt Julian Dicks, what were we thinking!
Alex Tate: I recall very clearly reading in the paper we had signed Julian Dicks. His picture no bigger than a postage stamp above a few column inches. I was deflated and it said everything we all know now. He was one of many poor buys and a few ageing stars who failed and contributed to an 8th place finish. 32 points behind Champions , Man Utd.
Gary Fulcher: Too many to single out one. A very average squad full of average journeymen and players past their prime. Without the likes of Fowler, Rob Jones, McManaman and Redknapp, the future would've looked dire.
By Taskin (Tash): The popular answer might well have been Paul Stewart. He was most definitely the most unwanted when we signed him. We were horrified. I remember seeing the back page of the paper confirming he'd signed whilst sat on a boat in Ibiza. Talk about a ruined holiday. But such was the state of our side at the time that I remember being pleasantly surprised by him. I think it was the hunger he showed more than any particular level of skill.
So the Worst Player mantle would have to go to Torben Piechnik, a player who started badly and you immediately feared the worst. He went on to confirm those fears over and over until Roy took charge and shipped him out. I simply remember hiding behind my hands whenever he went near it. Imagine Mignolet playing in defence instead of goal. That was how it felt watching him. Looking back you have to feel sorry for the guy. He was simply out of his depth. Miles out. And yet there he was. Dying in front of us.
Nick Mundon: Whilst there are plenty to choose from, looking back I am not sure that I actually had a worst player at the time. I was just enjoying what was only my second season going up to Anfield on a fairly regular basis.
Matthew Beardmore: Just the one? Erm…probably Julian Dicks although during that season anyone in the defence with the exception of Rob Jones was a candidate for this one. The fact both Wright and Ruddock would subsequently have better seasons in Red means it has to be West Ham legend Julian I'm afraid.
Chris Rowland: Julian Dicks is maybe the worst professional footballer I ever saw. For a full-back his positional sense and spatial awareness were abysmal. I lost count of how many times I saw an opposition move develop down our right side and notice Dicks haplessly failing to spot the danger that would eventually solidify on his side. Led to the memorable chant "Dicks out" from the Kop one day after yet another horror mistake.
Jonathan Naylor: Julian Dicks was a signing that made your heart sink, and if anything, he was worse than expected. Presumably brought in to add some bite to the team, he had limited ability and a poor attitude.
Graeme Riley: Julian Dicks
Best game
Andrew Beasley: With only 20 wins in all competitions, there isn't a huge amount of choice. Winning the derby 2-1 after going behind, with new hero Fowler netting the winner, probably takes the honour here.
Chris Rowland: There was also an eventful  3-3 draw in a January night match at Anfield with eventual champions Man Utd when we were 3-0 down after 20 minutes, came back to 2-3 at half-time and drew level with a thumping header from Neil Ruddock.
Alex Tate: While the beating of Everton at Anfield rates highly, a torrid match where we battered them, the 3-3 draw with Man Utd is the best game. From 3-0 down, Clough scored twice and late on Razor Ruddock with a powerful header gained us a point. The game showed us we had fight, not just the ugly side of Dicks and Ruddock, but some resilience where perhaps some of our younger players had it within them to give us a bright future. While we won the next two games league games, it was not enough, especially after an embarrassing FA Cup exit. Again the newspaper report is still vivid. Kop Chop Souey.
Matthew Beardmore: From a purely dramatic perspective, the Manchester United 3-3. It was one of the few games this season where I felt the whole team pulled together in adversity.
From a result point of view, the 2-1 win over Everton. Amazing to think that would contain Ian Rush's last goal in a Merseyside derby, and we wouldn't beat them again for five years.
Jonathan Naylor: The 3-3 home draw versus Man United was probably the most exciting game, coming back from a 3-0 deficit. However, it also highlighted the gap that had emerged between the two teams.
Graeme Riley: winning 5-0 at Swindon, live on television
Goal of the season
Andrew Beasley: Neil Ruddock's equaliser against Manchester United in a 3-3 draw at Anfield may not have been one for the purists, but few were celebrated more wildly that season.
Alex Tate: Ian Rush in the Merseyside Derby at Anfield. Everton had just taken the lead, a long aerial pass covering 50-60 ft from Dicks over Rush's shoulder, one bounce just inside the box and a typical Rush volley sent the red hot atmosphere into white. Southall had no chance, and neither did many other keepers. My memories of Rush are centred around goals like this. He never belts the ball, he seemed to caress it.
Matthew Beardmore: Robbie's winning goal in the derby. Such a cool finish and it meant something in a season when we achieved very little.
Graeme Riley: Ruddock's almost suicidal header to equalise at home against Man Utd after trailing 3-0.
Notable features
The game against Norwich City on April 30th was the last game at Anfield with a standing Kop terrace.A crowd of 44,349 were there to say goodbye. To confirm a dreadful season, we lost 1-0!
Premier League: 60 points, finished 8th.
£XI rank: 2nd.
Europe: N/A.
FA Cup: Third round.
League Cup: Fourth round.
Top scorer: Ian Rush, 19.
Transfers In:
| | | |
| --- | --- | --- |
| Player | Current Money Purchase Price | Age @ transfer |
| Ruddock N | £57,565,807 | 25 |
| Clough N | £52,384,885 | 27 |
| Dicks J | £46,052,646 | 25 |
Transfers Out:
| | |
| --- | --- |
| Player | Sales CTPP |
| Kozma I | N/A |
| Burrows D | N/A |
| Marsh M | N/A |
| Hooper M | N/A |
| Rosenthal R | N/A |
Final League Table
* TTT Season Rating Score explanation:
League – Liverpool average 67.8 points per 38 games in the Premier League. Season points tallies are calculated as a percentage of that average to generate a rating score. Seasons are also awarded a proportion of up to half a point, depending on where between 2nd and 8th the Reds finished.

Cups – Points are awarded for progress in the latter stages in Europe and the domestic cups, with descending importance through Champions League, Europa League, FA Cup and League Cup. The maximum possible points score is 55 (by winning the Champions League and both domestic cups) so the total for a season is calculated as a percentage of that.
Finance – Liverpool's final league position is compared to their £XI Rank for that season. The seasons are then ranked from biggest over-achievement to worst under-achievement, and awarded a proportion of half a point depending on where they sit.
… Oh dear. What a season. Horrible in so many ways.