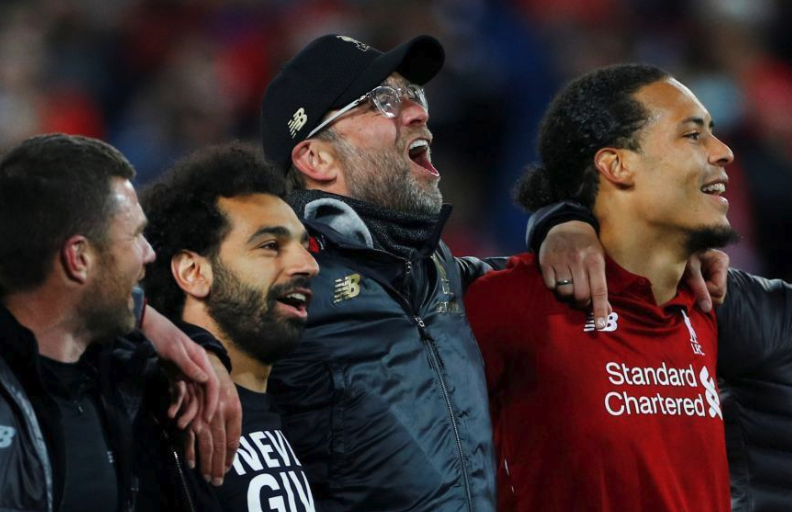 Posts selected by Chris Rowland and Daniel Rhodes.
This week's round-up brings you some of the best comments on the site, together with some samples of the articles we've published.
If you'd like to join our troll-free community and enjoy some intelligent debate about Liverpool FC and the wider world of football, and indeed the wider world generally, see the 'Subscribe' tab at the bottom of the page for details of how to sign up.
1 – Nari Singh on listening to Klopp:
One thing I've invested my time in is really listening intently to Klopp speak, whether it's pre or post match, or right after the game, because there is so much information he tends to share.
Souness went on about sideways passes and that the first thought needs to be forward. Of course, that makes sense, but forward or through balls are not easy and the percentage of those coming off is not as high as say a sideways pass. But after the match Klopp basically gave away why we pass sideways a lot. It's to try and pull the opposition team out of position and really tire them out having to chase the ball, and this in turn makes the forward passes more effective when timing is right. If anyone had properly listened they would have corrected themselves and praised Klopp because for the whole season it's worked, every team is knackered in the second half and we tend to go on and win.
Klopp is all about managing energy levels. One thing that stuck with me from reading Bring the Noise was Peter Krawietz talking about how they needed to learn about the uniqueness of the league, and every year they've done this from fitness, to set pieces and crosses etc. It's all long term planning from their experience in this league. I have never seen such massive improvements from a Liverpool team year on year. It's not a fluke, it's not luck, it's hours and hours and hours of analysing and studying the environment they are in.
Klopp and his team have evolved the old traditional wingers crossing into the box but replaced the big centre forward in the middle with nimble, quick roaming (inside) forwards who spring between centre backs in lightening speed to score, and who are never static.  I'll bet that in a few years time we'll be seeing other clubs replicating this type of playing. But by then Klopp will have evolved our play again based on the trends they are seeing at this moment. It's just amazing to witness. There is so much joined up thinking, both in the present moment and for the future, it's unreal.
What a time to be a Liverpool supporter.
2 – SteveM on how Klopp has built such a formidable side:
Thanks Paul for another excellent piece. It has put shape to a lot of what I thought Klopp was trying to achieve this year, and over his first seasons. To me that devolves down to 3 main principles:
1. Build on fitness. This applies at different levels. It's critical to pressing, but perhaps more importantly to longevity (both in-game and over a season and to extend the useful playing career of the older players like Milner and Hendo). The oft-quoted stats about our "lucky" late goals are to me just the fruition of the fitness-based approach. That is, be fitter than your opponents so you can press them, tire them (through all those sideways passes), then overmatch them in the final quarter of the match. And do that all season
2. Build on mobility. The very astute comment above about converting wing play/crosses into a function of full backs underlines what is to me a Klopp masterstroke. Of course, full backs have been wing backs for a while, but it's no coincidence that both of our have this season equalled the record for assists by full backs. And it is the mobility of Trent and Robbo that facilitates that achievement while at the same time makes them key parts of the meanest defence in the PL (the latter fact also delivered via super-fit forwards, who Klopp keeps  noting are the first line of defence, and a super fit and rotatable midfield). Also, those crosses from the fullbacks don't seek a lumping Lukaku-style centre forward (Origi has much better hair than both him or Andy Carroll and usually he's played on the left anyway). They are aimed instead at a nimble, mobile front 3, any one of whom might pop up anywhere and exploit the generally less mobile opposition central defenders. Sadio's headers have been the exception – most of the successful crosses from left and right are met by feet, not heads
3.  Build on "the team". Your whole article on "fit" captures this brilliantly, and my recollection of the great LFC teams of the past was the same. The occasional Dalglish or Barnes who came straight into the first team and stayed there was the exception. Generally, new players were introduced more systematically via the bench, "easier" games etc. I think even some of the greats like Hansen, Souness or Rush took this route. Feeding in 2-3 players each year is clearly a better approach than wholesale changes, and allows more leeway for some transfers not to turn out as you hoped – though we are doing pretty well on that lately. As you say, this approach also enables evolution of the core, as current players move on, age or suffer longer-term injuries.
All of which is why, while I remain ever hopeful, I'm surprisingly calm about the prospect of winning no trophies this year. I think that's because it has been wonderful again to be confident each weekend/midweek that LFC can get a result anywhere; I've missed that feeling. After the Barca game I was reminded what it feels like to lose – but also I realised how good, and exceptional, it has been this season to not feel like that very often. I think our big win in recent seasons was bringing JK to the club. In turn, he is winning us the future. This isn't only a great Liverpool team. It a great team built the way Liverpool teams should be.
3 – Serpico on how we react if City do win the title, and a prediction for the Barcelona game:
If City win at Brighton, Klopp would not argue they don't deserve the title. Neither should we. We might turn out winners still, but in case we don't, there's nothing more tired than sore losers.
I recommend that as fans we don't give up the fight, we don't lose sight of just how immense our season has been, and as a part of that, that we don't become bitter. We are at our best as a site when we avoid confirmation bias, and we should try to avoid this trap even during what looks like an ungrateful week ahead.
1) Kompany and red cards: Yes, he deserves more cards than he got. But also – sounds like quite a goal from him. And he's not the first experienced centre-half to get away with it. Carra, Rio, Terry – the lot of them, when they were established as PL seasoned elite, they never got as many cards as others in their position would. Reputation plays a part. And yeah, he shouted at Salah. But come on – we supported this team when we had one of the five dirtiest devils to play the game in our ranks (Suarez). Stating that City don't deserve the title (if they win at Brighton) because Kompany is a cheat/fouling a lot/a potty mouth is being a bit coy.
2) City and the money – yes it's clearly bad, it's clearly unfair, clearly tilted in their favour. But – I have friends who support Palace, and Sunderland, and Leicester. Telling them that Liverpool is financially disadvantaged in its head-to-head against City is technically correct, but it's also completely undercuts any arguments we have about Liverpool's quality in the PL era — to put simply, we are among the financial winners, by a vast margin. I know that we are still about 2/3 of City's value (with inflation), and it matters. But most weeks in a season we meet teams much poorer than ourselves, and we lionise our performance when we beat them.
Our achievement this season is more impressive than City's even if they win the league and we don't – because of the financial disparity and the relatively humble & young make up of our team. We don't need a title in order to recognise the measures of our achievement, it's clear to see, even if people will take the piss.
I follow Liverpool for the journey, and it's an immensely interesting one. That's the point. Liverpool aren't doing anything wrong now, the right people in the right places, winning the vast amount of football games, and always giving you a reason to look forward to the match. The best story-teller in the business with Klopp narrating our club to us with exactly the right spirit and the left politics I can get behind.
Lift yourself up because we might still beat Barca tonight. Because we might still win the league on Sunday. But more than that – because we played a great season that would be remembered for posterity, and we're not going anywhere. Don't forget to enjoy it.
Prescient words there from Serpico ahead of the Barca game at Anfield!
After the Barca game:
4 – GlasgowRed:
Paul, you hit the nail on the head. For all  City's financial steroid driven brilliance, they and probably most other clubs are incapable of creating what we did tonight.
You need soul to create moments like this. It starts with the history of the club and the feats of brilliance that previous generations created and witnessed. These stories are then passed on through the generations. They give the younger fans who weren't even born hope. When they stand and watch beside the ones who were there during the glory days, they have faith that the impossible can happen.
These are the conditions required to mount a comeback like this. The conditions required to augment the faith the manager instils in his players.
Soul is in the heart. It comes from great successes but also from tragedy.
No other club in world football does soul like Liverpool.
I don't think I've ever felt as proud to be a Liverpool supporter as I do tonight. Whatever happens on Sunday and in the final, this evening will live with me forever.
5 – Mark Cohen:
I remember being at the Tate in London in late 2006, they had an incredible piece by an artist who's name I have sadly forgotten.
It was a brick wall, maybe eight or nine metres in length, spanning the entire width of one of the halls. Many people walked in and looked at it for a few minutes. Some walked out after, but others just stood. I stood, and I looked, and I looked. And then I saw it. Near the right hand side end of the top of the wall, there was a tiny, thing. It must have been no more than a quarter of an inch high maybe. I walked closer and, then closer, and then I saw what it was. It was a tiny, red, Coke bottle.
Then I stood back, and I looked at the wall again. But all I could see, even from a distance, was this tiny, little Coke bottle, exerting pressure on the wall, on the scene. It was no longer just a red brick wall, it was a wall in which this tiny little Coke bottle had stolen the scene and made its own. It changed my entire experience of the piece, and in fact, was so profound for me that it changed the trajectory of much of my future thoughts.
I came to understand that small details, tiny things, collectively can make a massive impact, but you need to be mindful of them, and you need to make a conscious decision to engage with them, to allow their pressure to act upon you. To understand this world, it is not enough just to watch it. You need to feel it.
I travelled to Liverpool ten days ago to watch us obliterate Huddersfield, and then the lads went onto Spain for the first semi. We watched on, mostly enthralled of course, as we had played brilliantly, but by the end, I was sat in my seat feeling, if not utter desolation, than a fair amount of despair. A season that had offered so much, looked set to end with platitudes only, no small thing of course in these tribal times, but nothing tangible either.
At the Nou Camp they stick the away fans in the far corner, in a giant 98000 seater stadium, to obviate their effect on the home team. You are behind a perspex enclosure, and your ability to act on your team, to help them, to engage with them to create the symbiosis needed in a cauldron like that is diminished. Very effectively.
As I sat and watched Barca break with a four on one in the 93rd minute, my over riding thought was that 3-0 is bad yes, but 4-0 is done. From that distance where we sat, the pitch looked so gigantic, it literally feels like they could walk the ball into the net untouched.
In the meanwhile, there was a young lad, probably around 7, sitting with his dad in front of me, reminded me of my dad and I. He used to take me to rugby starting when I was about five or six, I'm South African you see, and rugby is dad's big game.
Being so far away from the pitch, and with the away fans not exactly in full voice, you could hear individuals close to you, if you listened carefully. I could hear the lad was in tears, his evening, his trip to Spain with his old man had brought up the cold and stark first lesson in life which is, sometimes things turn to shit.
I could hear him, literally over the roar of the Barca fans as Messi broke clear, he said: "Daddy, please don't let Messi score again…". The way he said 'again' resonated with me, holding onto the 'n' desperately, the way he had somehow implored daddy to help him, a young lad, his dad still up on the pedestal, still his whole world, could his dad somehow help him, alone, at the top of Catalonia?
I stopped watching the break away, and I started watching the father, he had his hand over the young lad's shoulder, as if to shield him from roar of the crowd, the tidal wave of Barca stars pouring forward, and the inevitable that was to follow in a few short seconds.
But Messi squared the ball, Dembele scuffed his shot, and from the vast distance where I was sitting, I could see this tiny little purple thing hit the ground and seemingly hit the ground in total frustration. The boys father had seen it too. He comforted the lad as he pulled him closer, "Did you sat that, did you see that! Messi is so angry now, because he knows three goals is not enough to beat us!"
His father had somehow helped him, from up high, in an impossible position, he had engaged with the scene before him and given his young son solace, hope.
In that moment I felt a real sense of satisfaction, that the club, its people, its children, were beaten, but unbowed. They would, a week later, they would 'go again.' And if that failed, and Sunday's incredible title challenge faltered too, they'd go again in August, and again, and again.
I averted my eyes from the lad and his father back to the field, the dad was right, I could see exactly Messi's frustration, and in my mind I knew that it was only a small thing, but I could suddenly sense the pressure that Barca and Messi were under to deliver, and I knew that things would be different at Anfield.
I knew that Messi no longer saw the giant wall, he could only see the tiny red coke bottle, coming up in the distance, a week later at Anfield, to change the entire scene for him.
And us.
Articles published since our last edition, with extracts:
Sunday May 5th:
Divock Origi! Divock Origi!, by Paul Tomkins.
Divock Origi! Divock Origi! Divock Origi! Divock Origi! Divock Origi! Divock Origi! Divock Origi! Divock Origi! Divock Origi! Divock Origi! Divock Origi! Divock Origi! Divock Origi! Divock Origi! Divock Origi!
Post-Match Analysis: Newcastle 2 – 3 Liverpool, by Daniel Rhodes.
This was a strange game in terms of the stats: Newcastle had more shots (14-11), which was the first time since we dropped points against West Ham that we've been outshot in a game. More shots on target (6-4), the first time since Man Utd away; and the same amount of shots in the box (10-10). However, the Reds edged the big chances (two – Mane, Van Dijk, one- Atsu) – and also, averaging across all the models, just pipped the Magpies on the expected goals. Liverpool were slightly ahead in four out of the five we use. Maybe a point was a fair result, but who cares? Certainly not me!
Irrespective of Title, Liverpool Should Get Even Better Next Season and City Start to Fade, by Paul Tomkins.
A couple of weeks ago Daniel helped me gather data on every minute played by every Premier League player since 2011, which is to be used for a major study analysing penalty trends (which I think means we can now prove systemic bias by referees against foreign players, but that's for the summer), but also allowed me to look into this season's data, and compare Liverpool with City.
With just a few games left in the 2018/19 season, there was a clear distinction between the two clubs in terms of how long the teams had been together. City had 19 players who had played over 700 minutes in the Premier League this season, whereas Liverpool had just 15. The average time spent at the club for the 19 City players, as the season drew to an end, was 3.9 full seasons; for Liverpool's 15, it was just 2.8. 
Monday May 6th:
18/19 Champions League | Semi-Final 2nd Leg | Barcelona (H), by Gary Fulcher.
If Liverpool do progress it would probably be the greatest night at Anfield in the club's incredible European history, given the opposition, the Lionel Messi factor, the size of the deficit needing to be overturned and the timing of this match as outlined above.
Only three teams have overturned a three goal or more 1st leg deficit to progress in the knockout stages of the Champions League and you only have to look at last season's competition to find inspiration. Barcelona sealed an emphatic 4-1 win against Roma in the quarter-final 1st leg in Spain and were overwhelming favourites to progress to the semi-finals. Roma had other ideas and recorded a 3-0 win to eliminate Barcelona on away goals. That Barca team featured the likes of Messi, Suarez, Pique, Alba, Rakitic, ter Stegen and Busquets.
Tuesday May 7th:
The Greatest of the Great European Anfield Nights – Liverpool Blow the Living Shit Out Of Barcelona, by Paul Tomkins.
Wednesday May 8th:
Post-Match Analysis: Liverpool FOUR – 0 Barcelona, by Daniel Rhodes.
The basics: 13 shots to 8; but when you dig a little deeper into the quality of chances Liverpool managed FIVE (Origi x2, Van Dijk, Shaqiri and Henderson) big chances to their two (Suarez, Alba).
The expected goal models all had the Reds ahead, with a range from 2.8 to 1.7 for us, and 0.6 to 1.2 for the visitors.
Friday May 10th:
My Day At The Match: Barcelona at Anfield – May 7th, 2019 by Jonathan Naylor