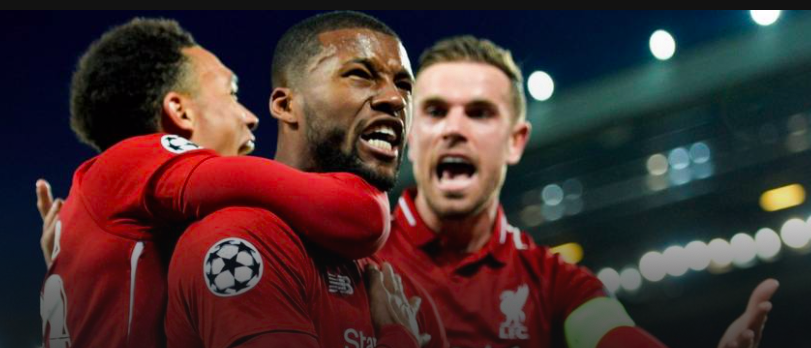 Nothing is won yet. But you can only be in with a shout when the trophies are handed out. While these nights become more famous if you win the competition, you also don't forget nights like this. Trophies are the endgame; but this is the journey. This is life.
Liverpool's players and manager were almost speechless, and in tears, in explaining how this happened.
The greatest Champions League/European Cup semi-final comeback ever, to place right alongside the greatest final comeback, back in 2005, in some place that just happens to be hosting next year's final.
This time last year the Reds went 5-0 up against Roma, and I thought I'd seen it all. Roma came back with two late strikes, but Gini Wijnaldum scored the vital goal in Rome. And after all, Roma were good, but they were no Barcelona.
Last year, the snides were out: Man City aside, the Reds never played anyone decent on the way to the final. This year, bring on your PSG, Napoli, Bayern Munich and Barcelona. Is that good enough now?
Klopp said what's becoming his catchphrase in his post-match interview: "these are fucking mentality monsters", before mumbling something about "Milner crying".
3-0 down at "half-time" to Messi and co, and with the Reds lacking five or six key players; then Luis Suarez, without shame, kicks off another key player in Andy Robertson (if this is Suarez on his best behaviour he really is more of a headcase than we ever dared imagine). All this against a Barcelona team who rested their entire XI at the weekend, while Liverpool were put through the ringer on Tyneside in perhaps the toughest away game of the season. All this with Barcelona needing to score just one goal at Anfield to make them 99.9% sure of progressing.
Go back a few hours. Barca stroll into town, 3-0 up; with two ex-Liverpool players who fought to leave the club for the glory of Spanish football. Right now, neither of them are being missed.
Watching from the stands – unable to play – are Mo Salah, Roberto Firmino, Naby Keita, Alex Oxlade-Chamberlain, Adam Lallana, and then the injured Robertson. Liverpool still didn't need Coutinho or Suarez. (Edit: Keita was watching at home, nursing his groin injury and trying not to make the injury worse!)
This was only half a Liverpool team, but even half a Liverpool team is better than a whole Barcelona one right now. The Catalans can count themselves lucky they didn't get to face the full force of the Reds, but the Kop – and the stand-ins – were electric. With Salah and co. it could have been 8-0.
Nothing is won, but even if Spurs don't beat Ajax, they won't forget their run this far, and their own famous night in knocking out Man City. And yet Liverpool are in the final for the second season in a row. That is insane consistency for a team on this budget – mid-level compared to the European monoliths and the oligarch-backed "projects".
Regular readers will know how much of a Divock Origi admirer I have been over the years, but even I had to admit that it felt like he'd run out of time, especially when his loan to Wolfsburg last season was a damp squib. So much talent and pace, but not the most aggressive, and at times a little lacking in understanding of quite where to be; but as the famous banner says, football without Origi is nothing.
Just how does he keep making history? A vital man in so many games, despite not actually playing in that many. Aside from countless winners against Everton, he was pivotal in the famous win against Borussia Dortmund, and now he has added yet another famous European night to the Anfield oeuvre; an even bigger occasion, with an even bigger mountain to climb, against better opposition. But with the help of Trent Alexander-Arnold he pulled off the most remarkable tie-winning goal you're ever likely to see in a game of football.
Perhaps we get overly sentimental as Liverpool fans, but this stadium does things to visiting players. It makes them shit their kecks, to use the vernacular. European nights are Anfield are almost from another reality.
And I've also been saying for two years that Gini Wijnaldum is the most underrated player in Europe. Of course, Fabinho – FABINHO! – now runs him close. (What a display!)
As does Jordan Henderson. (What a display!)
But Wijnaldum is so unique – a holding midfielder with amazing feet and, to quote Dirk Kuyt, "the lungs of a horse", and with over 100 career goals – which is just one more reason why this Liverpool team do so many surprising things. You can't pigeonhole any of them.
Wijnaldum, like Origi, can seem mild-mannered at times, but in the box he can become like a second no.10, and yet still get back to help stop a counter. I'm pretty sure he only started the game on the bench because of all the football he's played lately, and how other Liverpool players were dropping like flies. I assumed he was being rested for Sunday.
And have you ever seen a better out-of-the-box striking display than Sadio Mané put in tonight? His low centre of gravity and leg strength and balance is sensational – almost like Maradona in how he can't be knocked off the ball. He gets better with every game. After passing 20 goals for the season he's on a mini-barren spell, but at times he is impossible to shake off the ball without resorting to violence.
Going into the tie I had little doubt that Liverpool are a better team than Barcelona in 2019 – the visitors an ageing, slowing collection of players who rely on undoubted individual brilliance – but with the Reds' missing so many men, and the unjust 3-0 deficit from the first leg, I thought it would be a tight Liverpool win with a Barcelona away goal to take them through. But 4-0!?
Holy cow.
So often in these games you get the early goal, the crowd goes wild, and then the opposition gets one back and the tie is dead. A great atmosphere suddenly dissipates, and you're just glad your team gave it go; where they maybe grab a late winner, to take the consolation of winning the game but losing the tie.
But no, this incredible ride since Klopp arrived in 2015 goes on. No trophies (yet), but this is a young, improving team that has shown it's not a flash in the pan; breaking records last season for the most goals any team has ever scored in the European Cup, and this season by outstripping the highest points tallies ever posted by Man United, Arsenal, Spurs and umpteen other famous clubs.
And how many English clubs have reached a Champions League/European Cup final while finishing with at least 94 points? None. So again, that is history.
Along with Man City, Liverpool are in a league of their own in Europe right now, and in the Reds' case, with fewer ageing players. City are still at the peak, but the downslope has to come soon; just as it's starting to happen to Barca's stellar core.
By contrast, the Reds are coming over the hill. Interestingly, so are Ajax.
(Spurs have a similar issue to Liverpool in that they have an injury crisis at the business end of the season, but unlike Spurs, Liverpool's fitness has largely been perfectly managed. That said, the ludicrous fact that the final is in about 3,569 weeks' time might help them get some players back – and also help Liverpool do so, too.)
Even if City win the league, as looks likely – and what a two years they'll have had, if so – they haven't had nights like this.
You can lay out all the plastic flags you want, but you can't buy this. Good luck to them if they win the league (all the alleged illegal financial doping aside), and Liverpool can do nothing to influence their game at the weekend; but City will have watched this and had a few thoughts about the way this Liverpool team keeps finding goals when it needs them. (In fairness, City are doing that, too … but not in Europe.)
Earlier in the season Jonathan Wilson likened Liverpool to Glenn Close in Fatal Attraction, but his conclusion – perhaps justifiable – was that at some point they had to stop coming back.
It hasn't happened yet.
City will have just watched their old friend James Milner, as a makeshift left-back, making a headed tackle whilst on the floor. That's what this team gives you – it will run through brick walls, even if the wall is actually the floor, and they are already lying on top of it. They will still try and run through it.
That's what this Liverpool team has. It's almost beyond description, without resorting to expletives. It has pace, power, goals, aerial dominance and agility – but it also has a player who will tackle someone with his face.