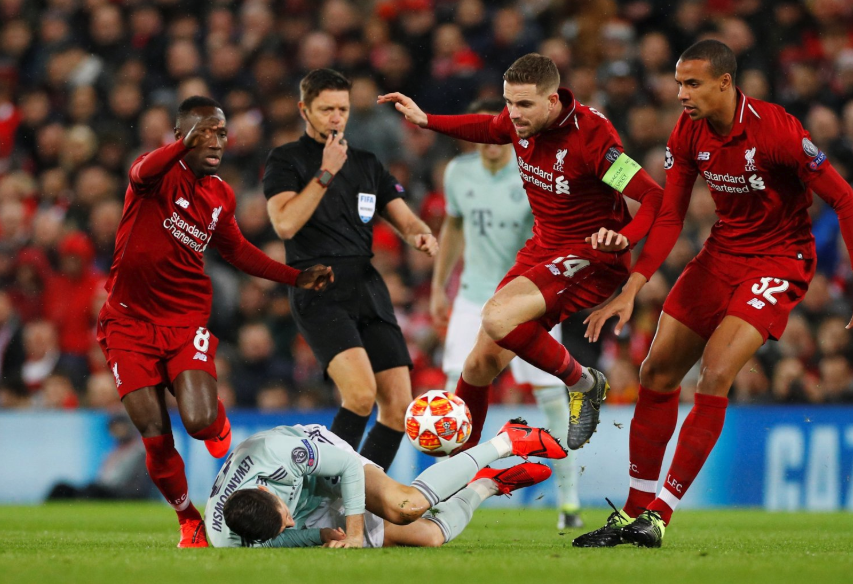 Posts selected by Chris Rowland and Daniel Rhodes.
The idea of this weekly round-up is to give you all some idea of the range of debate on the site and the articles we publish. If you'd like to be part of our troll-free community, there's a 'Subscribe' tab at the very bottom of the page.
1 – Mark Cohen's appraisal of where the season stands and what's likely to come:
Although we all know the facts regarding Paul's superb research into the effects of CL performances on leagues, I cannot bring myself to want anything other than a big hiding for Bayern on Tuesday.
To make an impassioned case for Cup representation at this stage would certainly go against the statistics, but I will say that Jürgen Klopp, more than many others, sets his team up to be at its most effective in the final third of the season.
Also, he learned valuable lessons from the his first couple and a half seasons in the PL, so much so, that this season he altered himself technically to shift to a 4-2-3-1 system, allowing for a delayed press, meaning less running, less fatigue and slightly greater defensive control in the first half of this season. The rewards of such a system seem obvious – first place in the league with just a single defeat and a spot in last 16 of CL.
On seeing the team's formation against Bournemouth, I noted that for one of the first times this season, we switched to Klopp's genuine 4-3-3 from the beginning of the game against non-top six opposition.
Such an intriguing move, as it seemed to suggest that Klopp decided that was the game where we needed to 'put our foot on the gas'.
Much like the final lap in a 5000m, Klopp must have heard the bell, probably the two draws against tricky opposition the week before, and decided, with anywhere from 15-20 games left, the squad's energy levels are ready for the final sprint, hence the desire to return to a highly attacking 4-3-3, Firmino up top and the press properly effected from the front.
I believe Klopp feels we can win both competitions and is not desirous at all of a priority for the two. I may be clutching at straws here too, but I also think that he has planned extraordinarily carefully to have us firing at optimum over the last three months, and that we may buck the trend of teams battling before and after CL games this season.
I think it's also important to understand that we need only buck the trend relative to our opposition and not in totality. In other words, we need to perform better after (and before) the CL games than City and Spurs do, we do not need to perform perfectly.
Again, I might have blood red coloured glasses on here, but City and Spurs' players deep participation in the World Cup, allied to City's extraordinary zest and pace in the first thirty minutes of a game, alongside Spurs smallish squad, should precipitate a natural wall for them both to overcome in the next few weeks anyway.
I don't believe Spurs will be there at the end, their six defeats already speaking of a team that doesn't have the consistency to put together the likely 10+ wins they need over the last 12, and that's before we consider their monstrous fixture list.
City though have a seemingly endless supply of quality to call on from the bench, but the devil is really in the details there.
Pep thought of everything when he raided clubs near and far for his uber squad, everything except cover for his most important position, his defensive midfield shield. He is now in the tenuous position of relying on a 33 (closing in on 34) year old Brazilian to play every meaningful match before now and the end of the season.
I stand to correction, but apart from the two missed games (both defeats), that an injured Fernandinho didn't participate in this term, he's played in every other game. Even last night, Pep couldn't or wouldn't rely on anybody else to get the job done even against lowly Newport, giving the beleaguered midfielder yet another 79 minutes…
He won't be rested against Schalke either, and my feeling is, regardless of injury or not, he will tire significantly in the final third of the season, and this may be the difference maker, not just in the League, but the CL too.
Pep is in a strange position. He understands that in taking only the jobs with by far the most money available, he has set the bar for success with almost no margin for error. That's why his time in Bayern is not considered an unconditional success – no CL.
For City too, a league title is obviously not enough, and with Liverpool's brilliance this season, Pep has now seemingly made the decision in his mind that only the quadruple will suffice.
Honestly, the guys right. When you have twice as much wherewithal as anybody else, and you can afford to turn football into a FIFA 18 style video game with 'moves' like the continual side to side technical passing, followed by the slide ball through a defence so that your 'all 100s rated' winger can get onto the ball behind the defence and then cross it to your 'all 90s rated' striker to tap in, then you need to win everything.
Lets see how fit Peps go-to players really are, because they have many, many minutes to play still, and,
of course, have already played lots more than us, with League Cup and FA Cups treated as priorities too.
Klopp has designed this season to be entirely about two competitions, and I believe he has tailored the fitness of the squad to fit the rigours of these requirements.
It wouldn't have been lost on him that we looked spent after the home leg against Roma last season, and he was extra mindful this term, the 4-2-3-1 showing a highly evolved type of risk management as it was solely designed to get results without needing to expend vast amounts of energy.
I think we're primed for a two front battle and I also think that Klopp would enjoy nothing more than to stuff Bayern five days before a momentous trip to Trafford – what better way to prepare?
2 – Paul Tomkins querying the BT Sport commentary team during the Bayern game:
It amazes me that pretty much all of us amateurs on here could call the nature of the game (that LFC deserved to win, and Bayern did nothing) with accuracy before seeing those figures, and yet the commentator, Jim Beglin, Jake Humphrey, Rio Ferdinand and Owen Hargreaves just seemed to have no idea what the "flow" of the game was.
I can't recall seeing a commentary fail to call a game correctly as bad as that since maybe the BBC and our trip to Wolves. Are these broadcasters simply obsessing about their own competitions, and about the "story", and not giving us fair and balanced reporting?
Bayern had sterile control for periods of the match, but we absolutely blitzed them before half-time, just without the finishes our play merited.
3 – Jeff on the 75-76 season and the mental toughness of the squad:
I almost put this in the piece I submitted to Chris but I thought better of it because I have had this discussion in the past with Chris and maybe others as my memory is far from perfect.
I lived in London during the 1975-76 season and I saw QPR play at least a half a dozen times and maybe as many at 10 times and I saw Liverpool play at Anfield once or twice and I saw Liverpool play in London at Highbury at Chelsea and at QPR and at West Ham. There is no doubt in my mind that QPR had a better starting 11 than Liverpool if you saw them play that season you would say that they were a better side.
To me what stands out for the most part the years that Liverpool won the old First Division it might well not have been the best side in the division but it was mentally the toughest side in the old First Division which led Liverpool to winning the title. This toughness is what in my opinion led Liverpool to beating QPR for the title this season.
To me if Liverpool win the Premier League title this season it will be because Klopp and Liverpool's coaches and the lads on the pitch have the mental toughness needed to play at a high level from August to the middle of May and play at a high level in match after match. I think this years team has the mental toughness that was the hall mark of the past which at least to me bodes well.
4 – Chris on Klopp needing to win a trophy:
a fella in the office today said Klopp needs to win a trophy this year.
Well there are only four (trophies) any team can win, and two aren't worth bothering about and would do nothing to add to his worth. He's still in the running for the two that do matter, but the point is that our fans know the progress we've made, know that a team as Euro-savvy as Bayern held us in such esteem they curbed their usual game to counteract us, know that we're heading for a record points total, have only lost one league game in 26. We Liverpool fans don't need a fucking trophy to prove anything, and what the rest think isn't worth a tuppenny fuck.
5 – Stevenson on perceptions of Liverpool's current form and the performance against Bayern on Tuesday night:
I don't buy any of the media's negativity, either about last night, or our recent games. What I would say, though, is that we are showing a lack of composure at times – particularly in front of goal. We were also crying out last night for Fabinho in midfield alongside Henderson (who I thought was absolutely superb) and Gini. Clearly he couldn't be in 2 places at once and his display at CB was exemplary. That's also not to denigrate Keita who I thought had another good game last night, I just think Fabinho is starting to give us an air of calm and control in midfield. I know I tend to wear my optimistic trousers on occasion, but I genuinely believe that we have a great chance to go through, especially with VvD back and with the whole team having a few more games under their belts. The 2 breaks we've had, whilst useful, do seem to have upset the rhythm a wee bit – as have the injuries and illnesses. You just get the feeling that we are not a million miles away from it all clicking again and it would be rather wonderful if that was to happen at OT on Sunday!
Articles published on the site since last Friday, with samples:
Saturday February 16th:
18/19 Champions League | Last 16 Preview | Bayern Munich (H), by Gary Fulcher.
Bayern last lifted the Champions League trophy in 2012/13 at the expense of Klopp's Dortmund side, recording a 2-1 win at Wembley courtesy of an 89′ winner from Arjen Robben. They've also won the last six Bundesliga titles in a row, with Klopp's Dortmund side in 2011/12, the last team to prevent the Bavarians from lifting the German title
This will be the 8th meeting between two of Europe's biggest clubs with the last fixture coming in the European Super Cup in 2001, which Liverpool won 3-2 in Monaco. Both sides have an identical home record having won once and drawn twice with no defeats.
The previous meeting to that was at the semi-final stage of the European Cup during the 1980/81 campaign. the two sides played out a goalless draw at Anfield in the first leg. The second leg in Germany finished 1-1 with both goals being scored in the final ten minutes with Karl-Heinz Rummenigge netting on 87′ cancelling out Ray Kennedy's 83′ minute opener.
Kennedy's goal was enough to see the Reds progress to the final where they defeated Real Madrid 1-0 to lift the European Cup for a third time.
Monday February 18th:
Analysing Bayern Munich's Stats This Season – Underestimate Them at Your Peril, by Andrew Beasley.
The main problem, as it so often is when a team is underachieving, is finishing. It has been an issue at both ends of the pitch for Bayern too; they've scored roughly seven goals fewer than expected while conceding four more.
Looking at the front of the team suggests the problem has mainly been down to Robert Lewandowski. The Polish forward has missed 19 clear-cut chances in 2018/19, which is second only to a certain Luis Suárez, with 20, in Europe's big five leagues. Lewandowski has also failed to convert the joint-second most big chances in this season's Champions League, with four, though as Sadio Mané leads the way on six, this particular stat doesn't frame the forthcoming match-up in such a positive light.
To use more in-depth stats, Lewa is roughly six-and-a-half goals down on what xG would expect in the Bundesliga, which basically accounts for Bayern's seven goal shortfall. The shot map for Bayern's number nine shows some very high value misses in the six yard box for starters.
Wednesday February 20th:
Post-Match Analysis: Liverpool 0 – 0 Bayern Munich (First Leg), by Daniel Rhodes.
While possession (49/51) might suggest an even contest, that's about it as the Reds created three big chances and 15 shots to Bayern's zero (and nine shots). The same trend applies to the xG models, and while we have fewer to reference in the Champions League games they all noted Liverpool's dominance: Michael Caley had it 2.2 – 0.5; FiveThirtyEight had it 2.6 – 0.4; Wyscout had it 1.94 – 0.29; 11tegen11 had it 1.74 – 0.7
Done Deal – The Business End of the Game, by Bob Pearce.
And Hendrix's agent has persuaded him to structure the balance of his contract to reduce the basic salary so he could leverage some improved variable payments, made up of a better appearance bonus (if he is on the pitch for more than 60 minutes of each game), an improved win bonus, and an uplift on his Champions League qualification bonus payment. It's a gamble, yes, but if it goes well they'll be high-fiving all the way to the bank. If he gets injured, or incurs a lengthy suspension, or plays with a selfish team-mate, bottom line, he could end up on just his reduced basic salary."
"Could that be why Entwhistle looked so angry when he was taken off in the 59th minute last week?"
"He must have been thinking 'If I'd been stayed down and got treated for that injury for another 60 seconds my enhanced appearance bonus would have kicked in'.