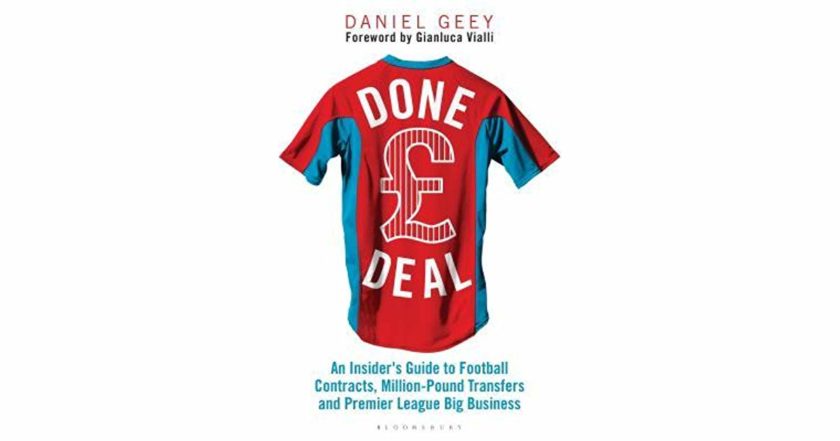 By TTT Subscriber Bob Pearce.
Daniel Geey, 'One of the UK's most highly respected sports lawyers' (and long-time TTT subscriber), recently published a book called 'Done Deal. An Insider's Guide to Football Contracts, Multi-Million Pound Transfers and Premier League Big Business.'
Sky Sports' Guillem Balague tells us that:
'If you want to know and understand how football works, this is the book for you'.
It gave me a whole new perspective on the game. By chapter two I couldn't stop thinking about how different TV coverage would be if they replaced co-commentators like Keown and Murphy with Gavin from accounts.
"Mayfield seems to have found his mojo again since the new season started Gavin."
"It's been a very good week for him. Last week was the anniversary of him joining the club, triggering another instalment of his signing on fee of around £25k. And with the transfer window closing, this week, his loyalty bonus, paid in equal annual instalments over the term of his contract, which could be in the region of £40k, kicks in. Go figure.
"Entwhistle chose to go for goal himself, when Hendrix was unmarked for a simple tap-in to an open goal. And he is furious with him."
"He'll be saying 'You could have got a bonus payment for a goal, of between £10k and £20k, yes, but you could still have around £3k for an assist, plus your win bonus, and the league position at the end of the match day round bonus payment. But because you didn't put it on a plate for me, you get nothing, and we all get nothing'.
I do wonder sometimes how much Entwhistle's goal and assist bonus ratio is affecting some of his decision making in the final third.
And Hendrix's agent has persuaded him to structure the balance of his contract to reduce the basic salary so he could leverage some improved variable payments, made up of a better appearance bonus (if he is on the pitch for more than 60 minutes of each game), an improved win bonus, and an uplift on his Champions League qualification bonus payment. It's a gamble, yes, but if it goes well they'll be high-fiving all the way to the bank. If he gets injured, or incurs a lengthy suspension, or plays with a selfish team-mate, bottom line, he could end up on just his reduced basic salary."
"Could that be why Entwhistle looked so angry when he was taken off in the 59th minute last week?"
"He must have been thinking 'If I'd been stayed down and got treated for that injury for another 60 seconds my enhanced appearance bonus would have kicked in'.
And as Presley is stretchered off, the crowd rise to applaud. That looks like a serious injury. He could be out of action for the remainder of the season. He'll be devastated, won't he Gavin?
He'll be writing off his appearance fee, goal, assist, win and league position at the end of the match day round bonus payments. Yes, he's rumoured to have an elite brand boot brand deal which could be in the region of £100k (plus V.A.T. of course), but because it'll be paid in quarterly instalments, coupled with reduction clauses if he plays less than 70% of competitive first team matches, that will add insult to injury for Presley. As we accounts say, 'Its accrual world'.
That said, with anything he does receive from his commercial deals, he can sell the tax man a dummy by paying it all into a UK image rights company, which will mean that he'll only be paying corporation tax, currently at a rate of 19%, rather than income tax of 45%, along with National Insurance of 2%. That's a difference of £280k a year.
"He's bringing on Garfunkel. That's an unusual substitution. What do you make of that decision Gavin?"
"It's Garfunkel's 50th appearance, and that'll trigger both a contractual increase in his transfer fee of an additional £5m to his previous club, along with a predetermined increase in his salary to reflect his contribution.
"Goal! And who else? It's Bolan again. He just can't stop scoring, can he Gavin?"
"He fills me with wonder. I've often wondered if maybe they should have put a cap on his goal bonuses.
"Hendrix has gone down. Penalty! They're furious. Jagger, Cohen and half the team are surrounding the referee, protesting about the penalty decision. Do they have a case Gavin?"
"The clean sheet bonus for the keeper, back four and defensive midfielders is now at risk."
"Now there's a dispute between Hendrix and Beefheart over whose going to take the penalty."
"It's not only the goal bonus payment that Beefheart will miss out on, which could be between £10k and £20k, in performance related bonuses if Hendrix misses Beefheart could also be kissing his win bonus, and league position at the end of the match day round bonus payment, goodbye."
"Up steps Hendrix….. Jagger saves it! They all rush over to congratulate him."
"That fingertip save just kept their clean sheet bonus, in the region of £5, intact. And for the whole team that win bonus is looking good too."
"What will reserve keeper Wonder be thinking? Since Jagger came in, he's spent his whole season sat on the bench. Apart from his salary, what motivates him?"
"He's not getting an appearance bonus for being in the starting XI or even a 30% appearance bonus as a used substitute, and he won't qualify for their win bonus, which could be up to £10k, or the league position at the end of the match day round bonus payment, which could be around £5k, or even triggering that negotiated salary increase when he reaches 25, 50, 75, 100, 125, and 150 Premier League games. His boot, shin-pad and gloves deal payments will also be taking a hit, yes, but even as a non-play substitute, he's still been accumulating points towards his cut of the end-of-season squad bonus pool payments."
"He has been a model professional though. He's kept his head down, there's been no complaints about lack of playing time."
"He's been well advised to not agitate for a move, allowing his agent to be in a strong negotiating position for a percentage of any remaining signing-on fee and loyalty payment due, when he is eventually sold. 'He's learnt to act his wage'.
"When we saw the players arrive at the stadium we saw Wonder very isolated, with headphones on, in a world of his own. Is that a worrying sign?"
"It's a sign of a player whose agent has reminded him that he's got him a commercial deal with a headphone company to top up his earnings. He was also be wearing a branded hat, checking his endorsement opportunity high-end watch, and carrying a product placed shoulder bag that he's been provided with."
"If they were to go on and win the Premier League for the first time in 30 years, what would that mean for the club?"
"They'll want to check the club's bonus payment liability exposure. It'll be the first time in 30 years that the Premier League champions bonus will be triggered. It means a lot to several other clubs too, triggering an increase in the original fees of maybe £2m to £5m. They might need a new abacus after crunching all these numbers."
"He's bringing Eno on when we're already in stoppage time. There's not enough time for him to do anything."
"What he will do is qualify for the small matter of a 30% of the appearance bonus payment rather than 0% as an unused substitute. 'Follow the money'.
"They just want it more, didn't they Gavin?"
"They are certainly one of the most incentivised squad of players in the Premier League."
I wonder what chapter three is about?
Done Deal – An Insider's Guide to Football Contracts, Multi-Million Pound Transfers and Premier League Big Business
By Daniel Geey
https://www.whsmith.co.uk/products/done-deal-an-insiders-guide-to-football-contracts-multi-million-pound-transfers-and-premier-league-big-business/9781472947178
https://www.bloomsbury.com/uk/done-deal-9781472947154/
https://www.amazon.co.uk/Done-Deal-Contracts-Multi-Million-Transfers/dp/1472947177
https://wordery.com/done-deal-daniel-geey-9781472947178