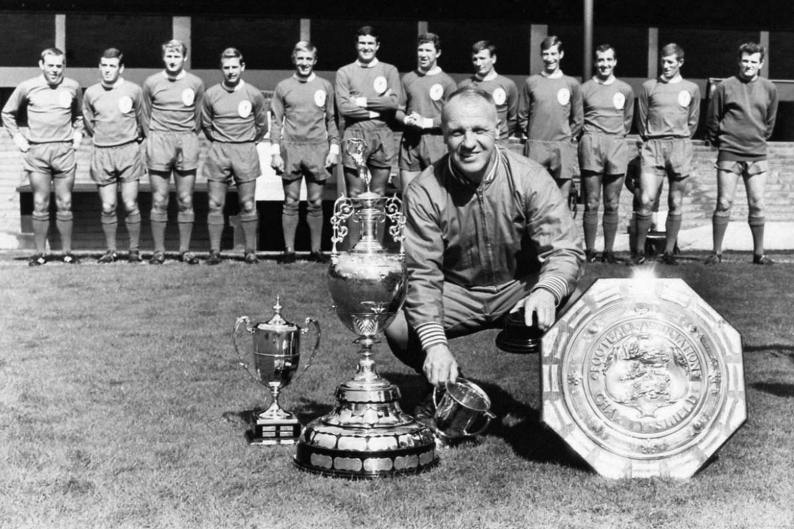 Posts selected by Chris Rowland and Daniel Rhodes.
The idea of this weekly round-up is to give you all some idea of the range of debate on the site and the articles we publish. If you'd like to be part of our troll-free community, there's a 'Subscribe' tab at the very bottom of the page.
1 – Robbo infuriated by Garth Crooks' comments about Mo Salah in his BBC 'Team of the Week':
As someone pointed out on one of my other posts, the man has an axe to grind due to his Spurs' teams taking a hiding from Liverpool in the past.
To me he is abusing his privileged position on the National Broadcaster to insidiously influence not only opposing players, but officials, whilst getting opposing fans on board to boo and effect Salah's game. His faux moral outrage is frankly disgusting, as you rightly point out hardly balanced when it comes to other players who have also received bookings for their behaviour.
I personally feel people like Crooks and other sections of the media who are all too readily pushing this narrative, need to be called out at every turn and very publicly, whilst being presented with the facts.
2 – SteveM005 concerned about the team regaining full intensity after a break in Dubai:
I wanted to open a discussion about the Dubai training camp (I wanted to write 'holiday' and strike it through, but my locked down browser doesn't support such nuances!). Of course I am pleased the players get a break to recharge, for injuries to recover, for Klopp and his team to work on some things away from Merseyside. However, I know how I feel after a holiday – chilled and relaxed – and it takes me a few days to get back up to 'operating temperature' (remember my passwords, remind myself what I was doing before my holiday, get back into the groove of getting up early and putting on a suit, generally getting my brain back in gear).
Am I wrong to fear that the players – for all the great intentions – may come back a bit switched off, too laid back, and take a couple of games to get back up to speed? How does Klopp prevent that from happening? And is there evidence to show that taking a break like this is net positive, both in the short term and with an eye on the run in?
3 – Red Mick on Klopp and Liverpool competing with the most expensive squad in Europe:
The following is from today's Echo, official testimony to the genius of Jürgen Klopp. UEFA estimates that LFC have the 11th most expensively assembled squad in Europe.
Liverpool must overcome the most expensively assembled team in football history to fulfil their dream of Premier League glory.
UEFA's latest club licencing report has highlighted the remarkable cost of Manchester City's recent success – and also underlines the astonishing job Jürgen Klopp has done in creating a team which has reached a Europa League and Champions League final – but is only the 11th most expensively assembled side in Europe.
The UEFA report says: "With a squad cost of €800m, Manchester City FC have overtaken Real Madrid CF as the most expensively built team in history in terms of total transfer fees.
"The three most expensive squads in FY2017 (Manchester City, Real Madrid and Manchester United) cost 40–50% more than the fourth most expensive squad (Chelsea) – a considerable gap."
While City's squad cost €800m to assemble and has a players' balance sheet value of €389m, Liverpool's cost less than half of that sum €390m and has a players' balance sheet value of €198m.
4 –  Recent joiner James reflecting on the culture change under Klopp's tenure so far:
In this fallow period one gets to mulling over various LFC topics and reflecting on this and that. I am a relative newcomer to TTT so I've been dipping in to the archives – it's like Aladdin's cave!
I also tracked back through threads started before I joined mid-December and that's fun too. This thread attracted me because of the material on JK. I am a massive fan of Jürgen and tend to hoover up anything I can find about him. His prowess as a manager is impressive enough but above all he is such a great bloke and a great example.
I then started thinking about LFC's profile and first team development. It reinforces the view, shared by many, that we have some great players, but the signing of Jürgen has been the most significant made by the club in a very long time, trophies or no trophies (yet).
I am blown away by how much LFC's profile in the UK and abroad has rocketed since he came on the scene and  how he has developed the squad and turned many of our players into superstars from relative obscurity. Mo Salah is maybe the most notable example. I hope Mo and the other players realise what JK and the club have done for them and perhaps the continued signing of longer term deals is evidence they do.
JK's personal code is the cornerstone of his success and the way he has built upon and enhanced the culture that is present in the club is very satisfying to me as a fan. LFC is now not only well known for its football panache but also for the strong ethos with the key values of integrity and honesty at the forefront. That has so much value when one looks around at some of the nonsense going on in football and the wider world.
Sometimes I have to pinch myself, so dramatic has progress been from where we were when JK arrived.
Anyway, I'll get back delving on TTT and enjoying the plethora of informed, witty and passionate content.
5 – Joe P (remember him?) on the difficulties comparing teams across the generations:
I think you have to factor in that teams from the 90s and earlier were playing in a much, much different environment where all the best players in Europe were spread out and not all clustered in a small number of power clubs. In addition the domestic leagues were comprised almost entirely of domestic players and in extreme cases like the mid 80s a division like division 1 was made up almost exclusively uk and Irish players but also was shorn of it's elite players, most of whom went to play in Italy, Spain, France, Germany etc.
The league that was won by the 87/88 Liverpool team was basically made up of the best 240-300 domestic players minus a dozen or so of the very best. If you map that onto present day the top 300 domestic players is likely taking you deep into league 1 and beyond.
The European trophies also had a lot of thinly spread quality. Teams like Malmo, Steaua, Dundee United, Aberdeen, Forest, Villa, Red Star, Sampdoria etc etc would get to European finals.
I guess what I'm saying is that if you compare teams relative to their competition there is certainly a debate to be had, but there's surely no comparison with modern teams like this Liverpool side if you make a more direct 1 to 1 comparison.
6 – Peter Neall on Shankly's first Liverpool side:
I think that before Shanks we were almost a 'normal' football team. We won some, 1947 being the most recent, and we lost some, we were in the 2nd Division being lorded over by the Blues. None of us dreamed about what would actually happen, we dreamed of an FA Cup win or winning the league once maybe twice. We didn't dream of 'titles' and 'European Cups' in the plural.
Shanks saw something in Liverpool that matched his own and our psyche, he saw a dream that he could make manifest, and in this he was ahead of us all. Somehow he got TV Williams on side, and then set about converting players to believe and bring about his dream, Yeatsie and St John were two master strokes and they and the rest of this '66 team built a dream that we have all fed off and lived by. They broke the mould and turned Liverpool from a football team into a way of life. They were the pioneers who played more than football. Gerry Byrne's collar bone didn't stop him or us winning the FA cup when maybe, just maybe it shouldn't have done.
The greatness of Shanks and the first red team is that he did not do his thing and then close the door like so many household name managers before and after him, he opened the door for others to follow, beginning with Bob, then Jo nd so on. He laid the foundations for the expectation and the mentality of greatness and used the '66 team to give this words weight in the real world of day to day football.
This team is the greatest in my view because they opened the door for what was and still is following, we all owe them a debt of gratitude, and as they age and die we do well to remember them, thank them and be grateful for what they made possible by bequeathing us more than just a football team; they became Liverpool , they gave us dreams to dream and the football world has yet to recover.
Without them the rest of those you describe would have found it harder.
Articles published on the site this week, with samples:
Saturday January 19th:
Fuck off, Tomkins! Liverpool Do Chaos-Ball and Win Again, by Paul Tomkins.
First of all, the referee was terrible. Yet again Liverpool were denied penalties at Anfield for opposition handballs – one was blatant, but he gave it the other way – as well as teams apparently being able to hold Virgil Van Dijk at set-pieces at both ends (which we seriously need VAR to help out with next season).
That said, Milner was lucky to not get a straight red for the first foul on Zaha – albeit the second following not too long after (but perhaps just long enough to get the Reds over the line. The good news is that Milner cannot be given a retrospective three-match ban for the first one, as he was given a yellow card for it). Just like last season in the 2-2 against Spurs, Jon Moss looks out of shape and unable to keep up with a game of football, and also unable to keep control of the game. Part of the reason this game moved so fast was that he let so many fouls go.
In the last few weeks it has been said on TTT – by those that know best – that the Reds probably can't keep overpowering the "xG against" figures, and there probably had to be some kind of regression to the mean, where shots on target resulted in goals; and today everything Palace hit on target went in – three shots, three goals.
The destruction of the Reds' air of unbreachability is a worry, but when you'd already won 18 out of 22 games you always have to wonder if a bit of bad luck will strike and prove fatal. (That said, the Reds' had a lot of bad luck at Man City.)
Liverpool also had some good fortune in this match.
Post-Match Analysis: Liverpool 4 Crystal Palace 3, by Daniel Rhodes.
Jordan Henderson was my man of the match, in what I thought was his best performance of the season. He made a couple of last ditch blocks or interceptions when Robertson was caught out too high up the field, and his passing was crisp, incisive and progressive throughout the match. The two defensive midfield slots versus a low block. fast counter side is arguably the most testing positions: you have to cover the fullback areas because ours bomb forward to stretch the opposition; and when the counter attack includes Zaha and Townsend, then the street smarts and reading of the game are crucial tools. Henderson showed that discipline, as did Fabinho.
Monday January 21st:
My Day at the Match – Crystal Palace (H), January 19th 2019, by Mark Rosenfield.
But walking away from the ground, I felt like my Dad was next to me. He passed away over 26 years ago, but we went to many games together, and that walk brings back so many happy memories. I have to give credit to all the people (not just FSG) who have been responsible for redeveloping Anfield since the 1980s. The ground has been totally transformed since that time, and yet in so many ways, it feels like nothing has changed. There are so many stadia around the world that really are all the same: plastic and artificial. Just ask West Ham supporters how they feel about the Olympic Stadium. We are so fortunate that ours is so special. I love that the banners on the roads approaching Anfield have the word "stadium" crossed out and the word "home" written in its place. I was brought up in Liverpool, spent six years in Birmingham and over 30 years in New Jersey, but when I'm in that ground, that is when I know I've really come home.
Tuesday January 22nd:
Which is the Greatest Liverpool Team of Them All?, by Andrew Beasley.
Thanks to the website clubelo.com, we can see how relatively strong Liverpool have been throughout their history. Using the ratings of the different sides, we can calculate the probabilities each team would win, or draw, if they faced each other. I've selected eight teams, each under the guidance of a different manager, who will play off in a league format. Let's meet the contenders.
1966 (Elo rating: 1852). Bill Shankly's side won two league titles and the club's first FA Cup in three years, and had reached a European final and another semi-final too.
1977 (Elo rating: 1882). Bob Paisley's team won the first of Liverpool's five European cups, as well as the league title and were cruelly denied the treble by losing the FA Cup final. They won the league and UEFA Cup final the previous season too.
1984 (Elo rating: 1848). A treble of European Cup, league title and Milk Cup is not to be sniffed at in a manager's first season, is it? But even players from Joe Fagan's side admitted they weren't that good in the league that season, just better than everyone else. Will that be reflected here?
1988 (Elo rating: 1918). Twenty-nine games unbeaten from the start of the season, and with a fabulous style of football to boot. Kenny Dalglish's team failed to win the double this year and were unable to compete in Europe, but for fans of a certain vintage this is undoubtedly Liverpool's best side.
2001 (Elo rating: 1870). The boot room and Spice Boy eras ended and in came a hard line French manager who was determined to drag the club into the 21st century. A trio of trophies went a long way to silencing Gerard Houllier's doubters.
2009 (Elo rating: 1977). The trophies may have dried up, but there's no question that Rafa Benitez's title challengers were a seriously good football team. They posted the club's best points total since 1990, and were ranked as the number one team in Europe by UEFA. While it had dipped a touch at the end of the campaign, the club's all-time record Elo rating of 1987 was posted in October of this season, suggesting this side can legitimately stake a claim to being the best.
2014 (Elo rating: 1895). Brendan Rodgers' team burned brightly before fading away, thanks in no small part to the remarkable efforts of one Luis Suárez. They are to younger generations of Red fans what the 1988 side were a quarter of a century earlier.
2019 (Elo rating: 1946). They may have won nothing yet, but Jürgen Klopp's team have made one of the best starts to a top flight season in the history of the English game. Salah, van Dijk and co. can hold their heads up high alongside any of these teams, as is reflected in their Elo rating.