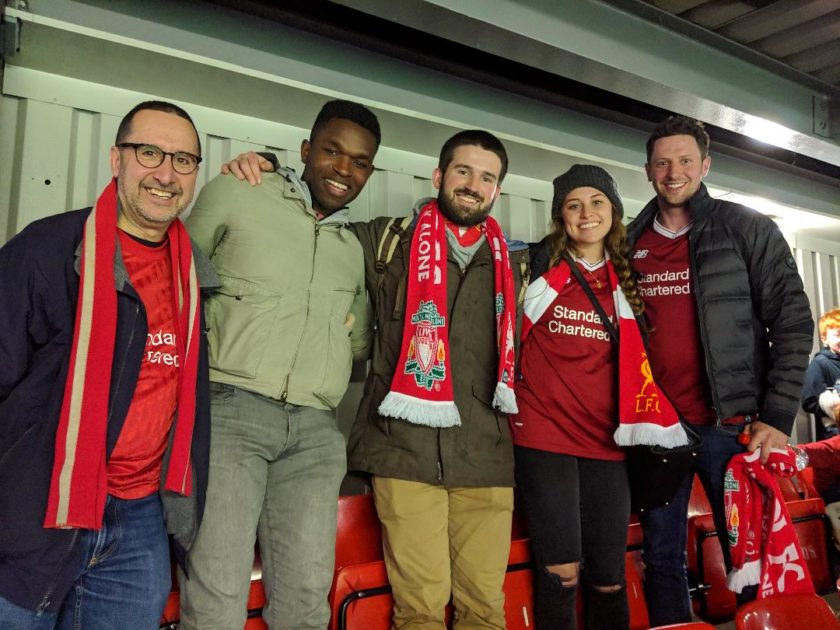 By TTT Subscriber Mark Rosenfield
This was my pilgrimage to Anfield. But lest anyone complain about another out-of-towner jumping on the bandwagon, let me say at the outset that I am a born and bred Scouser who spent the first 30 years of his life living in the land of purple bins (although they weren't purple in those days) apart from time in university. But then I moved to New York for a 2-year post-doctoral appointment, which has turned into a 30+ year stay with no likelihood of a return, although if Donald Trump, Theresa May and company continue as they are, New Zealand is looking increasingly attractive.
When I first moved to the U.S.A in 1988, I had to rely on one- or two-day old newspapers or BBC World Service short wave broadcasts to catch the odd result or two. I never actually got to see a game, let alone be aware of who was actually playing in the team. I suspect the youth (i.e., anyone under 40) of today would struggle to imagine those pre-internet days, when I would communicate with family by written letter, which could take up to a week to arrive, and the occasional (quite expensive) phone call. Now of course, we can videochat across the world for nothing with WhatsApp, log onto BBC (or preferably TTT) for the latest transfer gossip (a.k.a., alternative facts) and watch just about every single game live on cable TV, or if necessary, some internet feed coming via Saudi Arabia.
Anyway, I arrived at Heathrow last Wednesday evening. I now have a US passport, so have to go through the non-EU line at passport control (as will almost all of you come March 29th!). After scanning my passport and seeing my place of birth, the official asked me if I was travelling up to Liverpool. Yes, I said, "I'm going to the game on Saturday". He asked who they were playing, and when I said Palace he replied, "Oh they'll win that". If anything, that made me more nervous about the game. I tend to be pessimistic about almost every game before it kicks off. After all, we don't have a right-back, are missing key centre backs plus Gini, and the media are carrying on about Mo being a diver, which means we won't get a penalty at Anfield for at least another five years.
The rest of this article is for Subscribers only.
[ttt-subscribe-article]