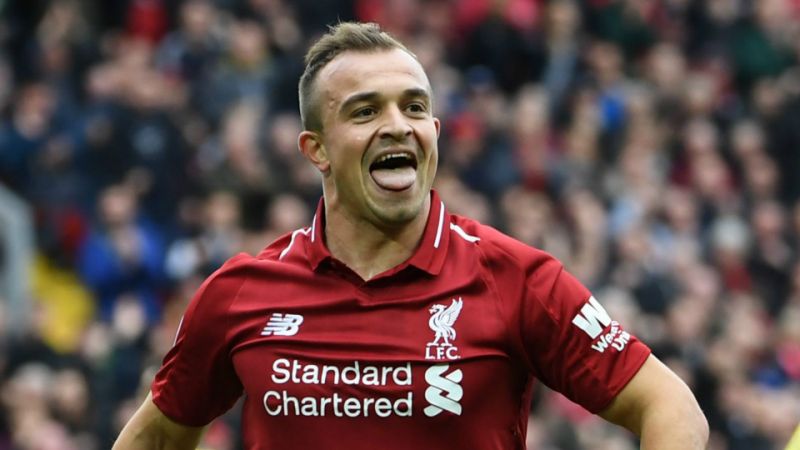 Lucky Jürgen Klopp, eh, Jose Mourinho? Who's lucky now, you faded, miserable little tosspot, in charge of the worst start in Man United's Premier League history, while Klopp masterminds Liverpool's best start in the club's entire history? 
Plus, 4-1 against his Real Madrid in 2013; 3-1 against his Chelsea in 2015, both times the sack following shortly after. Now, 19 points ahead of his Man United, the biggest margin over them for 46 years, it's time for English football to give Mourinho the boot. (Although he's doing so badly that I may even start to warm to him. Maybe.)
And as Man United went from long-ball to longer-ball, to longest-ball, Liverpool played out from the back with Alisson to start the move that led to the most vital goal of the game.
The only problem with this being Liverpool's 5th "Big Six" game of the season is that Everton actually played better than United, and Wolves and West Ham are more United's level these days. This is a sensational start to the season for Klopp's men, and I'll get onto that in a bit, once I've vented the spleen that Mourinho has provoked this week.
My hunch all week was that Jose Mourinho would be the party pooper today (poop being the operative word) – especially with Liverpool suffering more broken bones in December than a Samuel L Jackson character in a M Night Shyamalan film – because basically that's now all he's good for: ruin everyone's fun, whether it's the fans of his own club or anyone else. 
He is the man who, at a pool party, would shamelessly "evacuate" – deposit a floater – so that everyone else has to literally evacuate. He can ruin parties, for fun, but when did he last start one, beyond a good result here or there? Did United have an open top parade for winning the Community Shield that he counts as part of his trophy haul? He ruined Man City's party last season, briefly, but still finished 18 points behind them, on a similar budget. He is a vandal, with a potty mouth. Now he's 19 points behind Liverpool. 
To reframe the scatological analogy, if there's one thing Mourinho guarantees these days it's polishing a turd. Of course, he polishes the turd not with beeswax but with his own faecal matter, some of which spews from his mouth. And rather than polish the turd, he kinda just smears it everywhere – all over his own team, all over the game of football, all over innocent bystanders (all over anyone but himself). Other managers seek to shut down games, of course, but few do it in such a shitty way. United conceded 36 shots to Liverpool today, offering only six of their own; the Reds having five times as many efforts on target. It's too polite to say that United were shit.
This week Mourinho complained, like the bitter little man he is, of Liverpool spending more, when his team and squad (after inflation) costs twice as much as Jürgen Klopp's, and their wage bill dwarfs Liverpool's; he labelled Liverpool as "lucky" as United sat 16 points and +26GD behind in their sad battle with mid-table teams (while Liverpool also had to battle a much tougher Champions League group); and there was the piece this weekend that detailed how, in 2016 upon his arrival at United, Mourinho wrote off Klopp's amazing two titles in Germany – achieved on a tiny budget after the Bundesliga club almost went bankrupt just before Klopp's arrival – because Bayern were shit at the time. Merde!
(With that in mind, let's write off all Mourinho's trophies due to whoever wasn't that good when he won them. And remind me, who was in charge of Real Madrid in the Champions League when Klopp's Dortmund knocked them out in the semi-final with a 4-1 trouncing, having finished above them in the group stages a few months earlier? Yeah, lucky Kloppo, that's who.)
I have respected other Man United and Chelsea managers in the last 15 years, even if, as a Liverpool fan, I haven't exactly liked many of them. Carlo Ancelotti cut a fine figure as a boss at Stamford Bridge, for example. But I yearn for the day Mourinho is sent packing, even if it means United get stronger, because the toxicity he brings to the Premier League is disgusting. It was the same 15 years ago, when success obscured his barbed comments and the media lapped it all up; and it's even more so now, when failure just makes him even more odious. Managers have a right to defend their club, but with Mourinho it's always attacking others.
By contrast, as I will go on to revel in for the rest of this piece, Klopp and his teams simply attack the opposition, and do so only on the pitch.
The rest of this article is for subscribers only. See details below on how to sign up.
[ttt-subscribe-article]