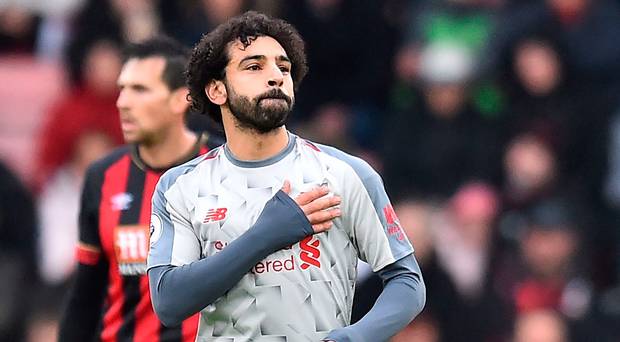 Here at The Tomkins Times we try not to give away too many free pieces these days as it's not easy running a very small business with over half a dozen paid contributors if people don't pay for the content; and (this far, at least) we have refused to run adverts or partner with the 10,000 betting companies whose emails we receive. We'd like to be one of the very few football content providers that doesn't deal with betting in any way, but it's not easy.
However, there can be a need for free "public service announcements". These are when someone disparages the Reds, and just invents a nonsense narrative that the bigger media outlets may not challenge (although if they have any sense in this case, they will). Jose Mourinho is almost Trumpian in his use of fake news, of diversionary tactics, of just plain nastiness. For nearly 15 years now he's spoken about Liverpool on a week basis. Here, I can torpedo his latest nonsense, which has all the reality of Paul Pogba actually chasing back to the win the ball.
This site's spending analysis has been used in a European Commission study on transfers and in an academic report by the Cardiff Metropolitan University, as well as appearing in books by other writers. No fake news here, as I will get onto in a minute.
But first, let's enjoy the league table. L'pool L'pool top of the league (until 7pm, at least). All achieved with just seven league home games and nine away. (Manchester City will go eight and eight tonight – a fairer balance.)
It's also been the case that so many pundits – mostly dullards – are "unimpressed" by "unremarkable" Liverpool, who are apparently "light years" behind Man City, but are a side who just happen to have the best defence at this stage of a season in the entire history of English football, have posted the 7th best ever start to any English football season (which may be higher still in the rankings after the latest win at Bournemouth*), and are breaking all kinds of ultra-impressive club records dating back to 1892, whilst posting excellent xG figures all season long – to show that it's merited. Liverpool are also playing without a key player out with an ACL and now another one with his leg broken.
* EDIT: The Reds now rank either 3rd or 4th in the all-time record after 16 games, depending on how Man City do later. Source: Opta's Duncan Alexander.
The juggernaut rolls on, even without the spending power of the Manchester clubs. City are über-impressive, but Liverpool are having an incredible season and deserve a ton more respect.
All the while, Liverpool have the Player of the Year elect in Virgil van Dijk – who would win the award if played in goal or on the left wing; the best goalkeeper of the season so far (by the eye test, but also by deeper statistical analysis); and Mo Salah back at the top of the scoring charts (without the penalties that others enjoy, as Liverpool have only been awarded one in the league for eons).
Bournemouth were a timely opponent given what Jose Mourinho has just said. Because Man United are in a battle with Bournemouth for their league position, not Liverpool. Shouldn't Jose be focusing on how much Bournemouth have spent? A quick hint: their entire team after inflation costs a tad more than Fred.
When Mourinho's teams had by far the most money in England they tended to win the league; albeit in the pre-BarcaJax/Gegenpressing modern era, before tactics evolved and managers needed to be emotionally smarter, and not just bullies. Ever since then, it's not gone so well. Back then he'd vindictively moan at rivals like Rafa Benítez and Arsene Wenger, who were working with the 3rd and 4th biggest budgets in English football, and call them specialists in failure, or voyeurs, or make quips about their weight, or say that anyone who finds reasons for not winning things is a loser. (Checks league table. Hmm, okay Jose!)
Right now, Man United are roughly grouped with Bournemouth, Everton, Leicester, Watford and Brighton in the table. They have a home win record this season that's in keeping with Roy Hodgson's entire Liverpool tenure, and an away record that's in keeping with Roy Hodgson's entire Liverpool tenure.
A summer's spending – gross or net spend – is a terrible argument (gross being worse than net, but net pretty bad too), as I've shown for a decade now, because YOU DON'T LOSE THE PLAYERS YOU ALREADY HAD. You can't forget the hundreds and hundreds and hundreds of millions you'd already spent.
Plus, with inflation, expensive players bought in cheaper times become even more expensive in 2018 money, as the literary and academic studies I have done with Graeme Riley since we created the Transfer Price Index in 2010 have shown. We created the £XI in 2010, which is the average cost of a team adjusted for Premier League inflation (which runs about fifteen times faster than generic inflation).
Aside from the £XI, Man United have the league's costliest squad when looking at players used so far, at £1.16bn after inflation, and the highest wage bill. Yeah, but hey – Mourinho is having to work on a shoestring budget, clearly. Look at the evidence below, and weep gentle tears for the poor lamb.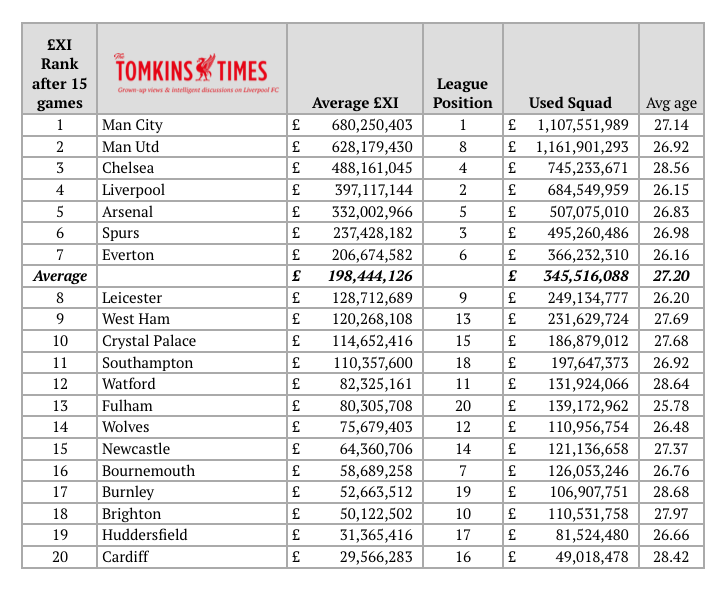 No one forced Mourinho to spend £132,333,689 in 2018 money on Paul Pogba; just as no one forced Liverpool to spend what seems a scarcely believable £121,785,131 in 2018 money on Andy Carroll in 2011. But Liverpool did, and everyone laughed. And it took years to recover from buys like Carroll, and £83,923,792 on Stewart Downing, although the £79,334,314 on Luis Suarez helped offset that damage (and recouped the Reds £190,077,943 in 2018 money). Liverpool have had to sell their best players in recent seasons; Man United haven't.
Has Mourinho signed anyone even a tenth as successful as Suarez for United, despite paying more for players? And remember, even with inflation, Liverpool will never have paid wages anywhere close to what Alexis Sanchez or Paul Pogba earn.
Liverpool's £XI is just over half Man United's. To suggest this Liverpool team is successful due to one year of big spending – funded by the loss of a world-class Brazilian – is rather sick.
I don't know what happened in Liverpool," said Mourinho. "I just know the numbers, but I don't know why."
Okay, let me explain in simple terms, for a man who seems increasingly lost.
Philippe. Coutinho.
Plus: Champions. League. Final.
Liverpool received £142m for Philippe Coutinho, which paid for Virgil van Dijk and Alisson Becker. The maths are really quite simple: £142m in, £141m out.
Plus, the club received a shitload of money for being the 2nd-best sign in European competition last season.
Plus, actually being entertaining and watchable has helped the Reds increase marketing and television revenue, which of course helped United to become so big in the first place.
Liverpool bought some other players, but also sold some other players too. Recently the Reds received a combined £20m for Kevin Stewart and Danny Ward. Why did the Reds get the same for Stewart as they paid for Andy Robertson? In part as Klopp improved the hitherto valueless Stewart. Why has Robertson been so good at £8m for Liverpool? In part as Klopp improved him.
If Mourinho had sold David de Gea for £142m last season and reinvested the money they'd presumably now have a worse goalkeeper, and three more giants in midfield; or players on £300,000 to £500,000 a week who spend most of their time under the wheels of Mourinho's bus, if he isn't parking the damn thing.
Joe Gomez. Andy Robertson. Joel Matip. That trio have a combined cost of half what Jose Mourinho paid for Eric Bailly. Matip can be all over the place at times, but he's come into the side – and was excellent at Bournemouth today – and the defence rolls on.
Lukaku cost twice what the Reds' paid for Mo Salah. Or more than Mo Salah and Sadio Mané combined. Yet the United centre-forward lumbers around like a sumo wrestler on Mogadon.
If Liverpool go out of the Champions League this week it will be in part due to slipping up in Belgrade, but also due to be in a tougher group than anyone else had, due to the Reds' low European rankings from before Klopp arrived (he has since reached two European finals in three seasons, but it's not yet enough to reach the 2nd rank of seeds). It would be a blow to go out, but it would allow the Reds to focus on the league; and to use the Europa League as a squad competition. So it wouldn't be a disaster.
Vitally, Mo Salah and Bobby Firmino are coming into form, at a time when Sadio Mané had been the only Reds' attacker looking sharp, although Xherdan Shaqiri has also been increasingly excellent. Naby Keita came of age this week, and Fabinho is starting to boss midfield. There is a ton of belief about the team, that stems from the back, and is now flowing once again through to the front.
Vitally, the goal difference is taking a bit of a swing in Liverpool's favour after Man City were miles ahead on that front. City still have the bigger squad, as the figures above show.
All this with Klopp's men the 2nd-youngest team in the Premier League; only Fulham are younger. How Jose Mourinho wishes they could play against Young Boys every week…
Of course, Mourinho may successfully frustrate Liverpool at Anfield yet again next week; his negative football sometimes succeeds with that, and they don't have the kind of midweek task that Liverpool have. But tonight, Liverpool will be either 16, 18 or 19 points ahead of them (although look to be comfortably beating Young Boys of Fulham).
All achieved with unity, tactical flexibility and selling the best player to buy new ones. So, Jose, focus on your own problems, such as Bournemouth – a team that don't trouble Liverpool.