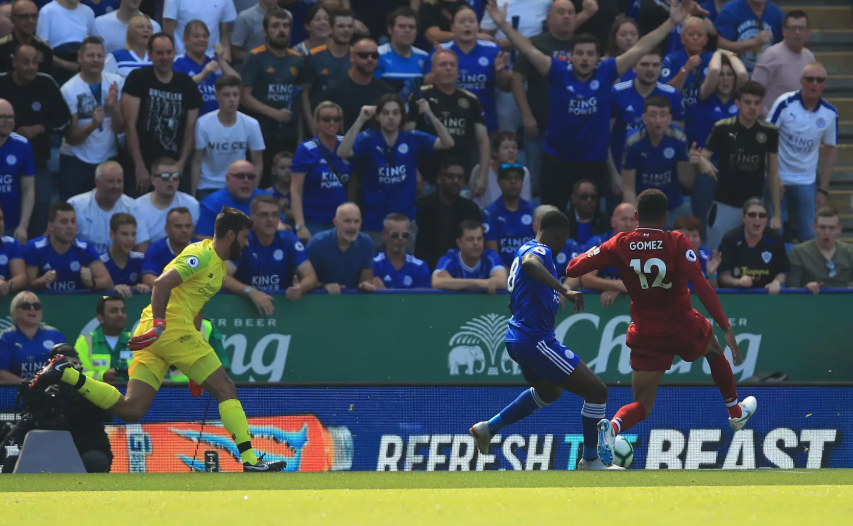 "It started with a backpass…"
A perfect start to the season: three wins on the board, no goals conceded and winning two nil away from home against Claude Puel's Leicester City. Although the Reds haven't been at their fluent best, it looked like the game was done and dusted. That was until Virgil van Dijk aimed a backpass towards Alisson; the pass was wider than he would have liked, meaning the goalkeeper had to run away from goal. The Foxes' striker, former Man City starlet Kelechi Iheanacho, was bearing down on the Reds' shot stopper – and instead of "launching it" – presumably into the stands or down the line – Alisson did the only reasonable thing and attempted a Cruyff turn to escape the pressure of the forward. Unfortunately he was dispossessed (or fouled), and the home team scored. Game on, more pressure on, could Liverpool hold on? Well they did, surprisingly easily, conceding 0.01xG from the goal until full-time.
There was the usual social media banter comparing Alisson to Karius; there were Reds fans castigating the "over-confident" and "cocky" goal-playing-keeper. This, at complete contrast to virtually everything that had been said about him during previous games. Even at half-time in the Leicester match he was being lauded for bringing "assured calm" with his relaxed approach. Furthermore, his own manager appeared to insinuate on the touchline that his should just clear the ball, and this was confirmed in the post-match press conference as well as by Alisson himself after the game.
"I am angry that I made a mistake that put the team in a difficult situation. When one person makes a mistake, it affects everyone and everyone fought back together. We have to improve still but the result is what matters at the moment. It was bad judgement, I made a mistake reading the play. I didn't get a very good pass [and] we talked about that in the dressing room and I spoke to Virgil. It wasn't a good pass but I could have just kicked it long.

I wanted to keep playing and keep the possession [and] now everyone is going to analyse that. I'm not going to be stupid and make the same mistake. We have to learn from our mistakes. It is part of my game [playing out from the back with his feet] but I am not going to be arrogant to stand here and say I'm going to keep doing it. We have to learn from our mistakes."
On the face of it, it seems to be a frank admission that he is going to eradicate this needless risk from his game. Except, taking risks is what he does. And he's brilliant at it. Before we have a look at the video clips of Alisson's attempted dribbles, ability to deal with pressure from the opposition and even the types of errors he has made – there has already been mountains of analysis on his full range of abilities.
Alisson: Is Our Aim True? The Stats Have Their Say … by Andrew Beasley
Scouting: His Name is Alisson and He's From the Rio Grande
Claim, Save & Catch: In-Depth Video Analysis of Liverpool's Alisson Becker by Daniel Rhodes
The rest of this article is for subscribers only.
[ttt-subscribe-article]