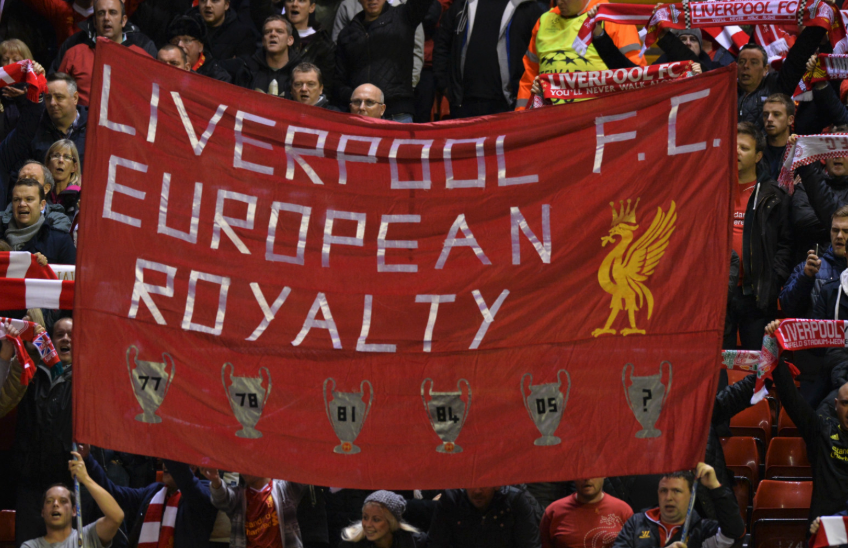 Posts selected by Chris Rowland and Daniel Rhodes.
My Day at The Match – PSG (H) – by Justin Tan:
My father was a Liverpool fan (his favourite player of all time was John Barnes), so I always knew of the team since I was old enough to know what football was. In some strange way, the day I fell in love with Liverpool was the day John Aldridge missed that penalty against Wimbledon in the FA Cup final and broke our hearts. That was towards the tail end of our dominance, and for most of my teenage and adult life, we have had to see the team go through false dawns and failures, with the 2001 treble and especially Istanbul being the only real highlights – Rafa remains for me a legend. Thank you Rafa, we are eternally grateful and I wish you every success in anything you do.
I live in Singapore so it is not easy to get to matches. I come to the UK once a year for work but it is always in the summer so there are no matches. This is the first time I am here in September instead, and as luck would have it, we are playing PSG at Anfield!
It is really difficult for someone not based in the UK to get tickets. On my two previous experiences to matches at Anfield, I had to go through online scalpers, who charge you an arm and a leg (close to 200 quid or more), and once, the scalper failed to deliver and only told me on the Friday when the match was on Saturday! We had already booked train tickets and paid the scalper so you can imagine how irate I was. In the end my friends and I had to go through the American Express concierge service. They sorted us out in quick time, but we paid an excruciating 300 quid per ticket! Madness.
This time, we just went with the club's official hospitality package, which was 220 quid, with hospitality at Aintree thrown in. Still a good whack of money, but at least all that money is going to the club rather than middlemen profiteers. I would strongly recommend anyone, especially those who live overseas and who have trouble getting tickets, to do this rather than depend on those unreliable and profit-gouging scalpers. Not to mention, wow the girls working at the Aintree hospitality were uber hot, which was a nice touch! Well done Liverpool! But sorry I digress…
European nights at Anfield. We have heard so much about it. To experience it for myself is simply impossible to put into words. The tingly feeling hit me as soon as the train pulled into Lime Street. Below the stands before the match, the singing of song after song. I especially found the "Manchester is full of shit" song hilarious. I recorded that and circulated it immediately to every single WhatsApp group chat I had, lol.
I was in the Lower Anfield Road Stand, close to the Kenny Dalglish Stand side, and the atmosphere was just crazy, just as I was told. I had been to Anfield twice before, seated at the Main Stand, for league matches against "lesser" teams (Birmingham and Swansea), and both ended as 0-0 draws. I thought the atmosphere then was somewhat subdued. European nights are certainly different. Even the rendition of YNWA at the start had an electric vibe to it, as if it was hooked up to a nuclear-powered amplifier and then fuelled with cocaine! I was all caught up in it and never sang so loudly and for so long in my life before.
I also reckon, being at the Anfield Road End, we are right next to the away fans (who are more like an organised football-inspired cheerleading group prepared to just keep going endlessly), so we feel a responsibility to keep it up in order to match them. I was fearing for my voice (I had to give three presentations in London the next day), but wanted to do my part to encourage the team, anything, to give them that extra boost no matter how tiny.
After Sturridge scored (I am so chuffed for him) and then Milner's penalty, I'm sure we all thought it was going to be a stroll. Even at 2-1, we were playing well and it felt like we were in control, even though we all know a moment of bad luck or one mistake could change all that.
The midfield was boss. Many doubted Hendo before the game (like they did with Sturridge) and asked why not Keita. Hendo proved them all wrong. He was massive in the game, really controlled the midfield and was critical in stopping PSG from threatening. Milner and Gini were awesome too, with Milner proving consistently that he isn't just the journeyman workhorse many say he is. If he's any kind of horse, it's a Ferrari.
When PSG scored the equaliser, the crowd continued to be positive, and the noise became louder to tell the team that WE BELIEVE. The players seemed to feed off that and never gave up. Seated on the left side of the stand (our team's right), I had a clear view of our attack in the second half, especially TAA in his acres of space, thanks to Neymar, the "I never track back" gasconade (my French has improved too!). He combined really well with Milner, I thought. I love how Milner is always there to keep the play going even in the attacking final third. Then Bobby, right in front of us, doing what Bobby does. There were four PSG players plus the goal keeper between him and the goal, none of them expected him to shoot from that distance and from that tight an angle. But he did. Pandemonium. Strangers all joined in unison and ecstasy. I have never felt such a high before in my life (I turn 41 this year so have had my fair share of moments). Third time lucky indeed! It is for moments like this, that makes the ups and downs all worth it.
Thank you Liverpool, that was simply amazing.
By Andrew (Andklopp)
Getting up to Liverpool for the PSG game was always a case of the stars aligning. My sister lives in Liverpool and had her 60th birthday the day after the game, my son was still on University holiday, I was off work and when I went on-line there were two seats available for hospitality and the Anfield Road. With so many positive factors at play I just knew this would be a great trip and so it proved. Parting with £440 was therefore less painful than usual.
Before the readers (if any made it this far!) turn on the 'prawn sandwich / hospitality' brigade, I'd like to present my case for the defence. I live 275 miles from my home city and the ground. I gave up my season tickets in 2002 when I moved to Australia for a time. I did something that I think makes me unique in that I actually handed back my season ticket to the club, feeling that someone else could better use my seat. Stupid mistake. Going nowadays and getting seats is now almost always about paying over the odds for a 'matchday experience' which I do about 3 times a year – I get the rest of my LFC fix at the London fixtures.
That said, its two days off work, a lot of cash and a near 600 mile round trip – so I refute the assertion by some that the hospitality fans are somehow not the same. When we sat at our table in the Isla Gladstone Conservatory (a restored palm house), we met 7 guys who had flown in from The Hague for the match (they come once a year) and 4 friends who had driven from Liverpool for their first game. They were far from 'plastic supporters'.
Its a six hour drive from Sussex to Liverpool. I had a great run up, and got perfectly in the mood by listening to 4 hours of The Blood Red podcast from the Liverpool Echo. If anyone wants to get in the mood for a game, this is perfect prep (as well as reading TTT of course!).
Over the pre-game dinner I spotted an LFC legend being presented with a microphone and preparing to speak. He was the last Liverpool captain to lift the league title. He played for Everton too. Have you got him yet? Right. Steve McMahon. Close your eyes and think of hm. What image comes to mind? With me, its the one where sweat is dripping off his chin and he's signalling 'one minute to go' that fateful last night of the season at Anfield against Arsenal. He confessed this was his first time speaking before a game but told the story of that game against Arsenal in a way that made the hairs on the back of my neck stand up. I won't bore you with everything he covered but the highlight was when he took questions at the end. He was asked: "why did you leave Everton?". His answer was three words and drew a huge cheer. "They were shit."
The game itself was, of course, brilliant. But four things stood out. Firstly the PSG fans were absolutely mental. They sang and sang and sang. It really contributed to the atmosphere as they egged the rest of the stadium on. Away fans do so much to create a fabulous atmosphere. Second, about 15 minutes in, Milner tackled Neymar near the halfway line and Neymar hobbled, genuinely, for a minute or so. From that moment on, everything conspired against PSG – you could sense that they no longer fancied the game. Third, in the second half, the reds were attacking our end. On three occasions, I was sure Virgil had sprayed passes out of touch to our left. But on every occasion, coming out of the blue red was Trent, impossible to see against the crowd. It was a very windy night and the ball, and subsequent control was amazing to see – these guys are so skillful. Finally, there is no better sound than Allez, Allez, Allez being sung deep within the ground as people are leaving by the steps. Doubters have been turned to believers – the team really has become good again.
Staying in Liverpool the next day, it struck me what a friendly place the city has become and also I was reminded how the people are absolutely unique. A relative had just started teaching Geography in an inner city school. She commented that when she introduced herself to the class, the kids only asked one question: "Eh Miss, what colour is your wheely bin?". When she said purple, there was a sign of approval. "Proper Scouse" came the verdict. So the whole trip was a 'match day experience' – even peeking from behind a prawn sandwich – and I can't wait for the next time. Arsenal at Home. 29 December. the stars have aligned for that trip too. Brilliant.
The idea of this round-up is to give you all some idea of the range of debate on the site. If you'd like to be part of our troll-free community, there's a 'Subscribe' tab at the very bottom of the page.
1 – Jillc responding to some criticisms of Liverpool despite winning at Spurs and winning our first five league games:
I just think that sometimes its a case of people just worrying for the sake of it. For example last season we were worrying about too many draws, losing points etc, now we are gaining the wins not drawing but people are worrying about us not thrashing teams now. It is like there is something inside our brains which tell us nothing is ever as good as we think. We're just one loss away from it folding all over again. To me it comes back to Klopp walking into Anfield and talking about turning doubters into believers. He got us in that moment so well. Maybe we need to stop looking back now, just enjoy what we have and enjoy the moment. Don't worry about things you cannot change, its pointless.
We need to stick with the team, support and believe in them. Anfield has become a cauldron once more, all the signs are good. I am revelling in it, done with any negative feelings it doesn't allow you to enjoy anything. These are good time, we have to learn to embrace it. There will be setbacks sure, but we just pick up the baton and continue on our way. This team is the business.
2 – Taskin/Tash's succinct summary of the season so far:
The story of our fuckin season…
Played well enough, but failed to put away our chances. Once again we should have been out of sight, but instead we ended up giving them hope.
But we won anyway 😀
3 – Egremontcosmo not impressed by PSG or Neymar:
"…a PSG side who turn the stomach…"
The above comment is a nail being struck sweetly on the head, Paul. It really is an ongoing indictment of French club football – the more baffling when you think how many great players that wonderful country has produced, from the beginnings of the world game up until the present day – that their version of Manchester City is as execrable as, well, this. Chancers. Spivs. Goal moochers. A 'ligue' of one Harlem Globetrotters vs nineteen Washington Generals, minus the competitive edge. Meaningless, meaningless money.
And as for Neymar…..he gratifies me entirely, every time and no matter for whom he plays, by living up to the view I've always taken of him: the view of the wee boy who clearly saw the King was in the altogether. The thought struck me watching the World Cup that Neymar is the perfect Millennial Brazilian number 10: one who understands fully how this should look, wanting nothing and with ability to do nothing more than that. At his most magisterial when 2-0 up and the game dead. A haircut. A phony pony.
4 – Kloppy D explaining the Anfield factor in those European nights:
I was lucky enough to go the Anfield last night and also at other games in the EPL and during the day rather than the night.
What an atmosphere it was.
I've been at Anfield though when its been flat as hell. I think the reason for the atmosphere last night and other "under the lights" UCL games I think is the crowd being initially fervent but then REACTING to the way the players are getting into the game and the level/nature of the opponents.
Milner's tackle on Neymar, Hendo's constant harrying, Salah and Mane's running all contributed to the crowd getting behind the team. The quality of the opposition of course helps. But its the crowd responding to the team's perceived effort levels which I think distinguishes these nights from others.
Especially on CL nights, the fans also have a historical perspective (without wishing to sound naff). We've won big games before, we've won titles, we've been doing this a long time. Far more than the flat Emirates, the Chavvy Stamford Bridge, Spurs being Spurs etc. We know what we can do to help the team, we've seen them respond to the atmosphere – we're part of the game in a way that I think other fans in Stadia just don't get because they haven't the experience we've had….
5 – Allen Baynes reflects on how lucky he feels watching the current Liverpool side:
I watched the Spurs game live on TV, I was at Anfield on Tuesday and watched Citeh last night again on TV. So my question is do you feel lucky, well do you?
I certainly do and here are just some of the reasons, I am sure you will have yours.
I am in my sixth decade of actually watching LFC, 7th in terms of supporting them. I say that to emphasise that although the club, indeed the world has been transformed beyond belief, I still recognise the club, our club, as the same one that I started watching in 1961. Despite the myriad of changes in football, we are still a club that has extensive roots in the local community, and in the city from which the club was spawned. A lot of top clubs have long lost the ability to say that. The passion that drew me to LFC was again in massive evidence on Tuesday. Just compare that to last night at the Etihad. The red heart beats on.
I often see that some on here raise the issue of FSG Outers, now I know that there will be some, like there are some who still believe that Elvis lives, who believe that FSG are evil incarnate. My point is that I go to practically every home game, drink in the 12th Man and still work every week in the city in a firm with a 95% red workforce, (120 employees), and I don't hear it, nor do I hear that Klopp is not the right man. (I think those voices are heard on phone ins, twitter and red cafe). I think that FSG are not my preferred owners, I'd prefer Bill Gates, the died in the wool red, the local lad made good who was at school with me in Arnot St. Yes, he doesn't exist.
I think what I hear is that after a shaky start, fuelled by memories of the Texas cowboy and his bag carrier, FSG have steadily upped their game, ground expansion, team funding, signing the most perfect fit manager and then wisely keeping a low profile, most people think they are ok if not good. Special mention to Jeff whose wise counsel has helped me understand their strengths before they became apparent.
I have seen some great teams and fabulous games stretching over the decades, but this team has the potential to outshine all of them, and in a more competitive context. The atmosphere in the sixties was unbelievable and the Boys Pen was the Oxbridge level of place to get your football education. However, to be in Anfield and hear and feel the whole ground, 50,000 singing as one, as it was on Tuesday and on countless other times recently, is as good as anything I have experienced.
I don't just feel lucky, I feel that I am one jammy bastard to have been born by Goodison but then chose Anfield as my spiritual home. I love the fact that around the world, people who have not been as lucky as me in terms of upbringing have found the path that has brought them to this wondrous club.
So do I feel lucky, Too right and I haven't even mentioned the future as evidenced by the U19s stuffing PSG on Tuesday, with some incredibly talented lads, including a good group of young scousers./the new Training Ground/ cheaper tickets for young lads next week vs Chelsea/the BOSS nights creating a newer vibrant youth supporting culture/the Home Baked pie shop near the Kop and so the list goes on
Allez, Allez
Articles published on The Tomkins Times this week:
Saturday September 15th:
Liverpool "Thrash" Spurs 2-1 – The Dream Is On!, by Paul Tomkins.
Monday September 17th:
18/19 Champions League Preview | Matchday 1 | PSG (H), by Gary Fulcher.
Tuesday September 18th:
Liverpool "Thrash" PSG 3-2 – The Dream Is On!, by Paul Tomkins.