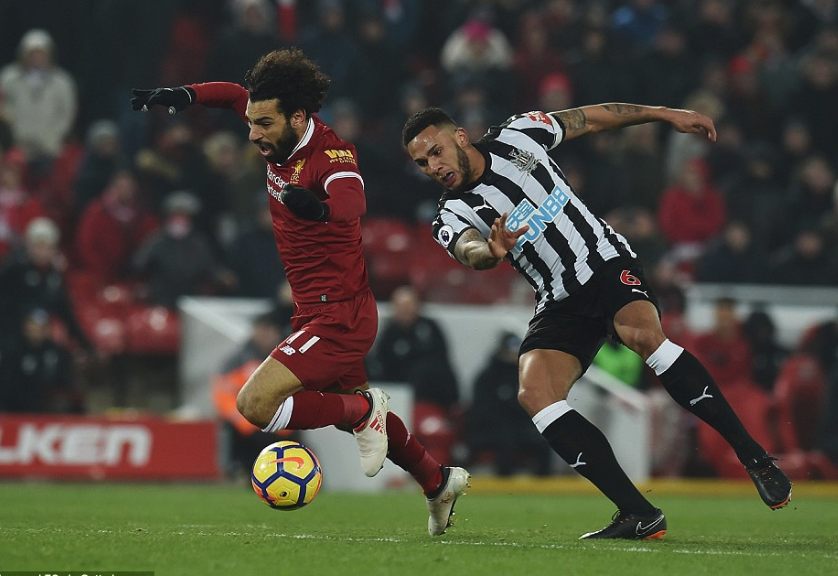 This week's posts selected by Chris Rowland and Daniel Rhodes.
The idea of this round-up is to give you some idea of the range of debate on the site and the type of articles published. If you'd like to be part of our troll-free community, there's a 'Subscribe' tab at the very bottom of the page. 
Underlying numbers.
I smiled at the phrase. It is the difference between the fan who watches football through an emotional distort alone; and those who choose to mistrust the fallibility of those very emotions. The latter, by virtue, are the profound seekers of truth. Nonetheless, they are often cajoled by the former because of it. Ah, fucking stats.
Who cares?
Well, we could be content to keep the worst-kept secrets to ourselves because attempts at enlightenment are exhaustive when a detractor rails against you. He or she is not usually listening anyway. We could remain privately, and even smugly, right. Except, the profounder thinking people almost have a responsibility now, not to leave the floor to the mob.
An asylum is for lunatics but they should never be allowed to take over the running of the shop. Why? Because there is the danger of them – despite being wrong – being seen to be right and there are already too many tragic examples of that in disciplines other than football.
Promoting the illusion, they obscure the truth. Shouting noisily, they drown out the value of the quiet, contemplative study that statisticians undertake, and the resulting work from which we can all benefit. Relying solely on emotion, they become the hare, seeking only the fast linear route to the finish line. They neglect the power of the more methodical and wholly important tortoise mind, that seeks and sees progress by slower routes.  Whereby slower actually becomes  faster than the methods the philistines employ.
They are stupid. But stupid people can still be dangerous.
#KloppOut #FSGOut
We heard that earlier this season. And at the end of the season? Well, we qualified for the Champions League once more, and we also have a date in this year's final, against Real Madrid. And they are not singing anymore. But they will resurface. On a game by game rota. Particularly when we incur an unfortunate 2 nil loss, for example, to a newly promoted team – even if the underlying numbers dictate that we had 18 shots/8 on target, to 2/2 on target. It is all in the underlying numbers. We have a responsibility to raise their significance to prominence within debates.
Shankly didn't do fucking stats.
Neither did Isaac Newton use the internet. But you can bet the fuck he would have done if it had have been invented in his time. Besides, the statement is criminally bereft. A more profound and valuable approach is to ask the question: what knowledge did Shankly apply that can now be proven by stats?
Finally, I would like to say that we have all had a wonderful season. That goes for on TTT as well as on the football pitch. The articles, like this one, have been consistently informative, educational and entertaining. Our football knowledge is far superior compared to a universe where TTT does not exist. We are all saved from being philistines. Thank you to Paul and all contributors.
Next up, the big one. Bring it on. In the meantime:
"There was a band playing in my head
And I felt like getting high".  🙂
(Neil Young).
2 – Beez came up with this astonishing stat on penalties:
On penalties… something I just noticed. Crystal Palace had seven PL penalties at Selhurst Park this season. Liverpool have had six at Anfield across the last three seasons.
Palace: 7 pens from 461 touches in the opposition box at home.
Liverpool (last three years): 6 pens from 1791 touches in the opposition box at home.
Just doesn't add up, does it?
3 – EddierobUSA examining the club's financial situation and potential transfer budget:
2019 March 1st – The Echo – "Liverpool announce  PROFITS OF OVER £ 150 million".

2019 March 2nd – Twitter – "  Classic corporate assets strippers, same as H&G just successful, #FSGOUT"
Well speculative for sure, but what I think is likely to happen and will  influence our transfer business this summer. The second if anything is regrettably easier to forecast – there is a section of the fan base who will manage to see a dark side to what would be an amazing financial performance, complimenting that on the field this year. But FSG will have a very good idea now of what will be published next March, and that will probably influence how this summers window is managed. Lets look at that profit expectation.
Our accounts split it into 2 components. Firstly 'operating profit', where in our last fiscal year (FY17 ending 31 May 2017) LFC made £ 7mn (2% revenue).  To determine what LFC will make this year requires access to all the data on revenue and costs – I do not have that. However this is our first full year of the new main stand with UCL football;.  I think it very likely the club would set itself up to make a more 'normal' profit from that; but then our phenomenal run will have increased that (although it will trigger some bonus payments as well) – I believe top line revenue will increase from the £364 mn. of FY17 to around £ 450+ mn. An operating profit of £ 50 mn. would not surprise me – but I accept it is a guess.
The second part is our profit on disposals of players registrations. FY17 we made £ 38 mn. (£ 42mn the year before). Last summer I suspect we made  £ 25 -30mn on  sales (Sakho, Stewart, Lucas, Wisdom). However we will realize a profit of over £ 100 mn. on Coutinho's sale (exactly how much is booked in FY18 will depend on how the payment is structured – although it has been reported that £ 108 mn. was guaranteed up front).
I know there were footballing reasons why we did not want to sell Coutinho last winter. However I can pretty well guarantee you that LFC would have preferred the profit on his sale deferred to FY19, rather than being added to what was always going to be a very good year anyway.
So to the real issue – how much will we have to spend? Talk turns to 'war chests' and 'net spend', and I cover that below. It makes for good journalist headlines, and we have reasonable access to the data – so can follow along. It is an  important financial variable, but  internally the club will also be looking at its projected wage bill – which is actually more significant in terms of the clubs cost structure, and where this summer there is likely to be significant changes as several key contracts are renegotiated.
So with that caveat lets move to net spend. Last summer our net spend was reported at £ 39 mn. (with £ 80 mn in purchases, and sales of £ 41 mn – probably 9% revenue) – we will get better numbers next March with the published accounts. In the 2 prior years it was £ 39 mn (11% revenue), and £ 38 mn (12% revenue).  So taking those %'s forward (and before looking at sales and  the carry over of the Coutinho / VvD moves), JK probably has a budget in the £ 50 – 60 mn range, which is what Keita will cost us – essentially the cost of Keita is our 'normal' transfer budget for this coming window.
We also will have funds from sales, and I expect more players leaving than arriving – including Sturridge, Origi, Markovic, Migs, Flanagan if we can find buyers (and is Bogdan still with us?). Your guess is as good as mine – which is £ 40 mn +/-.
We can then carry forward the unspent Coutinho money. And here I recognize you get into the major debate. We clearly tried to buy VvD and Keita last summer, and keep Coutinho at the same time. So some will argue that the former 2 should be counted against last years budget, and Coutinho is additional. Personally I tend to the view that we planned that we would pay for VvD / Keita out of the Coutinho money, just we wanted to sell Coutinho this coming summer. If I take all the reported £ 143 mn for Coutinho (which generously includes all the bonus component, but where I think FSG may net out) less the £ 75 mn for VvD I get close to  £ 70 mn.
So in addition to keita I see JK as having a budget of somewhat over  £ 100 + mn. So what does that mean for our targets. And now I find myself in agreement with the wonderful earlier post by Jannis (who came at this from the perspective of the squad). I see:
– an additional attacker costing £ 50 mn +/- to rotate with our existing front 3. I find the rumors here on Pulisic / Bailey / Malcolm / Fekir most credible. I cannot see us pursuing Lemar at £ 90 mn.
– a defensive midfielder (actually more  a DLP) costing £ 40 mn + /- to rotate with Hendo in this position. Ruben Neves was the rumor that caught my eye, maybe Jorginho. If we were to win the Meyer lottery then clearly that could release funds elsewhere, but not sure he would be seen as the best fit for that role. Even if we got him, not impossible we would still pursue a DLP anyway – realistically we probably should plan on being without AOC for most of next season.
– a GK to compete with, but not replace, Karius. Likely to be much lower cost than would allow for the Allisons or Oblaks of the world.
– and we seem to be looking out for an additional young CB, but not at a high cost.
That is my expectation from a financial perspective.  what I would love from TTT (Jeff or another of the scouts) is a review of potential targets for the 2 main likely acquisitions – an additional attacker, and DLP, costing say £ 40 – 60 mn.
Oh and if you think my number is too low, for sure you can go on twitter and / or listen to a pundit to get figures closer to £ 1/4 bn. Just not what I think will happen.
4 – Wetcelery on sport, winning and what it takes:
I think sports are about learning to win. We've heard that sports are about learning to lose, and they are, and I've not mastered that particular art. But I mean "learning to win" in the sense of the hugely mounting anxiety that comes when we're so close to winning a game, or when the opposing team starts to claw back the goals. That wave of catastrophe that washes over us, where we can picture in our minds all the things that can go wrong; that are just about to go wrong.
I certainly had those emotions watching the second leg of the semi-final. And then I stopped, among all the angst & consternation in the pub around me, because the shot on target count had just come up on the screen. I believe it was 4-0 in our favor at that point, even though it felt like Roma we're going to score at every attack. And I said to myself: "the stats are showing something completely different from what I'm seeing & feeling. Maybe we're defending 'well enough'"; it can't be perfect, but it can be adequate.
Now, I turned out to be a little bit wrong there, and yet, our defending did end up being 'good enough' to send us the final. And more importantly, what I had done was learn to soothe my emotions amidst the chaos around me, & learn to accept that I'm just kind of here, doing my best to enjoy the ride, with no control what-so-ever on the outcome.
I think you can give in to the helplessness, or you can accept that there may be nothing to be done directly, but there is something you can do for yourself.
I hope that if we win in the final, and even if we don't, we can look back on this season fondly. We don't need anyone's permission to be proud of this team, & nobody has a right to shame us into the "if you didn't win, then it was a complete waste" corner. I hope we can look back on this moment with fondness, and if it doesn't pan out next season to the same degree, we can remember the past, because it's the only thing we have for certain, those memories, those grand emotions. And we can let other people look always with greed & striving to the future; for something they already possess.
5 – Thundyr with "Just a little fun…"
One day in the commentary box at Old Trafford:
"It's gone in! What a hit from Salah. He's a top top player, don't you agree, Bob?"
"Absolutely, Fred. He just wanted it more, and you can see what it means to him."
"It's the worst possible start for Manchester United. If you let a real talent like Salah get in and around that area, well, you'll get punished at this level. He can do that."
"If they had a Makelele or a Pique it would not have been a problem."
"What are they doing now? All the Liverpool players are kneeling down next to Salah."
"I've never seen that before, but that's clearly something they've practiced on the training ground."
"Oooh, the slow motion shows he might have been offside in the build up!"
"Well, Fred, it's a game of small margins, and the linesman could not have been closer. I've certainly seen them given. But Mourinho can't have too many complaints. This is the same official who didn't blow for Martial being offside last week when scoring."
"You're right," said Fred. "That official has gone from hero to zero, and this will definitely change Mourinho's half-time team talk with the men in the middle. So, if you're looking for omens then this could easily be a game of two halves."
Note: credit to P. Dantic for the words from the title of this article and the previous 17 – I just rearranged them and put them together in a way that hopefully makes sense. Of course, when we're talking about pundits, the less sense it makes, the better!
Articles published on The Tomkins Times this week:
Sunday May 13th:
Liverpool Achieve Season's Aim and Now Can Blow The Bloody Doors Off, by Paul Tomkins.
Tuesday May 15th:
17/18 Champions League Final Preview: Liverpool v Real Madrid, by various.
Wednesday May 16th:
Football Managers and Shelf-Lives – Rising Stars, Imperial Phases and Diminishing Returns, by Paul Tomkins.