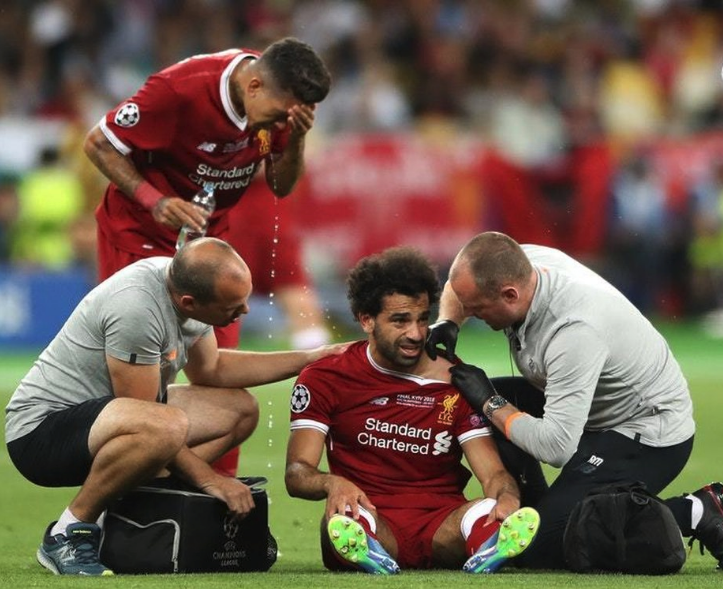 This week's posts selected by Chris Rowland and Daniel Rhodes.
The idea of this round-up is to give you all some idea of the range of debate on the site. If you'd like to be part of our troll-free community, there's a 'Subscribe' tab at the very bottom of the page. 
1 – Anthony Stanley argues that it's been a great season for LFC:
Brilliant as always Paul.
It still stings and probably will for a while but there's a huge amount of balm for a troubled spirit around and we don't have to even look particularly hard.
Most summaries of the campaign that I've read or listened to have said it's been a good one. Some have stretched to saying it's been a very good one.
I'd humbly suggest this season has been a great one, an absolutely glorious one. Is that defeatist? Is claiming that we've enjoyed a memorable season erroneous when we haven't won anything? Is it a species of oxymoronic and flawed thinking to say that this has been a campaign when I bristled with pride at being a Liverpool fan?
Here's the thing: on Saturday morning my wife and I gave our six year old son the new Liverpool strip. He has come of age as supporter of the Reds this season and the two of us have enjoyed so many days and nights watching Liverpool that I can only be thankful. How can anyone not be thankful to be a Red in the past few months? The journey may not have yielded the ultimate destination of which we feverishly dreamed but what a fucking ride it was. What a thrill fest and a magical time to be alive.
But to get back to my son. At 5.30 on Saturday evening we walked back from the pub (I'd decided that pre-match pints were obligatory). My six year old was decked from head to toe in red, proud and delighted, defiant and giddy from too much sugar. I was all of the above and possibly a bit tipsy after necking one too many lagers.
We sang Allez Allez Allez all the way up the road to our house, a journey of a mile and cars beeped us and people walking by smiled at us and as I held my son in my arms, as I listened to him belting out about winning 'the fecking lot' in his childish voice, I thought I would burst with sheer contentment.
The actual result of the game was of course important but the journey is what gave us our memories; that is less tangible, more abstract and relies on a deep understanding of the human spirit. That it's ok to lose sometimes. This same six year old, who had taken his first embryonic steps as a Red, who had drank up the rapture of a European night at Anfield and beyond, who had felt the first gentle probes of obsession, came into me the day after the final. He said it was ok to lose sometimes.
I have never been prouder.
The European campaign was a privilege and was simply beautiful to watch. Every minute of the road to Kiev was a thing of wonder. From the very beginning when the Reds shed the early waves of trepidation in dismantling Hoffenheim. Absolutely glorious. Rival fans everywhere celebrated Madrid's victory with that weird schadenfreude that only the football supporter truly knows. Let them waltz in their dubious pools of patchiness; we have the memories. United fans have Martial going backwards and Pogba imploding and Mourinho self-immolating as he makes excuses for banality. Spurs have effectively done a Spurs. There can be no doubt that of the top six, only us and Manchester City truly enjoyed the campaign.
But was it a great one? Apart form the tapestry that was crafted from European silk, was it really that great? I'd say, yes it was. I'd say that the continental escapades were the glorious cherry on top. For all a heaving Anfield had us spellbound, for every Salah masterclass against Roman misers, for every rocket from a former struggling and stagnating Gunner as we toppled the best team in the land, for every 7-0 thonking handed out, for all of this and so much more, there was also a domestic tour de force.
Remember Arsenal being obliterated as Mo started to show us in very real terms just what it meant to have such blistering pace? The return game at the Emirates wasn't half bad either. Both have these games have almost been air-brushed from history. There's been goals from everywhere, a feast of them, maulings becoming normal. Sure, our record against the top six hasn't been great this season but there was still Salah's slaloming run against Spurs and Bobby's Robbie impression against City and five gorgeous goals against Swansea on Boxing Day. There was wide-eyed Trent and ruggedly normal Robbo. There was a colossus signed in defence. There was Milner turning back the clock. There was so  much to be joyful about. So fucking much.
There have of course been some bad days. Sound. It happens. But few people would argue with the assertion that we probably deserved to finish second. That we're probably the second best team in the league. Add Keita to this side and possibly another creative midfielder? It could be absolutely wonderful and I expect it will be.
We can all look forward to next season. It's going to be fun, I can guarantee that. It's going to rain goals. We may end up empty handed again, probably will in fact. Again, that's sound. I've long said that the idea that a Klopp or a Pochettino has to win a trophy is baffling to me and reeks of the anachronistic.  It'd be nice, of course it would. But the vast majority of fans have no right to expect trophies. At least we have a degree of realism in our dreams. At least there is some kind of verisimilitude to our mad hankering for trophies; it can happen. It quite possibly won't but it can.
And even if doesn't, that journey is usually a phenomenal one. That's what being a Liverpool fan is all about. That is not defeatist, that's not settling for an empty cabinet.
There's a six year old who is still glowing with the magic. Who has started a journey that will last a lifetime.
Tell him it wasn't a great season.
2 – Paul Tomkins with one of many comments on Sergio Ramos:
I think Ramos is seen to have gone beyond the spirit of the game, and in this day and age, I think winning in style is more important than ever. Madrid won with blatant cheating. And not just low-level cheating but actual ABH. An arm lock too dangerous for MMA, and an elbow to Karius' head minutes before his first gaffe. And that's before trying to get Mané sent off for an innocuous foul. It's disgraceful.
Ramos may not care, as he has the heart of a dead pig, but this has tarnished his reputation on the world stage. Mo Salah was the story of this season, a clear Mr Nice Guy, and Ramos chose a dangerous and cynical way to remove him from the game. They couldn't handle him by playing fair.
Imagine if we played Crystal Palace in a final and everyone just set out to injure Wilfried Zaha. That's unthinkable. We'd try and beat them by playing football, even though our team costs 3x as much as theirs. But Madrid's team cost 3x as much as ours and all they could do was cheat.
Bale's overhead goal – the only memorable thing they did – would not have happened had we been 5-0 up 😉 It was already an unfair fight, but they tipped the balance even more in their favour. If that's good old professional cynicism then it can go to fucking hell. The game has moved on.
After all, Spain wowed the world with it's beautiful football for a decade, and now its players have to do this? It's like going back to the 1980s and "The butcher from Bilbao", who just kicked Maradona all over the park.
While I think the petition is silly, it does at least keep the issue in the spotlight.
3 – Kev and the Kubler-Ross Grief Cycle:
I'm currently going though the Kubler-Ross grief cycle, like many LFC fans I'm sure, and having survived the angry stage – Ramos is an elite level Thundercunt – I've settled into the acceptance of the fact that we lost the CL Final despite being an outstanding team throughout the season!
Whilst this is depressing, I'm consoling myself with the thought that Kloppo will pick this team up, dust them down and go again – the surprise signing Fabinho certainly demonstrates that LFC were planning for a bright future!
However, I am concerned the impact of the game on Karius and, irrespective of whether his future is with Liverpool or not, I hope he gets the appropriate support to deal with such a psychological trauma.
Kernis (2003) conceptualised the notion of optimal self-esteem based upon intrinsic and explicit self-esteem. Plenty of people have high explicit self-esteem so they appear confident, but they have low implicit self-esteem so crumble when things go wrong. IMO, Loven and Karius both appear to be like this. Optimal self-esteem is where a person has a high mixture of explicit and implicit self-esteem – an inner self-believe that they can deal with whatever life throws at them. I belive that Kloppo has this, which is why he can be seen partying at 6am after losing the CL Final.
I only hope that Karius has optimal self-esteem and that Klopp can work his magic with him, even if he doesn't play for LFC again…no one deserves to suffer such an indignity for the rest of his career, even if it is with another club.
Shankly was a great man, but he was wrong about football…nothing is more important than life and especially not winning!
4 – Michelle on the change in atmosphere once Salah went off, and potential reasons why:
David, this essay is powerful and illuminating. It was a mystery to me why the atmosphere changed so totally when Salah was injured. It was far beyond anything rational: we were still level, we still had players on the pitch who had won games for us, Real Madrid were not playing very well. The atmospheric change was about something much greater than the football game. I think now that Salah was not just a likeable player, beloved by millions of people beyond Liverpool fans, but a symbol of a way of being—kind, humble, hard-working, while devoted to excellence—in contrast to the rich guys who were used to having things their way. Salah was the embodiment of the underdog not only in football but in life, and people's hopes rode on him to prevail over the arrogant, privileged, and entitled. It was only symbolic (in actuality, Salah is a rich guy, too), but powerfully symbolic, so much so that his injury and removal from the pitch interrupted a grand cosmic story that everyone had pinned their hopes on seeing play out. It was like having the projector malfunction irreparably one third of the way through the film.
I was worried before the final that if we didn't win, we would feel there was too much of a mountain to climb to get back to a final. But I don't feel that at all; on the contrary, I feel very optimistic. And I cannot, cannot, cannot wait to play Real Madrid again. Lord, I hope we get them in the group stages. I just want us to do them but good! And twice, dammit!
5 – Martin on the Chelsea stadium situation:
The whole Stamford Bridge fiasco is just a complete illogical head scratcher.
I'm a complete amateur on the topic. However after about 15 minutes looking into Chelseas stadium revenue I found out that they get a hugely skewed split of their revenue from the newest west stand. If they had any sense they would do what Liverpool did and focus on their East stand only. They've got permission to go over the railway line for the unaffordable plan they've now halted. Just targeting redevelopment of the east stand, they could go from about 11k to 20k like the Anfield main stand. Thats a capacity of about 50k, heavily geared towards corporate. Stop there.
Why go with something that will cost £1 billion when £150m would get them to probably 80-90% of the revenue. Why would you take on so much extra debt for so little return while the history of the last 10-15 years is of the diminishing influence of stadium revenue compared to commercial and broadcasting.
The longer you study it the more FSG seem to be sane business men in a sea of ego driven stupidity.
6 – Tony McKenna continues the analysis, with added Glazers:
"The announcement of Abramovich's purchase on 1 July 2003 caused a sensation. Amid the uproar, the FA admitted that Abramovich's financial history would not be scrutinised to ensure whether he was 'fit and proper' to own an English football club." (From Broken Dreams: The Definitive Expose of British Football Corruption by Tom Bower.)
Having used the above quote several times on TTT in the past, now seems a fitting occasion to revive it; and for obvious reasons. This time round it has an attendant black swan event that, just a couple of months on from its appearance, has managed to rent asunder a project that has been 15 years in the making. Who would have thought that the seemingly unrelated poisoning, of a guy and his daughter, could impact on football with such huge consequence? That is the thing with black swans. They are beyond prediction.
Abramovich's credentials – or lack of, more appropriately – once subject to the turn of a blind eye, are now deemed worthy of intense examination. All change. But if corruption in football rankles, it is not without its farcical comical side too. In this, we are honoured. Quoting from the same book:
"I want to buy Manchester United," announced Abramovich, a football fanatic."
Ha. Well, a football fanatic maybe but not necessarily a United fanatic. Roman was not too discerning or fussy as it transpired. Again, quoting from the same book:
"Not for sale," Zahavi replied, smelling a fortune. "Arsenal?" asked Abramovich, having heard that the directors of the financially struggling club were immersed in a feud. "No," replied Zahavi – and Daniel Levy at Spurs, he knew, was asking for too much. Soon after lunch with Trevor Birch, Zahavi telephoned Abramovich. "Chelsea`s for sale,` he announced. The price was £150 million, including £17 million for Bates personally.
And there we have it. If Arsenal and Spurs fans, or fans of any club for that matter, were tinged with envy, missing out on the chance to be a multi billionaire, backed, behemoth, then today they may feel a little less jealous.
Then something also interesting. Once more, quoting from the same book:
"The news on 26 May 2005 that the shareholders of Manchester United would accept a £790 million bid from the Glazers, an American family, did not trouble Scudamore. Understanding that the paucity of profits had encouraged the sale of football`s goliath, he was untroubled by that defining transaction. Sanguinely, he acknowledged the self-inflicted impotence of both the FA and Premier League to interfere with the purchase of a publicly quoted company, not least by investigating whether the Glazers were 'fit and proper' as owners."
The Glazers are not immersed in the murky world of Russian politics, nor those of the American kind maybe. However, they do share common ground with Abramovich in the backdrop of a dodgy financial standing. And one that eluded too much scrutiny. From the football authorities that is.
Their fans, nonetheless, have been vociferously vocal about the American leveraged buyout owners; amidst a Green and Gold protest that peaked, then faded under the quelling force of the powers that be at Old Trafford.
However, like with Abramovich, such entities merely become sleeping giants, susceptible to black swan events, that even longevity of time can not put to final rest. One of the key things Taleb mentioned about black swans is that, whilst we are powerless to predict their catastrophe, we can at least position ourselves for randomness. A simple example would be to maintain caution in the good times, do not over stretch yourself, so that your are better poised to maintain your balance in the bad times. In financial terms, run a good book.
United are a cash generating machine, so they will be all right. That is the constant refrain. However, that absolutely over looks the unknown unknowns, and naively disregards the potential for the equivalent event of a guy and his daughter being poisoned. In many ways, the Glazer's financial model has already incurred a few black swans: top 4 finishes were always to be guaranteed, now they know that they are not always so. The wind change in transfer spend has been like nothing that went before it, as emotional panic dictates.
Yes, they may have finished second recently. But that many points behind City? More to the point, they are a sore million miles away from emulating the style of play that their neighbours affect. Fans are slowly but surely waking up to the fact that Mourinho is all fur coat and no undercrackers.
Who really knows the ins and outs of United`s finances? How many people really understand the detail of the stock market flotation, conducted in as much secrecy as possible, and the complex different tranches of shares? How come the board, the Glazer siblings basically, can help itself to large dividends? Who can say that the Glazers have not done an Enron with the published accounts? Because, football finance, like the global financial system of which it is a part, is totally and rottenly corrupt. We know that much. Bottom line: United are terribly positioned for random events.
And we once were. Liverpool football club almost died at the hands of H&G. But they got in. Fans scrutiny helped to get them out. But a black swan event also had a huge bearing. If not for that, their reign may have been longer. They may have been spared more time to refinance only for the credit crunch.
Following the Abramovich news, even the most hardened of the anti FSG brigade should think again. This football club is now well positioned for randomness.
Articles published on The Tomkins Times this week:
Sunday May 27th:
Experience Beat Inexperience, But Young Liverpool Side Gained Vital Knowledge For Bright Future, by Paul Tomkins.
Tuesday May 29th:
Liverpool Make A Really Stupid Signing, by Paul Tomkins.
Wednesday May 30th:
My Five Days at the Match – Kiev, by Chris Rowland.