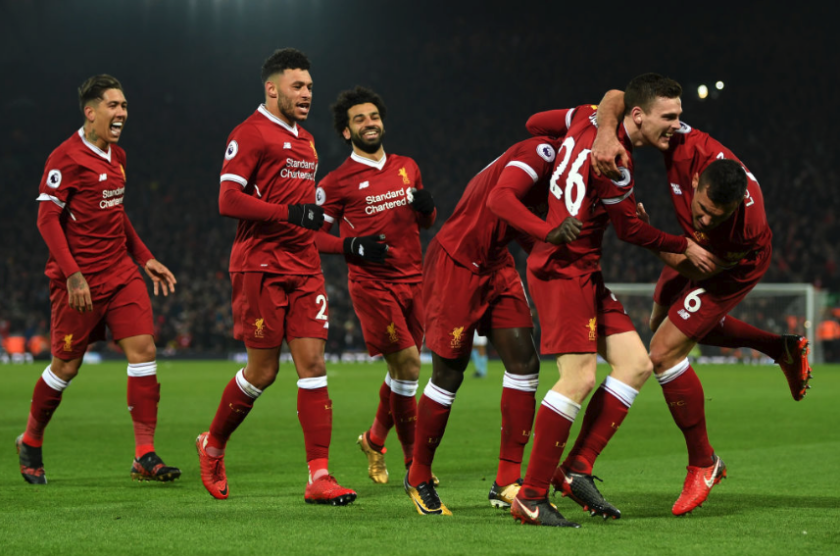 This week's posts selected by Chris Rowland and Daniel Rhodes.
This gives you some idea of the range of debate on the site and the type of articles published. If you'd like to be part of our troll-free community, there's a 'Subscribe' tab at the top of the page. 
1 – Mädchenkliop interpreting the Klopp/Van Dijk news conference for the City match:
Just watching VVD at the presser and admiring how calm and unflappable with a twinkle in his eye, he is like an onfield version of Jurgen.  Well, in fact, action wise he is much cooler than Klopp, but in terms of eloquence and making the right calls he is a chip off the old block.  I know he was never a replacement for lil Phil, but seeing what we have, before and after the January window is a stark contrast in terms of whole team profile.  From Phil's mercurial unpredictability to Virgil's galvanising presence.  And I know a presser is 90% bullshit, but I was just imagining Coutinho in that press conference instead of big Virg; he would have had a communications aid nursing him through against the blinking cameras and daft questions.  At the end of it LfC would be left with an atmosphere of vulnerability instead of the calm exuded by VVD which can spread to the whole team.
With the strong likelihood of Wij playing the No 6 I'm also massively encouraged that his countryman is just behind him shouting instructions (in dutch?).  From that Everton showing, Wij has the potential to bring some attacking flair to the role as well as giving us a few heart attacks. It just might suit the game requirements, making us a little more unpredictable than with Hendo and likely to spring surprise attacks.  Also Wij's speed and quick feet could be useful against the tricky City players.  He's not so good at picking out long range passes but is good at getting it to someone who can – like VVD.  I think they can form a good partnership.
It was noticeable how Everton targeted our right flank in those nasty last 10 minutes and City will undoubtedly do the same.  Hendo was definitely tiring at that time, as was Clyne with Lovren being left exposed.  We need the leadership there.  Fortunately, both TAA and Robertson have been rested and looks like Moreno might be available as sub.  I think, once again, their energy will be crucial.  It's surely good that Sané has not been rested.
2 – And this from Sheriff was worth a chuckle:
I've just received a sneaky pic of our team coach for tomorrow….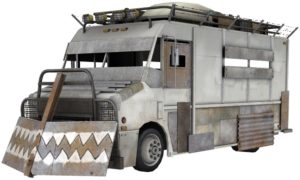 3 – Mobykidz assessing the coming City game:
Fair enough to rationalise a possible Pep comeback. The need to keep our perspective IF….IF we lose. Again context is king and the team Klopp puts out to win the tie, which is exactly what he will do, will determine any tipping points in the game. The above comments and rationalisation of a Man City comeback is a possibility. But it is one possibility you have based a whole article on and I want to rebalance a little bit. Ying and Yang.
Ok. These same LFC players have contrived to lose leads in games, which might play on our minds. But that's the problem with any assumption…we lost a lead in a match not 2-leg tie. If Man City win it'll be because they deserve to win and we underperform. But Citeh will be under MASSIVE pressure having just lost two games in a row conceding SIX goals both home and away. Your choice to focus on the comeback possibility is, I feel, a reminder to us fans to not lose sight of our progress. But how likely is it Citeh will keep a clean sheet in this context? With or without Mo Salah we can hurt them. Again Mane, Bobby and Ox (who's now scored twice against this side) will sense this game is theirs for the taking. Not to blitz them but to take our xG chances. Or VvD or Trent being goal threats too.
But to be honest its not over confidence to believe Klopp can set us up, again with the mindset we are still the underdog, to frustrate and put the living fear into City's squad that if they come at us that we are more than capable of exploiting it. Again context is king. In this case it is Man City who have everything to lose including Sheikh Mansour's desire to win this trophy. Pep went to Bayern Munich not to win the German League but the Champions League. He FAILED with arguably a better side than he has now. He has spent half a billion quid in 2 seasons and I think he'll fail again at Citeh. That's my opinion.
So as much as it is painful to go through this game, Klopp's and this team's probability to beat a Pep side over 2 legs is more likely compared to the games you mention. I like you reminded us of history. But City and Pep (not Barca and Pep) have far more baggage to carry, which balances this out. Its not to underestimate City but to underestimate Klopp's LFC at times. We forget his team can do this…60-40 is fair but imagine saying that two weeks ago. That's progress and a massive statement in the space of two weeks.
I've said it before each of the games in this 4-game period that Klopp will come out stronger because he believes in winning games from the get go and is not bogged down by history. Only a fool ignores how good City can be…but the only question I am focused on is how good do we have to be to win the tie. And Klopp is the best manager to do that, whilst Evans often lived on a wing n prayer, as he believes he can do it…and there's enough evidence from our CL performances to tell me it's more likely we will. Pep knows it.
I think we will come out of this four game cluster-fu*ckin blitz of a two weeks and be closer to CL success this season and next. Citeh will console themselves with the title (in Pep's world it's a consolation) and beat Spurs and we'll thrash Bournemouth. That's the picture in my mind. I give that 80-20 in our favour to finish this season really strong. So that next season you'll be referencing this period to frame a similar article on WHY we can win the league (in small letters of course).
Great article again.  This time I'm definitely not spaced out. YNWA.
Ps Harry Kane is a little sh*t. Spurs' appeal is one of the biggest jokes this season. Let him worry about his golden boot and personal glory…WE have a CL to win!
4 – Martin McLaughlin's opinion of Klopp is rising ever higher:
It's strange, but I've always leant on the pessimistic side with Klopp. Mostly as it seemed like he might be too good to be true and I believed it was actually hard to judge how good a manager he is.
He got lowly Mainz promoted, but looking for (crude) parallels, is that a standout on it's own? Sean Dyche or Eddie Howe have down vaguely similar things with Burnley and Bournemouth. You could maybe even throw in Brendan Rodgers at Swansea.
Dortmund is the big set of evidence used to estimate how good Klopp is. Taking a financial basketcase in Dortmund to 2 titles and 2 second places against the titan of Bayern before that half season black swan seems to have worn him out. No amount of caveats can diminish the role of Klopp in that period. However there is lots of arguments over his role vs the role of the Dortmund "back office" in Zorc and more recently Sven Mislintat.
Sometimes people just get lucky with players. That's the reason I was hesitant on Klopp. Did he just get lucky with Lewandowski, Reus, Hummels, Gomez, Gundogan, Kagawa? Look at Leicester with Kante, Vardy and Mahrez – were Dortmund just a confluence of a lot of things and Klopp was just right place, right time. Maybe Klopps wasn't as good as he seemed – it was hard to say with certainty. Was he a great coach but someone else did 90% of the work on recruitment. Or was he key in both?
However there is then the other end of the scale. Klopp was managing Dortmund in what has turned into as close to a 1-team league as you can get. The 800 lb gorilla of Bayern Munich. Not only did he have to compete against a team with a ludicrous financial advantage, but a team that has historically went after it's nearest competitions best players. Like Ballack and Ze Roberto before, Munich went after Gomez, Lewandowski and Hummels. Maybe Klopp was much much better than he was allowed to be at Dortmund, never having enough money and never able to keep his best players for long enough to build up the team. Again – it's hard to say with certainty.
Then we come to Liverpool. No disrespect to Dortmund, but Liverpool are higher up the food chain. They are not at the top, but they're in the tier below. Klopp has more money than he's ever known, in a bigger more attractive league. There is a "big 6" now rather than a big 1 in the Bundesliga. Players tend to only leave for the 800 lb gorilla clubs, but culturally rarely within competing clubs in the Premier League.
It's starting to look more and more like Dortmunds recruitment had a hell of a lot to do with Klopp and not just Zorc. Now the inertia of Klopp has gone, Dortmund under Tuchel/Bosz/Stoger have started to slide back into the pack behind Munich. The hit rate of Klopp at Liverpool for transfers is now bordering on the obscene. The wisdom to wait to get VVD rather than blow the money on an alternative looks like a lesson in patience and persistence. Ditto on Keita, I don't think I've ever been more confident on the success of a player. Is Keita better than Coutinho individually, probably not. Is he better as part of a Klopp front 4, I have no doubt he is many many times better. He feels like the equivalent of Firmino in the #8 role, a player who is as big a threat when we don't have the ball as when we do. Keita and Firmino hounding opposition defenders for the ball is going to be frightening for teams. As a package a front 4 of Keita , Mane, Firmino and Salah is elite. 
The wisdom to get the right player even if you have to wait a year for them. We can go back to the fullback situation last year. It now looks clear that they knew they had both TAA and Gomez and would wait to develop them rather than block their progress. Klopp made do with Milner at LB, persisted with Moreno – but then plucked Robertson out of nowhere.
It looks more and more like Klopp at Dortmund wasn't even remotely luck. It was all down to him. He's starting from a much better financial position. Liverpool can't pay the biggest wages or the crazy transfer fees – but maybe it's close enough for Klopp. With PL money, new main stand and a run to the CL semi finals, you have to think 17/18 is going to be a monster of a financial year for Liverpool. We will probably jump above Arsenal and Chelsea in revenue. It's much closer to financial parity with the two Manchester clubs than he had with Munich at Dortmund.  Without Bayern to spoil the party, maybe we'll see just how good Klopp can be.
5 – Fady on the parallels with Klopp's previous jobs – and the Reds' current progression:
Having read Bring The Noise* I'm absolutely certain that Klopp is the one significant factor for the successes of each of the clubs he has managed. The promotion of Mainz, the titles won by Dortmund and the phenomenal improvement at Liverpool over the past two and a bit seasons are not lucky accidents. Klopp is the head chef who brings all the different ingredients to produce a gourmet feast. Most importantly, each of the ingredients are more than happy to jump into the frying pan for him!
I have no idea if we will progress to the Champions League final or if we'll win it. However, I have no doubt that we have as good a chance as any of the other remaining teams. Whatever happens the club is in great shape. Quality players we have heard of will want to join in the fun. Players we never knew existed will sign and we will know with certainty that under Klopp's guidance they will become superstars. How do I know? Because that is what Klopp has done his entire coaching career (Mainz, Dortmund and Liverpool) and history has a way of repeating itself.
Like others have already stated, we should enjoy this crazy, exciting ride as good things never last forever.
*I know Paul has repeatedly recommended this book but if you haven't picked it up already you don't know what you're missing. An incredible read that confirms how lucky we are to have Klopp at our club.
6 – Jeff's wonderful wisdom:
First one must always remember that football is a team game and Klopp knows how to build a team. Since Klopp has been in Liverpool, the quality of the team has gotten better and better and better. As well as Liverpool performed in two legs over Man City, Liverpool will be a better team against whoever they play in the next round of the European Cup. I have seen all the teams left in the competition and everyone one of them is what you see is what you have and they will not be better a team in the next round of the European Cup.
Second, there is an old adage in North American sports called addition through subtraction. Essentially, it means that sometimes by moving a player on you will be a better team. I find it hysterical that Liverpool sell their so called best player and have a better team. I say well done to Jurgen Klopp and his coaches and Liverpool's talent evalutors. Who would have thought that Liverpool would have a better midfield with Alex Oxlade-Chamberlain in the team than it had with Phil Coutinho.
Some here may know who Bill Belichick is and how successful he has been in American football. He is famous for his belief that you only ask players to do things they can do and never ask them to do things they cannot do. Yesterday, we saw that if asked to do what he can do Lovren can perform at a high level for Liverpool and if you look at what was asked of Milner you saw another player who contributed to the win.
Sometimes in this world you get flat out lucky. Jurgen Klopp deciding to leave Dortmund opened up the door to his coming to Liverpool and every Liverpool supporter should be thrilled that he is now the manager of Liverpool FC. He put Liverpool in a position to beat Man City and it did and he will put Liverpool in a position to win against whoever Liverpool faces in the next round of the European Cup. I say thank you Jurgen Klopp and please stay in Liverpool for a long time and compile a record that will put you along with Bill Shankly and Bob Paisley as a revered person in the history of Liverpool FC.
7 – Chris, on his experience of Rome – and the potential for trouble in this tie:
The fans bloody weren't on good terms in 1984 in the final, nor when Owen scored twice there. Rough as fuck out there, believe me. Don't know about the team bus, our coach back across the river had barely any glass left in 84!
I'll be amazed and delighted if there's no crowd trouble in the city centres. We're facing 6 UEFA charges already. If we cause any provocation being at home first, they won't be slow to seek retaliation out there. In fact, even if we don't … not a game I'd want to go to. Hostile.
8 – And finally … Happy Birthday Paul! (From all TTTers)
Articles published on The Tomkins Times this week:
Monday April 9th:
My Day at the Match – Everton (A), April 7th 2018, by Ken Cooper.
17/18 Champions League Quarter-Final Preview | 2nd Leg | Man City (A), by Gary Fulcher.
Warnings From History For Liverpool Ahead of Monumental City Clash, by Paul Tomkins.
Tuesday April 10th:
Look At This List For Proof of Klopp's Miracles With Liverpool, by Paul Tomkins.
Wednesday April 11th:
Post-Match Analysis: Manchester City (A), by Daniel Rhodes.
Look at This List For Proof of Klopp's Miracles With Liverpool by Paul Tomkins
Thursday April 12th:
Liverpool FC's Expected Goals: Alright At The Back? by Andrew Beasley