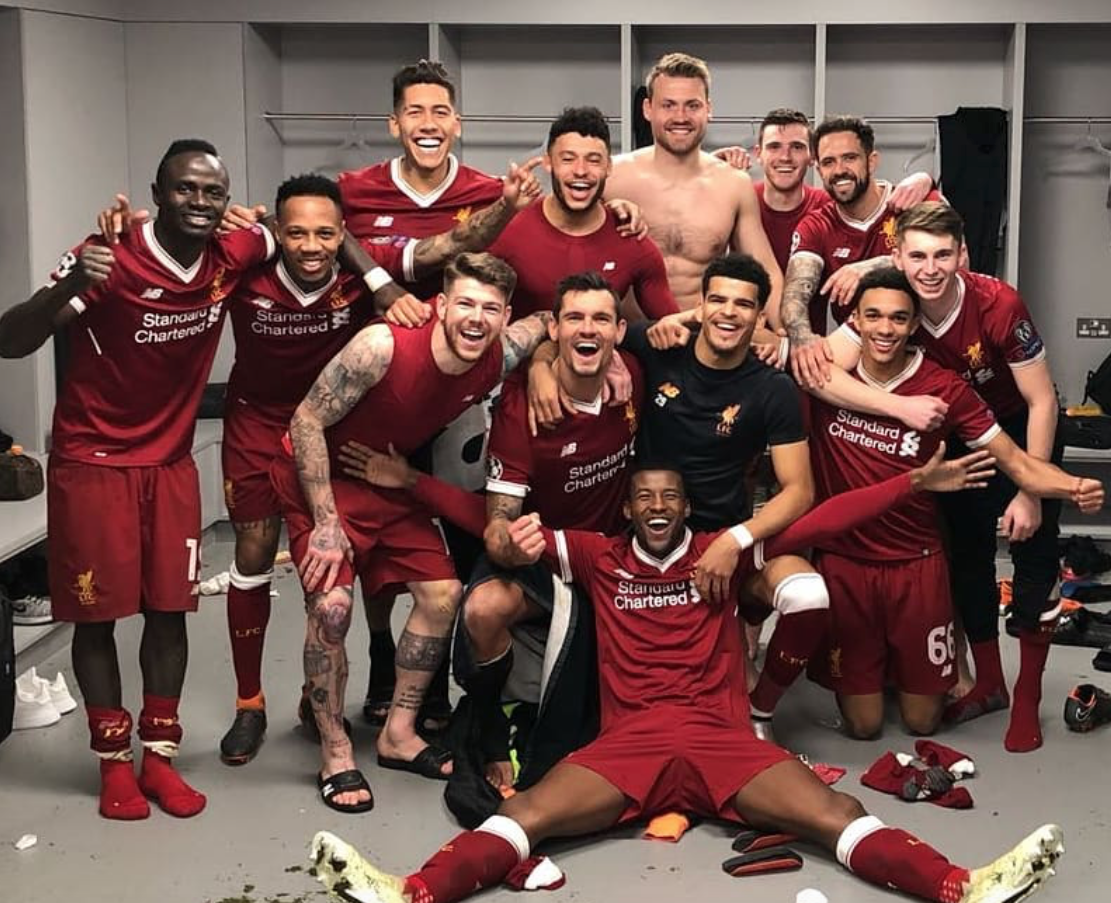 To be honest, I thought Liverpool would struggle tonight, and in fairness the first half confirmed my worst fears. Liverpool got lucky with the disallowed Man City "offside" goal, but I thought Raheem Sterling had clearly barged into Virgil van Dijk's chest at the moment the Dutchman had only one leg on the floor (as he was kicking the ball). That said, having moaned about English refs, this ref was a bit of a law unto himself.
But for Liverpool to beat Man City 5-1 over two legs, winning both games? And deservedly so? That's a mauling. Liverpool have beaten City for the third time in 2018, and it's only April. And make no mistake – this is a great Man City side. It's even more remarkable after City scored within two minutes.
So, let's run through a few things that made Jürgen Klopp's work at the club so miraculous. This was the Reds 12th game in the Champions League this season, and the number of defeats? None. None! Just wait until Liverpool play someone decent, the critics said. Okay, satisfied now?
Apparently the following were all true as of just a handful of months ago; go back to August. Some of the following were strongly held beliefs as recently as January or February. Three or four were strongly held beliefs this time last week.
Liverpool can't defend, and Klopp can't organise a defence. Cue: total turnaround of defensive record. Even with defenders out injured and the two first-choice central midfielders out, the Reds can still defend.
Roberto Firmino – can't score goals. Cue: breaks club record for goals in European Cup in a season (nine!), and has 24 in all competitions.
Mo Salah – Chelsea reject, overpriced at £39m. Cue: 39th goal of the season. THIRTY-NINE!
Alex Oxlade-Chamberlain – Arsenal reject who can't score, can't pass, can't do anything. Cue: a crucial role in the first leg victory and incredible pace, stamina and some skill too over both legs (tonight was mostly his running, but hey, he's good at it).
Dejan Lovren, a walking disaster zone. (In fairness, I've said this one a few times in the last four years.) Cue: turns out the man is a rock. He just needed a good partner.
Loris Karius, couldn't catch the plague in 1665. Cue: imperious form and calmness, and a series of top-class saves in the last two months.
James Milner, ageing talentless journeyman who can't play in midfield anymore. (In fairness, I've said that last part – about him being in midfield at his age – a few times in the last two years.) Cue: sensational renaissance. And people said he was boring!
Andy Robertson, Hull? Hull? Why the fuck are you buying cheap players from Hull, etc etc? Cue: one of the bargains of the season, the decade, the millennium. Looked good at Hull, but my word, he's gone up two or three levels at Liverpool.
Gini Wijnaldum, goes missing in away games, a passenger. Cue back-to-back monstering of games in midfield away at Everton and away at Man City. Boom!
Trent Alexander-Arnold – can't defend, shown up by quick wingers, and not ready. Cue: two games to shut up the shop on Leroy Sané. (It was clear TAA would be a top player in a year or two, but these two performances were remarkable. Imagine him aged 21/22?!)
Jordan Henderson – slow, sideways passer who does nothing. Cue: he didn't play tonight but in the first leg he snuffed out Man City's fire time and again, and as the club captain has taken Liverpool to the Champions League semi-final.
Which leaves just about Virgil van Dijk as the only player everyone said "Yeah, he's boss".
Oh, and Philippe Coutinho, but he left in January; and although he couldn't play, his team faced the same challenge of Liverpool – the nerviness of being three-goals up and trying to hang on in there when it starts going against you (which they of course also did to PSG in overturning a 4-0 deficit). It's not that Liverpool haven't missed Coutinho – it's that the team has actually got significantly better that is mind-blowing.
Klopp has been at Anfield for less than three seasons and he's already in his 2nd European semi-finals. Indeed, the team he inherited was so far off the pace that there was no chance of even being in Europe in his second season (bar beating Seville in the Europa League final). It's an incredible record. Tonight Liverpool reached their 18th European semi, and he's accounted for 11% of them! He's 100% on that score so far – two European competitions and in with a chance of reaching the final in both.
…Want more? Then subscribe for the second half of the article, as I highlight just how far the Reds have come in 2.5 years, and light up the metaphorical cigar…
[ttt-subscribe-article]