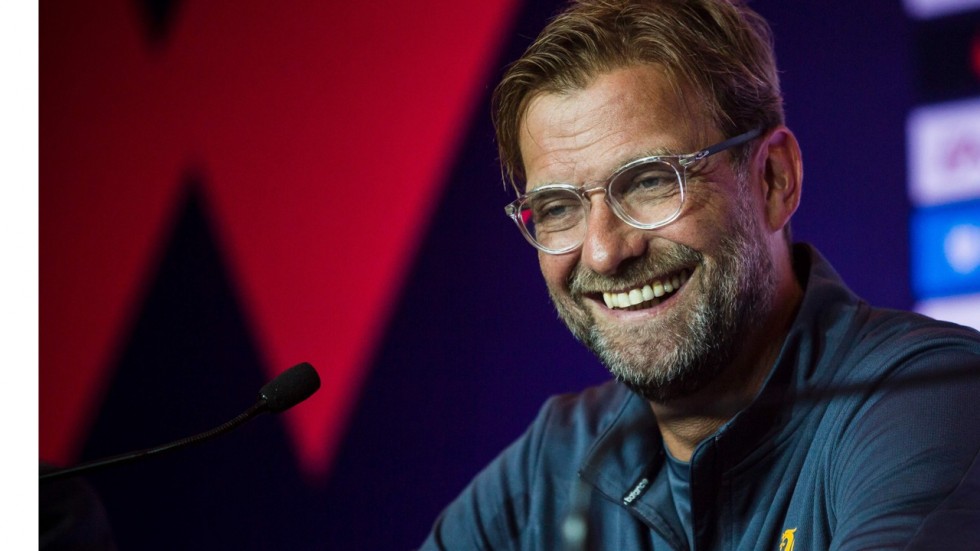 Okay, this is getting a little insane. I'm hearing more of people thinking that Jürgen Klopp has to go, that Liverpool are going backwards. This is lunacy.
Comparing Klopp's tenure with the whole of Brendan Rodgers' doesn't look so great for the German; there's not much between them, at 50% vs 51% win rate.
But Klopp didn't inherit the swashbuckling side of 2013/14; he inherited the side of 2015/16, a team that had just shat out a measly 11 goals in 11 games, winning just three; and which, in the two games beforehand (at the end of 2014/15), had shipped 9 (NINE!) goals to Crystal Palace and Stoke City. That's six conceded at Stoke, and three at home to Crystal Palace and three more at home to West Ham in a short space of time, all of which were lost. Suddenly, shipping three away to one of the best sides in Spain, and getting what at the outset would have been a creditable draw, equated to this kind of garbage?
(And in fairness, I was defending Rodgers, based on what happened 2013/14, up until the 6-1 at Stoke, where alarm bells rang loud and clear. I calmed down, to see if the new additions would improve things, but they didn't, and losing 3-0 at home to West Ham was the final straw for me.)
Klopp inherited a team which had scored a very average 74 goals in the 58 games of 2014/15, with just 52 in the league; and just 85 goals in Rodgers' final 69 games across all competitions, barely more than one a match.
Klopp inherited a side that wasn't scoring and wasn't defending well. The Reds average almost two goals a game under the German, massively up on what he inherited, even if not as mental as the Suarez-era Rodgers' side. (But that was once-in-a-blue-moon football.)
Liverpool scored 78 last season in the league alone, and are on course for 73 in the league this season, and have already scored 22 in seven European games.
Had Klopp inherited Sterling, Suarez and a fit, super-speedy Sturridge, then this might be different. But he didn't, did he?
Had Rodgers been able to retain those, then things might have been better for him, too; but he replaced those with his choices of Rickie Lambert, Mario Balotelli, Danny Ings, Adam Lallana (who has improved under Klopp but still isn't a big goalscorer), and Christian Benteke.
Rodgers started slowly in 2012, his first six months under par, after messing up the whole transfer window; which cost him that privilege, which in turn led to the committee, which led to Coutinho and Sturridge arriving, and things getting better.
Then Rodgers had a good six months, followed by a great twelve months. What a season that was! All kudos to him, as I've said many times; yes, the defence was poor, but as with Klopp, look at the points, not the goals against. If the PPG is good but the GA isn't, who cares? Since when has Goals Against been more important that Points Per Game?
But then it all fell apart. It clearly fell apart.
As noted, Jürgen Klopp did not inherit Luis Suarez or Raheem Sterling, nor a fit Daniel Sturridge; nor did he get Steven Gerrard in his majestic final flurries (as seen in 2013/14, in a deeper position, before he melted). Daniel Sturridge being injured was part of the reason Rodgers lost his job, but was part of a problem for the German too – Sturridge is not the player he was, and Rodgers did not leave sufficiently good alternatives. (Only since Klopp teamed up with Michael Edwards has the Reds' transfer record looked impressive. And as I've been saying for over a decade, don't look at the cheap squad players you think are flops – look at the signings who make a big difference.)
In other words, bar Philippe Coutinho, Klopp inherited none of the attackers and creative sparks who made 2013/14 so special. (Sturridge was still around, just not as good.)
Instead, the German inherited the duds who weren't firing under Rodgers, plus Danny Ings, who has barely played in Klopp's 120 games (a few minutes in one match) due to two cruciate knee injuries, which would end most players' careers (and who, with three goals before his injury, wasn't exactly Mo Salah).
So to say that Klopp hasn't fixed the defence is to ignore that both the defence and the attack was broken or absent when he arrived. People talk like it was just one thing that needed fixing.
The goals had dried up for a full 15 months. You may forget that, but it's true. My previous piece covered some of the reasons why we might forget where we've come from, and how we fail to assess things properly.
In Rodgers' final 21 games, 31 goals were conceded, and just 21 scored. That's what Klopp inherited. A team that, in those 21 games, lost 4-1 at Arsenal, 6-1 at Stoke, 3-1 at United, 3-1 at home to Palace, 3-0 at home to West Ham, and 1-0 away at Hull; as well as drawing 1-1 at Anfield to Norwich and Carlisle United. That's all within Rodgers' final 21 games, or roughly half a season of football.
Rodgers didn't lose his job because his overall win percentage was 51%, just as Rafa Benítez didn't lose his job because his overall win percentage was 56%. Benítez lost his job because his final season was seen to be under par, as the Reds slipped to 7th, albeit with a reasonable 63 points.
Rodgers lost his job because he was bringing in substandard players, ignoring committee buys (like Roberto Firmino) and not winning enough football matches; indeed, far too many matches were lost towards the end. By the end, the Reds were losing one of every three matches, often by large margins to poor sides.
To say that Klopp hasn't improved upon what Rodgers left is the biggest pile of steaming horseshit I've seen in years, and I once saw Joey Barton play in the flesh (which now crawls at the thought).
The stats are frightening, in terms of this argument, and how people can even be thinking of parity.
To look at what Rodgers left behind – and not what he had in 2013/14 – we just need to look at his final season-and-a-third (when the wheels came off), and compare it to Klopp's two seasons to date. Yes, this doesn't include Rodgers' best season, but as stated, that wasn't the situation he bequeathed (and it also doesn't include his difficult first six months, when his win percentage was also poor).
We can take Klopp's tenure as a whole, as it's still fairly short in itself, but let's compare it to how Liverpool were performing for the (pretty significant) sum of 69 games – dating back to the start of 2014/15 – before the German took charge.
50% win rate in Klopp's tenure to date, 120 games.
20% of games lost, or exactly one-fifth
42% win rate in Rodgers' final season-and-a-third, 69 games.
29% of games lost, or almost a third. (A THIRD!!)
So, Klopp has performed 19% better in terms of wins, and 33% better in terms of avoiding defeat, in the 69-game vs 120-game samples.
Then, a specific focus on the period that cost Rodgers his job; which was essentially his final 18 games, but we'll extend it to 21, to be kind to him, as the Reds have played 21 this season.
48% win rate in Klopp's most recent 21 games (i.e. this season)
14% of 21 games lost (3), or exactly one-seventh.
29% win rate in Rodgers' final 21 games.
33% of final 21 games lost, or exactly a third. (A THIRD!!)
Klopp has performed 66% – SIXTY SIX PERCENT – better in terms of wins in his most recent 21 games (which were far tougher on paper) than Rodgers did during his final 21 games. (His final eighteen games, starting with the horrible FA Cup semifinal performance versus Aston Villa, saw a meagre 22% win rate, which is more than twice as bad as the current run. That's one win every five games.)
Klopp has performed 42% – FORTY TWO PERCENT – better in terms of number of defeats in his most recent 21 games, including seven in the Champions League, than Rodgers did during his final 21 games, which contained no tough European games.
But hey, why don't I compare Klopp's latest 69 games with Rodgers' final 69 games, just to be utterly fair?
Well, Klopp's win rate then rises to 54%, against Rodgers' 42%.
And Klopp's defeat percentage drops further, to 19%, compared to Rodgers' 29%.
In other words, Rodgers' last 69 games – post-Suarez – had the same all-competitions win rate as Roy Hodgson managed at Liverpool; while Klopp's most recent 69 games are almost as good as Rafa Benítez's all-comps record with the Reds (54% vs 56%, with 56% the best for any Liverpool manager since 1990).
These aren't arbitrary figures either; these are the periods that cost Rodgers his job – his final 69 games, and then focussed down to the dire final 21, where, rather than turn it around, things got terminal.
So, Klopp's last 69 games blow Rodgers' final 69 games out of the water, and the most recent 21 games are an even bigger victory for Klopp. This is progress. This is moving from what Rodgers left to what Klopp has created.
Also, Klopp's most recent 60 games are better than his first 60 games, and both are better than Rodgers' final 60 games. And you're telling me that this is the endgame, like it clearly was with Rodgers? What the fuck is wrong with people?!
Also, Rodgers' final eight league games also contained only two Big Six league clashes; or one every four games, meaning slightly more than average were left that season after he went, for Klopp to inherit.
Currently Klopp's 13 league games this season have included five Big Six matches, or one every 2.6 games; plus four games against top four Spanish and German sides. So his recent run is insanely above-average in terms of difficulty, as I've pointed out on here countless times lately. (Liverpool are currently third in the adjusted Premier League which ranks points in line with match difficulty. It's not perfect, but it reflects the fixtures faced. See previous articles on TTT for how it was a better predictor of last season's final table after nine games than the actual league table was after nine games.)
Now, Rodgers faced the toughest two cup games the club has encountered since the end of 2013/14, with two ties against Real Madrid. In addition, a further two against Chelsea in the League Cup semi-finals were tough too; leading to three defeats and a draw. Otherwise, no major opposition faced, and therefore just four matches against teams to recently finish in the top six of Europe's three major leagues.
However, in the cups, Klopp has faced two games against Borussia Dortmund, two against Manchester United, three against Sevilla, two against Hoffenheim, two against Augsburg, one against Manchester City, one against Spurs and two against Villarreal.
That's 13 cup matches against teams to recently finish in the top six of Europe's three major leagues (although many of these are not within Klopp's most recent 69 games). The Reds only lost two of those 13 games within normal time (a third on penalties), winning over half.
Also, Liverpool are simply playing more cup football under Klopp, and cup football takes its toll on league form, as I've shown in the past with a study that covered many years' worth of data. In part that's why he's already managed the Reds for 120 games in such a short space of time. Rodgers' win percentage during times of consistent cup football was far worse than in his one "free" season, 2013/14; his one good season was with the Reds out of Europe. (Look at Everton, getting into Europe, spending lots of money, and then switching to a gutsy Evertonian, and it all stinks. To play so many games takes some doing. As does buying three no.10s when you already have a no.10, but hey ho.)
So within these improved win percentages for Klopp is also the factor of greater difficulty of cup opposition overall, with league opposition hard to differentiate (other than it seems that the Big Six are getting better, as their results in Europe reflect; and the fact that Manchester City are taking the game to a new level should not be held against Klopp).
Liverpool are competing in the Champions League, and competing for the top four. That's a massive step up from getting battered by Stoke, Crystal Palace and West Ham, having been dumped out of the Europa League.
This is a free piece, but subscribe for the sensible conversations, lots of paywalled articles, and/or buy our latest book here. Please feel free to share our free pieces.
Additional info:
Rodgers' Cup Opponents in final 15 months
AFC Wimbledon
Aston Villa
Basel
Basel
Besiktas
Besiktas
Blackburn Rovers
Blackburn Rovers
Bolton Wanderers
Bolton Wanderers
Bordeaux
Bournemouth
Carlisle United
Chelsea
Chelsea
Crystal Palace
Ludogorets Razgrad
Ludogorets Razgrad
Middlesbrough
Real Madrid
Real Madrid
Sion
Swansea City
Klopp's Cup Opponents in full tenure
Augsburg
Augsburg
Bordeaux
Borussia Dortmund
Borussia Dortmund
Bournemouth
Burton Albion
Derby County
Exeter City
Exeter City
Leeds United
Leicester City
Manchester City
Manchester United
Manchester United
NK Maribor
NK Maribor
Plymouth Argyle
Plymouth Argyle
Rubin Kazan
Rubin Kazan
Sevilla
Sevilla
Sevilla
Sion
Southampton
Southampton
Southampton
Spartak Moscow
Stoke City
Stoke City
Tottenham Hotspur
TSG 1899 Hoffenheim
TSG 1899 Hoffenheim
Villarreal
Villarreal
West Ham United
West Ham United
Wolves