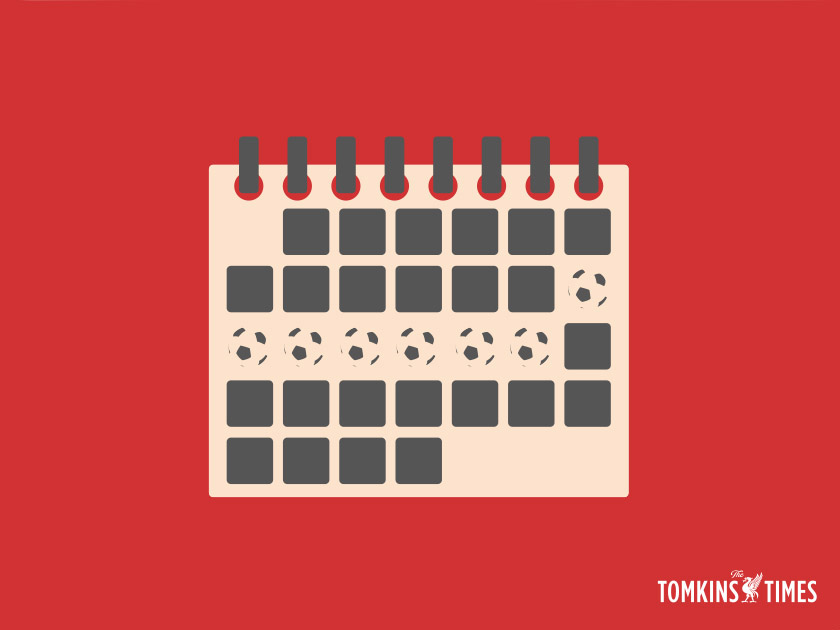 Posts selected by Daniel Rhodes.
1 – Jeff with some perspective on the Reds' position after the Leicester City game:
Where are Liverpool in the League table this morning? The answer is in 5th because of goal difference. If you are in 5th after 5 games and with 33 to go, is the season over and Liverpool out of the running for a top 4 spot in the league at the end of the season or actually winning the league? To any sensible person the answer is NO. The degree of negativism surround Liverpool this season just makes no sense.
This season have Liverpool put their best 11 on the pitch in any match? The answer is no. How can I say this? I think everyone would agree that Liverpool's best starting 11 would contain both Coutinho and Mane and Liverpool has yet to play a match where both of these lads were ready to go from the kickoff.
Sometimes in this world you have to accept reality whether you like it or not. In the case of the Premier League, the quality of the officiating is abysmal and sadly nothing is going to change this reality. The powers that be in  the FA do not see this problem and  the Premier League does not see this problem so as I just wrote nothing is going to happen to improve the quality of officiating.
My memory is decent but not perfect. Years and years ago John Henry said he never paid any attention to what was said on WEEI which is the sports talk station in Boston. Why? He said that there was no point in listening to commentators who would never be happy with the Red Sox nor would they ever be happy with John Henry as an owner and in fact they had no clue what they were talking about. On this point, Boston talk radio agree with the premise that after one game in the NFL season that Tom Brady's career was over. Now, the same people that said this praise Tom Brady and forget what they said only a couple of weeks ago. I am one of those who is prepared to give Henderson and Sturridge a chance to come back from injuries as I said last season that Phil Coutinho needed time to come back from his injury problems.
Voltaire famously credited with the following quote "Perfect is the enemy of the good." Has this season be perfect so far? No On balance, has Liverpool performed reasonably well? The answer is Yes. Does this satisfy seemingly a large number of Liverpool supporters and commentators? NO.
2 – Seamus follows on with some more context relating to Liverpool's position this season:
A couple of key things I've seen floating around the Web the last couple days that I thought were cool to share:
– Relative to the same corresponding 6 fixtures from last season, we are 1 point to the good. Last year, from the exact same fixtures we had 10 points and this season we have 11. I know that fixtures flip flop all the time, and we got handed a few interesting challenges (Red Card (A) vs City, a new look Watford with a capable manager in Silva – I REALLY like the look of Richarlison, Intense two legged tie vs Hoffenheim handcuffing our first few games when others only had to focus on the PL), and I think by coming out 1 point better off than last season, that's great. We will see more losses against the top 6 sides, I reckon, or at least more draws, but I think we will put away more of the 'lower' sides. It balances and we need to remain balanced as fans and look at the whole picture.
– People keep banging on about our defence, which has admittedly been frail at times, but I feel a little hard done by the total number of goals. 2 goals against Watford, offsides. 4 goals for city, after a red card. 1 goal against Leicester a clear foul on Mignolet. To be frank, I think we would have conceded another goal or 2 against city, but honestly to think that at least half our goals conceded are marred by some controversy is insane. VAR needs to be a thing in England. It just does.
– Our attack hasn't been at it's best. I said it. Our attack can be significantly better than it has been. No Coutinho all season, basically, no Lallana, Salah finishing modestly, Mane suspending for 2 league games, or 1/3 of our season and Clyne has been injured. First things first, personnel wise, it will be exciting to see our 'Fab Four' as I've seen them labeled all in the same XI. I also am of the belief that they have been playing to 75% of their devastatingly obvious quality. Salah should be on a brace a week, Mane the same, and Firmino has had ample opportunities. Furthermore, we've done all this without our Presser in Chief, Lallana, who indirectly creates more goal scoring opportunities than ANYONE else in our squad. His pressing is impeccable and when he wins the ball high up the pitch, with Salah, Mane, Firmino and Coutinho streaking, it's going to be goals galore. Another understated piece of the puzzle regarding both defense and attack, but in this instance attack, is that Clyne has been out. We all know what he brings to the table defensively, he's so solid, a tank, and a consistent 7/10 for me every match. His defending usually a 8/10. What his presence alone will do is solidify the right side so much. This ultimately means that Salah will be freed up from tracking back AS MUCH as he has because the security of Clyne is consistent. If Salah has to track back less because Clyne is simply just the superior defender to Gomez or TAA at this stage of their careers, then he'll start in better starting positions.
There is so much for us to be positive about as fans, and we should step back and reflect. If this is our 2017-2018 equivalent to last years January (where we also missed a few starters, had lots of fixture congestion and a number of match ups), then I am thrilled to only be 5 points off the boil and top of our group in CL. While I totally agree that we have played reasonably well @Jeff, what's encouraging to me is that we haven't really shifted out of 3rd gear (let alone getting to 5th gear). We are still finding our feet a little bit and haven't showed that devastatingly good brand of football we can play (Ok, maybe Arsenal and Hoffenheim, but we could have played EVEN better there too!). And finally, as I've said before, the ref decisions/bad luck is annoying as hell, but by simple law of averages it will even out at some point. We can't carry on the whole season getting hosed by bad calls/no calls. In fact, we'll likely have some controversial moments that swing in our favor. WHile I love having those moments for the banter, I'm sick of the controversy. Settle it once and for all and bring VARs to eliminate these discussions and keep the game fair. Here's to a huge game in Russia (good luck and wishing safe travels for the those attending in Moscow, please do stay away from trouble) and following that a massive game against what will likely be a very tight, Rafa Benitez Newcastle version of a bus.
Onwards and Upwards, Reds!
3 – Paul on red herrings and Achterberg
For me, Achterberg is the great red herring in all this. For starters, he only became a first team coach at LFC in 2011, so he basically had a year or two with an already-deteriorating Pepe Reina who lost his mojo under Hodgson's coach Mike Kelly.
Klopp rates Achterberg very highly. His work ethic is second-to-none and I like the way he used NFL pads to toughen up our keepers on crosses. And Mignolet reached his best form in English football late last season.
Reina's career has been back on track more lately at Napoli but he had about four years in the wilderness. But Mignolet was never a world-class keeper, so he hasn't really altered him – just that Migs has been under far more pressure at LFC, as keepers are. Ditto Karius, who left a secure environment for a new one and struggled – what I call Shaun Wright-Phillips Syndrome. He played a season for Mainz 05 II, then three seasons for Mainz 05. He was eased in. Low-pressure as no hype surrounding his arrival, less pressure as not a big German club. And a native, obviously. (He spent some time at Man City in his teens before that, and played for their U21s aged 18.)
The great conspiracy theory that dogs goalkeeping coaches is that you can never judge a lot of their work, a) as you don't see it, and b) because there's just one player in the team at any one time, and c) that player may have been nervous or had a brain fart. A coach can't make the saves for the goalkeeper. If a goalkeeper drops the ball, is that through bad coaching or just one of those things? If a striker misses an open goal you wouldn't blame the coach. Brain farts happen. For instance, we know Karius is good with his feet but every game he seems to get caught in possession, and that can be from trying to be extra certain of his touch as he's nervy, not sloppiness. He's also not getting any reserve games, as Grabara is the U23 keeper, and as noted above, he's hardly had a decent run – it's been a few games, then out of the side. Coming back in for one game is never easy, just as it's not easy for Daniel Sturridge with bit-parts, but then Roberto Firmino has merited his place in the side (last couple of games aside).
That said, if a keeper's technique is wrong in lots of ways, and not improving, then you have to look at the coaching. But so far, Achterberg has only really worked with a decent PL keeper when he arrived (Mignolet) and a promising German youngster, plus a disillusioned Pepe Reina. You can work on concentration with a keeper but if he is prone to lapses, you can't do the thinking for him. And so on.
4 – Peter Neall on Roger Bannister, Liverpool and strength of mind:
All the evidence is that we are doing things right – we get shots in, we limit them to few shots, we dominate play, we …. And yet time after time we come away with less than we are told we 'deserve'. The story we are being told, and others are accepting is that we cannot defend, that the other GK always play a blinder against us and that officials are 'agin us'. That thought process may even be true but it will not give us any succour and it will give succour to the opposition and that worries me more than dropping the odd points, I remember the words of Shanks 'We are building a fortress, a bastion of invincibility..; and he did! Now musing back to the 'story'  once is unlucky, twice is a coincidence, three is a pattern and four is a habit.
Breaking patterns and habits is hard because the mind is already asking the wrong question, 'is this possible? Now everyone and his wife are saying 'Liverpool – here we go again' 'That upsets me, I am not being made happy, as per Shanks job description, and I want to know what I can do to change things so we deliver what we are capable of, and the first thing that comes to mind is simply this – change the story.  Bannister's greatness was not his mile running, which was pretty good, it was his mind which was awesome. He saw that a record could be achieved in less than ideal conditions by going for it with a workable plan executed to perfection. The after shots of him that world breaking day were not pretty but the time was. Shanks was similar, he saw a sleeping giant and woke it with a poke.
Now Klopp somehow has retained the mantle of a winner despite not having won a final, mmm. He keeps his mystique despite not quite meeting expectations. His players improve but so far have not delivered what is expected of them, am I being harsh or that dreadful word, realistic? So what is now the story that needs to be told which is true and inspires and not 'marketing speak or positive bullshit' which manipulate and even lies.
I begin with simple statement = we are Liverpool, not any old club, not someone who got lucky once, not just a club, Liverpool – an institution, a bastion, a place where dreams are born and songs are sung. We have socialist principles of the real kind, the club exists by and for its players, its non-playing colleagues and supporters, they are ALL a part of the whole. To be Liverpool is not to be a supporter or a fair-weather fan, it is to support all that is best in our values, our way of playing and our dreams. Pragmatists and cheats have no place here, which is why Hodge failed. We are a place for practical dreamers who both dare to dream and who are willing to do what it takes to build that dream even when it hurts. One or the other is not enough, it needs dreamers who can do the actions and practical players and colleagues who can dream, really dream.
Football is not a job, it is a calling. It is not another day at the office it is a prayer at the cathedral. It is a song to the heavens and a smile in the face of challenges and adversity, it is a game, a thing of beauty, a thing of joy and a thing of transcendent effort. The business model has made dour a plaything, a thing of joy and beauty, and that is unacceptable. Klopp's face, demeanour and approach are bringers of joy which is why he understands us, and us him. We are both lucky to have met and to be together.
This story means that losing has its place as a teacher, losing honourably to 'divine enemies' is acceptable. Justification demeans the players and the club, we need no justification, we are Liverpool. Losing dishonourably is not acceptable, cheating is not which is why some managers could never come to us and be accepted, winning should be glorious or it is not winning.  The business is essential as it supports, supports not replaces, the dream. If money is, as it is for so many,  the be all and end all of the new generation of football then it is time for me to leave. We exist as a club, as a team in order to lift the spirits of the place, the City, the dreamers who dared say'Liverpool' when asked their team.
Our story is that the world of football changes for the better every week we are in it. Now lets go play!
Begin by understanding that narrative, then like F (I will not write his name) put pressure where it can influence, comment on how cheating is killing football, demand video replays and a video referees, encourage referees being recorded as they speak. Use the best example from Rugby.
Give tickets that are conditional on singing! Put group of singers together so they can lift the ground.
Put the players in with real live fans, who pay, who travel, who sing, who live LFC. Get them to know the difference to the community of a win or not. As a supporter you have a role, not to watch but to support, not to criticise but to encourage, not to moan but to inspire. The players are young, educate them in the ways of Liverpool, of sharing, of love, of inspiration. Let them see that something very special is being built here, something that they, and we, want to be part of.
Being Liverpool is a dream bigger than all of us and we each carry a piece in our hearts, our bodies and our minds. To bring it to reality we share it, grow it and sing it.
5 – RoboKlopp on the fairness and distribution of luck:
Madchen – one thing I meant to add; the notion that "luck evens itself out in the end" is one we all hear over and over – me personally, I don't think it necessarily does, not in a material way anyway. And that's totally ok – it's just a symptom of chance itself.
Let's say for example we analysed referee decisions, purely in isolation, which were deemed correct or incorrect for every team in every moment. By the end of the season we might conclude that luck evened itself out. But it doesn't work that way in reality. What if one team's lucky decisions in favour of them didn't influence the results of their matches because they happened to be 10-0 up already whenever they got these decisions? What if another team only ever got lucky decisions at a time when it earned them 1pt or 3pts? What if these lucky decisions happened at the end of their games when it was too late for the opposition to reset the scales? What if one team gets all it's luck at the beginning of the season, which gives them the strength and resolve to overcome bad luck later in the season? What about considering things like form & your opponents own surrounding fixtures in the fixture schedule; are you really all just playing the same 38 games or does the timing of each fixture matter and eventually reach a different sum?
The luck is even, but it's not equal. In my opinion, the key variable is the timing.
(in poker, talking about knockout tournament format specifically, the impact of early luck in "flips" and all-ins can give you an enormous advantage. By having a chip lead, you can actually afford to get pretty unlucky for a while and still be in the game, while the ones who lost to you are already out. You can also start to play a riskier game that you otherwise wouldn't play, and this, in turn, leads to "luckier" situations you might not otherwise be able to afford to stumble across. Of course, the art of a poker player is knowing this (not necessarily changing it). The best players will leverage early luck, and the worst players will squander it. If you don't get early luck (or any luck at all), sometimes you can be out of a tournament without setting a foot wrong.
For what it's worth, I think we've been a bit unlucky with decisions, but yet we sit here in 5th only a few points off the top. If we get a little bit of luck in the next two games (i.e. inc against Utd), imagine how pissed they'd be that despite our "shaky start" and after the kindest fixture schedule I've ever seen in my life (for Utd) they might only be 2 pts ahead of us! Now that would be lovely… I think we've rode our luck well.
Articles published this week:
Monday 25th September:
Spartak Moscow | Champions League Preview by Daniel Rhodes
Liverpool and Klopp Ruin Media Narrative by Paul Tomkins
Tuesday 26th September:
The Secret Pundit Takes on Commentators: 'He Can Do That' by Per Dantic
Wednesday 27th September:
Champions League Post-Match Analysis by Daniel Rhodes
Thursday 28th September:
Steve McManaman, Nuclear Reactors and Media Narratives by subscriber ab248