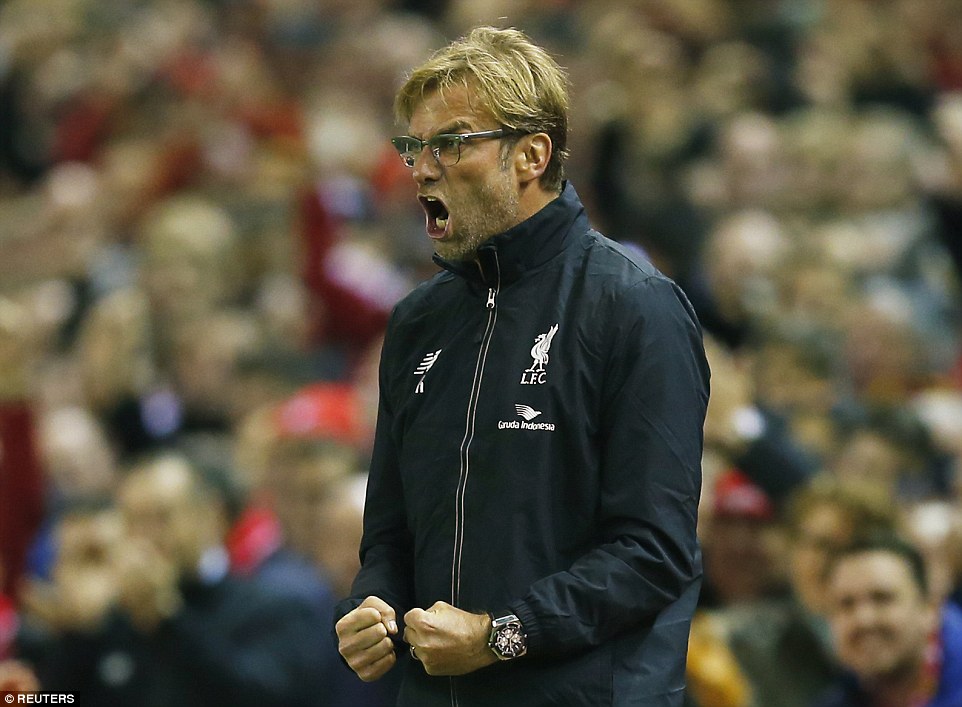 Read The Article, Not The Headline
First, a quick explanation about my article from the end of last week, "Why Liverpool Must Give Klopp The Sack". The über-heavy irony ("the expression of one's meaning by using language that normally signifies the opposite") of the title was explained within the opening paragraph, and the article – 5,000 words of analysis – certainly wasn't "clickbait", as, to me, clickbait has nothing of substance when you click on it. It's empty, hollow.
Also, my clear aim was break out of the echo chamber and get people who wanted Jürgen Klopp out to read a rational defence, as they were unlikely to read "Why Klopp Must Be Given Tons of Time and Patience". I found it hilarious that an Anti-FSG group, which frequently attacks me because I try to be fair to the owners, posted it on their Facebook page (which I only saw as I got an alert about it). Look at the comical reactions below, which sums up a kind of blanket ignorance, until someone called Joe stepped in to ask nothing more sinister than if anyone had actually read the piece (his reply was later deleted).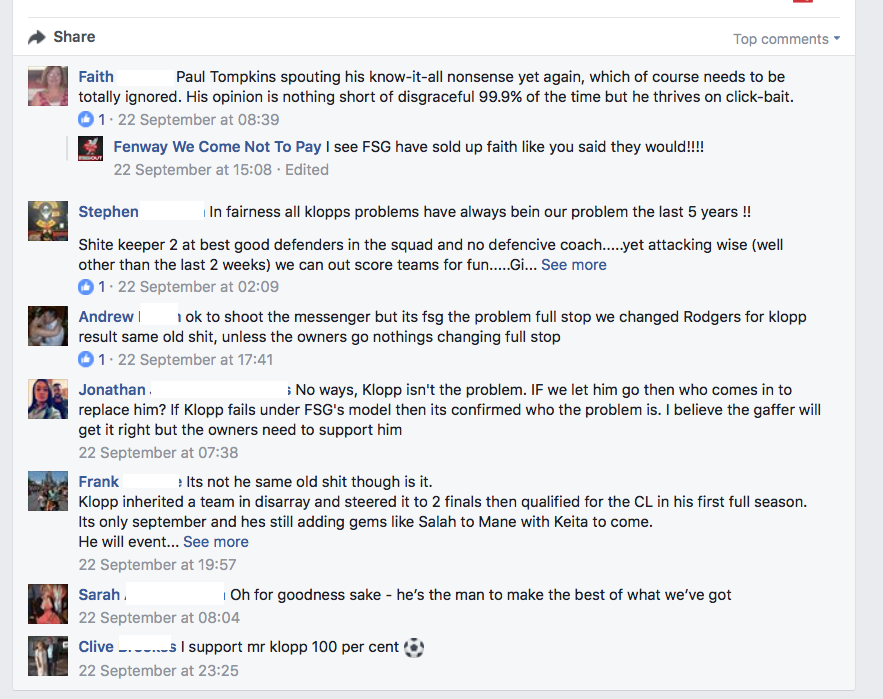 Of course, the trouble with an ironic headline is that, as shown above, reactionary people don't read the articles. They get wound up by the concept, not the truth. And I do understand that we don't all have time to read the deluge of articles that come our way. Still, people comment without having read them, which seems like dismissing a song you haven't heard because you don't like the title. (Although if the title of the song is, say, "I Want To Sodomise Dead Dogs", then you may be wise.)
As such, I'm slightly uncomfortable with the idea that people were seeing the headline pop up on social media timelines and concluding that a growing number of Liverpool fans want Klopp out – because they weren't going to actually bother to investigate the words. I want the opposite of the circus at Arsenal, where it's hard to tell if the team is struggling because of the constant negativity about the manager, or if the constant negativity is because the team is struggling. It's probably a bit of both, although the rumblings whenever Arsenal drop points – certain when they did so a few years ago – becomes a kind of self-fulfilling prophecy. The players are under more pressure in every single game, and that's not conducive to good football. As soon as fans reach that stage with Klopp then both the fans and the players are edgy, awaiting the first mistake before the vitriol pours down.
Outrunning stupidity is hard, as stupidity runs fast. The good news is that victory at Leicester eased some of the ludicrous pressure Klopp has been under. As someone noted on here during the match, Jordan Henderson's goal was a five fist-pumper for the manager.
It was a horrible game, with what I felt was horrible refereeing, played on the "must-win" knife-edge, with the cosh to the head of the home team's tactics. At times it turned into an ugly game of head-tennis, with Leicester launching it in the air and giving Liverpool players no time to bring it down, so all they could do was head it back. But after two undeserved results – both Burnley and Leicester in midweek should have been victories (certainly by the xG models) – it was rewarding to get over the finish line with the three points, by hook or by crook. I can't recall many games I've been as glad to see end, nor as many expletives aimed at one opposition player as those I spewed at Jamie Vardy.
The Good News
Remember, the Reds haven't even fielded their best XI yet this season. And I'm not talking about the marginal difference between, say, two right-backs or two holding midfielders; or the negligible difference in quality between, say, Adam Lallana and Gini Wijnaldum.
While Liverpool have a reasonably big squad with some extremely good young players emerging, it still costs roughly half, after inflation is taken into account, of both Manchester clubs. It still lags way behind Chelsea. (Lo and behold, the current top three, now that all managers are settled in.) That's the financial reality. And there hasn't been the Champions League in recent seasons for Liverpool to justify (and fund, and placate) a bigger squad.
So depth will be a bit harder to find than at the Rich Three. Therefore, having everyone fit and firing is arguably a bit more important than for the über-squads; although all teams lose an edge without their elite players. Would Man City have had such a good start with three games without both Sergio Aguero and Kevin de Bruyne? (with Aguero sent off early in another). Would Man United be top of the league without Romelu Lukaku? These have good deputies within the squad, but no one else who can quite do what they do. So, for Liverpool to have all of its X-factor players makes a difference.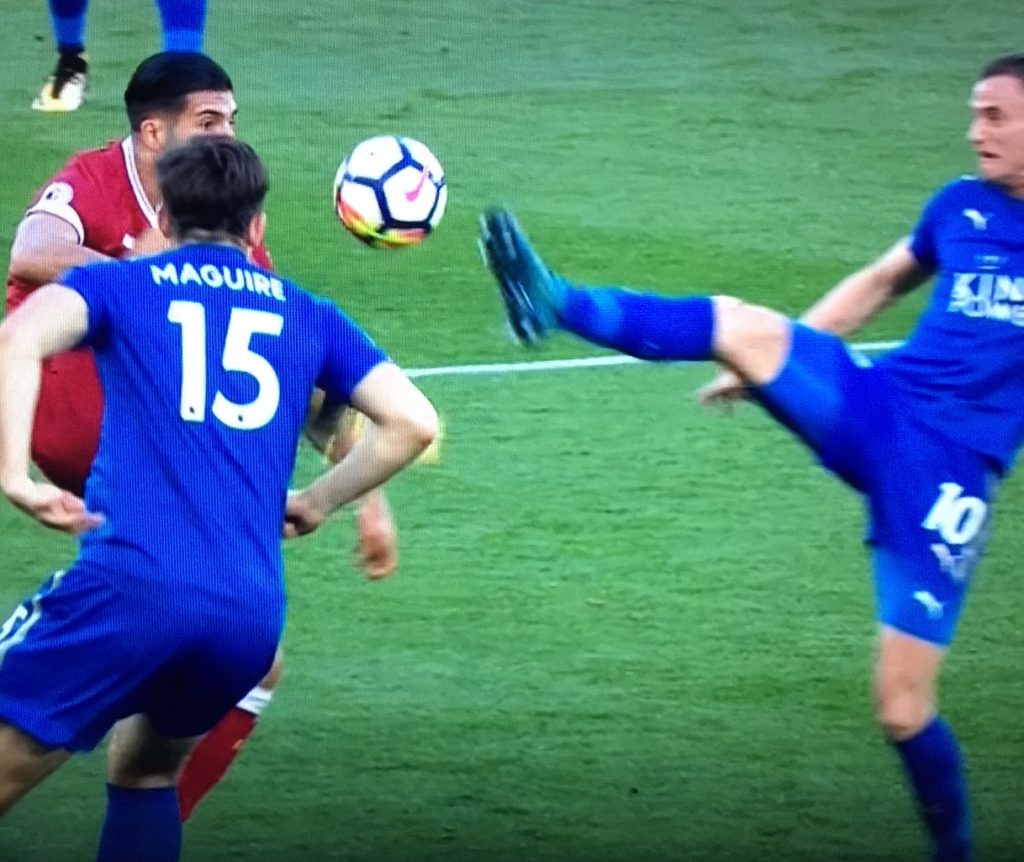 (As a quick aside here, having obliquely referenced Mané's sending off in the paragraph above in the mention of other clubs having players suspended. In the 11th minute, this happened. No booking. No red card. Now, unlike the Mané incident the players weren't running at full-speed – although can you really run at full-speed with one leg in the air, or keep up your momentum as soon as you lift one leg to stretch for a ball? – but this wasn't even the highest point of King's boot, as my TV wouldn't quite pause at the exact moment. It goes about another 6-12-inches higher. Emre Can's boot was high too, but not as high as King's. Had Can ducked to head the ball, would King have been sent off? And note, Andy King, at 6ft, is three inches taller than Sadio Mané, so presumably has longer legs that were higher in the air! In the second half, Alex Oxlade-Chamberlain was booked for a high boot, but it wasn't as high as this. Is it only a foul if a connection is made? If so, why was Mignolet penalised for catching Vardy after he kicked the ball? It all seems so random, and, so far this season, all going against Liverpool. Even though the Reds won on Saturday, my overriding feeling was one of anger at the decisions, and it was only after a night's sleep that I calmed down about it!)
Anyway, the Reds dug in and clawed out a win, at a venue that is rarely kind; doing so without Mané, and without the help of the referee.
And I maintain that this has been a very tough start to the season. A few days ago I snuck this into last week's Free Friday:
"In relation to the difficulty of fixtures this season, it's worth noting that after this weekend, Liverpool will have played seven games against teams ranked in the top 50 of the Euro Club Index, with three of those against teams in the top 13, and five against teams from the top 30.

"By contrast – and not to diminish their start, but to simply compare – Man United will have faced just one game against a team in the Euro Club Index top 50: Everton (37th). And that was at home.

The average position in the list of all Liverpool's opponents this season after the second visit to Leicester will be 51.4. The average position in the list for Man United's opponents will be 109.7, and this was being generous with Burton Albion's position, who don't actually feature (as Huddersfield were 190th I put Burton at 250th, but in reality they'd be much lower). And again, United were at home to Burton in the League Cup."
Days before that piece, I'd noted that Liverpool will have played three of other big six by league game eight, when a normal distribution would mean facing just two every eight games. Of course, Liverpool play Spurs in game nine, so it'll be four within just nine games, leaving just six more in the remaining 27 games. So that makes the rest of the season look easier on paper, but it shows that it's been a tougher-than-average start, and why there may be slightly fewer points on the board.
Also, while results against specific opponents can flip from season to season – often depending on the timing of the games (there are usually less than half of the results which stay the same) – the Reds only took ten points from the same six fixtures last season, but have eleven now. Add beating Hoffenheim home and away and drawing with Euro-specialists Sevilla, and it's hard to fathom why there was so much doom and gloom lately, other than the "must-win" hysteria that surrounds every single match, with performances suddenly irrelevant if you don't get the points? Is going out of the League Cup away against a team with Leicester's recent record such a problem? (Also, in a preseason poll I predicted Liverpool getting 11 points from the opening six games.)
Anyway, back to another kind of "bad luck" that is hopefully receding. Philippe Coutinho has only properly returned since Sadio Mané's suspension, robbing the Reds of seeing the two in tandem. (And none of this analysis will include Adam Lallana who, though not perfect, obviously adds quality to the squad, even if he probably doesn't make the XI if fit.)
Mané was Liverpool's player of the season, Coutinho is the club's most globally coveted player, and Mo Salah is the club's top-scoring summer arrival. So far, the three have been on the pitch together for just seven minutes (against Sevilla), with Coutinho clearly lacking match fitness when arriving as a late substitute that night. But Coutinho now has some sharpness and confidence, and Mané is free from suspension. And Salah is just brilliant at finding space in the box.
And make no mistake, Mané can make Salah more effective, and Salah can make Mané more effective. And both can be made more effective by Coutinho. These are the twin prongs of searing pace in the Reds' attack, with Coutinho's vision there to find them. The Brazilian's understanding with Salah was evident in preseason, with Salah surprisingly good at heading in his crosses (which he did again at the weekend), because those crosses are so accurate – and his movement is so clever, and his little legs so fast – the Egyptian doesn't have to challenge for them, merely get on the end of them. If Mané makes those amazing runs in behind back-lines, then he will attract defenders. So Salah can find more space. And vice versa.
After just a few games without a glut of goals – just weeks after scoring four against Arsenal and Hoffenheim – I was told that Liverpool need a ruthless finisher.
Well, last season, during a goal-drought, xG suggested "misfiring" Zlatan Ibrahimovic would score lots if he kept having the same number of efforts from the same positions. Finishing comes and goes, but Salah, in particular, is battering the life out of xG. He's missed a few sitters (all strikers do), but he's also grabbed six open-play (/non-penalty) goals already. A ruthless striker may do nothing all game and then grab a goal from one shot, and we laud him for it. Salah is grabbing a goal, but also forcing saves, creating havoc and setting up others. And while we consider someone like Sergio Agüero an expert marksman, he has had a far lower percentage of his shots on target than Salah (50% vs 70% according to the BBC), as has Javier Hernández, another "lethal" frontman.
Rather than rely on one striker to bag most of the goals, Liverpool share them around, and to me, that still makes sense. Firmino, Coutinho, Salah and Mané are all capable of scoring 20 apiece – albeit highly unlikely that all four will do so in the same season – because obviously they can't all finish off the same move with a goal (or all take the same penalty), and 80 for a strike-force is unlikely unless it's at the two La Liga giants, who have few decent rivals outside of the top three (due to the way their TV deals allowed them to coin it in while the rest of the league struggled).
However, the four Liverpool attackers have all started this season in prolific form. Salah is a poacher who just happens to make his runs into dangerous positions from out wide, rather than deep.
The second half of this article is for subscribers only.
[ttt-subscribe-article]