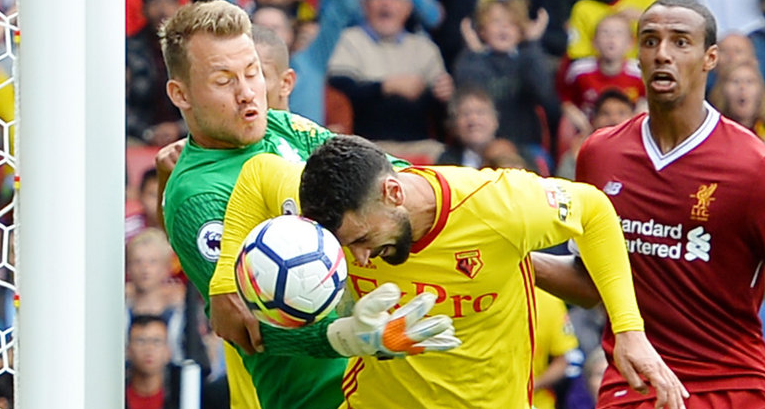 Zonal Marking versus Man to Man Marking at corners, or in Liverpool's case, a bit of both. Ed Ames, former columnist on this very site, wrote this last season:
Jürgen Klopp's Liverpool are on the up. In nearly all aspects of play, they have clearly improved in their tactical ideas and execution of those concepts. However, one area where there is still room for improvement is in defending set pieces. Recent games against Hull, Swansea and West Brom have seen set pieces remove the possibility of a clean sheet. If the problem persists, there may be bigger consequences.
And, perhaps more importantly, this:
Rafa Benitez was met with huge amounts of criticism during his time on Merseyside, despite evidence that his approach created a strong set piece defence.

This resistance was largely due to cultural differences and an unfamiliarity with the concept of zonal marking in English football. Since that time, more top foreign managers have made the trip across the channel, and therefore the use of zonal marking at set pieces (and in open play) has increased. With it, so has the criticism from the mainstream media.

What is often ignored, though, is the implementation of the system. Inevitably, when a team who implements a zonal-based system concedes from a set-piece, the very idea of zonal marking is criticised rather than the execution. When a man-marking team concedes, a player is blamed and the system survives unscathed.
Not only is this article a follow on from Ed's analysis last season, a quick search on The Tomkins Times illustrates how popular a topic it has been:
Analysing Liverpool's Record at Defending Set Pieces by Beez
Pulis-Ball: An In-Depth Video Analysis of West Brom's Corners, Free-Kicks and Throw-Ins
Set Piece Set Backs by Beez (2013)
Plenty to chew on, and although this piece will only focus on defending corners (and how we've done so far this season) there's always the option of opening it out to open play crosses, long throws, plus direct and indirect free-kicks within range of a cross.
The main areas of defending a corner come down to:
Initial positioning and organisation
Tracking runners, and staying ball side
Attacking the ball
Dealing with any second and third phases
Within these Liverpool allocate different roles to players. There seems to be a fairly consistent four who mark the zone on the edge of the six yard area: Matip front, Firmino next, Lovren and one of the full-backs on the back post; then there's usually another 'zonal' player, in front of Matip (Wijnaldum, Milner); Henderson and Can usually become 'blockers' around the penalty spot and aim to initially prevent attacking runners from entering the six yard zone, or track the run and win the duel if needs be; finally, with have three 'roamers': the other full-back adapts to the opposition (can drift front post, centrally or back post depending on the attacking plan), Mane prevents the short cut back, and Salah is usually on the edge of the penalty area looking to clear or break at pace if we win it back.
You can see one example below from the Hoffenheim first leg.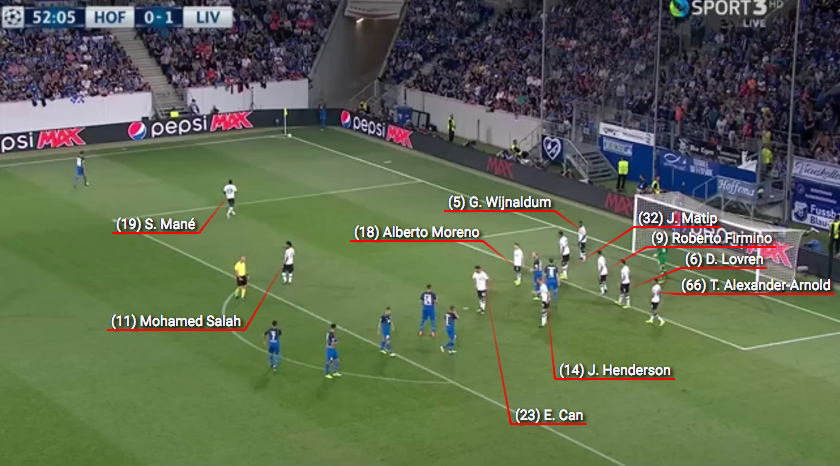 Video Clips:
The opening two videos have annotation, highlights and movement lines – although in a couple of clips the analysis repeats itself for some unknown reason. Bugs in the Wyscout system. There's no audio for these because they're so short, and I recommend pausing the clips every now and then to see how the opposition creates the space, allows runners to target our weak spots and when we defend them well, is this because of the system?
The rest of this article is for subscribers only.
[ttt-subscribe-article]