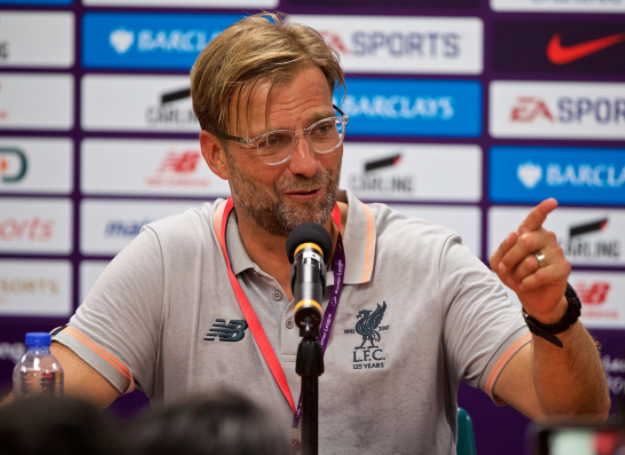 By Chris Rowland and Daniel Rhodes.
Here is our weekly round-up of five extracts from articles or comments that have appeared on the site during the past week.
This is just to provide a flavour of the debates our subscribers get involved in during the week. If you fancy a bit yourself, there's a Subscribe tab at the top. 
1 – Jeff on Sturridge's and Henderson's fitness:
First, the idea that it would take at least 2 years for Sturridge to fully recover from his major hip op is well within the realm of reality. Now, the question I have is exactly how has the injury and the subsequent operation impacted not his fitness but his pace and quickness. You can get back stamina and you can get back the ability to play for 90 minutes but you do not necessarily get back either pace of quickness. Now, Sturridge is a gifted goal scorer and gifted goal scorers are a rare commodity in football but a large part of  his game was based on his pace and quickness and does he still possess them or not is at least to me an open question. If he does regain his former pace and fitness and buys into how Klopp wants a central striker to play, Liverpool have saved untold millions of pounds. I might add that it appears that Jordan Henderson is doing quite well. If Sturridge and Henderson can return to the players they were before the whole world of injuries, Liverpool have saved themselves say 100 million pounds which is no small matter.
2  – Jürgen Klopp's comments on social media, posted by Krishaldo:
"I would have never thought I'd feel like young — like I am 20 — when I am 50. I am 50 but I am not old. But I am definitely too old for social media.
"I am nil-point-nil interested in telling people what I am doing every second. I cannot imagine people sitting in the toilet and sending a picture. I will never understand this until my hopefully long life. I have nothing to say."
3 – Marius on the never-ending Naby Keita transfer saga:
The way I see it there is no need for the owner to come out and say that they are not selling unless they are actually not selling. Given that Rangnick the sporting director has said so. There were rumours about a dispute in the club management, but the when the owner says bo, he is the decision maker. And if they were to sell now that he has publicly said no that  would really undermine their stated ambition to become a top club both to their current and future players + fans. The only solution is that Keita demands a tranfer request and refuses to play. Given that he started a friendly yesterday and has begun pre season training this seems unlikely as well. He stated earlier that he wants to go to a really top club like Bayern. If they bid next summer we cant compete and he will go there. Of they don't we stand a chance but the release clause the number of potentisk suitors higher than at 70million.
I don't think we need another CM. Our best XI outplayed the other top teams in the majority of games last season. They are as good as any other midfield units out there. The issue was with depth. Lucas's minutes should be replaced by Grujic or Coutinho being moved into the middle. As we cant play Mane, Salah and Coutinho without dropping a midfield player. Or Coutinho playing in the midfield. So I don't think we should sign another midfielder either, which should make Can more likely to stay as he is guaranteed more minutes. Hopefully we do sign Keita next summer but I don't think it is likely.
We have signed a left back, forward and winger. The areas where we lacked depth last season. What we desparately do need to both get depth and quality is another CB. Whether this is Van Dijk I dont know. But if we can't get him we should sign someone else. Maybe De Vrij who has been preferred by Holland above Van Djik. As long as we sign a CB I have no issue with us saving money to sign Keita or someone else for midfield next season. But given the Ox rumours I could see us signing another winger to add depth.
4 – Eoghan on the Reds' new signing Andrew Robertson
A great piece of business for a young player who had cut his teeth in Scotland and in both the championship and premiership @ a club that has been in utter turmoil the last few years. He has earned his opportunity by gaining invaluable experience and again appears to have all the attributes that Klopp would be looking for in a full back.
Whatyeonaboot drew comparisons with Kieran Trippier and I wholeheartedly agree. Sometimes younger players from England, Ireland, Scotland and Wales might be considered underwhelming signings unless they have the big sparkly price tag beside their name. Another player I'd draw comparisons with is Seamus Coleman. Bought for £60,000 from Sligo Rovers in the League of Ireland when he was 21, and very quickly became one of the better full backs in the premiership. Even tho they play on opposite flanks, I'd say they are a similar style of player.
Now Robertson could be the next Trippier or Coleman, or he could end up being the next Moreno. But I reckon he is the perfect age for a full back. He has the pace, and should still have that pace for the next 4 to 5 years barring injury. Kyle Walker on the other hand is someone who will probably melt @ Man City. 27 this year, they should get a couple good years out of him, but pace is the first thing that abandons a footballer, and full back in the modern game is probably one of the most demanding positions for both pace and stamina. I think that the majority of full backs who are 29/30+ are past their best. @ 23 we will have Robertson for his peak years.
Also this young player has a truck load of experience in the English leagues. He has become battle hardened and he will have played against and have experience against all the teams that we play next season. Unlike, as was also mentioned above, a very pricey Mendy. Now if Mendy comes to the Premier League as has been predicted he could very well be an excellent addition to any team with his strength, power and pace, and should Liverpool find themselves with deeper pockets, I wouldn't be against the idea of a player like Mendy coming to Liverpool. But £8M for Robertson is a no brainer and very canny business for a young, experienced player who has the attributes we are looking for and a vast potential to improve within a better team. The fact that the general fan base aren't expecting too much off this lad should take the pressure off him and I believe he has the potential to be an excellent full back for us, for this season and into the future.
5 – Supastrika on Keita, the desire for him, and the position of Red Bull:
Wow this Nabi Keita transfer saga is a doozy isn't it. We all seem so heavily invested in this young wonderful player , that I absolutely know nothing about, with one single season of top flight football behind him , and for what by all accounts is a staggering amount of money to be laid out by a sub super power club like LFC. People seem desperate for this to go through, feeding off what could be bullshit or real feeds of news, one minute everyone seems to think the feeds are real and the deal is on the next it's all negative and desperate. Not only is it hard to keep up but I'm finding people I read on TTT and generally seem to nod sage-fully with their ramblings , are all over the place as well. It's exhausting!
Now it seems Deitrich Matesitch has spoken and James Pearce apparently thinks it's dead and so it's all gone to shit. As I awoke in a pile of sweat at 3.30 am today I decided I needed to think some good thoughts to nod back off so I did but suddenly my head filled with Nabi Keita, oh god really now ffs!!! Get out of my fucking head. Okay then let's give it a bit of proper thought .
Firstly I don't think I have ever seen in the modern era of transfers our club pursue a deal so hard and so determinedly over any given player. In the last few years there have been some interesting possibilities that we chased but let slip. This just feels so different! This club, our club want this player, and want him so badly, however I counter that with, from what I read, because that's all it is.  But I hear people saying we are deluded and that deal has been closed down. Really says who, I think our club has been around the odd transfer of a player or two in its time and I'm pretty sure are quite familiar with the terminology "get fucked mate she's never happening". I simply don't believe all this backwards and forwards with new offers, rejected offers, counters etc and agents flying to Hong Kong to talk with Directors in Liverpool.
If you sign a player and include a release fee in his contract it is because you feel that that will be his value, or your perceived value at time of sale you want to gain. If someone comes along and offers you 30 per cent more a year in advance, that means your asset is more valuable earlier. I don't see them just dismissing this and digging their heads in the sand. Remember Leipzig want to be a player in the Bundesliga. So option 1: 2017 sell to Liverpool for 70m, or Option 2: 2018 sell to Bayern (the real big bad four headed monster) for 43m release fee. I want you to ignore the Champions League stuff in the middle period, it's white noise, irrelevant. What I can say is this. If I own this company and my employees choose option 2, fuck me heads roll, people are getting the sack, I'm suing for dereliction of duty, I'm chasing those wankers for every cent of the missing 27m. In no-one's world does that compute as anything other than complete bloody stupidity. NB i have not bothered to check percentages etc are accurate.
Do you know how much scouting and talent recreation Red Bull can put back into their system with 70 million euros. Matesitch statement which I of course cannot find now had some fluffy stuff about the academy and youth system. I think we need to look outside the normal box when it comes to this transfer. I'm not sure it's about money (sorry of course it's about the fucking money you idiot, just not the transfer money).
You see I think Leipzig (misery guts Ralph Rangnick excluded of course) don't really care, it's not really about them. But Red Bull, they want to sell this player, they would like to sell this player, and sell him to a team like LFC. Perhaps Matesitch s comments need some context, I'm not sure.
Red Bull is an amazing company, shit drink, with an incredible focus on sports. They are involved in some of the most nut job of sports, and seem to give anyone a wad of cash to throw themselves off the closest rock or building, if you can name a sport it is likely they have an involvement, sometimes a big one like F1, unfortunately or fortunately depending on your opinion they just got their hooks into the Americas cup. (Junior Americas Cup) Where they get in though is at the bottom of the table, they don't hook the big fish, costs too much cash, they usually are coming in from a slightly different set of ideas. The main criteria seems to be to support adrenalin junkies that a youth market can relate to and in turn hopefully buy their shit juice.
What Red Bull is not however, is mainstream. They are not in sports like tennis and golf, not ideal for them really but also too expensive outside of the odd tour sponsorship perhaps. And they are not in football, not really anyway. Remember they want to appeal direct to the youth market. They sponsor a few teams but it's not the same, it's a waste of marketing money throwing cash at a team in the states that no one really gives a damn about except the say 25000 people that go to New York stadium. They need to go mainstream and the only way to do that is FIFA World Cup… Way too expensive and they not moving Coke anytime soon. They are big but next to Coke they are like my urine stream !
So that leaves the premier league. Just think how many fans  watch LFC every weekend. This is big stuff, because I hear it's a few of us ! Seriously this is major league, what they want is to exploit the opportunity that is LFC and the Premier League, leverage their brand against ours. The opportunity to have Nabi Keita Red Bull player at LFC is great for them no question. So I think this is about image rights, unfortunately his soul will be sold , and it's going to be a monstrous contract if it gets signed. I just don't know where we are on a drink brand and how this can affect things. I see problems in how much leeway Red Bull can be given to actually derive as much benefit out of it without impacting on  our brand, and how it fits. The premier league arena as well. They need to bring a young RedBull Nabi Keita to the youth and young kids growing up playing football and supporting LFC. They don't give a shit about us old bastards , they want our grandchildren. Thank god I don't have any.
So I give it a thumbs up, thunderbirds are a go, I reckon, but then what do I know, this comment is not based on any facts, or malicious rumours and so maybe a complete waste of your last 10 minutes. If I got your hopes up only for them, to be smashed next week, sorry, mine too remember. Any numbers used here are purely for demonstration purposes and anyone born pre 1990 can assume they are disproportionate and a waste of time.
PS . The main issue here could just be that Ralph is completely pissed off with Jurgen. This goes back to some under handed stuff in their time in the Bundesliga as coaches, bit of jealousy, Jurgen learnt off him but then stole training drills and so on then used to mock him when he did that TV pundit thing when Rangnick was at Hoffenheim , capped roundly this summer when they met whilst Jurgen was on holiday and jumped him , shouting Boom just Nabbed ya Keita.
Articles published this week:
Monday July 17th:
Shock: Transfers Now Cost More; Plus Top 100 Signings After Inflation, by Paul Tomkins.
Tuesday July 18th:
A Banquet Without Wine – The New TTT LFC Book, by Anthony Stanley, Paul Tomkins & Chris Rowland.
Wednesday July 19th:
Post-Match Analysis: Liverpool 4 Newcastle Utd 3, 1996, by Andrew Beasley.
It was also the week when the TTT Fantasy League and the TTT Score Predictor for the new season got underway.
" … Here's To You Andy Robertson …" by Daniel Rhodes.
Just how much fun can you have on one site?!