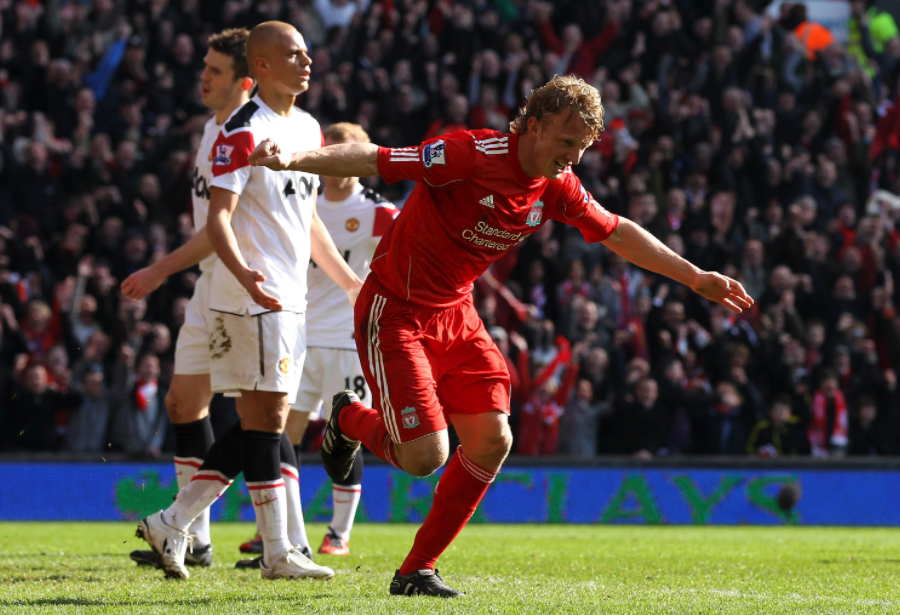 By Chris Rowland and Daniel Rhodes.
Here is our weekly round-up of five extracts from articles or comments that have appeared on the site during the past week.
This is just to provide a flavour of the debates our subscribers get involved in  during the week. If you fancy a bit yourself, there's a Subscribe tab at the top. 
Progress
Klopp has taken Liverpool to two cup finals, and a further semi-final, in just over 18 months; achievements of a kind. He has seen a significant improvement in the league points and position. Unlike Conte, he inherited a team that had no idea what it took to win the league, and indeed, just once in seven years had it even finished in the top four. He inherited some very good players, but this was a building job. Chelsea had won the title more recently than Liverpool had been in the top four; indeed, more recently than Liverpool had been in the top six.
I still don't think failure to get into the top four would be a total disaster, as there are always positives you can take from any situation (such as it making your schedule easier; although being in the Europa League tends to negate that). And the late cock-up in Houllier's 2nd season, when no goals were scored in the final five games, was rectified a year later.
But it gives the sense of resurgence under Klopp more validity, and as well as helping to keep Coutinho, it allows for better players to be pursued, and the ability to add one more £30m player than otherwise could be afforded. (Even if you then need more players anyway, to cope with the extra games.)
Hell, it would make it easier, financially speaking, and also in terms of encouragement, to have Sturridge hang around, although he may want to go somewhere where he's guaranteed games. Right now, Sturridge is simply a luxury, who cannot be relied on, but if he is fit he will get chances next season. Ditto Lucas Leiva – you can afford to keep him, if he wants to stay, as there will be more games on offer.
It makes the whole Klopp project easier to sell. It stops the daft doubters from spreading their negativity, as had been happening of late. This has been a hugely competitive season, with several of the world's best managers clustered within the top six, and with the bruising nature of our league. That Liverpool could finish 3rd or 4th is a real achievement; especially when Manchester United, favourites for the title with their spending and with Mourinho, are likely to finish 6th. (As they mirror Klopp's first season in the finals they've reached when finishing well adrift of the top four, albeit from a much stronger starting point in their case, and with crazy amounts of investment.)
But Liverpool still have to beat Boro on the final day – although if Arsenal only take four points from their final two games, and Liverpool somehow conspire to lose at home to the desperately poor Teessiders, then today's margin of victory could seal 4th anyway. (Although Arsenal would improve their goal difference if they win and draw one, and Liverpool will have a worse GD if the Reds lose. But if both are narrow results, then the four-goal advantage will see the Reds over the line.)
Of course, Liverpool should be aiming to beat Boro at home, but the worry is the nervousness of the Anfield crowd, and how it transmits to the players, and then vice versa. But Boro are not particularly good at anything, and the last game of the season usually sees relegated or mid-table teams already "on the beach".
Let's just say there's no one I'd rather see us be playing, but it's a game that still need to be won. The return of Sturridge, and the return to supreme form of Coutinho, should go a long way to sealing it. Here's hoping. That would make this one of the more pleasant summer's in recent Liverpool history.
I am confident that there are those here who believe that if he had an injury free career Rob Jones would not only be regarded at the best Liverpool fullback of the modern era but one of the top 10 players of the modern era. Simply put, he was that talented. Unfortunately, injuries limited his time in Liverpool and limited the contributions he could make to Liverpool and limited him as a player. The sad truth is that injuries are a reality in football and injuries in many cases limit a career or end a career.
I believe that Liverpool have a difficult decision to make not only about Daniel Sturridge but also about Jordan Henderson. When fit both of these lads are almost certain to be in the starting 11 and be among the best Liverpool players on the pitch. The sad fact is that over the past 3 years Sturridge has shown that he cannot be relied up to be fit and there are continuing concerns about Henderson's fitness. I am not a medical doctor nor am a rehab expert and I have no idea what these people are telling Liverpool about either Sturridge or Henderson. While I wish both lads well, I want Klopp to make any decision on their future in the best interests of Liverpool. If and I stress the word if the medical and rehab people say to keep both of these lads, fine by me but if these people raise questions about their well being, it is time to move on from them. Now, this could well mean moving them to another club or it could mean  accepting that they will not be the players they have been and you cnnot count on them to play regularly. Why does Klopp have to make a thoughtful decision on these two players? Simple, if you cannot count on them to play say 30 matches in the Premier League barring the unforeseen, you have to plan accordingly. This means that if you cannot count on them, you would need to find a striker who you believe is a hand end striker and you need to find a quality holding midfielder and spend what it takes to bring in these players. .My point writ large is the fitness of these two lads will play a major role not only in how Liverpool plan for next season but how the next season plays out. Klopp and the medical and physical rehab people are well paid by Liverpool and getting the reality of these two lads right is going to be one of these matters I hope they get right.
3 – Peter Neall's touching and heartfelt account of why he subscribes to The Tomkins Times:
Then in Liverpool one day I heard a guy refer to TTT and chased it down. Now I don't expect to be that lucky, and I am mostly a tech incompetent so to find a site I liked, to be able to join and even from time to time to contribute felt like I had won all our yesterdays.
But better than that I was not simply a subscriber to a web site, I became a member of a community, one I had never sought nor expected but one which delights me every single day, even when the news from Anfield itself is bad. I found myself giving a bed to a follower TTT'er as he rode his bike from Wembley to Anfield; I held my breath as another TTT'er hunted down a sick American whom we all missed when he was ill, and cried when she found him.  I went to games by a TV in London just to meet some of the folk whose words I had read. These are people I count as friends even though I  only see their names in print and argue only in my mind with them. I know we may disagree but we both want the Reds to win and interestingly, fairly and comprehensively, wherever they are from. Anfield has grown!
The setting of standards with a demand for English, the request for evidence and argument, the refusal to accept abuse as a proper contribution all make me feel not only at home but to somewhere to which I feel I belong. I am proud to be a TTT'er. I may not write much but I read a lot, I appreciate much and I value it all immensely.
My roll call of contributors could be very long but ones who spring immediately to mind are Paul whose writings are always a 'go-to' and I have never been disappointed yet.
Chris R and Graham R who always add a key thought to the grey cells or the reminder of a memory to show that we don't follow just any old club, Jeff whose vintage follows mine and whose wisdom and thoughtfulness inspire me, as does his reading of the continental press in their own tongues, Lee and Four candles make me laugh, MadchenKliopp and Anthony Stanley who always give me for for thought, Beez who does things with numbers bordering on witchcraft, and there is a name clawing at my brain that won't reach my fingers who always touches my nerve by the strength of his feeling for our club and all it stands for. Ah yes, Gary! I hope those unnamed will know it is shortage of space and memory that excluded you. To everyone of you who ever put 'pen to TTT paper' my I say a simple and heartfelt 'thank you'
Then on top of all that I get thought provoking articles on aspects of football ranging from the last game to the importance of  You'll Never Walk Alone, the horror of Hillsborough and the service of King Kenny. I am asked to think, feel, analyse and support by turn.
What Paul has created is something very, very special. I'd not be without it. For value I can think of nothing that £ for £ comes close.
Taskin on Dirk Kuyt, not needing pace for the Quick Boys, and bags of intelligence:
I work with a guy who played with Kuyt at Quick Boys in Holland and is still in touch with him, albeit very seldom nowadays.
Apparently, even back then, Kuyt was neither the quickest (the rest were of course Quick Boys), the biggest or the most skillfull player.  In fact he explains that he was quite a bit behind the rest in his overall skillset.  But, despite this he would get picked every week.  Why?
Well it wont surprise anything that it was due to a combination of running more, running harder, running smarter.  The fact that he gave everything himself and demanded the same from his team mates.  He played the the very best of his ability and – at times – beyond it.  And he brought out the best in the rest of his team.
So it seems that he had the formula for success all along and never wavered from it.
A great player and a great professional.  He absolutely deserves the fairytale ending and will always be welcome back around Anfield and indeed at any of the teams he's sweated blood for.
Beez gives us the best stats from Kuyt's career
Dirk Kuyt scored 71 goals in 285 appearances for the Reds; a return of one in four, despite often playing in right midfield.
Kuyt scored an average of 11.8 goals per season at Liverpool, including goals in Champions League and League Cup finals.
Dirk appeared in 208 of 227 possible league games (91.6%) during his time at Liverpool.
He played at least 41 times in all competitions in every season he was at Anfield, peaking with 53 run-outs in 2009/10.
Dirk faced 60 different teams for Liverpool, and scored against 36 of them.
Kuyt scored 10 out of 12 penalties (including shootouts) for Liverpool, and both of his misses came this season.
The Dutchman scored 12 goals in 40 Champions League appearances for the Reds, including goals against AC Milan, Inter, Arsenal and Chelsea.
Kuyt scored one hattrick for Liverpool; it was to date the only one scored by a Red against Manchester United in the Premier League era.
Dirk Kuyt made the 11th most appearances (208) and scored the 5th most goals (51) for Liverpool in the Premier League.
Excluding extra-time periods, Kuyt scored 22 out of his 69 goals (or 31%) for Liverpool in the final 15 minutes of games, testament to his enduring stamina.
Dirk Kuyt made 64 appearances for the Netherlands whilst at Liverpool, scoring 20 goals; only three players in the club's history (Gerrard, Hyypia and Rush) have won more caps for their countries whilst playing for the Reds.
In 2010, Dirk became only the third Liverpool player to appear in a World Cup final whilst at the club.
Articles published on The Tomkins Times this week:
Sunday May 14th:
Jürgen Klopp Has Done as Good a Job as Antonio Conte, by Paul Tomkins.
Monday May 15th:
Post-Match Analysis: West Ham United (A), by Andrew Beasley.
Wednesday May 16th:
Some Fans Wanted Less Kuyt. But Everyone Needs More Kuyt by Paul Tomkins