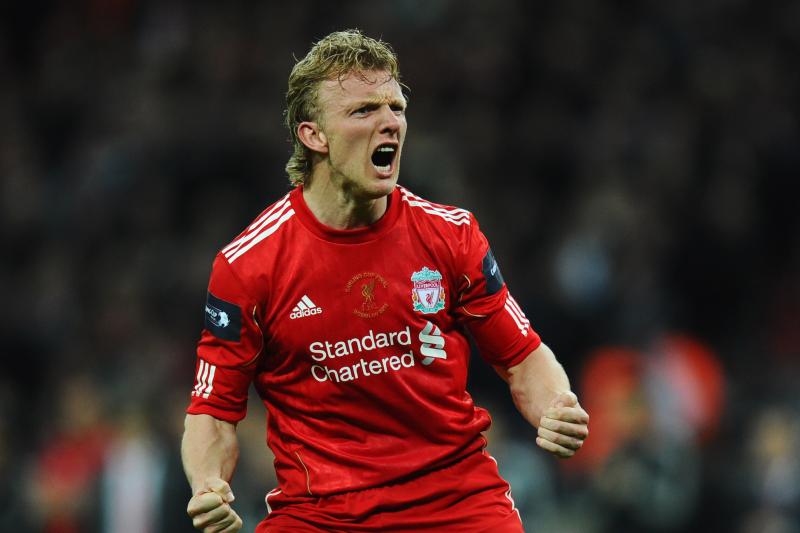 One of the great shames of recent years was how Dirk Kuyt was allowed to leave Liverpool for a measly £1m; whoever wrote that contract clause is hopefully nowhere near the club these days. Even given his age, it was a total giveaway.
I started writing for the official LFC website in 2005, and between 2006 – when Kuyt arrived – and 2010, when I relinquished the column, I fielded regular hate-emails about Rafa Benítez and his bandy-legged Dutch forward-cum-right-midfielder.
It's odd that compatriot Ryan Babel had so many fans and defenders (something he himself would never do) when he was the antithesis of Kuyt; and had Benítez had more luck buying a left-winger – had he found someone with Babel's talent but Kuyt's application – then the title might have been won in 2009. Albert Riera briefly looked like he could be a solution, before disappearing up his own arse.
I personally never saw Kuyt as a stumbling block to success, but people quickly focus and fixate on players like him, whose control could be inconsistent – derided as his second-touch being a tackle. What was consistent, however: his effort; his drive; his stamina; his heart; and although they fluctuated between the league and the cups, five consecutive double-figure seasons for goals. He left with a total of 51 in the league, and 27 assists; 71 goals overall. However, in terms of tracking his mileage there was no instrument that could count that high. His performance data simply read: Off The Charts.
He wasn't the best centre-forward – that became clear in his first season – and so in came the quicker, smoother Fernando Torres to partner the reinvented Steven Gerrard, and then Kuyt became the wideman for the big occasion.
Maybe the Dutch league was easier for him to plunder his goals, both before and after his stint in England, but to bag a hat-trick aged 36, in a vital game, still takes some doing; 12 league goals this season, to add to his 19 last season.
He turns 37 this summer – although scientists have yet to find a way to accurately measure the way time interacts with Kuyt's DNA. Off The Charts is all they can say.
For a staggering eighteen seasons in a row Kuyt racked up 30+ league appearances in the top divisions of Holland, England and Turkey. For seventeen of those seasons he got into double figures for goals in all competitions, even though, Liverpool aside (where he played most often on the flank), he was never at a dominant club where he could just hang around and tap balls in. Feyenoord and Utrecht were never the glamour sides of Holland.
But even the aesthetes of the Dutch national team knew they needed some Kuyt: 24 goals in just over 100 caps, but he gave them the heart that helped them get to the 2010 World Cup Final. By the end of his time in orange he'd pitch in at right-back. While we all long for a few of the Liverpool greats of the previous decade, it's tantalising to think of peak Kuyt in a Jürgen Klopp side.
The other day I speculated that Kuyt must be tempted to play in the Champions League again, but also, noted that scoring a hat-trick to clinch the title for his beloved Feyenoord seemed the perfect point to retire. People rarely know when to go out at the top; others just never get the chance. After all, a lot of the time you don't get to choose.
The great sadness of Steven Gerrard's Liverpool career was not the slip against Chelsea – in a season in which he played so well – but seeing him on the end of a humiliating 6-1 defeat at Stoke, while his final home game a week earlier was a galling 3-1 defeat to Crystal Palace. That said, he hit so many highs that the way he bowed out will get overlooked. (You can laugh at a player for falling over, but have you had a Champions League or FA Cup final named after you?)
Kuyt never quite reached the same personal highs, but he ran, and he ran – the stamina of a whale and the legs of bandicoot* – and a whopping 295 goals later he is calling it a day.
(I'm assuming they are coots with bandy legs. Like, bandykuyts.)
The more people hated Kuyt the more I loved him. You need your tricky, skilful players, but you also need those who give their all every single game, and who are brave – even if the gap between their legs meant a ball could easily roll through.
So, let's raise a toast to Dirk Kuyt, a great man as well as a great warrior-baller. Some fans wanted less Kuyt – but it turns out that everyone needs more Kuyt in their lives.