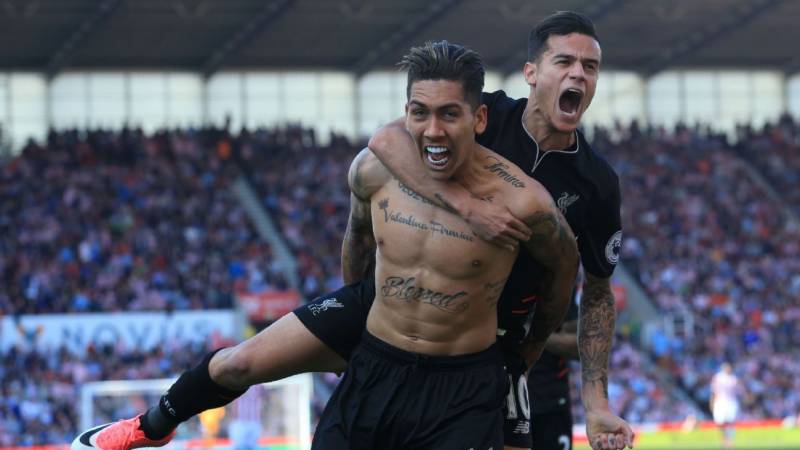 Jürgen Klopp Has Done as Good a Job as Antonio Conte.
Controversial, I know. And clearly biased. And if pushed, an argument I wouldn't stick to if pushed too hard. But based on budget and where the teams were, in addition to other issues, I think Jürgen Klopp has done more-or-less as good a job this season as Antonio Conte, even if Conte is the deserving Manager of the Year, and Hull's Marco Silva almost pulled off the low-budget miracle of the season.
It's hard to fault anything Conte has done, and Chelsea are deserving champions. But this talk about him inheriting a 10th-placed team is utterly misleading. They were 15th last season when Jose Mourinho was sacked after 17 games, averaging 1.06 points per game in defence of their title. They instantly saw a 50% improvement for the remainder of the season even though they went back to near-70-year-old Guus Hiddink, whose impressive first spell at Chelsea in 2008/09 was his last hurrah as a top-class boss; the average win percentage of his final four jobs in management was a measly 43%, despite including the Dutch and Turkish national teams, and mega-rich Russian club Anzhi Makhachkala (before the money ran out).
Chelsea were title-winners in 2015, but had imploded. The main reason for that implosion was Jose Mourinho's presence (along with the difficulty of defending the title these days), with the Portuguese losing pretty much the entire dressing room (only John Terry stood by him at all times, in full kit, at all times). If the new manager could gain their respect, the players to win the league were already there. Indeed, it's not like Chelsea had lost any key players from that 2015 title. Despite finishing 10th, Roman Abramovich's wealth meant that no one was likely to leave – which would have been a worry for other clubs.
Conte inherited a team including arguably the best all-round battering ram of a striker in the country, the fastest skill-merchant in the league (both of whom were usually prolific goalscorers), and a goalkeeper about as good as any around. There were almost half a dozen top-class defenders. In fairness, he handled Diego Costa well in the weird mid-season standoff, but otherwise it's been a relatively problem-free time from a group of players elevated by Mourinho and then destroyed by him. By contrast, anything Conte asked of them would seem agreeable.
Conte inherited a team of title-winners, and added another in N'golo Kante. He had players like Cesc Fabregas and Willian hanging around in the squad, and a new £30m Belgian striker who did nothing until score the goal that clinched the title. (Plus, he had the chance to run the rule over the 87,448 players Chelsea have out on loan across Europe, year after year; bringing home Victor Moses and Nathan Ake. It's not "spending money" but the talent farm is a luxury all the same.) He faced no major injury situations; had Costa and Eden Hazard missed two-thirds of the season it's fair to assume that they would not have been champions. The understudies did well on the rare occasions they were needed, but that's hard to do over 30+ games.
Chelsea were the third-costliest team in the Premier League this season, so Conte outshot the richest two: Manchester United (1st) and Manchester City (2nd). Both Manchester clubs made it easier for him, although it shows how well, and how quickly, Conte adapted. Again, I have nothing but praise for the Italian, who seems far more likeable to the neutral (or rival) than his predecessor, too. I just object to the idea that it was a difficult task with that group of players.
Marco Silva at Hull has also shown that being a good manager is more important than being a British manager or someone who "knows the league" (same with Rafa Benítez apparently being destined to fail in the Championship as he "didn't know the league"), but just like with players, new managers can adjust at different rates, due to differing problems. (Silva massively improved Hull but they were too far adrift when he arrived.)
Chelsea probably kept it sensible in the transfer market, with just three additions going into the first team (including one who was merely returning from loan). Again, they didn't need to add six or eight players, did they? The talent was there. And expectations were lowered by their poor 2015/16.
Liverpool are some way back in 5th on team costs, with Spurs remaining the biggest overachievers, with the 6th-highest budget and a 2nd-placed finish. On the metric of overachievement at the top end, Mauricio Pochettino is manager of the season. They've given Chelsea a run for their money with a team that costs less than half as much.
Chelsea were peak age (c.27), with City probably a little too old (28), and with both Liverpool and Spurs younger than the average title winners. The average age of title winners in the Premier League is … 27. The previous four title winners had all averaged 27 years of age, too. (Which is not to say that averaging 27 means you'll win the league, if you have crap players.) Arsenal and Manchester United are currently just under 27, but City's rebuilding can be seen to be underway, with the arrival of Gabriel Jesus and the increased influence of Leroy Sane.
Pep Guardiola has had more struggles than Conte this season, but he's trying to do something a bit more ambitious. Keeping it tight with quality defenders and relying on world-class attackers, like Chelsea do – while impressive – isn't too complicated; and they are more recent title-winners than City, whose best players have been melting. City are in some kind of transition, but Chelsea, in terms of players, haven't been.
Of course, younger teams get older; they gain experience, and generally improve as a result. It's not a given, but it's logical. Spurs and Liverpool have the most scope to improve if they mature as expected.
Chelsea also have the physical size, in part dating back to Mourinho's obsession with giants. Along with Spurs and United, they are the "biggest" Big Six team; while Arsenal, Man City and Liverpool are the less physically imposing in terms of height and strength, with Liverpool the shortest and lightest. (I've probably mentioned before how having height is important in this often agricultural league.)
Appreciating Klopp
I think the proof that Jürgen Klopp knows what it takes – in addition to his brilliant success with Borussia Dortmund – is in how last summer's additions have transformed the team. He is a gradual builder, not an overnight sensation; the same was true of his progress at Mainz and then Dortmund. The first two seasons were transitional. He inherited a better situation at Liverpool than at Dortmund, but also more pressure, and instant crazy expectation that surrounds Liverpool – and also because his own stock had been raised so high.
Going into this weekend's game at West Ham, I asked Andrew Beasley for some with-and-without stats – which can of course be misleading, but when looking at a group of new additions the question seemed to make sense. What did the new signings provide?
In particular, I wondered how Liverpool had done with Sadio Mané, Joel Matip and Gini Wijnaldum – three players identified to take Liverpool up a level – all in the team, compared to without them. Quite nicely, it was an equal 18-game split of with and without across the 36 league matches. (Victory over West Ham has spoilt this, so let's pretend that didn't happen.)
Obviously Mané has been the big success, and the big absence when not available. When he plays, Liverpool have 2.15ppg, and without him it's a fairly worrying 1.33, but of course, he's missed only c.25% of the league games.
However, the 18 games with/without the new key trio is more stark: the 18 games with Mané, Matip and Wijnaldum all starting is the title-winning form of 2.28pts per game (extrapolates to 87 points). The other half of the games, when at least one has been missing, it drops to 1.66pts per game, or a more mediocre 63 points – which is kind of where the Reds were when Klopp pitched up. Liverpool are at their worst without Mané, but also, at their best with all three of the key new additions.
We can say that Klopp "got it wrong" on the other key 1st-team addition – Loris Karius (with Ragnar Klavan and Marko Grujic squad players) – but even then, it's seen a dramatic improvement in Simon Mignolet's form; either from the competition, or from an improvement via coaching. Either way, Liverpool have ended the season apparently without the urgent need to find a new custodian – and provided evidence of why we should all try to keep an open mind on players, as hard as it can be at times. (In particular, Mignolet's aerial duel success rate has sky-rocketed, and his handling of crosses is now almost impeccable – vital in a league of "launches". The mistakes have also diminished.)
Adam Lallana and Philippe Coutinho have also both improved significantly under Klopp, and particularly so this season; Coutinho's was perhaps a more natural maturing, given his age, but Lallana's development has been more unexpected.
But both had injury issues from the halfway point onwards. Coutinho was out for most of the winter, then returned too soon to help in an injury crisis, and lost form. But today, in a new role as a no.8, he showed that he's now world-class. No doubt. Nailing down a top-four finish (if it happens against Boro) should keep him at the club, and signal the next phase in the development of a wonderful player.
This is all clear evidence of Klopp's ideas making a dramatic difference. But injuries have scuppered – or clouded – that progress. The question is then whether Klopp's style is too intense, and leads to such breakdowns, but Sturridge and Lallana were dogged by consistent injuries under Brendan Rodgers, whose style (and training regimen) was less aggressive. Dejan Lovren is another dogged by injuries since a big-money move, under two different managers and two different fitness coaches. Meanwhile, Emre Can has shown how playing without a niggling injury can make a huge difference.
Sturridge had fallen out of the first XI under Klopp – with the team firing magnificently in the first half of the season when Sturridge often was fit, due to the ever-improving Roberto Firmino giving the team more work-rate from centre-forward, and the dazzling movement of the front six exceeding the sum of its parts.
But then, when Mané was away in Africa, and then injured, and also when Coutinho was injured, Sturridge was often out. It's not his fault, as Klopp made clear this week, but Liverpool have one of the best finishers in the league, and an immensely skilful player, who has lost much of his pace, and who has been injured so often that to plan around him would be dangerous. (You can't even start to plan your team around Sturridge on a Monday ahead of the weekend, as by Friday he might be out again.) Sturridge showed against West Ham what was missed when, as essentially Liverpool's 12th man (the one who came in if anyone was injured), he was often unable to be part of the squad.
To make matters worse, the previously indestructible Jordan Henderson has developed a serious heel complaint. He's another player who has been reinvented under Klopp; an important player under Rodgers, but the one mobile, physically strong holding midfielder who also has the necessary discipline.
The second half of this article is for subscribers only.
[ttt-subscribe-article]