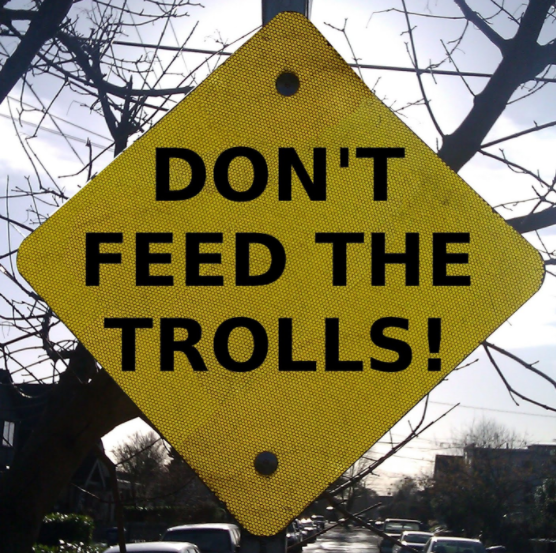 By Chris Rowland and Daniel Rhodes.
It's Friday, it's the weekend, it's Easter, there's a match on Sunday, and here is our latest round-up of five extracts from articles or comments that have appeared on the site during the past week. Just to show what fun we have behind the paywall!
Madchenkliop on Monday April 10th:
The trouble with the internet is it's too easy to click. Whenever there is a narrative – almost any narrative – people will just click to see what happens next. The next level up is commenting, but the same narrative driven compulsion applies; a baddy has been identified and must be driven out of town. Someone articulates an emotion – usually frustration in football – and this swiftly escalates to blame > punish > ostracise > banish/ kill/ shoot yourself in the foot. This becomes the narrative and never mind the potentially self harming outcome, a narrative must be concluded. It's a chance for all kinds of idiots to become authors and celebrities – just look at Piers Morgan who's virtually written entire novels extolling his own searing rectitude.He's only trying to do what's right – in his own mind. We're all basically trigger happy dispensers of justice, it's our raison d'etre. The trouble is that more than half the cases we judge are essentially fictions: narratives (fake news!) and speculations based on wishful thinking that the grass may be greener because sometimes it's true.
This ridiculous group behaviour phenomenon whips up around all kinds of wailing ninnies on soapboxes these days and people just love to take sides and make a fucking cacophony of negativity. Klopp seems like one of a dying breed of leaders who back their own integrity and self belief, and actually seem to relish trying to persuade people en masse to become a unified whole grouping round a flag of trust.But Wenger was one of these too. I still think Klopp has a real chance of pulling it off largely because people want to buy into his positivity and charisma.Essentially, it seems (from the Stoke performance in particular) that the players want to play for him. If the players as a group have the resilience to stick together and fight for the cause that's obviously the biggest asset a club can have.
Still, it would be an almighty relief to hear some of those loud vocal turnips on social media actually change their mind and accept some of the fundamental policies of the Klopp regime. Such as the development of youth players for instance as opposed to relentlessly flogging any decision to play them with the argument that LFC should be buying 'proper' players. The point is you can't conclusively win this argument either way and attempting to do so is likely to harm your club through undermining the confidence of emerging players and the manager's decision making. I don't believe in blind following, but people should recognise when they are whining not opining!!!
Farquarhaqqani on Wednesday April 12th:
I heard a wonderful story regarding how LFC conducted themselves in Malaysia last time around in 2015.
I was attending a talk given by the CEO of Malaysia Airlines (MAS), infamous for the unfortunate MH370 and MH17 incidents, and this was an anecdote shared by him as he explained of all the Premier League clubs MAS could sponsor, why they chose LFC.
As the preseason tour of 2015 approached, a family of one of the victims of MH17 contacted the club asking if they could come see the friendly match as the whole family (including the deceased) were huge LFC supporters, and they felt it would do justice to his memory to be there cheering for the club.
The club not only gave the family tickets to the game, but Brendan Rodgers and a few players actually visited the deceased's grave away from the media to pay their respects.
LFC's values of family kinship and kindness through this gesture resonated through MAS, and when they were looking for a club to sponsor, there was no better club than LFC for them.
It's great to hear of these stories and it reminds me at the very least that I picked the right club to support 🙂
On Wednesday April 12th, Thundyr cast doubts over Steven Gerrard's credentials as a future Liverpool manager:
I don't think Gerrard has the right nous to be a manager, at least not in a tactical sense.  He'll probably make an excellent coach though.
The only way he could be a good manager is if he found the right backroom staff to support him and basically relied on his inspirational ability to drag the team through the difficult games.  In other words, to manage more like Klopp than Benitez.  However it seems unlikely that he would let someone else do all the tactics and then restrict himself to encouraging the team to playing within that framework – I think he's a bit too egotistical for the former and too much a "person in the moment" for the latter, if that makes any sense.  A know a number of Liverpool fans would wet themselves at the thought of Gerrard and Carragher as manager and assistant respectively in the Reds' dugout, but I have doubts about the credentials of either man to stand there on his own merits.
A snippet from the transfer target analysis done on Demarai Gray posted on Thursday April 13th
First of all, he'd be perfect for us on the counterattack; that acceleration and composure against Everton when setting up Slimani was incredible. Picks up the ball, acres of space to run into, and defenders ahead of him. He's carries the ball perfectly, makes the defender commit, then threads it to his teammate in space he's created by keeping hold of the ball until the right moment.
In the first clip against Sunderland, that acceleration when dribbling is a sight to behold. He can go, slow it down and then glide – Sterling-esque – past the full-back he's attacking.
He can, and does, still make the wrong decision; but that's a trait virtually all players share at times, especially when they're so young and just getting back into playing regular minutes.
Although he's so lightweight, he has a level of strength, particularly on the ball. However, watching some of his defensive duels, it is a little concerning how ineffective he can be in the tackle.
Jeff adds to the Gray debate, and whether he'd suit us, or if he's on the radar of other, particularly, German clubs on Thursday April 13th
I have no  idea who Klopp wants to bring to Liverpool. When I hear a name of a player who is rumoured to be coming to Liverpool and each and every week new names appear and before the close of this summer's transfer window I expect to hear at least a couple of hundred names of players who are coming to Liverpool.
Therefore, before one starts to take an interest in a player possibly coming to Liverpool one needs to sit down and ask some questions. Does this player fit the profile of players Klopp brought to Mainz and Dortmund and Liverpool? If not, they are almost if not certainly not coming to Liverpool. Is this player highly rated in Germany and on the radar of German clubs such as Dortmund or any other club? I would argue that Klopp's reference points will be the same as for Dortmund and other German clubs as to what he is looking for in a player. On this point, I have heard for years that Dortmund either got players Liverpool was interested in or Liverpool got players that Dortmund was interested in. Klopp has always tried to spend money wisely and not to over pay for players which has meant he  has for the most part shopped in Germany and Eastern Europe and the so called minor leagues of Europe such as Poland. A consequence, I pay attention to players that Dortmund rate highly and I suggest these also may be players that Klopp rates highly.
Therefore, in the world of Jurgen Klopp does paying anywhere from 9 to 15 million for Gray make sense. I would say no. Are there players out there who are  both better prospects and more established players than Gray, I would say yes. I hope Klopp is looking for young players in Belgium and the Netherlands and Eastern Europe because he would get far better value for Liverpool's money. I do want to add that I wish he could shop in South America but those pesky work permit issues do present a problem.
While I am in the camp that it would be an astute move for Liverpool to bring in a left sided forward or winger or attacking midfielder whether we are talking about a lad  who can be developed in Liverpool or an established player, I do not believe that Gray is the answer in any way shape of form. To me he just another over hyped young English player. This being said, I am aware that Jurgen Klopp knows infinitely more about football and developing footballers than I do and if he wants to bring in Gray I am confident that he knows what he is doing and I am wrong.