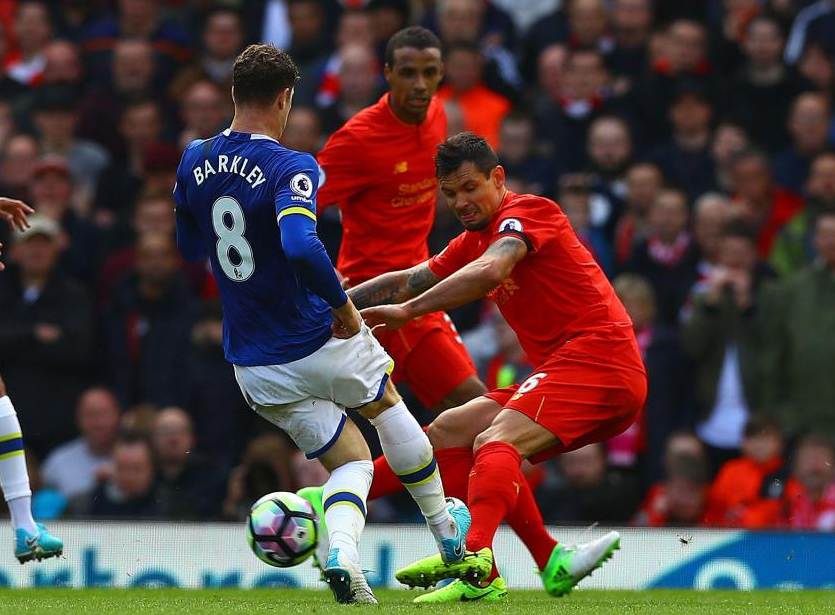 By Chris Rowland and Daniel Rhodes.
Here in our latest new series we'll be picking five extracts from articles or comments that have appeared on the site during the past week. Just to show what fun we have behind the paywall!
From Stevenson1988 on Monday April 3rd:
I am sick of watching our players becoming the football equivalent of punchbags because weak referees don't have the balls to adequately deal with the neanderthals in the game. Had Barkley been shown the deserved red in the first derby it is debatable whether he would have launched into the tackles he did on Saturday. Also, had he been cautioned for his first evil tackle on Saturday it is unlikely that he would have had a go at Lovren later on.
Watch recent rugby matches (England v Scotland as an example) and you will see that it makes no difference whether the hit is in the first minute or not, if it's a nasty challenge the player is dealt with. With all the talk about video technology coming into the game, I sincerely hope that this will also include on field thuggery.
From Joe A, on the same day:
Very interesting to hear from Klopp in The Times that Tite, the Brazil coach and his staff have been in touch with him quite frequently to understand how Liverpool attack.
Apparently Tite wants Brazil to attack like Liverpool!
Hopefully a couple of top class Brazilian talents coming our way to join up with Coutinho and Firmino!
From Mark Cohen on Wednesday, the afternoon of the Bournemouth match:
For the most part, the top six are so strong that they all harbour designs of the title at the beginning of the season and thus, whoever ends fourth, might feel that they have underachieved, like Arsenal in most seasons.
To this end, we fit exactly. Halfway through this campaign, I felt we were champions in the making and now, four months on, it seems like we will finish in the CL spots with room to spare and I guess the most pleasing aspect is that we are 'falling' into it, in the sense that the season contains a feeling of missed opportunity about it, that it might have even offered more. Slightly bigger squad, a little luckier with injuries, a top ranked keeper, and we'd be right there with Chelsea.
When one thinks of net-spends, rivals net-spends and general wherewithal, starting position of squads etc, it is clear that for us to have the notion that we are 'falling' into fourth and not 'achieving' it, we must really have a great manager, and we do.
Klopp has given us the overriding feeling, with his superb record against the big boys and top scoring league stats, that we are a major force to be reckoned with and the excitement of what is to come next season is already building for me.
The top four race is not done yet sure, injuries have seen to that, but those who are expecting mid seventies to be needed are off the mark. We won't need more than 71 points to finish fourth and we should get it easily.
United are really battling for form and goals at the moment, and they, like us last season, will suffer a pronounced drop in league performances the further they progress in the CL qualifying Europa League. On the basis of their entire season, it seems unlikely that they will find the gears now to win six of their final nine, especially given the monstrous fixture list they face.
Arsenal can turn it on late, we've seen the movie many times before, but this one feels different. The belief isn't there and their goal creating stats are way lower than have been in previous years whilst they seem unusually soft at the back. Given the fixture list has them playing Leicester, Tottenham, United and Everton and the toxic atmosphere at the Emirates surrounding Wenger now, its a big, big ask for them to find enough form to get much more than 19 points from their last 10 games.
We shouldn't need much more than four wins from our last eight to do this, and if we start tonight, we will really give off  the feeling that we are moving away now and having a little glance up at a 5000-1 Chelsea suffering some sort of collapse for the ages.
More fun than hunting 4th 'eh?
This is an extract from Paul's emergency toolkit for dealing with dropping points from Thursday 6th April:
You rarely win three points anymore; you just try to avoid dropping them; certainly if you're a famous club. Winning three points is just gaining the three points you're already expected to gain. So a lot of the time it feels like you can only lose, or break even – never win. To win a game often feels like you just got what was expected, and so there's simply a sense of panic avoided, rather than anything to celebrate. And certain people often seem to expect 5-0 wins, so even a 2-1 win, for example, feels like a disappointment based on that perspective.
To me, this is one of the reasons why the joy of football is being replaced by frustration. I received tweets last night saying that people were "fucked off", "giving up on the season", and that it was a "shambles". Yes, rising from 8th to 3rd so far this season is a shambles. Currently being 3rd – the 2nd-highest placing since 2009 (if the Reds were to remain there) – is not enough, perhaps because the great start to the season raised expectations. People only see regression since Christmas, not the progression that the season as a whole represents.
Liverpool are getting better under Klopp, but as I said in January, take several of the best players out of any team and what's left won't be as good. Liverpool still need to make what's left better than it is now, but key players were added last summer – Sadio Mané, Gini Wijnaldum and Joel Matip – and those three can help take the club forward (when fit), along with the successful new additions that there will almost certainly be; while the deadwood is offloaded, young players are given the chance to progress, and the failed signings of this upcoming summer become the new deadwood. The aim is to come out of it with a net return of better players at the club, even if there will be new Ragnar Klavans, who seem good in theory, and can sometimes do a job, but in practice, and on balance, probably don't quite hack it.
To me, if you can't see the progress (in a season when several teams have improved) then I wonder why you're even bothering.
Must-win football, allied to the fact that the pain of losing something you own (or think you own) is far greater than the joy of gaining something, contributes to this insanity.
Beez and Graeme Riley combine to discuss the frequency of going behind, then coming back to lead:
Beez:
I always enjoy your articles which touch on psychology, Paul.
And this game had both sides of it – trailing, ahead, then drawing late on. And it's not a unique phenomenon; Klopp has had six 2-2 league draws at Liverpool (with five at Anfield), and we've been ahead in all of them, but also have lead and trailed in three of them. I don't think anywhere keeps stats on matches where teams both lead and trail before drawing, but I bet it's fairly rare. Seems to be a psychological hurdle we Reds have to face too often at the moment!
Graeme Riley:
It's actually not that rare, certainly for Liverpool. Over the course of their entire history, roughly 1 in six games sees both teams lead at some point, and under Klopp it's happened 16 times already, twelve of these coming in the league. Of these 16, nine were won and four drawn, with just three lost, so a good indication that Klopp's team can come from behind.
Another comment made was that we concede the last goal far too often – well actually it is pretty well on par with the historical trend. With 8% of all games ending goalless, 37.9% end with Liverpool conceding the last goal and 54.1% scoring the last goal. Under Klopp, these figures are almost the same, with 7.6% finishing scoreless and 38% seeing the Reds concede the last goal and 54.4% with them scoring last.