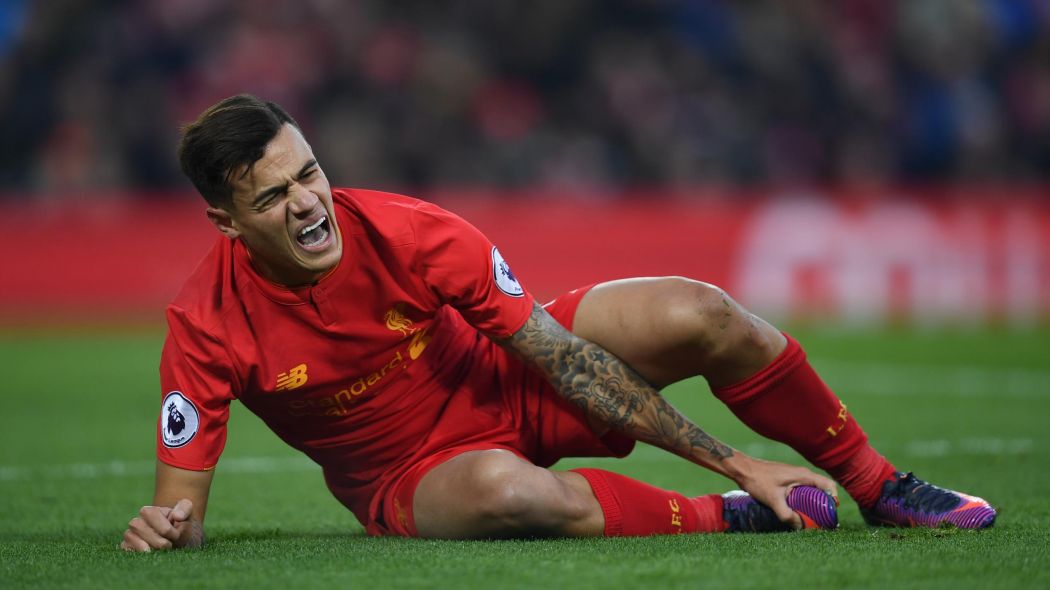 Okay, so I disappeared down a Twitter rabbit hole – or maybe wormhole (or even arsehole?) – of Liverpool having a "mid-table squad". Lots of people agreed that this oddity was a true statement, even though it appeared to have no logical basis. (Welcome to 2017, folks.)
It got weird when people suggested that 6th or 7th is mid-table (even though the Reds are now 5th).
I don't want to go over the "par" argument again, but right now only Spurs are clearly beating those odds; and earlier in the season they were 5th and Liverpool were 2nd. Things change, often fairly quickly. Spurs are probably a season ahead in terms of their 'project', which is being built along the same lines of good young players, hard work and team unity.
A few things:
Buying players from mid-table or smaller clubs does not mean they are "mid-table" players. Many of the best players in Liverpool's history came from small clubs.
Liverpool clearly cannot buy from the other top six clubs (except maybe rejects), nor Everton, as none will sell, especially with the increased television revenue meaning that trade between even the big clubs has slowed. (Spurs and Arsenal aren't selling players to Manchester anymore.)
Liverpool can't easily buy from big European clubs unless the player is a reject there, especially without Champions League football to offer in return. The wages Liverpool can offer and the fees it can pay are tied to turnover, and it's nowhere near that of Manchester United, which absolutely dwarfs the Reds in part due to what started to happen in the 1990s.
Liverpool can't afford to prise the best players from Bayern Munich, and Jürgen Klopp has an agreement not to sign Dortmund's players.
Chelsea signed most of their current squad from smaller clubs: Bolton, Genk, Leicester, Lille, Wigan, etc.. As Ste Hoare noted on Twitter, many of the Premier League era's best-ever buys were not from big clubs: "Ronaldo-Sporting, Van der Sar-Fulham, Schmeichel Brondby, Shearer-Southampton, [Roy] Keane-relegated Notts Forest." You could add dozens and dozens to that list. So there is no logic to the fact that players who were once at mid-table clubs are therefore automatically mid-table players. (Otherwise Ian Rush and Kevin Keegan were only ever 4th-tier players.)
Allowing for recent dips in form and absences, Liverpool's best players this season have been Philippe Coutinho (from a struggling Inter Milan, where he was surplus to requirements), as well as Adam Lallana and Sadio Mané, from Southampton. Roberto Firmino came from Hoffenheim before they were doing quite as well as they are now. Joel Matip came on a free from Schalke and I think he's got everything it takes. I also think Jordan Henderson – signed from Sunderland – has been excellent this season, and is now the captain of England. But some fans don't rate him; maybe because he's not as good as a once-in-a-lifetime player.
There's also this notion that Liverpool just need to spend big on players, even though my analysis of 3,000+ transfers shows that mega-deals only increase the odds of a success by a very small margin from the overall 50/50 success/failure ratio. Liverpool have the 5th biggest turnover in England so they're tied to the 5th-biggest spend/wage-bill. Equally, you don't just spend the money for the sake of it.
We can all quote good and bad buys, cheap or expensive, but the overall picture is that there almost as many expensive flops as expensive successes; some of which crippled clubs. "Breaking the bank", as some are telling me the club should do, is what Leeds United did.
Buy "winners", people also say, as if big-name "winners" don't also flop; and as if small-name players don't grow into winners. There's no secret magical formula.
Leicester last season (although none of it made sense) and Chelsea this season had steady XIs throughout the campaign (little rotation), but also made maybe just two additions to the XI in the previous summer. They didn't churn over masses of players, even if they'd both finished literally mid-table the season before.
By contrast, Man United rotated a hell of a lot under Alex Ferguson, and that worked too. Neither Leicester nor Chelsea had the League Cup situation where the semifinals in January, straight after a busy festive period and with the FA Cup adding more games, caused a logjam. (So it wasn't just being out of Europe that made life easier, but how 11 games from Boxing Day to the end of January can derail a season.) This needs to be addressed as one potential contributing factor in the multi-faceted January collapse. Take out the two Southampton fixtures and I think Liverpool would have had fewer league problems, but that's also a guess: we can never know for sure.
Chelsea have improved in part by adding an ex-Bolton wingback (Alonso) and a journeyman who'd been at the club for years (Moses) to the XI. They also added Kante, who, like Mahrez and Vardy last season, came from nowhere before that. I personally think it helps if players have played for big clubs before (due to the pressure at Liverpool), but it's not an exact science. Sami Hyypia hadn't, yet he arrived and played like he'd been born at the club; Fernando Morientes was the exact opposite: tons of mega-club experience, but never looked at ease. Hyypia was a nobody with a future; Morientes was a player whose greatness had passed.
I also have no time for the argument that a certain player wouldn't get into a rival's side. It's a cliché. Who is better out of Coutinho, Ozil and De Bruyne? Does it matter? Each club has its own quality players.
Some clubs have a few more than others, especially if they have the biggest spending, but for all the money Man City have lavished, and with the master Pep Guardiola (now a "fraud", apparently) they could still have used Coutinho, Matip, Mané, Milner and Clyne this season, and even Henderson; maybe others too. Obviously that is with those players in form, and not playing like some of them have in January (but that's form, and maybe also a fitness issue); just as an out-of-form Sergio Aguero, covering 6km, wouldn't necessarily add anything to Liverpool.
And even Firmino might suit what City are trying to do more than Aguero, whose lack of work-rate can make the system fall down (in a hard-pressing system everyone has to press).
I get told Liverpool need a proper goalscorer, but if Firmino had taken and scored Liverpool's six penalties instead of Milner (and assuming he can take a decent penalty) he would have 14 goals, up with the superstar forwards – some of whom (like Harry Kane, with four) take plenty of penalties. Liverpool are still the league's top scorers. Liverpool have five or six players who can weigh in with goals; the problem is that, right now, they're not doing so. But who is to say a "proper" goalscorer would be?
Firmino is not perfect but he works for the team, creates a load of chances for others and scores goals at a reasonably good rate – which the rest of the team was also doing. He has eight league goals, the same as Aguero if you take away Aguero's three penalties (and I'm not for taking away goals to fit an argument, but penalties are a free shot with an 80% chance of scoring that anyone on the pitch can theoretically take.) Aguero is a superstar, and a great individual – an expert finisher – but City seem better without him. They are more fluid; they work harder.
But it's not like Liverpool are a bunch of mid-table nobodies, and that's what got my goat.
Coutinho is one of Brazil's key men, while Firmino has five international goals for them in 13 games. Wijnaldum is a key Dutch player, and former captain of his title-winning club. Henderson is England captain. Mané would be worth £60m if he played for a 'sexier' nationality like Spain or Brazil. Lallana is England's player of the year. Origi scored at a World Cup as a teen and is still only 21. Matip had almost 300 games in Germany – at centre-back! – by the age of 24. Milner was a much-respected utility man at Man City in two title-wins (they didn't want to lose him) and, until his running stats dropped, a revelation at left-back this season. Emre Can played for Bayern Munich as a teen. Clyne is a brilliant defensive full-back. These aren't a load of old tat. They are very good players, and some are excellent players; but not all are in form.
Karius was voted 2nd best keeper in the Bundesliga last season. Sturridge was an absolutely elite striker, but as with John Barnes in 1991, injury appears to have cost him the pace that made him such a devastating attacking player. Lucas was a very effective defensive midfielder (perhaps too long ago now) and impressed in the League Cup Final just last season against Man City as a centre-back, although he has probably reached the end of the road. Klavan has over 100 international caps and years in the Bundesliga.
The problem is, the other five top-six clubs have excellent players too. And excellent managers. And big squads. And bar Chelsea, there's currently barely any room between all six.
The only position where I feel Liverpool are a long way behind their rivals is goalkeeper. This is the only position where I can say with any confidence I'd swap what Liverpool have for what the others have and feel it would improve the team by at least 20% with just a single player; not that the other keepers won't make mistakes, because they will – but these don't make as many, and appear to spread more confidence around the team.
(And maybe John Achterberg is a problem as goalkeeping coach, but as I've said before, he's not necessarily had the best keepers to work with, Pepe Reina aside, and he'd been in a slump for two years by that time. Achterberg doesn't appear to have improved anyone either, based purely on the first-team performances. We don't get to see his coaching, after all.)
I don't know why more money wasn't spent on a keeper (as I've said before), because for me it's the most important position in the team; you can share goals around but only one player can catch or punch the ball and make saves. But equally, I didn't know enough about Karius to say whether or not he was some wonderful bargain. Some in Germany thought very highly of him; others felt he was merely decent. And again, the biggest names and most expensive buys don't always prove to be the best. I felt Karius sounded close to what the then-uncapped Pepe Reina was like when he signed at the same age (22) before having four or five great seasons for the Reds.
I also thought Mignolet was improving – but the past week has seen him revert to making lame errors. If he goes a few games without a rick, two come along at once. Keepers are often defined by their errors, and whilst that can seem harsh, it's the way it works. Once keepers make too many errors in their career their confidence can be crushed in an instant, even after a good run.
Otherwise, the squad is not "mid-table" in any way. It perhaps doesn't have the correct full-backs for the way the Reds are being forced to play right now, but equally, the full-backs were a big success in the first half of the season, when the team was functioning beautifully.
A fully fit and in-form Coutinho, and Mané back for more than just one game, and not gifting a goal via the keeper (as happened last season at places like Watford), will all help; while the previously indefatigable Milner maybe needs a rest (although fewer games each month will help). You can probably see why Spurs rotate their full-backs, though, given the tolls it's taken on the hitherto machine-like Milner.
We also have to look past the difficulties of form and fitness that have dogged Emre Can and Divock Origi, and see the potential they still hold, as young internationals for Germany and Belgium. At 23, Can is no kid, but still learning; at 21, Origi still is a kid to me (then again, I'm 45.)
They showed last season, and at times during this, that they are very good for their age, if not yet exceptional and consistent as first-teamers. Remember, Jamie Carragher was one such much-maligned youngster – he was a solid and limited full-back after a shaky start to his career as a young centre-back; only becoming a vital player over time. Not everyone arrives on the scene like Michael Owen. (Of course, Can and Origi need to do better than they have of late, but fans getting on their backs won't help.)
We cannot forget Danny Ings, who was fit when the summer transfer window closed and then, remarkably, did his cruciate ligaments for a second time. He was the archetypal handy squad player; easily good enough, before his injuries, to be in the match-day 18s for any of the top sides, given his one-in-three goal return and his willingness to play wide as well as centrally. (To me, he could have been another Dirk Kuyt: not a fancy player, but hard-working and reliable.)
Marko Grujic, still only 20, was a full Serbian international at just nineteen. He has real pedigree, but if we have no patience for players of this age, especially when new signings (and new to the country), we will struggle with what life throws our way. Injuries have meant he hasn't made an impact as yet.
Joe Gomez – the best teenage defender we've seen at the club since Rob Jones 25 years ago – was another coming back from injury, as was Sheyi Ojo, a player I really rate, but who is in that in-between stage that troubles a lot of 19-21yr-olds (U23 football not challenging enough, but they're not ready for first team; if they go on loan they may also not get played if the managers, under pressure, opt for experience, and they may pick up bad habits. Also, they are not forming playing relationships and understandings with their Liverpool teammates if all out on loan. At the same age, Sadio Mané was playing 2nd division football in France, with only one goal in 19 games.)
So to call this a mid-table squad – assuming mid-table is not in the top six, and logically is from 8th-12th – is misleading. It's a top-six squad, as the table suggests, with players who would get into other top-six squads and other top-six teams.
However, it's not a perfect squad – we knew that in the summer. Klopp chose evolution over revolution, and such was the amazing first half of the season that now, to be in touch with all of the other big clubs bar Chelsea, is seen as a disaster. Er, hello?! The notion that there must be no weaknesses in a squad so soon into a manager's tenure is nuts.
Obviously if the Reds keep sliding then the situation needs reassessing; if the club ends up mid-table, then there's evidence that it's a mid-table squad, although even then, it won't have been a season with everyone fit and available.
But as I keep saying, the availability heuristic means we judge immediate data more readily than we should because we can never easily see the bigger picture. We simply see what's to hand, what's happening now. The bigger picture is the league table and the points return, which is still progress; the availability heuristic means people see only the current form, which stinks – as I outlined yesterday.
Also, you have to assess the squad as if everyone is fit. That's the squad.
Take five or six players away from the squad with injuries and yes, it's not as good; just as if you take six beans from a jar of 18 beans you'll end up with fewer beans; possibly even 12, although by the maths of those debating with me, just pick a random number. Against Wolves there were 3rd and maybe even 4th-choice players thrown in, so that was not the Reds' best reserves, clearly.
Could Liverpool have done more this winter to bring in back-ups? Perhaps. Should they have signed stopgaps if they had to wait until the summer for primary targets? Well, it can always go either way. Maybe new faces would have freshened the place up, but it depends on what's planned for the summer. Get someone inferior now or wait for better in the summer? If you're building to a longer-term plan you stick with your primary targets. And even new players wouldn't have necessarily altered the Reds' fortunes. But of course they do, in your head, if you think things you imagine always work out.
If the club can do what it did last summer and add three first-teamers who add new dimensions (Mané, Matip and Wijnaldum) – players at good ages (mid-20s) – who can serve the club well for years to come, and continue to buy promising younger players who can challenge for places, then that will be ideal.
The club can also hopefully bring through more youngsters and get more out of great prospects like Trent Alexander-Arnold and Ben Woodburn, who have just dipped their toes in the water, aged 18 and 17 respectively. (I have genuinely seen people say they have proven they will never be good enough for Liverpool! Aged 18 and 17! Plenty of great Liverpool players hadn't even made their debuts at that age at any level of football.)
It's a building process. I can't repeat this enough. Form comes and goes. But there are no guarantees – nothing the club does, whether it's what you want or not what you want, can definitely bring success. Not with elite managers (because other clubs have those too); not with waiting for kids to flourish (you can but hope; time cannot be skipped and even Steven Gerrard took 50 games to get his second Liverpool goal); not with individual big buys (the hit ratio is not much better than with cheaper buys); not with megabucks owners (City won't win the league again this year, for the third season running); not by trying to improve with coaching (it's sensible, but it won't always succeed – you obviously don't know in advance who will improve and who won't, only with hindsight); not by trying all manner of different tactics which may work some days and not others, no matter what they are, and encountering teams suited to thwart you; not with buying "ready-made" stars (you can end up paying for their past careers); and so on.
If the form and confidence drops, it's tough to manage. If the players then lose belief in the manager, or just their mojo, even defending champions can end up in relegation fights, as the past two winners have shown (even though those squads were literally full of title-winners, and therefore not easily defined as "relegation-threatened" squads, let alone mid-table ones). Thankfully I'm sure Klopp still has 100% support of his players, perhaps bar one or two who aren't getting as many games as they'd like (which is normal).
But also, I rarely have the answers; I just know that those with certainty as to what the answers are pigheaded in that certainty.
In amongst it all this is randomness, just to confuse us all further. With each and every game, the result is a mix of the players, the manager, the referee and the run of the ball (i.e. luck). Leicester can win the title, win their Champions League group and possibly get relegated. At times football is just nuts.
Quick Assessment
What follows is my assessment of the squad in terms of age and what type of long-term future the players should offer, which is then broken down into positions too.
These are presented as a series of graphics; more could be done with things like contract length, and possible current wages and transfer value, but it's just a quick guide, as a starting point. (I assessed the squad in more detail, in terms of player strengths and weaknesses, last week.)
To me, the graphic quickly shows where the stronger and weaker positions are in terms of quality. But it's subjective, and also based partly on current form; had I produced these graphics two months ago I may be more enthusiastic about certain players (and even now, an hour after giving the marks, I'd tweak one or two). And it's not in my hands – Klopp can shape these players, not me, and he might find solutions I never saw coming (like Lallana and Milner in the first half of the season).
Equally, the fact that they did so well in the first half of the season is not forgotten just because they might be playing poorly now.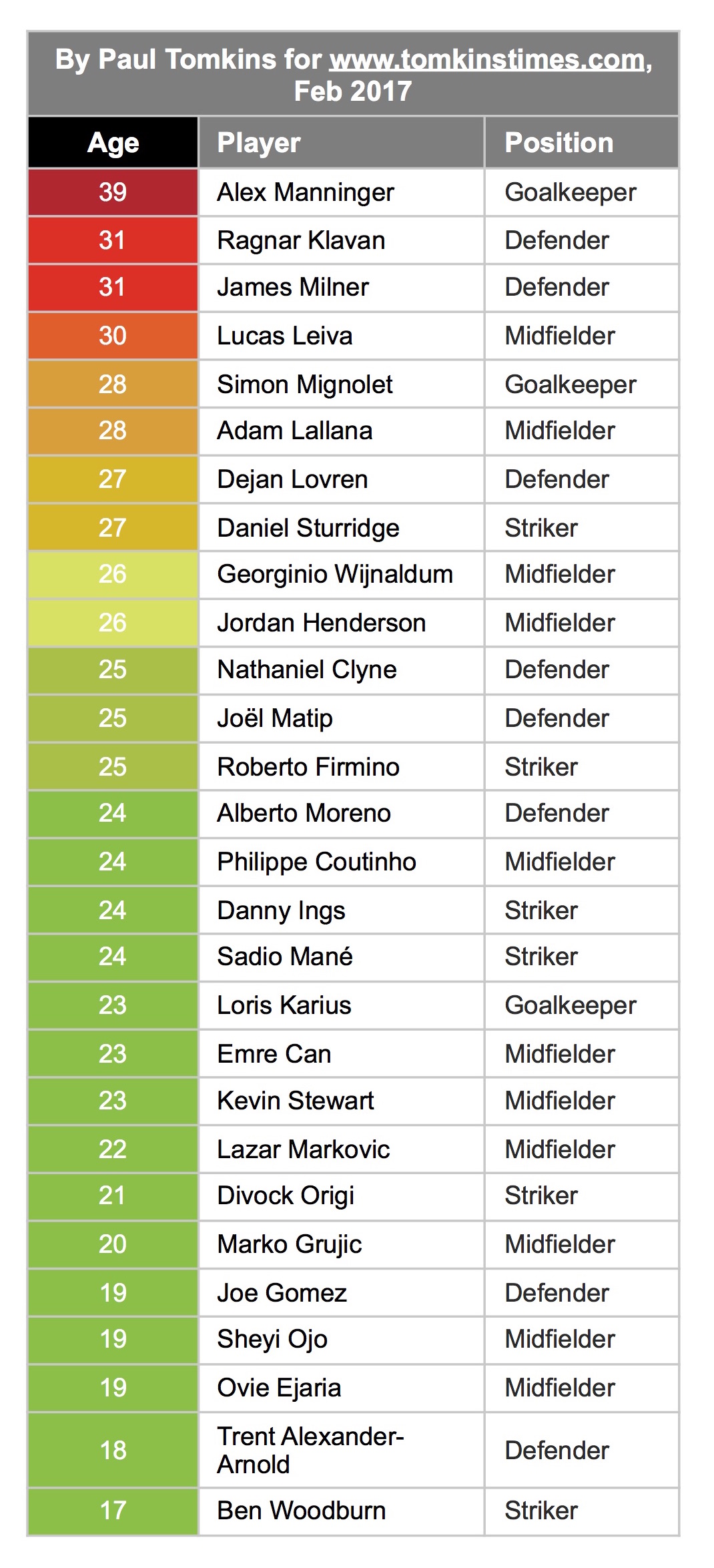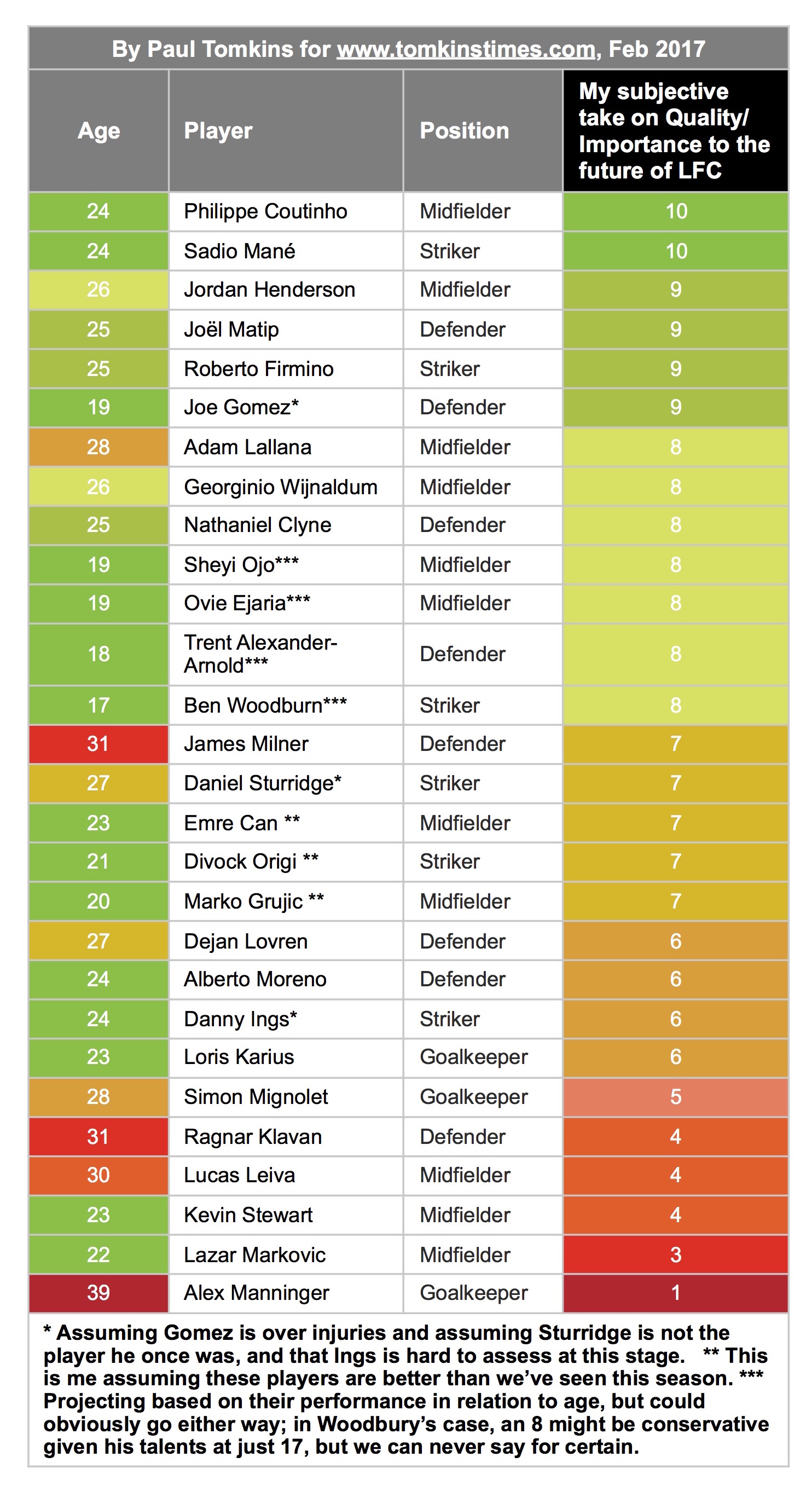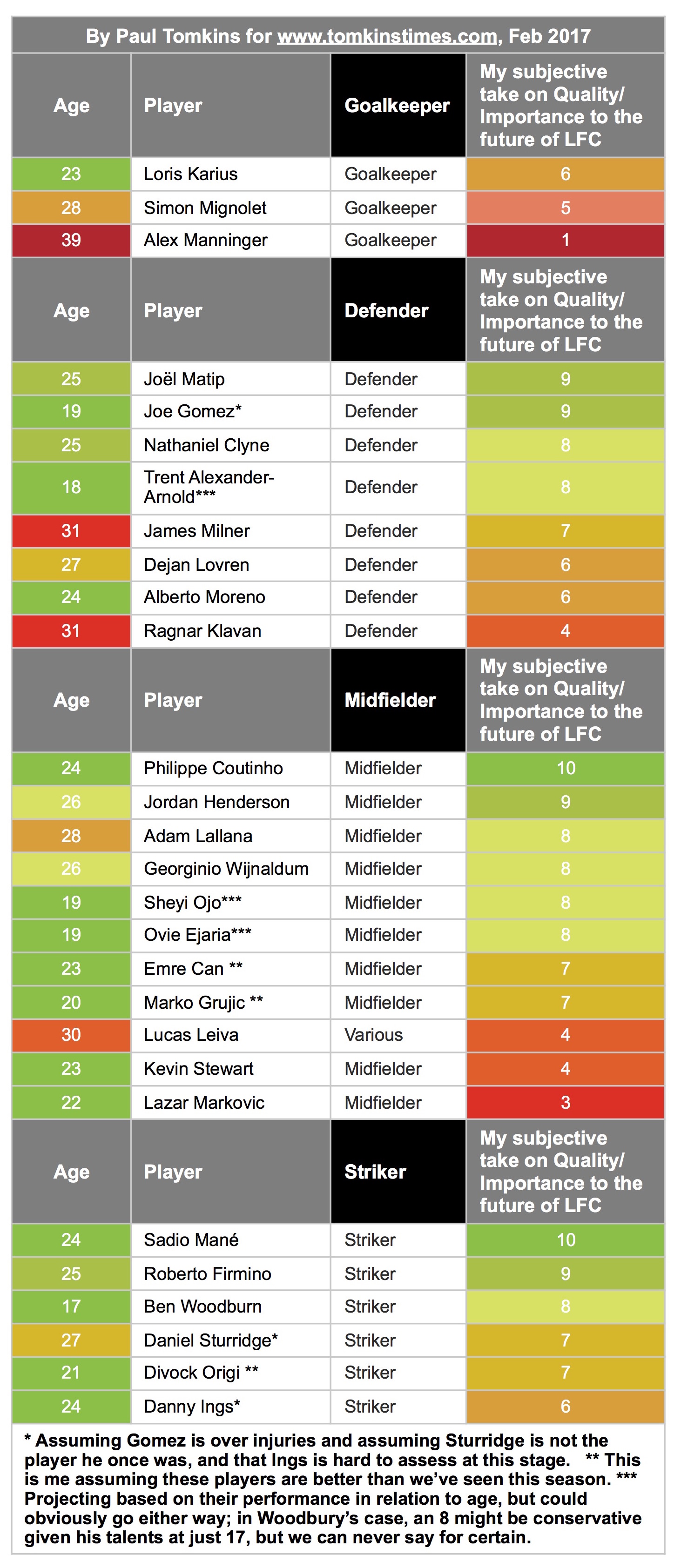 This is a free article. To support our work (and keep the site running), and to read paywalled articles as well as join in the debate, subscribe here.