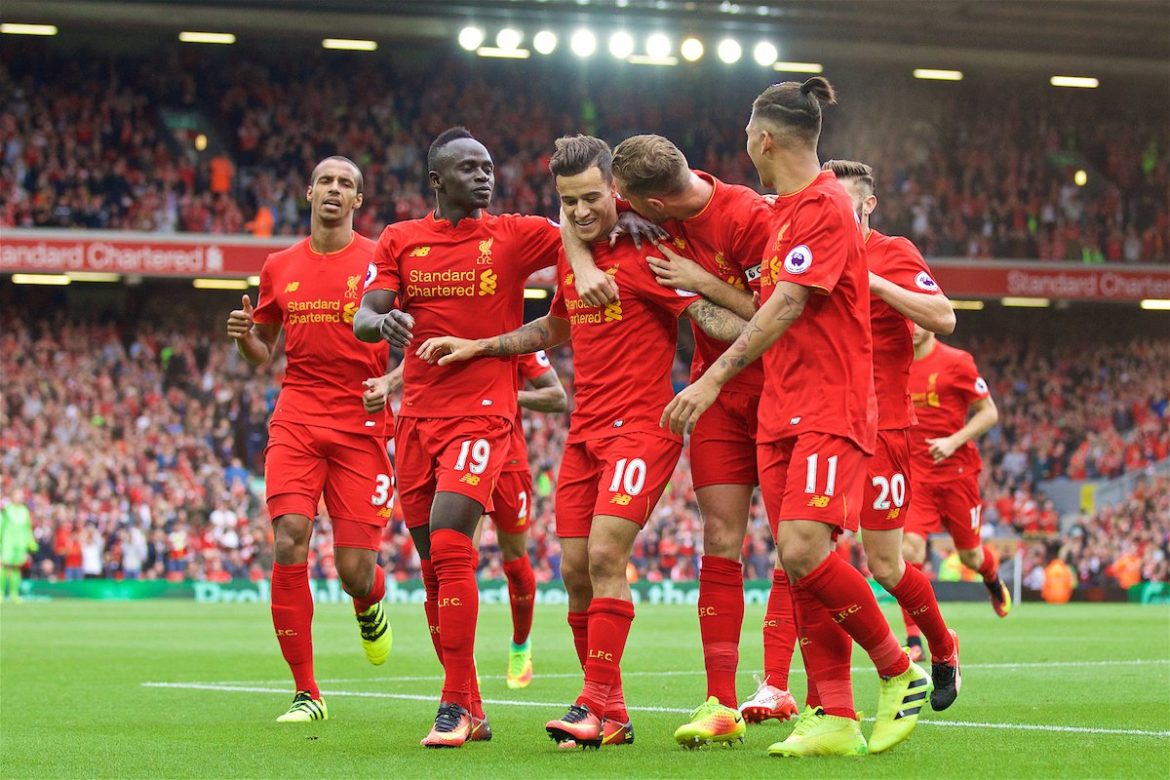 Well, everyone is pretty pissed off right now, and with that all rationality goes out of the window. Talk of "crisis", having made a cup semifinal and still being in the top four, after the best first half of a season in 25 years, is absurd. It's clearly and undeniably a slump, but crisis?
With it the quality of Liverpool's squad is being called into question, and so, with this in mind, I will go through and analyse each player.
However, a bit of context first, and hopefully a rational assessment of the situation the Reds find themselves in, which seems a complex mixture of issues rather than any single one factor.
The Context
This season Liverpool were guaranteed only 40 games, so a big squad could have caused problems (unrest, etc., with lots of unhappy players not getting enough game-time; higher wages than could possibly be sustained without Champions League income). And of course, half the time people say "just invest in the XI anyway" – usually when money is spent on squad players. Then when members of the XI are injured or absent – why didn't you buy more squad players? I've been having this debate for over a decade now.
So it's hard to say Liverpool had to have a big squad this season, especially when adding, and pruning, is often better done in stages; you can't just blow out 12 players and sign 12 players; and if you do, the likelihood is that you'll get six good additions, on the law of averages, not 12. But also, it's likely that it will take time to bed everyone in and find a common wavelength. Maybe only one or two hit the ground running – again, on the law of averages.
As observers we can always say that this or that thing that wasn't done should have been done, because we never get proved wrong if it's not done (and if it is later done, and doesn't work, no one gets reminded). Every team selected is wrong if the result is bad, even if the result hinged on minor details or randomness. Every player we should have signed remains, in theory, the answer; no one ever says "we should have signed so-and-so, and he'd have possibly then turned out to be an utter turkey, based on the balance of probabilities". Every substitution we would have made that the manager didn't was the one that wins the game that was otherwise lost. But that's another story.
Jürgen Klopp is looking to bring through some younger players, and we have to accept that it's a learning curve for them as individuals, and for the team; especially if five or six are playing at once. (Even Gary Neville noted yesterday that the way he got his break at Manchester United was by playing in the cups.)
I'm now getting told on Twitter by various people that none – none! – of Liverpool's kids are good enough; that this has been proved in two or three games (no matter that they helped in wins against Leeds and Spurs in the League Cup). Why should Klopp bother – why should anyone bother – if mere kids are being written off, a few games into their careers? What kind of utter cuntfuckery is this? Why do these people even bother following football?
In what world is Trent Alexander-Arnold (18) not doing incredibly well? Who can't see that Ben Woodburn, just turned 17, is clearly a player of huge potential; or that Ovie Ejaria hasn't looked a composed midfielder in his debut season at the age of 19; or that Joe Gomez, also 19, isn't one of the best teenage centre-backs in the world even after 15 months out with serious injuries?
What happened this season (in January) is essentially the same as last season – the Reds started with a weakish team in the League Cup, but progressed all the same; then had a busy festive schedule, which of course everyone else has too. But then came two extra "Premier League" games in the semifinals (vs Stoke last season; vs Southampton this season). This, along with the February final, is a reason why the League Cup can be problematic if the squad is not big enough.
But any cup is hard for a manager to forego, even if he has to try and win with weaker XIs to balance the workload. However, perhaps Klopp, used to a winter break in Germany, has to ditch the League Cup from the start, because it just impacts in what is already English football's busiest period. But that's his call to make. It's not that it's a demand on the season as a whole; just that it leads to a January where something has to give, with a game every three days.
In amongst all that came an FA Cup game that had become less important compared to the League Cup, as the League Cup was at the semifinals stage. That led to an FA Cup replay, after the kids had gained good experience – but perhaps understandably, lacked the nous and physical strength to win first time out against wily old pros. So, the same as last season. (I have sympathy for Liverpool managers who are criticised if they look to rest or rotate during the cups, but who are also criticised if they do well enough to get to the semifinals and find themselves in a fixture logjam. Rafa Benítez was slated for "not respecting the FA Cup" in January 2005, despite being in the League Cup final already, and four months later Istanbul made a mockery of all of that criticism. If the reserves/youths can't win a cup game, so what? Liverpool's strongest XIs have lost domestic cup ties over the years.)
When the squad isn't perfect people moan when the reserves or kids are used – "they're not good enough!"; but then moan that the first-team players are not protected if they burn out or get injured in less-important games. People live in a hindsight-based existence.
One difference this season compared to last is that Liverpool have to face Man City, Man United and Chelsea in just over a month, from late December onwards, having just gone to Everton before that. The Chelsea fixture will make it 11 games since Boxing Day. (Last season it was just two heavyweight clashes in the same period, both at Anfield). Players may not be too tired from one game to another, but when they stack up fatigue can set it (the intensity and number of sprints drops), and the risk of injury is proven to increase. Four or five days seems to be the magical number for when full freshness is restored.
But it's also a killer month in other ways: the big summer addition, Sadio Mané, away in Africa and the other instantly successful summer addition (Joel Matip) recovering from an injury and then held back by daft red tape. Also, key players are back from injury but not yet sharp.
(And yes, it would be nice to have an understudy to Mané, who could do what Mané can do, especially as Mané was always going to be away in January – but Mané's importance has, in part, been because he's been such a successful signing; i.e. a good thing then becomes a bad thing when it's then absent. To find another Mané is no simple task, when finding the first one was no simple task. However, more pace in the front six seems essential if Mané is missing.)
Obviously Liverpool's current form is poor, from the strongest XIs to the mix of kids and reserves – with whatever team is fielded seeming to struggle over this eight-game period. The crowd is edgy, the players are edgy, and it's a slump. But right now it's four or five weeks, compared with a great four or five months.
So we have to be careful judging on the immediate, short-term data – see this article for more on this, aka the availability heuristic. Any season can unravel in just a few games, but it doesn't mean that the form in those games is the true form and all that went before was a mirage.
It's bad form; some poor performances. But also, a few minutes away from a win at Sunderland (despite keeping a strong XI that day, the Reds ran c.10kms less than normal, to show the impact a lack of rotation can also have; but Klopp would have been slated had he rotated, and in fairness, Mané cost the team that day); and a few minutes away from a win at United – a daft handball at the Stadium of Light, and an offside goal for United. In other games, Liverpool were denied the kind of clear penalties needed when not playing well; i.e. sometimes they can be the difference from being a side "in crisis" and showing that you're good because "you can win when not playing well". Swansea was probably the only totally deserved defeat with no extenuating circumstances – strong Liverpool team, relatively few absentees, and adequate preparation time for most players. That just sucked ass, as the Americans say, as can happen. Southampton away in the League Cup was also very poor.
Tactically, Liverpool may have to alter their game, but calls of being "found out" are less relevant when it's a team of reserves and kids, and that's been the case in three or four of the poor games – and how those line-ups perform does not unduly bother me, although next season, if in Europe, squad size and depth becomes more of an issue. (Those kids will be one year older, more experienced, and new players will arrive in the summer.) Liverpool have been possession-based all season, with less gegenpressing. Teams who get 10 men behind the ball are often hard to beat, but players like Coutinho and Mané make the difference.
Clearly there's not enough pace without Mané (oh for Sturridge's sprinting ability to magically return), and clearly Philippe Coutinho is rusty after two months out; while Matip is another returning from injury. It's a mix of half-fit first-teamers, rookies, squad players and also-rans, with little or no preparation/recovery time, in a collective slump of self-belief that includes the crowd as much as the players. I felt Anfield made a big difference in the first half of the season, with the new Main Stand and the new successful additions to the team lifting everyone, but lately it's gone back to the old ways of only getting up for the big games, and being an edgy, quiet stadium.
For me, if you can hit special heights over a period of four or five months then there's something there to get excited about; if it unravels in four or five weeks, well, shit happens. No one said this team (and squad) was the finished product out the outset, or claimed in the summer that this season the Reds must challenge for the title or it's a crisis: getting top four was the most commonly-stated aim, and that's still on the cards. But obviously the longer the form goes on like this the bigger the problem it becomes. Equally, form fluctuates, and turns – it did for Man City after 10 wins (from good to bad), and from Man United (from bad to nine wins in a row). The constant talk of crisis for the big clubs is nauseating.
Whatever happens, moves were always going to be made to improve the squad this summer if the right players could not be found in the January window, as the process of evolution continues.
(As I've noted before, people want Liverpool to sign players for the sake of it – get the 4th choice if they can't get the 1st, 2nd or 3rd, yada yada – but then moan when the player is not good enough. See: Babel, Ryan – a player Rafa Benítez didn't really want but went for after other options fell through. Football management is full of catch-22s. Sometimes a fall-back option will succeed, but fans calling for the signing of them never admit when their suggestion goes pear-shaped.)
Before getting on to assess the squad, it's worth reiterating how young it is overall, and how probably only Lucas Leiva has "melted" following injury problems that mean he can't get around the midfield anymore, as was painfully clear, yet again, in the first half yesterday (but the first-choice midfield was rightly kept back, just as Spurs, Arsenal, Southampton and other teams –including, vitally, Chelsea – rested a lot of players.)
Otherwise it's just Ragnar Klavan and the uniquely fit James Milner in their early 30s. This summer Liverpool stand to lose zero key players to the ageing process. Indeed, that could be said for the next three summers with this current squad. The only exception is Daniel Sturridge, who may move on because he's not the threat he used to be, and probably doesn't work hard enough out of possession to justify selection when he's not scoring, but who is still a high-quality player.
The ability to hold onto star names will of course be debated; but big names prefer to play in the Champions League, not the domestic cups. So losing Philippe Coutinho (who has just signed a new five-year deal) is probably more likely if the Reds don't finish in the top four than if they reach the quarterfinals of the FA Cup.
To conclude the preamble, before getting onto the squad rundown: Poor or mediocre teams don't fly as high or play as well as Liverpool did for the first half of this season. They rarely do it for a game, let alone 20 or more. Managers and opposition players thought the Reds were sensational, week after week, no matter if they'd tried to sit back against the Reds or to attack. Sustaining that would have been utopia (yes, Roy, it's a lot better than getting a draw at Goodison). But the good things behind that are still at the club, and will be next season. And for the remainder of this one, once the key players are back, and sharp (in particular, Mané, Coutinho and Matip; and Henderson with his recurring heel issue), the aim of finishing in the top four remains realistic, and would still represent an achievement in what has become, once again, a very competitive top six.
Further improvements need to be made in the summer, but the experience is all part of the learning curve for everyone who remains. Anyone who has achieved anything of merit in life will appreciate the many setbacks faced, and the gradual – and not exclusively upward – nature of improvement over a long period of time, which sometimes means regaining hope and confidence when times get tough. People who have never tried to do anything of note will not understand.
Squad Analysis
I've tried to analyse, and list the pros and cons, of each player in Liverpool's first team squad (including the kids who have started games this season), as part of an overall opinion. But it is just that: an opinion. This is my view. It may be contradicted by statistical evidence, and if so, let me know.
1 Loris Karius
It's hard to be too definitive about a new young goalkeeper, imported into the country and given his debut several games into the season after breaking his hand in preseason. Goalkeeper and centre-back are the positions where players mature latest, although you get the occasional precocious talent in both positions. So far it hasn't really worked out, but in this particular case some patience is required (less so if he was a homegrown 30-year-old keeper).
Pros: Quickly out to smother, good distribution. Shot-stopping too, in theory, although the evidence for this is limited due to nervousness (which should be less of a problem once settled in, although there are never any guarantees). Also, he seems to have a healthy dose of self-belief, which is essential when bouncing back from difficult times, and vital in the confidence-sapping world of goalkeeping.
Cons: Not the tallest, and seems weak on crosses. Nervous start to life in the Premier League. Shot stopping not yet as good as it should be, but Southampton cup games showed a big improvement and proved how strong his reflexes can be.
22 Simon Mignolet
This is the big Belgian's fourth season, and it was meant to be his first as the second-choice. But due to Karius' struggles he's regained the no.1 spot. Perhaps seeing Karius struggle actually helped take the pressure off a little.
Pros: Much better at dealing with crosses nowadays, particularly punching. Tall, he still gets down well. Theoretically a good shot-stopper but the Reds are conceding from a high percentage of shots at goal. Now at peak age for a keeper, so it's time to prove he has a future at the club. On the whole has reacted well to setbacks, and come back stronger, without ever totally convincing.
Cons: Distribution isn't great. Used to be too reactive, staying on goal-line or staying too deep in area, and isn't the quickest across the ground to come out and deal with onrushing strikers. Too many mistakes over the years, although no major ones this season.
17 Ragnar Klavan 
Klavan seems an utterly suitable 4th-choice centre-back; the archetypal squad player. Has looked good at times, and shaky at times – which has happened with £40/50m centre-backs as well. Will surely fall down pecking order once Joe Gomez has sufficient games under his belt after 15 months out.
Pros: Very experienced. Reads the game well, reasonably strong, reasonably tall, reasonably good on the ball (the pass against Leicester remains a highlight of the season) – but usually not that comfortable stepping forward. Can play left-back, although won't overlap much; and therefore could be the left-sided of three centre-backs if Klopp goes down that route at any point.
Cons: Not the quickest, and a few too many errors of late. Probably in the twilight of his career at 31, although you'd usually look at around the age of 33 before you worry too much about centre-backs as a rule, and "readers of the game" often go on to 35. He's a stopgap, but also an example of how hard it is to add squad players who can clearly improve on the squad players you lose (such as Martin Skrtel).
18 Alberto Moreno
I had high hopes for Moreno when he arrived, and he's had good spells at the club – but thinking about him, I remain baffled as to what his game is actually all about.
Pros: Very quick, very positive in play, and a good attitude according to Klopp. Energetic and hard-pressing.
Cons: Too small – provides an easy target for long diagonals, and cannot challenge at the back post (or on set-pieces). Gets caught upfield a lot, but this could be because he's asked to push on; sometimes it's his fault, but other times it's just being on the overlap when the move breaks down. Horribly one-footed. Most worryingly, just a general chaotic idiocy at times – crazy tackles, flying in like a ninja on acid.
I'm also not sure that his final-third delivery and output is good enough; there's not a great deal of quality after the manic racing around. But he's still young enough to improve (24), even if he's no kid.
Logically he should be a good squad player – Spanish international full-back as a reserve isn't too bad in theory – although I'd shed no tears if he were sold in the summer. What he does provide is pace, and that's something the squad still lacks, especially in Mané's absence. Again, if Liverpool were to switch to a back five, he'd probably be perfect as a wingback – who are usually more attacking than a full-back (tick) and not as good going forward as wingers (tick).
The rest of this article is for subscribers only. PART TWO will follow tomorrow, for subscribers only.
[ttt-subscribe-article]