By Paul Tomkins.
It seems an age ago, with Iceland and Wales winning hearts and minds, but it's worth remembering that Liverpool played a mammoth 63 games last season, and were then the club with the most players heading to Euro 2016. On top of this, Philippe Coutinho went to the Copa América.
It's known that the better teams can see a dip after a summer tournament, as key players, rather than resting and recuperating, experience some kind of burnout.
But on examination, it's not quite as bad for Liverpool right now as it might seem.
For starters, there is no 'Steven Gerrard' equivalent, as of August 2014 – in his case, a wilting, ageing key player who had just experienced a season of constant football (albeit not 63 games), followed by a World Cup that was a month of hard preparation under Roy Hodgson in Brazil (oh what fun they had), and early elimination with no wins and just one point.
Gerrard, somewhat harshly, carried the can for both of those collapses – part of it down to the pressure he always put himself under, part of it down to being a captain and a talisman; and by the time 2014/15 kicked off, was probably sick to death of football, and somewhat knackered. The emotional drain of the end to 2013/14 (and his role in Chelsea's killer goal), and the team's monumental sucking at his final tournament with England, possibly left an exceptional sportsman who knew he'd his last hurrah was firmly behind him.
In the campaign following an international tournament – such as the one ahead – you can get a situation where players, having gone through a full season, had to endure a busy summer, followed by another full season.
Irrespective of whether you shout "but they're highly paid athletes!", something often has to give in that latter season, and it can be mentally draining, particularly for those players who care deeply and feel the tension. (For instance, you sense that nothing mentally drains either Mario Balotelli or Jose Enrique, other than the best angle for a selfie.)
But this is where Liverpool's injury hell of last season perhaps becomes a blessing in disguise.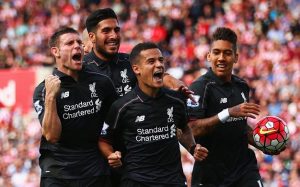 Obviously it's hard to judge the difference between being at a tournament merely as a squad man – a tourist, almost – and being there to play three, four, five or even six games (which, after all, still isn't a ton of football, but is fairly intense). As onlookers who trained without the exertion of several full games, and that febrile pressure that comes with the world (or at least, Europe) watching, Jordan Henderson and James Milner are not going to be feeling the post-tournament lows that someone like Dele Alli probably will, after an eventful season (for which he was rightly hyped) and a poor summer. Ditto Harry Kane, corner-taker extraordinaire, and Wayne Rooney, "Captain oh God my Captain."
From the English Reds, only Daniel Sturridge and Adam Lallana got any meaningful playing time, with Nathaniel Clyne noted as impressive in the stand-in third game.
Clyne, like the yet-to-be-seen Emre Can, probably needed less football, with the duo being the Reds' most-used outfield players, along with Alberto Moreno (who wasn't selected by Spain, but has three caps, lest we forget).
James Milner possibly needed a rest – although while Roy Hodgson swanned about down the Seine in a boat, Milner was probably running up and down the steps of the Eiffel Tower with Kyle Walker on his back. Milner doesn't do rest, you sense.
Lallana's improvements are encouraging, but his lacklustre final-third output – which contrasts with his busy work-rate and clever footwork – could see him replaced in the Reds' XI by the far quicker and more prolific Sadio Mané. (Lallana's zero goals in 26 internationals highlights the dilemma regarding his end product.) Lallana is likely to become an important squad player, and may even be the 12th man – the first off the bench.
Sturridge is more interesting, as someone who played a few games for England, and received some stinging criticism, after his winner against Wales was quickly forgotten. Again, I'm only going on what other people have said as I refused to watch England at all under Hodgson.
(As an aside, let me explain: I'd have given Hodgson credit had England done well – you can't knock a manager if he wins a tournament, or even comes close – but his presence, plus the whole "our club's players are better than your club's players" nonsense, put me off. And England fans bullying refugee children, and singing xenophobic songs, is enough to put my support on hold, even if there are plenty of decent travellers, too. I can't comment on the quality of football, but Hodgson left with a pathetic 27% win-rate in major tournaments.)
Sturridge is someone who actually needed games, after yet another season of injuries. Henderson was in the same boat (note: not the one Hodgson was on, merrily merrily sightseeing), although with the Liverpool captain you sense that, after struggling for confidence with the various troubles of 2015/16, he'd be best off out of the firing line.
(He's a greater leader by example, but doesn't seem like some of those sociopathic captains who are all guts and glory, whilst fucking everyone over, including teammates' wives.) And unlike Sturridge, Henderson hadn't been out for almost two years.
So who at Liverpool has had a hard season plus a hard summer, and is likely to be a key player this coming season?
From what I can tell, no one.
Coutinho played 43 games for the Reds, then scored a hat-trick at the Copa, before Brazil were dumped out, in his fifth international of 2016, but almost a month ago now. And he only played just over half of the possible Premier League minutes (2,075 of 3,620); partly down to so many cup games, which is another reason why fewer cup games should mean Liverpool are better in the league in 2016/17.
Roberto Firmino played 49 games for the Reds, albeit with not many starts early on, but didn't get selected by Brazil. Indeed, his Premier League minutes were slightly less than Coutinho's.
Dejan Lovren played 39 times for the Reds, but fell out with the Croatian manager, so sat out Euro 2016. And let's call what Mamadou Sakho got at the end of last season an "unscheduled rest".
Divock Origi only made 16 starts last season (722 minutes in the Premier League), and probably played about 16 minutes in France. He should be raring to go.
Christian Benteke was actually in the Reds' top-ten appearance makers last season, albeit often as a sub (he didn't play even half the possible Premier League minutes) and played some minutes with Belgium, but he's likely to be sold anyway. And he was hardly overworked in either the Premier League or Euro 2016.
Benteke Detour
Whilst on the subject of Benteke, I want to take a quick detour to talk about his potential sale. I said last season that the Reds could get £20m for him if needs be, so to get a £25m opening offer from Crystal Palace shows the value a certain type of player can retain, in addition to rising prices.
It also shows the wisdom of buying players with a resale value, even if people continue to mock this common sense approach (which can only be ignored by the mega-rich). Benteke was no kid when he arrived, but he was never going to lose too much value in one campaign, and curiously, Aston Villa's demise without him added to his value. While we can all name various different older and younger, home-bought and overseas purchases who failed and succeeded, we can perhaps see the contrast most clearly in Spurs' purchase of the "sexier" Roberto Soldado (with that understandable Spanish cachet) in 2013, aged 28.
In our Transfer Price Index's "2016 money" (which is calculated on the 2015/16 signings, so is effectively last season's prices), Soldado cost £35.4m, whereas Benteke obviously remains at £32.5m (but that will increase in next summer's calculations, albeit only at the same factor that Soldado's fee does). Soldado left for around £10m, meaning that, adjusted for inflation, he cost Spurs about £25m in lost transfer fees, before getting onto wages. Benteke could lose Liverpool just a tiny portion, and scored more league goals (9) than the Spaniard (7), in 12 months compared with 24. There are no guarantees when you sign any player, but resale value helps you roll the dice again.
Anyway, this digression allows me to point out that Sadio Mané is almost paid for by the sale of a player who may have been worth a gamble under one manager, who wanted a certain type, but who was unsuited under another.
Where Was I…?
Getting back to Liverpool players and how the shape they should be in ahead of the new season, Klopp has released Kolo Toure, while Martin "dickhead" Skrtel will be sold for around £5m (thanks for the good seasons, let's forget the bad ones – but stay off Instagram).
Suddenly only James Milner is in his 30s, with Lucas closing in, at 29. So it won't be a tired, ageing side that we see this coming season, and the oldest player right now is also the fittest. It's a young squad which, like we saw with Spurs last season, should improve as the manager's methods bed-in.
The only problem will be if players are broken by the German's gruelling fitness regimen, but Spurs' success last season was built on über-fitness, with the North London club no place for old men. Yes, they collapsed right at the end, but that was probably more mental than physical, once the title eluded them.
Klopp may only experience 40-50 games this time around, which is more in keeping with his time in Germany. It will be hard to carry a huge squad with no European football (and no Champions League income), but equally, he will need to employ some rotation, and obviously, have some quality in reserve; vital for hard-pressing teams. And you can't really offload a group of players – effectively, downsizing – if you're planning on being back in Europe in 12 months' time.
Welsh Freshness
On the subject of freshness, Joe Allen is an interesting example – perhaps benefiting in a Wales shirt from just 19 starts last season, and only 793 minutes in the league, out of a possible 3,620 (22%).
People talk of the Welsh players having had the same season as the English, but perhaps freshness is an important issue. Gareth Bale obviously had a long season with Real Madrid, but not at the ferocious pace of the Premier League, and he had the much-vaunted midseason break. And ageing Ashley Williams ranks 13th for minutes played in the Premier League last season – although centre-backs obviously don't do as much running, hence why so many go on to 35.
Aaron Ramsey played roughly three-quarters of last season's league minutes, and on that measure ranks 91st (out of 550 players). He wasn't exactly fresh, but he wasn't worked to the bone.
But most of the rest of the Welsh team, like Allen, should be fresh. Joe Ledley only played 1,041 Premier League minutes – less than a third of the season. James Chester, Neil Taylor and Ben Davies didn't play that much football, and Hal Robson-Kanu only played 28 games in the Championship. They may have come through the same youth systems as the England players, but they weren't – to paraphrase Michel Platini from the 1980s – lions at the start of a season who ended up like lambs by the summer.
Harry Kane played 3,512 league minutes (the 10th-most in the league, and the most for a striker), and Iceland was his 8th international game in 2016. Eric Dier ranked 17th, Chris Smalling 29th and Jamie Vardy 32nd. They were all heavily used in the season, and maybe there's a case for greater freshness; while the mental state of Spurs' players could also have been an issue.
But Hodgson's decisions – or indecisions – could take up a whole other article.
"New" Players
In addition to everyone mentioned, there are quite a few "new" players at Liverpool.
There is the returning duo, Danny Ings and Joe Gomez, who have yet to even play for Klopp. Ings seemed fine by the end of last season – in that his knee was okay – but Gomez's injury was slightly more complicated, and there's always a chance a player won't regain his previous powers after a cruciate (I recently saw an article that said about 30% of younger players never fully recover, although such data would surely be based on surgeries that date back a few years – in order to have sufficient post-op reports – rather than what I presume is the latest procedure).
Jon Flanagan is another who should be a totally different prospect, after two years of injury hell. His return ahead of schedule was amazing, and summed up his character, but he was understandably off the pace. If he could get back to the player of 2013/14, and maybe even improve (he is still only 23, after all), that would be a huge bonus. At either side he'd solve the problem with height at full-back, but he'd also be replacing one of the few quick players (although the new signings may also redress this balance).
So that's effectively three proverbial new signings, and there's also Sheyi Ojo too, who was eased into the senior picture last season. He didn't play a ton of minutes at Wolves, and merely dipped his toe into Liverpool's first team waters, but with his skill, pace and on-field maturity, surely has to be pushing for a place in the 18 this season (he's off with England U19s right now, but that should mean he's in good shape for preseason, having had his summer holidays).
Cameron Brannagan and Pedro Chirivella could also push on, and Kevin Stewart, albeit now 22, could still add to his first-team credentials. Promising players are coming through, without any key ones being lost to old age.
Meanwhile, in comes Loris Karius, who, as a goalkeeper who had the summer off, should have no kind of physical or mental hangover whatsoever.
Marko Grujić, recently turned 20, isn't arriving from a tough league, and Joel Matip, as a centre-back, shouldn't be too taxed after 41 games for Schalke last season, followed by a summer break. Matip is also only now entering what I'd call the "ripe zone" for centre-backs: 25 onwards.
However, Matip's Cameroon have qualified for the African Cup of Nations in January and February, so he would be expected to go. The same applies to Sadio Mané, and Senegal.
These could be two key players for the Reds this season, so that could be a blow, but at least they didn't have busy summers. (Mané played roughly three-quarters of the league minutes last season, but Southampton mostly escaped cup football, in part due to Liverpool responding to his goal at St Mary's with six of their own. To see our scouting report of the attacker, click here, or click here to read my thoughts on his transfer.)
Liverpool could of course lose players to injury, or either sell or loan them out. And the last of the new signings won't yet have been made. But the good news, so far, is that it should be a fresh Liverpool squad, raring to get stuck into the season ahead.
(EDIT: in my haste to put you out of your misery, I forgot to include Lazar Markovic and Luis Alberto, returning from their loans, and Andre Wisdom too – although his time may have passed. I will not even bother discussing Balotelli's future at the club, as he surely has none…)