Deciphering Duality
By Alexander Papas (TTT Subscriber Yiannis).
How do you solve the riddle of Adam Lallana?
Until recently this was a real conundrum. Possessing arguably the best technique and touch of the whole squad – perhaps even better than our two Brazilian maestros – but also capable of outrageous mis-kicks; having a great engine full of stamina and drive, but also lightweight and often out with niggling injuries; full of an unshakeable confidence to try the outlandish, but also lacking the ruthless edge of a top competitor; a great instinctual player that can produce a perfect first time pass/shot/trick, but also a player who will think too long and dwell on the ball until the chance disappears. Good or bad, there's certainly nothing straightforward about Adam David Lallana.
As a follower of a certain Mr Tomkins since his Official Site days and one of the first generation of subscribers to TTT, in all the years I've been lurking around this place I don't think I've ever seen Paul get as agitated about one of our own players as he has about Lallana. Opposition players and managers, referees, owners and rogue subscribers maybe, as well as just Twitter in general, but never our own players. Sure, there have been plenty of players in The Tomkins Era (that's now a thing, because I wrote it capitalised and everything) that haven't been up to scratch; Traore, Biscan, Morientes, Voronin, Keane, Kyrgiakos, N'Gog, Adam, Downing, Carroll, Cole, Konchesky… damn this list gets depressing the more I write it. However, they've tended to be treated fairly dispassionately on these pages (except maybe on match threads). Not even Alberto "no really, I do exist, honest" Aquilani moved our Glorious Overlord to the levels of mental paroxysms that a certain Mr Lallana was capable of…
… at least, until recently.
(As an aside, this article is proof that there was nothing rigged about the player/writer draw, as otherwise Paul would have taken Lallana for himself and just cut-and-pasted his previous comments into an article. Easy! It would even have a compelling narrative – early frustration, even outright rejection, before a gradual change ending in cautious optimism for the future. Instead muggins here has to come up with something!)
It's tempting to look at Lallana as a microcosm of the change the whole club is feeling in the wake of Jürgen Klopp's arrival. The project is still in its infancy and there is much work yet to be done, but after an uneven first few months learning the manager's methods there have been real signs of progress in the latter part of the season. These words could apply equally to the team, the squad, the club and even the fans, as well as Lallana himself, which to me shows how much of a unifying influence Klopp has been.
Then again, you can also look at Lallana as a microcosm of everything that was wrong about Brendan Rodgers' transfer policy. Technically gifted but lacking a strong mentality, physically small and lacking in top end pace, a purchase in an area we were already well stocked in at the expense of areas of need and finally (at least with regards to the latter part of Rodgers' tenure) overpriced and at the wrong age due to the "Premier League experience" myth. In fact you could argue that Lallana is the only signing that can be targeted with every single one of those criticisms.
So the same player that ticks every box on the major transfer flop checklist is also the poster boy for the Klopp revolution? That makes no sense, but then nothing about this season has made sense.
So how exactly do you judge Adam Lallana's season? Everyone else writing these reviews is asking the same question and I'm sure we're going to see a lot of different criteria across these articles. I'm not really going to get deep into any sort of statistical analysis, as this piece is more about perception and emotion – how I feel Lallana has played when I've watched him. However, it is worthwhile taking a quick look at the headline stats, especially when compared to other candidates for those attacking midfield berths.
(note: all stats are from www.whoscored.com, are for all competitions and do not include the Europa League Final)
| | | | | | | | | |
| --- | --- | --- | --- | --- | --- | --- | --- | --- |
| PLAYER | STARTS | SUBS | GOALS | ASSISTS | Y/C | R/C | PS% | MotM |
| Philippe Coutinho | 37 | 5 | 12 | 6 | 5 | 1 | 78.9 | 4 |
| Roberto Firmino | 39 | 9 | 11 | 9 | 3 | 0 | 77.4 | 6 |
| James Milner | 39 | 2 | 7 | 14 | 9 | 1 | 78.8 | 6 |
| Adam Lallana | 37 | 11 | 7 | 7 | 4 | 0 | 81.5 | 2 |
| Jordan Ibe | 20 | 21 | 4 | 2 | 1 | 0 | 85 | 2 |
| Sheyi Ojo | 5 | 6 | 1 | 3 | 0 | 0 | 87.1 | 0 |
| Lazar Markovic* | 12 | 5 | 1 | 2 | 3 | 0 | 74.3 | 1 |
*on loan at Fenerbahce in Turkey, for anyone just coming out from their year under a rock.
Looking at those bare numbers you would say that the goals return is perhaps a bit below par given that he is joint top for total appearances. Milner's numbers obviously include a few penalties, so Lallana ranks above him in this regard, but then Milner has played a deeper role fairly often and also more than makes up for it with his excellent season for assists. Only two Man of the Match awards also suggests he has had less stand-out performances than the others, although his pass completion percentage is higher. I was surprised to see how highly the two younger wingers rate in this category, although Ojo's numbers come from a small sample size and both probably had a disproportionate amount of games against "lesser" teams where Liverpool were more likely to dominate the ball.
If you based Lallana's overall productivity on those basic stats you would say that he has only really outperformed the young up-and-coming talent, and all the other established pros have outperformed him. I know we're not meant to talk too much about player's futures in these reviews, but just looking at those stats you could say that, assuming we see a traditional "Klopp" 4-2-3-1 next season, and assuming a Can/Henderson axis pushes Milner further forward for most games, Lallana may be looking at fourth place in the race for three spots – and that's assuming we don't go out and buy someone.
Even then it could get even worse for Lallana. For a start, Markovic's numbers are deceptive as his season ended in February due to injury, when by all accounts he was an important part of a team where the goals and headlines tended to go to Van Persie, Fernandao, Diego and Nani. Ojo has arguably shown enough in brief flashes to warrant being more involved next season, and although Ibe had a relatively disappointing campaign, he may well come back after a Klopp pre-season fully energised with a point to prove. It's not inconceivable to look at our available players on paper, where they are in their careers and the broad numbers of their campaigns and say that Lallana may well be last choice next season.
So why do I think he'll still get 40+ games next season and be an important player in Klopp's squad?
It's hard to find context in such a topsy-turvy season as the one we've just experienced. From the perspective of our club alone we have had (seemingly) two different transfer strategies at once, a change of manager before Christmas, a succession of injury crises, a divided fanbase, protests, walkouts, failed drugs tests, two cup finals and the incredible emotional impact of the Hillsborough verdict – and that's before you take into account what else has happened in the league and football in general around us.
Along with the Hillsborough verdict, having Leicester as 5000-1 champions and the spectacular fall of Sepp Blatter and his FIFA cronies are all the sort of once-in-a-lifetime events that can be defining moments in a footballing generation. We have had all three happen in a single season! Let's face it, in any other year Mourinho's wonderful, joyous meltdown in front of the whole world would have been the headline news story from the season. Now it is just a mildly interesting sideshow to the real news stories. I don't think we have the context yet for exactly how unique this season has really been, and perhaps we won't fully appreciate it until years from now.
Given the crazy season, given the managerial change and given the inconsistent results (good overall in the cups, roll-a-dice random in the league), I'm adopting a simple approach to judging any of our players this season, and Lallana is no exception.
For a start, nothing that happened under Rodgers counts. I don't want to denigrate anything that Brendan Rodgers did over his career with us, and he will always deserve credit for such a close title push, but you have to draw a line with the change of manager. It doesn't matter how you played before, or how much your transfer fee was, everyone starts the Klopp era with a clean slate.
From there, it becomes a question of which players have shown the most development and improvement during their extended "audition period" under Klopp. Who is buying into the methods the most? Who is buying into the mentality? Who is showing the most willingness to change into the players Klopp needs them to be?
Regardless of how much or how little you know about tactics, the one thing you know about Jürgen Klopp's style of football is that it relies heavily on pressing. In that area, I feel that Lallana has really excelled under Klopp and has got better as the season has gone along. Over the last few months pretty much the whole squad has begun pressing like a Klopp team, and there are players in the team that press hard anyway because that's their style (e.g. Milner, Can, Henderson), but Lallana was the player in whom I noticed the most immediate change when Klopp took over. I forget which match it was (it may have been the Man City away game), but I remember being surprised and impressed with the tenacity of Lallana's pressing so early into Klopp's reign. Of course, as this was still early days I was still getting frustrated by the endless tricks and runs that go nowhere, but it was still positive!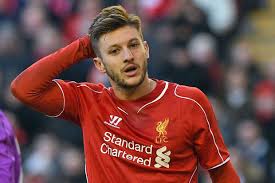 As the season has progressed, as the Klopp press has started to come together, Lallana has been an integral part of that. One of the rare bits of genuine tactical insight from Michael Owen was during a recent Europa League match (I think Villarreal at Anfield, but I tend to zone out during most punditry), when he talked about Lallana being the trigger for the press, how he is the first man to make a run and that gets the other midfielders pressing as a pack. It was something I had already picked up on in previous games, but then again bar the odd insight from Gary Neville I think the last time I learned some actual information from a football pundit I was still wearing shorts to school!
I also think that Lallana's overall fitness and stamina have improved noticeably over the course of the year. He hasn't really had the niggling injuries of his first season and has seemed to finish the 90 minutes a lot more frequently than before, still pressing right until the final whistle and not coasting through the end of games. You just sense that Klopp can get another gear out of all of the players across the board with a proper pre-season, so I can easily see Lallana being a central figure in that signature press.
Of course, Klopp asks for a lot more than just pressing from his attacking midfielders – they need to be productive and score or create goals for the team. In this sense, although Lallana is still behind his more flamboyant teammates, our friend duality once again rears its ugly mug. Taking the turn of a year as a handy mid-way point – especially fitting as Lallana has exactly 24 appearances either side of New Year's Eve, excluding the Europa League Final – then you can definitely see a noticeable difference, even if it isn't dramatic.
| | | | | | | | |
| --- | --- | --- | --- | --- | --- | --- | --- |
| PLAYER | STARTS | SUBS | GOALS | ASSISTS | Y/C | R/C | MotM |
| Adam Lallana – 2015 | 18 | 6 | 2 | 3 | 1 | 0 | 1 |
| Adam Lallana – 2016 | 19 | 5 | 5 | 4 | 3 | 0 | 1 |
Yes, I know looking at the whole season like that is backtracking what I just said about ignoring what happened under Rodgers, but (a) I don't have the patience to break the stats down to that degree (b) the stats are only there as a kind of quick methadone fix for the junkies out there so they can make it through my prose and (c) whatever way you slice it Lallana has become more productive as the season has gone along. Remember, I'm not looking for this team or these players to be the finished article yet, because you can be sure Klopp isn't. Like the manager I'm looking to see who's growing and improving as a player, who is on an upward curve, and the basic stats alone show that Lallana falls into that category.
However, the biggest improvement I have perceived in Lallana's game has been a mental one. He seems to have been one of the first to buy into the more exuberant aspects of the Klopp personality, whether that is goal celebrations, hugging the manager on the touchline, or even in interviews. He still seems a relatively quiet person compared to some of the big personalities around him, but whereas before he seemed so laid back he was almost casual, now there appears to be an excitement and eagerness about him that transmits onto the pitch. Again, this isn't something that's exclusive to Lallana (Sturridge's maniacal celebration against Villarreal, where it seems the Klopp passion finally clicked with him, could live long in the memory), but some players seem to "get" Klopp more than others and Lallana definitely seems to be in the former category.
The other change I have noticed in Lallana's mentality is in his decision making. I think a lot of the frustration Paul and others have had with Lallana in the past has come from the fact that he seems slow to make decisions. He is very silky-smooth on the ball while he's making his mind up, admittedly, but we've all seen those mazy runs that keep the ball too long and end up going nowhere. Klopp's style in attack is very high paced, relying on quick movement and quick passing, and it feels as though there has been a conscious effort to improve the speed of his decision-making. This seems like really smart coaching to me, for reasons I will explain by way of an extended detour through a different sport.
For those not familiar with the gridiron world of the NFL (or American Football, or that mutant version of rugby with shoulder pads that the yanks play, whatever you prefer), the past 15 years have been dominated by the New England Patriots and in particular their coach Bill Belichick, getting to six Superbowls in that time and winning four of them. Bill Belichick is basically the Alex Ferguson of the NFL – the most successful and longest-serving coach of his era, with a win-at-all-cost mentality that has led to hostility and resentment for some of the more nefarious practices. [Does his face also resemble bacon then? 😉 – Ed]
However, although Ferguson was certainly adaptable over his time in charge of that mob down the road, he still had a recognisable style that lasted throughout his entire career – fast-paced attack with strength down the flanks, and always being proactive and adventurous. With Belichick, he is almost defined by his absence of a set style. Instead, Belichick's whole gameplan revolves around a simple concept: see what the opponent does best and take that advantage away. If your team runs the ball well, he'll crowd the line of scrimmage with big bodies to clog up the middle of the field. If your team passes well he'll fill the flanks and backfield with quick defensive backs and vacate the middle. Whether it's doubling up on a star player or changing his whole offensive style of play to take advantage of the gaps you leave on defence, Belichick will generally find the way to beat you. Beyond hoping for a rare off-day, it takes a well-rounded team with multiple ways to achieve victory to have any success against a Belichick-coached team. Even teams and fans that hate his cheating guts will still admit that, in American Football terms, Bill Belichick is a genius.
The reason for this extended detour is that, just as taking away the strengths of an opposition team represents good, even genius coaching, so should taking away the weaknesses of your own team. It is only conjecture on my part, but it feels as though Klopp has looked at Lallana and gone "Ok, what's holding him back? His decision making, he spends too long making a decision" and then worked on the speed of Lallana's decision making in training. This has resulted in less meandering runs that go nowhere, which means less attacking moves stalling and the overall pace of our attack increasing.
This is the thing about a team sport like football and why individual player reviews like this are meaningless (wish I'd realised that before the 3,000 word mark!). Changing the way one player in the team performs – whether that is by changing the way an individual plays or by selecting a different individual – can have a knock-on effect on the entire team. By focusing on removing one of the biggest negatives from Lallana's game, the manager has not only managed to improve his overall performance as a player, but improve the team's overall style of play.
As before, I don't think this is unique to Lallana and a lot of players seem to be improving their decision making as they get more used to Klopp's pace of play, but again I seem to see the most improvement in Lallana. Perhaps that's because he had the biggest perceived gulf to bridge between his early performances in a red shirt and the standards dictated by his age and transfer fee, but I prefer to see it as a sign of exactly how good a coach Jürgen Klopp is.
It's a fact of football that will never go away, but I think it's always a little unfair to judge a player based on how much their transfer fee was. After all, the player doesn't get to decide how much the club should pay for him. If Lallana had cost £10 million we would be raving about how astute a signing he had been and how he's now worth at least twice that, but because he cost £25 million (or whatever it was) the perception is that he is only now playing to the standard that was expected of him from the start.
Regardless of how we got there, though, Adam Lallana has ended this season playing like a £25+ million player and has established himself on merit as a valuable member of the first team. Even if the best he is capable of is maintaining his current form, then any new or returning players will have a hard time dislodging him from the first team.
Of course, that is assuming that Lallana doesn't have the capability to improve further, and that is a big assumption to make no matter how old he is. I don't think Klopp is looking at any player and saying "I can't improve him any further" (ok, maybe Benteke), and I don't think any player is looking at Klopp saying "I can't learn anything else from him". As I said before, this season has been almost an extended audition for Klopp and what matters is which players have best adapted to Klopp's methods and how quickly they've done it. Lallana is among the very top of the class for that, so don't be surprised if he becomes the star pupil…
… or maybe he'll revert back to old, bad Lallana and just do 250 step-overs per match, how the hell do I know?! Have you been watching football lately? It's fucking insane!!
Rate Adam Lallana's season, out of 10
7 (56%, 146 Votes)
6 (29%, 76 Votes)
8 (10%, 25 Votes)
5 (5%, 13 Votes)
9 (0%, 1 Votes)
10 (0%, 1 Votes)
4 (0%, 0 Votes)
3 (0%, 0 Votes)
2 (0%, 0 Votes)
1 (0%, 0 Votes)
Total Voters: 262

Loading ...