By TTT Subscriber Dan Kennett.
Two words that have dominated Jordan Henderson's season and two words that make a season review challenging. An injury that has plagued some of the world's biggest sports stars: Peyton Manning, Kobe Bryant, Albert Pujols, Drew Brees, Shaquille O'Neal.
The biggest concern with such an injury is the cognitive bias that creeps into our assessment of him. How many times did we hear fans & media saying things like "he looks uncomfortable", "he looks like he can barely walk" or "he's not moving well" when the reality is that he's always looked and moved like that. Once we became aware of the nature and severity of his injury I think we started looking for things that weren't there. The real problem with Plantar Fasciitis is that it meant Henderson played just 40% of the 2015/16 Premier League campaign and made just 23 starts in our marathon season of 63 games. Only four more than the "injury plagued" Daniel Sturridge. Last season he made 52 starts in 58 games and played an eye-watering 3,441 minutes in the EPL (for context, only two midfielders played more EPL minutes this season). Looking back with 20:20 hindsight, maybe Henderson's relentless playing schedule in recent years has been a factor in the injury that plagued last season?
The question for this end-of-season review though is when he did get on the pitch, how did he play?
From a team perspective he was a fixture in the Europa League knockout stages starting all five matches until the home game with Dortmund.  He also made a few starts with Emre Can in a midfield 2 where they looked a viable partnership, most notably against champions Leicester (I still can't get used to writing that) on Boxing Day. He also started a couple of the team's quintessentially industrious Klopp performances at home against Man City and Spurs but they were his highlights of a disappointing league campaign.
From an individual perspective, in terms of physical performance, I am advised that Henderson's distance and sprint data didn't really vary from previous seasons and mirrored the improvements seen across the squad from Rodgers to Klopp. In terms of on-the-ball his performance shows some interesting trends
1) Tackles + Interceptions + Recoveries
Henderson was 12.9 per 90 last season, compared to 9-10 in his first four seasons. This perhaps reflects his move to a deeper role this season. He was slightly above the average EPL midfielder (12.4) but well below the EPL Best Ngolo Kante with 20.1. Interestingly, Henderson's performance was almost identical to Emre Can (13.2)
2) Ground Duels
Henderson won 49.6% of his ground duels last season compared to 42-47% in his first four seasons. Again, slightly above the EPL average for centre mids of 48.7% but well below the EPL Best Moussa Dembele (65.4%)
3) Creativity/Goalscoring
Henderson was 1.2 chances created last season, a step below the 1.7 seen in the previous three seasons. Again this perhaps reflects his move to a deeper role. He was slightly above the EPL average for centre mids (1.0) and a level below his team-mate James Milner who led the EPL (2.2)
Henderson's Shots90 was his highest at Liverpool (1.7) and his Goals90 of 0.13 was in line with his Liverpool career so far. Again both were slightly above the average EPL CM (1.1, 0.07). Yaya Toure led the way with 2.9 Shots90 and Dele Alli had 0.35 Goals90
4) Passing / Touches
Henderson's Passes Received per 90 (52) and Touches90 (85) were both easily the highest of his Liverpool career and well above the EPL average of 40 and 70. Unsurprisingly, Cesc Fabregas led the way with 72 and 104 respectively. Again, Henderson's performance was almost identical to Emre Can (51 and 84)
The one area of real concern last season was Henderson's passing, just 87% accuracy in his own half and 81% in the opposition half. The average EPL CM is 90% in his own half and 84% in the opposition half. Under Rodgers, Henderson was 92% own half and 85% opposition half.
Controlling players like Ki at Swansea average 95% in their own half. Under Rodgers, Gerrard and Allen were 94-95% in their own half.
In terms of the opposition half, the likes of Dembele, Schneiderlin and Cazorla average 91%. We can speculate whether this was partly caused by injury or whether Henderson trying to "force the play" too much. Either way, this needs to improve next season as the team cannot be so sloppy in deeper areas.
Conclusion
Trying to sum up, the only thing that really changed about Jordan Henderson is 2015/16 was his availability. Once he got onto the pitch he slightly improved in nearly all areas compared to previous seasons. Perhaps his biggest achievement in 2015/16 was looking like a viable midfield 2 pairing with Emre Can. Both of them are similar in that they are generalists who are quite good at everything with no real weaknesses. Neither of them will ever be the defensive monster like Kante or a metronome like Fabregas.  Furthermore, both currently look a step below the likes of Dembele. Can either make the step up to be that elite EPL midfield performer under Klopp?
Similarly, if you had concerns about Henderson last Summer, you will still have the same concerns today, only exacerbated by his injury problems. One thing that I think doesn't help him is being club captain. A personal view is that I don't think he exhibits enough leadership qualities to be a captain and might be better as a trusty lieutenant. Also, I'm from the Australian school of pick your best team, then select the captain from that. I don't think Henderson is of sufficient quality to be a mandatory pick for the team so the fact that he is club captain just muddies the waters.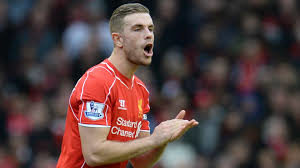 Rate Jordan Henderson's season, out of 10
6 (59%, 89 Votes)
7 (26%, 39 Votes)
5 (13%, 19 Votes)
8 (2%, 3 Votes)
10 (1%, 1 Votes)
9 (0%, 0 Votes)
4 (0%, 0 Votes)
3 (0%, 0 Votes)
2 (0%, 0 Votes)
1 (0%, 0 Votes)
Total Voters: 152

Loading ...