By Paul Tomkins.
Big games, and one-off occasions, alter perceptions more than anything. They can swing on small details, including luck, and the break of the ball. So all the clear improvements made under Jürgen Klopp should not be written off if the final doesn't go the Reds' way.
This much is true: Liverpool are good enough to win the Europa League. But they might not. The most important thing is the level the team has reached in recent months – but on the night, the luck might not be on their side. (Remember, the best team doesn't always win the match.)
I feel that Klopp has taken Liverpool to the level of a Champions League side, but inheriting a team that was in 10th place, and with various injuries, he didn't exactly have an easy ride to reach that level.
You cannot play 25 cup games in a season, including two finals, and then say Liverpool are the 8th-best team in England. (I've seen people say this, as as if the league table exists in a vacuum.) You also cannot discount the challenges of a manger taking over in October and adding no one on a permanent deal in the transfer window, because he wants to wait to do it better in the summer (so, no quick fixes that might bump up a place in the table but longer term have less impact). He hasn't had a preseason, nor money to spend; therefore, you cannot ignore these limitations. He took over with 10th, and but for fielding a shadow XI in several games, could easily have finished in the top six.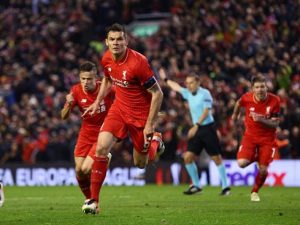 But look at it like this. How would other teams fare if, on top of 38 testing games, they had to play: Southampton away; Stoke away (and home); Manchester City at Wembley; plus another League Cup game against a Premier League side? And that was just the first competition. And then, in the FA Cup, West Ham could be added, home and away.
In essence, just by looking at those fixtures, the Reds played seven extra Premier League games this season (six of them against top-half teams), with four of them away from Anfield; plus the winnable ties – but where some commitment was still required – against Exeter and Carlisle. But these were just the domestic cups.
So, on top of what was already essentially 45 Premier League games (albeit with more away from home, and some lasting 120 minutes), the Reds had the six Europa League group games: two against a decent French side, two against a far-flung Russian side, and two against an unremarkable Swiss side. Not the toughest set of fixtures, you'll agree, but still games that need playing, and time spent away from preparing for the Premier League. At the very least, it's six more games against teams at least at the level of Bournemouth or Norwich; winnable, but not exactly jaunty strolls in the park. It would be disrespectful to the French and Russian leagues to say that decent sides from those countries are not the equivalent to a 17th-placed English team.
Aside from the three games against lower division sides (Exeter twice, and Carlisle), Liverpool, with the Europa League group games and the domestic cup competitions, could be said to have played thirteen additional games against Premier League  quality sides.
But then came Augsburg, who finished 5th in Germany last season, and were 12th this season. So that's two more games against a side that, at the very least, are on a par with Premier League Bournemouth.
But then it got crazy. Two games against the 5th-best team in England on league form, who also had played fair few cup games that may have held them back; and, to boot, these are games against 'deadly' rivals, in the form of Manchester United. These two games in themselves were almost like two exhausting cup finals, such was the tension and emotion. These were not normal cup ties.
But it didn't end there: up next, the 2nd-best team in Germany. Irrespective of however many cup games they, Bayern or anyone else played, it's indisputable that Bayern are the best team in Germany and Borussia Dortmund are not too far behind. Two more legs, another win; another night of high energy and tense emotion.
Then the semi-finals: the 4th-best team in Spain, who, by that stage, had already played a ton of European games. And finally, Sevilla, tonight – a team who would almost certainly finish in the top half of the Premier League (they're surely better than West Ham, but have played a lot of cup games, like Liverpool).
So, that's 25 cup games; but crucially, 22 of them against Premier League-standard opposition. Some of them could be seen as 'easier' Premier League games, but of the 22, an astonishing fifteen of them were against top-half teams in England – or overseas teams surely capable of such a finishing position in the Premier League.
So in terms of the workload, the Reds essentially played 60 Premier League games in 2015/16, with a greater number of league games against top-half teams than the usual 50-50 split between top and bottom half (minus one team: Liverpool, in 8th, who cannot play themselves). So instead of 18 games against those in positions 1-10 (minus 8th), the Reds essentially played 33.
That's thirty-three games against the top 10 of the Premier League or their overseas equivalents; almost an entire league season of games against tougher opposition. Then, the 20 actual Premier League games against the bottom 10, and six more (all the ties in the Europa Group stage), plus a cup game against Bournemouth.
Perhaps what's most telling is that almost all of the tough ("top half of Premier League") cup games came in the seven months Klopp has been in charge. Brendan Rodgers' three cup games were against Carlisle United, Sion and Bordeaux: one lower division side, and two sides who would surely be lower table if in the Premier League.
The achievement here – For Klopp and his team, on May 18th – is to simply be standing. That's one hell of an effort right there.
Progress in cups can be misleading, because you can get easy draws and fluke results. But that hasn't happened here; add a Champions League-standard last 16 for the Reds, and an injury crisis, and you can say that these were no easy strolls to the finals.
Klopp has taken the team to a European final and a domestic final, with someone else's players. He has improved the squad, but only in terms of confidence, interplay and fitness; not in terms of spending.
Years ago, when assessing Rafa Benítez's Liverpool tenure, I noted the way that every single season was taken into May (with the exception of 2008, which was taken to within an hour of May: the Champions League game against Chelsea ending close to midnight).
I thought it was a "type" of success, along with other ways of measuring what was good. If your season is over by January or February, then there's less to be proud about; it's hard to claim any kind of success. Are Arsenal now a better side than Spurs because they overtook them on the last day, despite never being credible runners in the title race? (Equally, Arsenal played a lot of good teams in the Champions League and couldn't afford to send out the reserves, like Spurs did against Dortmund.)
So it was interesting to see Klopp himself using the same yardstick:
"If you look at my career as a manager until now you can say that each season was very exciting until the last match. Staying in the league in the first year [with Mainz] – last day. Not getting promoted in the second year – last day. Not getting promoted next year – last day. Getting promoted – last matchday. Not getting in the Europa League with Dortmund – last matchday. Qualifying for the Europa League – last matchday. We became Bundesliga champions three games before the end but we had finals in the last four years always until the end.
"I stayed in the race until the end. Sometimes I thought: 'My God, everyone else is already on holiday, they have had four weeks and I'm still going nuts.' But that is the truth. I try to get everything. When I sleep, I sleep. When I'm not I'm really awake. I try to push everything I can to get everything I can get. That is why we had finals in the last few years."
So whatever happens tonight in Basel, I will see this season as a success. If the Reds lose, then it's not an outright, unqualified success, but in the context of the challenges Klopp has faced, it's still a success of sorts, and bodes well for 2016/17.
Note: If Liverpool win tonight I expect a heady mix of adrenaline and euphoria to propel me to write an article on the occasion. However, if it ends in defeat, this article stands as a good measure of the season, and how it's been as if Liverpool have been running two marathons this season, whilst everyone else in England ran only one.