By Daniel Rhodes. 
"We haven't had a decent left-back for years…"
We've had players who attack this problem position with a golf club, we've had FIFA football and social media experts who just gave up on football altogether, we've had sure-thing Italian stalwarts with the ability to lob goalkeepers at Old Trafford, but who struggle to stay fit, or indeed stay in position. And if you're a Liverpool fan, chances are in the last couple of weeks you've heard one or two other fans voicing their frustrations at our current incumbent.
We undoubtedly need one, the question is: which one? We've been linked with at least five, and one of those is English youngster, and Leicester City youth product Ben Chilwell.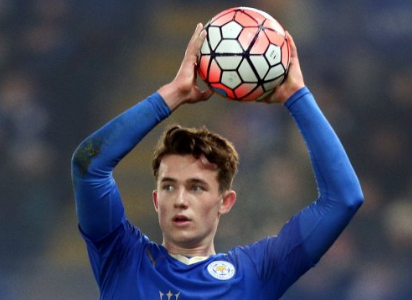 Profile:
Age: 19 (21/12/96)
Height: 178cm/5″10
Career Minutes: 1,450 (or 16 ninety minute games)
I will never ever forget yesterday❤️pic.twitter.com/6KZfD3xm89

— Ben Chilwell (@BenChilwell) May 8, 2016
He's not played a single minute of Premier League football, for Christian Fuchs' sake. But still, he's been a part of the Foxes' squad, and this type of experience can only be a good thing.
Here's some quotes, from the Leicester City website, after a games for their development side:
"We started well – we went 2-0 up which was a great start to the game," Chilwell told Foxes Player HD. "We came in at half-time and said that we didn't want to concede in the second half to keep the clean sheet.

"It would have been nice to score a few more goals. If we scored first after half-time, I think we could have gone on to score four or five, but we showed good character after they scored to grind out the results.

"A key part of our game is to get the ball wide. We had Joe [Dodoo] and Ade (Admiral Muskwe) on the wings and they're both good on the ball. They're both good athletes who can run at the defence and cause problems. That showed as they scored a goal each.

"Me and Matty [Miles] like to get forward too to create an overload with two-on-one situations against their full-backs."

Chilwell made his first team debut for the Club against Hull City in October, before playing twice in the FA Cup against a talented Tottenham Hotspur outfit in January.

Discussing his time with the first team, the left-back added: "It's a step up in intensity and tempo because you're playing against some really good players. You have to concentrate more throughout the whole game.

"Tottenham are a really good team – just look where they are in the league table – and they have some really good young players. I found playing against Tottenham a really good test – I really enjoyed it."
Looking at his Twitter feed, there's nothing out of the ordinary. Standard promoted freebie gifts from sponsors; the requisite ratio of selfie photos; the odd comment about other footballers, including one for Luis Suarez; and a large amount of emojis. You could change the name of the account to about 75% (made up stat) of all 19 year old footballers and you'd see the same 'content'. Seems like a nice lad.
Stats:
The sample is too small to really draw any conclusion from the data available, but here is what the data says on the professional scouting software we're using:
He's had one assist so far in his career, which equates to 0.1 assists per 90.
(All figures from now per90)
Shots: 0.4
Attacking duels: 4.9
Key passes: 0.3
Throughballs: 0.3
Crosses: 3.4
Long range passes: 5.4
Passes: 35.1
Defensive duels: 5.2
Interceptions: 6.1
Recoveries: 2.2
Clearances: 2.2
Aerial duels: 4.3
Fouls: 0.6
Must re-enforce the lack of minutes, but some promising numbers including the throughballs, crossing, and volume of interceptions.
The rest of this post is for subscribers only, and includes some video analysis using professional scouting software. The five videos are split into the different attributes required: interceptions, tackles and one vs one defending; defensive positioning; attacking, shooting and creativity; acceleration, and finally fouls conceded.
[ttt-subscribe-article]