Welcome to a new TTT competition – and your chance to hold a glittering new trophy – well, new anyway –  aloft to your adoring fans!
There are so many great comments from amongst TTT's learned and diverse community, we decided it's time they got rewarded for it.
Each week we publish what we think are some of the stand-out comments on the site. Now we're going a step further, by trying to find the elite of the elite, by picking our top 10 comments from that month and letting you vote on what you think is the best.
The winner will receive this magnificent and prestigious engraved award (not actual size, depending on your browser settings) – dripping with kudos and much better than money, we're sure you'll agree!
The rest of this ironically self-congratulatory piece is for Subscribers only.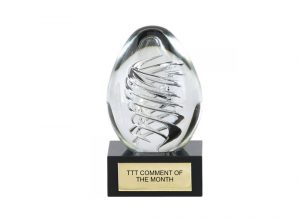 [ttt-subscribe-article]