By TTT Subscriber Si Steers.
At the very top of his game, Daniel Sturridge is one of the top strikers in European football. His rapid growth as a player at Liverpool has stalled in the past 12 months as injury, fitness and form have combined to leave him a peripheral figure at times. The added sense of frustration at continual setbacks and doubts overs his commitment and mental strength have contributed to Sturridge finding life tough at times this season.
There must also be a part of Daniel Sturridge that feels like he is doesn't always get the love that he has earned at Liverpool. He has found that supporter frustration over his fitness has boiled over into a narrative that he lacks interest or motivation, despite scoring 43 goals in just 69 premier league games.
Sturridge has also had to prove himself to a new manager that demands his players work as a unit; there are times on the pitch where Sturridge tries to take on too much when there are better options around him. He can be a frustrating player to watch – on the one hand a player that backs his ability can be a real asset, but on the other hand it can lead to decision-making that doesn't best suit the needs of the team.
But… the one thing that Sturridge brings to Liverpool is that he has the ability to create something out of nothing. His goal against Sevilla in the Europa League final was a classic example of the ability he possesses to score goals you can't see coming.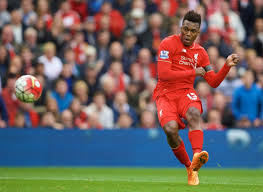 Sturridge also scores different types of goals. He is lethal with his left foot, but has scored more with his head this year as well. He can poach goals or create them himself. Despite his injuries he still has a great turn of pace, if not yet perhaps the afterburner seen in the past, and can get away from defenders. He has a great relationship on the pitch with Coutinho – both players excel in tight situations and have brilliant movement in and around the box.
This has been a strange season for Daniel Sturridge. We have seen cameos of his brilliance and glimpses of what he can do – but we haven't seen it enough. It has also been difficult for Jürgen Klopp to find a place for Sturridge at times – it is clear that his tactical plan relies heavily on a striker that is going to press the ball high up the pitch and is willing to run the channels and bring others into play. Sturridge can do this, but at times he has perhaps been too much of a maverick for Klopp's Plan A.
With a few modifications to his game and a full pre-season Sturridge can still become integral to Liverpool under Klopp. He has the ability to be world class; but for him to reach the level of which he is capable, he needs to continue working hard to stay fit.
At 26 years old Sturridge is only just entering his prime as a footballer, the best is yet to come. He hasn't had the easiest 18 months but with a little bit of patience and love he can go on to do great things.
I hope it is at Liverpool.
Rate Daniel Sturridge's season, out of ten
7 (52%, 139 Votes)
6 (27%, 72 Votes)
8 (12%, 31 Votes)
5 (7%, 18 Votes)
4 (1%, 2 Votes)
9 (0%, 1 Votes)
10 (0%, 1 Votes)
3 (0%, 1 Votes)
2 (0%, 0 Votes)
1 (0%, 0 Votes)
Total Voters: 265

Loading ...