By Paul Tomkins.
This may be totally incomprehensible, as I wasn't going to write it tonight, and had already taken a sleeping pill, given my sleep disorder. Often the pills take a while to kick in, but I think my extra adrenaline means that I've shot straight to totally spaced out, like the time, as an art student on a college trip to Amsterdam, I ate a whole slice of 'cake' and generally tripped my nuts off. Although so far I'm not seeing giant doughnuts, so that's a positive.
So this may be wonky. But I wanted to make a few brief points.
Berating Klopp for losing two cup finals feels like laughing at a bloke who's been dumped by two supermodels. (Not that looks are everything of course, but you get my drift.)
Yeah, the loser!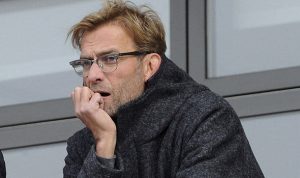 Half-time changes momentum – with momentum a concept that is controversial, but within games it clearly exists. No matter what happens in the first half, the second half is like a new day. Players have calmed down, sat on the benches, and they may not be able to successfully reach the same level of intensity. And those who were under the cosh get 15 minutes to get their heads straight.
Whatever the managers tried to do tactically, the biggest changes were nothing to do with either manager: the first, the way that Liverpool wanted to continue battering Sevilla in the first half, but the ref stopped it with one of the few calls he got right: basically, the time on his watch. He stopped Liverpool when they looked like getting two and three.
Liverpool had no fewer than five ball-to-hand or hand-to-ball calls in the first half, and didn't win a single penalty; on the Firmino one, the defender fouled the Brazilian in the box, too, immediately after he handled it, but to no avail. And a narrow call on why the headed goal was ruled out with Sturridge impeding the goalkeeper. All of these were marginal calls, but not one went the Reds' way.
And the timing of the Sevilla goal was a morale killer for the Reds. It's arguably worse than a goal just before half-time (according the cliché, "the worst time to concede"), because 17 seconds into the second half destroys the sense of optimism that was fostered at half-time, and tears up the game plan, with no chance to sit back down for another 15 minutes and devise a new one.
Liverpool crumbled. Coutinho and Firmino weren't getting into the game, and nor was Lallana. Milner huffed and puffed, and did his best, but nothing was blown down.
Sturridge showed quality, and a sublime first-half goal, but the old pace still isn't there. And special pace isn't there for any of Liverpool's attacking players, bar Origi, who was a half-fit sub. Firmino, Coutinho and Sturridge are top players, but none can skin a reasonably quick defender with pace. Sturridge used to be able, but it's not there anymore. Still, a new season, new fitness coaches, and a new regime, and we'll see.
I don't want to blame Alberto Moreno too much, but I will quite happily pay to see him bundled into a suitcase by his old club, and smuggled back to Seville. No seriously, señors, you keep him. He's yours again. No, no, I insist. I'd just a shame there was no way to mix all the good things Clyne does (defending) with all the good things Moreno does (bombing forward). Anyway, enough scapegoating. But left-back is an area crying out for change.
There are a few areas in need of addressing, but equally, with more time on the training ground next season, there's more time to focus on improving players and the way the team functions. Some new additions are also necessary, there's no getting away from that.
It's important to remember that Sevilla also made two cup finals this season and finished 7th in La Liga; so not much different in terms of how it affected their league form. But the more important factor tonight was that they had played this occasion two times in two years, and were hardly going to be phased by their third. They weren't going to let the occasion get the better of them.
But I felt it got to Liverpool. They started nervously, and then lost all their inhibitions in what became a great first half. But they crumbled after the second half fightback, and setbacks. The ref did little to help Liverpool, but over the 90 minutes the Spaniards deserved to win.
This was the biggest game of a lot of Liverpool players' careers. And it takes time to get used to the pressure. I think you saw after the match how some of the biggest disappointments on the night, like Emre Can, were devastated, but this was a huge game for a lot the Liverpool players. In particular, Can seemed to have put a huge pressure on himself. That's good – it shows he cares; the way he was crying and unconsolable shows what it meant. But next time he might be less anxious.
I can't imagine that Can has played in any games as big (though he was a non-playing squad member at Bayern in 2012 and 2013). Clyne, Lovren, Lallana, Coutinho and Firmino – like some of the others – have played for their countries, and maybe the occasional minor domestic cup; but they have yet to play in many big finals, or in games that win league titles.
Though not remarkable in any way, James Milner was one of the better performers, and he's one of the most experienced in the big occasions, from years at City. Of course, Alberto Moreno played in this final for Sevilla, but perhaps he was nervous to face his own club – although they didn't need reminding what his weaknesses were, as they sought them out. And he duly obliged.
Toure, the Reds' best player on the night, had played in the greatest number of big games in his career, mostly at Arsenal, but City too. The experience meant that this didn't phase him. But alas, old Father Time chopped him down after about 65 minutes. He gave everything, but he just couldn't last the distance.
But at least everyone is more experienced now. It's a good thing to go through, in terms of strengthening character and learning from mistakes, even if at the time it's a shitty thing to go through.
The recriminations and debate on who must be sold and who must be bought will go on, but for tonight I'm proud of the way Klopp has taken the team to two cup finals, and produced some marvellous displays along the way.
This piece I wrote today before the match shows just how difficult the season has been, in terms of quality of opposition faced, injuries overcome, lack of preparation time, and a whole host of challenges. I'd urge people to read that, as it puts the season into perspective.
I've no doubt the club is heading in the right direction, and that the situation next season will be far more conducive to success – unless the manager has some horrifically bad luck.