By Chris Rowland and Daniel Rhodes.
W/c Monday 7th March 2016.
Welcome to our weekly round-up, a diary of news and events on the site, matters relating to LFC and the world of football generally.
The Week in Football – Liverpool FC:
Monday:
Palace defender Damien Delaney Palace defender Damien Delaney, who conceded the last-minute penalty Christian Benteke converted for victory, had plenty to say about the incident in this Instagram post.:
"I can honestly say I didn't make contact with Benteke today and IF there was slight contact I didn't impede him and certainly didn't feel there was enough to award a penalty in the 96th minute".
Didn't realise there were different rules for penalty incidents late in a game.
Christian Benteke has vowed to "fight till the end" to save his Liverpool career.
He told Belgian newspaper HLN:
"It's not the easiest of situations but you have to be ready.

"In a career you'll never have only top moments, also your difficult times.

"It's in the most difficult situations that the real warriors, the tough men and determined guys stand up. You have to be up for it. I have to take every chance, every minute the manager gives me: one minute, five minutes, 10 minutes, half an hour.

"I've still enough ambition and enough character to fight in difficult moments. I don't give up easily. I fight till the end."
Roberto Firmino has been added to the Brazil squad alongside Liverpool teammate Philippe Coutinho for two matches at the end of this month. (LiverpoolFC.com)
Both legs of the last 16 Europa League tie between Liverpool and Manchester United are now fully sold out.
Thursday:
Some pre-match stats from the official site:
Liverpool captain Jordan Henderson could play the 300th game of his club career when the Reds host Manchester United in the first leg of their Europa League last-16 tie on Thursday night. Check out 14 more pre-match facts and figures courtesy of club statistician Ged Rea.
This will be the 195th meeting between the teams but the first in European competition. Liverpool have won 64 and United 79 with 51 drawn, while at Anfield, the Reds have recorded 43 victories to United's 26.
Friday:
In case you missed it (and if you did, why!) we beat Manchester United 2-0 in the first leg of our Europa League Last 16 tie at Anfield last night. David de Gea won the man of the match award on the BBC, again, against us.
Here's the Klopp post-match press conference.
There is also this video of You'll Never Walk Alone before the game.
Lallana, with "beautiful feet":
There's also this brilliant article by Barney Ronay on Firmino, here's a brief snippet, although you should read the rest. (Guardian)
Firmino was everywhere in the first half, dextrous in possession and precise with his high speed passing. In Brazil they have a saying about players who go out and "wear the shirt". When he plays like this, Firmino looks like he wants to be buried in it. Time and again in the first half he laid the ball off and simply sprinted full-pelt into space after a pass, a pocket of space a moment of profitable disorder.

Moments later the opening goal arrived, made by a stunning no-look-style pass from Firmino that took Daley Blind out of the game. Nathaniel Clyne felt enough contact to go down. Daniel Sturridge buried the penalty with a sense of ceremony.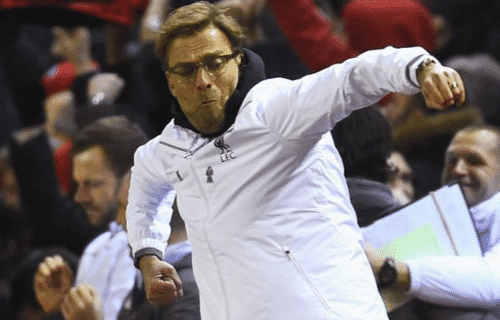 The Week in Football – General:
Monday:
Steve McClaren, 54, is expecting to be sacked from his role as Newcastle manager in the next 24 hours. (Daily Star)
And two former Reds managers are amongst the candidates to replace him:
Former Everton and Manchester United boss David Moyes and ex-Chelsea, Liverpool and Real Madrid manager Rafael Benitez are candidates to replace McClaren.(Guardian)
Ex-Liverpool boss Brendan Rodgers and former Leicester manager Nigel Pearson are also in the frame to succeed McClaren at St James' Park.(Daily Telegraph)
Bouncers at a London nightclub apparently failed to recognise some of Leicester's players and refused them entry, making them stand aside to let some Tottenham players go in. (Mirror).
Bit insular, those London bouncers …
The rest of this round-up is for Subscribers only.
[ttt-subscribe-article]