By Paul Tomkins.
It's only a job half-done, but Liverpool could have been out of sight but for an outstanding goalkeeping display from Man United's one top-class player. Maybe United will still win the tie – they might scrape through if their keeper plays as well again next week and they get lucky at the other end (as has happened a couple of times against them lately) – but whatever happens we've seen a young Liverpool side on the rise.
Earlier this week Jonathan Wilson wrote the following assessment, and it couldn't have rung more true in this match:
"… That's not to say his [van Gaal] football will necessarily fail, but Klopp is more flexible, more modern. While Van Gaal's is the football of the past, Klopp's is the football of the present – and perhaps the future."
I nearly just posted that quote as the entire article, as it was almost enough in itself. But it feels good to write about the Reds on nights like this. (And the pumping adrenaline needs to be dissipated somehow.)
I can't remember the last time I saw a Liverpool side absolutely wipe the floor with United, and deserve to win by at least a five-goal margin. As it was, two goals will have to do. The tie should already be over, and that's the only disappointment.
Liverpool's back four were excellent, and the oldest is 26, the youngest 23. The central midfield duo were excellent, and they are 25 and 22. Coutinho and Firmino were magicians, and they are 23 and 24. Even the old pros – Daniel Sturridge and Adam Lallana (who was excellent again) – are 'only' 26 and 27 respectively. United may have fielded a couple of young strikers, but their older team, including the subs they brought on, were run ragged.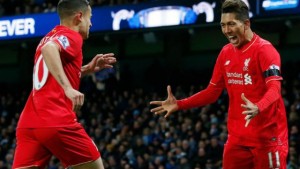 Divock Origi, 20, came on and his pace scared the bejesus out of Michael Carrick. Joe Allen, 25, came on and showed what a good player he can be, but one who may find it hard to usurp the captain (whose ball-winning was tremendous) and Emre Can, who is just an absolutely wonderful player (and a phenomenal athlete too, now that Klopp has got him in tip-top shape). There was no need to throw on the prodigious Sheyi Ojo, 18, fresh from an U21 hat-trick a couple of days ago, just to rub salt into the wounds.
This isn't just a style of football for the future, as outlined by Wilson, but it's a team for the future too.
There was no James Milner or Lucas Leiva, and even then, they are the veterans at 30 and 28. Both are worth keeping around for their experience and versatility, but neither is guaranteed a start when everyone is fit. Out of the whole squad, only Kolo Toure is approaching retirement age, and as well as he's done at times, he's only the 4th-choice centre-back. No important players are "melting".
Suddenly everyone looks worth their value under Klopp, and more. The team is now exceeding the sum of its parts, as the far more expensively-assembled United squad falls below the sum of theirs. Liverpool looked they were playing a different sport to United tonight.
It just needed the injury crisis to end for Klopp to get the kind of results I always felt would come; or to at least, see the full potential of the team that I trusted his approach would bring (even if things like finishing can be erratic and cost results). Time, plus sufficient quality, was the key. More time, and a summer transfer window (and a hard-working preseason), should improve things further.
We've seen some high-water marks under the German, particularly in a couple of early away games, but consistency takes time. Liverpool aren't quite 'there' yet, but it feels like they're well on the way now. The clean sheets are piling up, the goals are flowing. This is balanced football: good at both ends (although in goal, Simon Mignolet still doesn't convince me; oh to have a keeper half as good as de Gea, but it can't be a nice feeling to have your keeper being the only player who turns up).
City have been thrashed twice; Chelsea once. Three were put past Arsenal, in an unlucky draw. Southampton were hit for six at their place, but it's only in the past few weeks – at Aston Villa, at home to City and now at home to United – that you can see it fully clicking into gear. Even the weekend's near-stumble turned into a historic occasion.
The Palace game – a lower-key affair after a cup final and a home tie against City, and just days before the visit of United – was the one disappointment, but then, having gone down to ten men, Liverpool played some of their best football of the season to turn a 1-0 – and one-man – deficit into a victory for the first time in the club's history.
Just a few days later, in the first European meeting between the two giants of English football, Liverpool showed the watching world just how good they can be.
Crucially, Liverpool look so much fitter now than when Klopp took over, and that has taken several months. The pressing looks more tigerish, and that's taken time, too; it goes with the fitness, and with the training drills, neither of which can be skipped past to get straight to the success.
And while there's no brilliant Luis Suarez around anymore to win games out of nothing, the side looks like a team more than at any point since 2008/09 (with 2013/14 being built on brilliant attacking and midfield play, and iffy defending). The front players are interchanging beautifully, and even someone like Lallana, who has frustrated me greatly over the past 18 months, is now looking consistent, and making things happen in the final third. (Keep it up!)
I never feel easy about second legs where the tie feels won but where the margin isn't enough to relax. And United may play a blinder next week – for a change, under van Gaal. They have nothing left to lose, so they will go for it. But even if they somehow rescue the tie, it feels like this Liverpool side is the team of the future.
This is a free piece, which we are able to produce thanks to people subscribing to the site. Click here to subscribe, which gives you access to lots of exclusive content and one of the best comments sections on the internet (and right now, one of the happiest too).