By Mihail Vladimirov.
For this game Liverpool recalled Coutinho and Sturridge to the starting XI with both Moreno and Clyne starting at full-back.
For United, following his several injuries, Van Gaal was hamstrung in several areas. But he still had enough fit players to name a strong-looking starting XI. From the previous game (at WBA), the Dutch manager made four changes. Varela replacing Darmian at right-back, Fellaini and Schneiderlin coming in for Herrera and Carrick in midfield and Depay replaced the suspended Lingard down the flanks.
Both managers also started with their usual 4-2-3-1 formations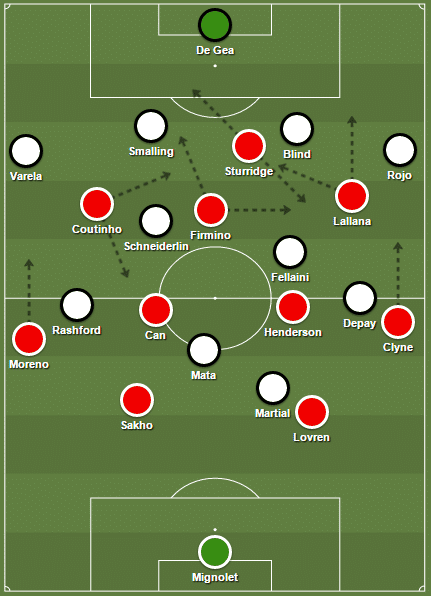 What might have been expected to happen …
As soon as the line ups were announced it was obvious Liverpool were going all guns blazing with a very attack-minded 4-2-3-1 formation. Meanwhile, even at first glance, it was obvious how many 'holes' there were in the Man Utd side, pointing out to several tactical weaknesses.
With how Liverpool have been performing lately, you would have expected the key battle to be between the lines, in particular Liverpool's band of roaming attacking midfielders against United's midfield pair. The type of players Coutinho, Firmino and Lallana are means they are naturally going to look for ways to influence the play through the middle instead of staying out wide and engaging in 1v1 battles. Therefore it was always going to be a case of the three of them looking to play in the zone expected to be patrolled by the Schneiderlin-Fellaini duo. On a very basic level this hinted at a numerical 3-v-2 advantage in Liverpool's favour. But what was worse for the visitors was that the deeper you looked into this clash, the clearer it became how disadvantaged the visitors were.
On paper, a team looking to mainly sit back, soak up the pressure and play on the break could get away with such a 3-v-2 disadvantage between the lines. But it needs their '2' to be twin natural holding midfielders who between them can properly shut down the space in front of the back four. Then, with the wingers also participating defensively, the defending team can create two banks of four which can starve the opponent for space, meaning the potential negative impact of possible numerical disadvantages in certain zones would be greatly reduced if not completely redundant. But that's not what Man Utd had here.
It was hard to see how Utd would be able to contain the flurry of constant interplay and positional rotation with only one holding midfielder with the required high level of defensive nous and positional discipline (Schneiderlin). On top of this, the wide men were two very attack-minded players (Depay and Rashford) who aren't famed for their defensive diligence or disciplined tracking back. Meaning Moreno and Clyne were always going to have, more or less, free rein in the final third. To make matters worse, the de-facto third midfielder – Mata – is the type who simply doesn't do any defensive work but stays ahead and makes himself available for the first pass (which isn't a bad thing per se because he's the team's main playmaker). With Man Utd not going to boss the game to the extent of Mata being really influential, it was hard to see why he was played in that central position.
From a zonal point of view, it was good to see Schneiderlin being played as Man Utd's right-sided deep-lying midfielder. This meant he would be in position to occupy the space where Coutinho, in-cutting from the left, would look to move into. The trouble absolutely no-one was going to do the same with Firmino, roaming centrally, or Lallana drifting infield from the right. Fellaini (the left-sided Man Utd midfielder), for all his qualities, was never one to hold his position or show the defensive nous needed to be able to deal with such a threat.
For this alone it was hard to understand Van Gaal's starting line up. Sure he had some injury issues, but he still had the players to pre-empt that particular danger. For example, it would've been much better for Carrick to partner Schneiderlin with Herrera retained in the starting XI to form a much tighter and defensively aware midfield trio capable of competing as equals with Liverpool's attacking trident.
Alternatively – following the presumed need to give Carrick and Herrera a rest and leave them on the bench – Van Gaal could have named full-backs who are comfortable tracking their direct opponent infield. On the left Rojo – as a natural centre-back – is naturally capable of doing this but more often than not he stayed out wide and didn't really mark Lallana tightly. This hinted at lack of a specific defensive instruction provided by the manager.
On the other side, Varela is a good 1v1 defender, able to engage a natural winger and end on top of such a clash. But he isn't the type of defender to watch out for in-cutting wide men, especially one as tricky and creative as Coutinho. Here, it was surprising why Darmian – exactly the type of defensive full-back who can tuck infield and use his two footedness to defend as a de-facto auxiliary centre-back – was left on the bench too.
Based on the announced starting XIs and what they meant tactically, it was hard to see anything but total Liverpool domination from the start. There were simply too many obvious shortcomings in Man Utd's line up which aligned too well with what was always going to be Liverpool's biggest attacking strengths.
But having said all that, that wasn't what actually played out on the pitch!
What actually happened
Once again – surprisingly or not, expectedly or not – Liverpool started a game against Man Utd slowly and passively. There was no sign of the expected early flurry of aggressive pressing and non-stop direct attacks following each turnover of possession. And the reason for this might have nothing to do with tactics – just a basic psychology and reverse of the expected momentum.
Following kick-off, Utd played the ball backwards to Smalling with the defender then quickly lumping the ball towards Fellaini down the inside-left channel. The Belgian knocked the ball down to Depay who ran forward before sending a superb cross for the unmarked Rashford. Fortunately, their young forward couldn't quite connect properly with the ball and his half-shot went wide. Had he scored then of course the complexion of the game would have been completely changed.
Still, that early Man Utd chance, the consecutive Liverpool bad tackles – which could've seen a few of their players booked inside the opening 10 minutes – and the visitors' overall composure right from the start seemed to put Liverpool off and forced them into more passive behaviour. This impacted the game to tip the early balance in Man Utd's favour.
Sure, Liverpool still were the dominant side possession- and territory-wise, but bar a minute-long spell early on, they couldn't really attack with the expected speed and verve. Nor did they look like exploiting all of the Man Utd weaknesses mentioned above. With the visitors seemingly content to mainly defend and use long balls on the break, the tempo quickly become slow-ish, which further made Liverpool's passing ponderous and their attacking moves lacking that extra zip and flair.
Even without considering the weaknesses of Utd's starting XI and focusing just on Liverpool's line up, it was strange to see the hosts unable to lift the tempo and start penetrating their opponent. The type of players selected to start, their style of play, most of them being well rested and fresh for this game (due to Klopp's recent rotation) and the occasion of the game – the home leg against arch rivals – was expected to result in early fierce press and the wish to play at a high tempo to suit all these attack-minded players in order to galvanise the crowd to make it more uncomfortable (to say the least) for the visitors.
And yet Liverpool still looked passive and at times even slow in their actions. This was one of the occasions where all the signs suggested it's not only possible but quite likely for Liverpool to not only beat their opponent but outplay them.
But by the 15th minute, the game already looked like moving into the direction that would suit Man Utd more – slow and cautious, where the visitors were happy to defend and sporadically counter-attack while the hosts were unable to put all their theoretical advantages in good use or simply unwilling to commit to a full-on attacking style. There were times where Liverpool deliberately slowed the game down and opted for more methodical build-up play instead of quickly hitting the vulnerable- looking Man Utd defence.
In the 19th minute, one of those slower and seemingly non-threatening passing combinations led to the situation for the penalty, which was converted by Sturridge.
Liverpool in the ascendancy
The goal not only changed everything, but it did so to the extent that what followed in the next 25 minutes was exactly what was expected from the game to be right from the start. The goal was exactly the 'aphrodisiac' Liverpool needed to suddenly burst into life with their players finally starting to play at a high tempo and press like a swarm of bees before showing the high level of passing flair and movement fluidity expected from them given the players on show. Now, Liverpool's 4-2-3-1 began to run riot in all of Man Utd's understrength zones.
Moreno and Clyne found it easy to bomb forward past Depay and Rashford and provide the required constant attacking width down the flanks. This further encouraged Coutinho and Lallana to cut infield, overload the space between the lines and take part, alongside the ever-roaming Firmino, Sturridge and whoever out of the two midfielders was to push on from deep, in attacking moves that would completely rip apart the Utd defence with trademark pass and move combinations based on intricate passing and incisive movement. On the ball Liverpool were now sharp and inventive, without it they were quick to swarm forward and press in packs with Man Utd unable to catch a breather.
The way the Reds sliced through their opponent between the lines was evidence of how very tactically naïve Van Gaal's set up was and how it gifted Liverpool space exactly in the zones where they were always going to be most dangerous and most capable of ripping them apart. In that 25 minute spell after the penalty, the hosts had the chances to not only win this game convincingly but put the whole tie to bed and make it redundant for the second leg to be played at all. But poor finishing and the customary sublime De Gea goal-keeping kept Van Gaal's side in it.
Van Gaal fights back
He might have had to thank his 'keeper that not only this game but the tie wasn't over by now, but when he finally decided to intervene tactically, Van Gaal did it in a very smart and efficient way. With his team being killed between the lines, the most logical thing for the Dutch manager to do was to make changes to solidify that particular zone.
At half-time Carrick replaced Rashford, with the Red Devils going from 4-2-3-1 to a 3-4-1-2 (but given Carrick essentially played as an old-school libero within the back three, it looked like a 4-diamond-2). This change helped the visitors to rectify all they were missing up to now.
The team now gained a much more solid centre with the midfield pair now backed up by a third man in behind. With Liverpool playing a single striker but a trio of roaming attacking midfielders, Van Gaal reorganised his side to have the required defensive flexibility to deal with that threat. Sometimes Carrick stepped forward in midfield and created a tighter midfield trio to match Liverpool's trident. Other times, the side centre-backs stepped out and stayed tighter on Coutinho and Lallana, leaving Carrick as the de-facto sweeper in between them. In other words, given their 3-v-1 advantage at the back, Man Utd's defenders had the freedom to step out and fill in in midfield, looking to match and mark Liverpool's roaming attackers in that zone.
Obviously, this change gave Liverpool's full-backs even greater attacking freedom. But unlike in the first half, this didn't amount to a greater attacking threat. Not only did the hosts lack someone to get on the end of potential crosses from the flanks, but following the reorganisation at the back, Man Utd were now able to occupy all of the potential recipients of cut backs or angled through balls.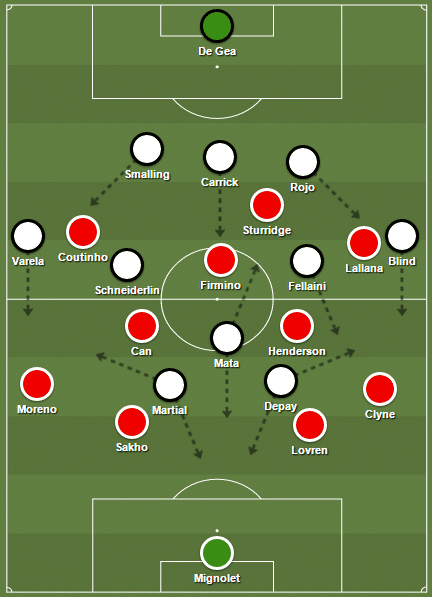 Going forward, the change to a 3-4-1-2 also benefited the visitors as the team now had 2-v-2 up front with Mata left as the de-facto their spare man between the lines. The team also gained more pressing bodies through the middle to fight back and put pressure on Liverpool, and the extra bodies centrally increased the chance to build-up play from the back and work the ball forward in a more cultured and dangerous way.
As a whole the change in formation and a clearer defensive organisation capable to match all of Liverpool's threats evidently turned out as the springboard for a turnaround of fortunes after the break. The visitors were now able to not only nullify the opponent's attacking threats but worry them with their own attacking qualities. Soon, Van Gaal's side started to see more of the ball and attack with greater threat.
Liverpool's reaction to how the game changed was interesting too. Klopp could have asked his narrow band of attacking midfielders to occupy the central areas on a more permanent basis and cut off the link between Man Utd's back three unit and the midfield pair. Meanwhile, using the full-backs to get higher up and occupy the wing-backs would further limit the chance for Man Utd to pass the ball out of the back and again force them to resort to long balls to the Mata-Depay-Martial trio (who were going to be easily marshalled by the Sakho-Lovren and Can-Henderson pairs.
Instead, Liverpool remained in their wider 4-2-3-1 but reverted to their initially passive behaviour. This further allowed Man Utd to gradually settle as the team controlling the proceedings, enabling the visitors to start playing more on the front foot. The more possession Van Gaal's side had, the more dangerous they looked – particularly in terms of working out attacking moves that saw them get in behind down the channels. This seemed to further put Liverpool back and force them to retreat. In one such situation – in the 62nd minute – Man Utd created their best chance to equalise when Depay cut infield from the left and passed through to Martial in the box, but Martial's first touch was poor and he couldn't get a shot on goal.
Klopp rises to the challenge
Seeing his side struggle for the opening 20 minutes of the second half, it was time for Klopp to react tactically as well. Similarly to Van Gaal's half-time reorganisation, the change made by the German manager in the 64th minute was perfectly suited for the task in hand – to regain control and tame Man Utd's growing attacking threat. Allen came on for Sturridge, with Liverpool now reverting to a 4-1-2-3 shape with Can at the base of the midfield unit.
This gave Liverpool the ability to match United better in the midfield zone, with the Reds also creating a sort of diamond midfield. Firmino was shuttling around Carrick, Henderson and Allen were up against Fellaini and Schneiderlin while Can was denying Mata a free reign ahead of the back four. Meanwhile Coutinho and Lallana were now tasked with closing down the side centre-backs with the full-backs watching out for Utd's wing-backs. There were now not so many – if any – free avenues for the visitors to continue building up their play from the back. On top of this, Allen added that needed extra bite and freshness to further enable the turnaround and help his side wrestle back the dominating position lost since half-time.
Liverpool not only plugged all the gaps and stopped Man Utd attacking dangerously but gradually returned to creating chances on their own, which they had struggled to do since Van Gaal's half-time reorganisation.
As happened in the first half, when eventually Liverpool again got going in attack, Man Utd had no answer. As in the first half, though this time in a different way, the key battlefield revolved around what Coutinho and Lallana were doing. Now, with both teams matched through the middle in a proverbial diamond vs diamond battle, the key was which team was going to gain an upper hand down the channels. There the teams were well matched too – United side centre-backs were up vs Liverpool's in-cutting wide men, while the visitors' wing-backs were up against the Reds' full-backs.
The difference came from the fact that Liverpool changed focus. Instead of looking to congest all of their attacking players in central areas – often including the full-backs too, as Clyne's infield run resulted in the penalty,for example – now the Reds did the total opposite. To gain an upper hand against an opposition who looked to now put the majority of their players to defend through the middle, Klopp ordered his players to seek positional advantage and open up attacking avenues by drifting wide and combining down the channels. It helped that Firmino, Henderson and even Allen are players comfortable drifting into wider positions and either initiating or taking part in quick give and go's over there, allowing someone else to then offer the reversed movement and head infield. Essentially, Liverpool's change of attacking focus made Van Gaal's defensive reorganisation redundant as it again put the emphasis in zones where Man Utd were understrength again.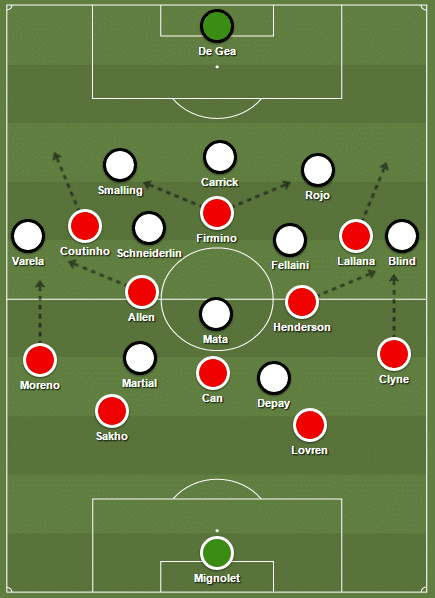 Eventually, one such attack proved successful and allowed Liverpool to extend their lead after Carrick's poor touch gave the ball to Lallana.
At 2-0 the game slowed down with Liverpool logically happy to rein in a bit and became more defensively responsible in order not to give away what could be a crucial away goal. Van Gaal's subsequent changes – introducing two passers – further seemed to underline the fact that the last fifteen minutes of the game become an exercise in rather sterile possession for both sides.
Post-match thoughts
To put it bluntly – Liverpool completely deserved to win this game, and by a far bigger margin; a 5-0 trashing wouldn't have been harsh on Man Utd given the way Klopp's team performed and the several excellent goal-scoring chances their play created.
Van Gaal's naive initial approach was completely exposed as soon as Liverpool got going in attack (which surprisingly took longer than expected) and the Dutch manager should be happy that his side is still in it with a chance ahead of the second leg, however slim that chance looks on both teams' current form. Man Utd's manager regained some tactical self-esteem with his half-time changes but as soon as Klopp reacted, it was again game over for the visitors.
All associated with Liverpool should be really pleased that apart from the result and the good performance, their manager had the upper hand tactically over his opponent too. That combination makes the win the absolutely perfect one and bodes really well for the Reds' future.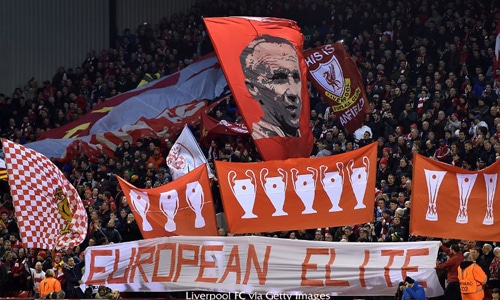 SUMMARY
What happened tactically was not what might have been expected from the starting line-ups and formations
Liverpool started slowly and passively – as they often do against Man Utd
The first quarter of an hour suited Man Utd more – slow and cautious
At times Liverpool deliberately slowed the game down
Following Sturridge's penalty, the pattern became as expected before the game, with Liverpool in the ascendancy
Liverpool suddenly burst into life and exposed the tactical naivety of Van Gaal's set up
Van Gaal made a smart and efficient tactical change at half-time
This was the springboard for a turnaround of fortunes after the break as Utd came more into it
After 20 minutes of the second-half, Klopp responded with a significant change of his own
Once again, when eventually Liverpool got going in attack, Man Utd had no answer
Liverpool changed focus, from congesting their attacking play centrally to the total opposite, drifting wide and combining down the channels
Liverpool's change of attacking focus made Van Gaal's half-time defensive reorganisation redundant